Reading time: 2 minutes
Get the basics right and the rest will look after itself.
This may sound like a simple premise but in an industry where perpetual flux is an industry standard, the work of B2B digital marketing is far from simplistic.
To add to this, thanks to technological acceleration new concepts, along with their buzzwords, are constantly entering the marketing lexicon. Take for example the new emerging AdTech jargon infiltrating the B2B ad buyer space thanks to the rapid adoption of Programmatic Ad buying.
For more on AdTech terminology, check out A Jargon Busting Guide to B2B Programmatic Advertising
What's more our arsenal of marketing tools has never looked so shiny; marketing automation, AI, precision based data-driven targeting and real-time optimization through dynamic creative – to mention just a few players to elevate the tactical mix.
What does this mean for the modern B2B marketer?
All this technological innovation makes the marketing sphere an exciting vertical to operate in, however it can also make it overwhelming. It's hard not to fall in the trap of throwing all these new capabilities into your campaigns without ensuring the basics are up to standard.
For example without a strong grasp of analytics and marketing control mechanisms, big data can equate to a big marketing mess.
The strength of the best marketing campaigns lies in the knowledge of how they fit strategically in the overarching marketing agenda, along with the tactical understanding of how and why they've been deployed.

This article is dedicated to helping us get this right, through addressing some common marketing questions.
We'll cover the difference between:
Corporate & Marketing Objectives
Strategy & Tactics
Unique Selling Points (USPs) & Value Propositions
Key Performance Indicators (KPIs) & Marketing Metrics
1. What's the difference between; Corporate Objectives and Marketing Objectives?
Objectives set direction and form the rationale behind all planning decisions. They are important because they ensure all activities and efforts are focused towards achieving the same vision. The following example shows how objectives exist within a hierarchy in most businesses:
Corporate Objectives: Overarching business goals that translate the company's mission into strategic targets (often profit orientated).
Marketing Objectives: A set of goals designed to achieve the overarching corporate objectives (often product or service orientated).
For more a more detailed breakdown of how these objectives fit into the organizational framework, read The B2B Marketing Plan – Why it Should be Top of 2019's Agenda
2. What's the difference between; Strategy and Tactics?
Marketing strategy and tactics are essential components of the marketing plan, but are you confident explaining their integral relationship?
Strategy: This provides a blueprint of how you're going to navigate your marketplace and organize your internal capabilities in the most efficient way to achieve your marketing objectives. Your strategy will often feed from marketing knowledge gained through market and audience insights.
Tactics: These are the mix of corresponding marketing programs that support your strategy to deliver your set objectives. They provide pathways for matching your business agenda with customer need, in the most profitable ways.
To deviate slightly, here's analogy we like to use to explain the relationship between the two:
If you were a football coach, your strategy would be how you are going to coach your team to win the tournament. Your tactics would be how you formulate your team and player tactics to win each game.
3. What's the difference between; Value Proposition & Unique Selling Points (USPs)?
Knowing what makes your business stand out is key to any marketing function, however many businesses don't have a formal process for documenting their key values such as:
Value Proposition: This is how you articulate to your target audiences how your products/services will fulfil their needs better than anyone else.
Unique Selling Points (USPs): These are the aspects of your business offering that set you apart from the competition (often relating to your marketing 'P's). If you serve a number of markets, you may have a variety of audience specific USPs.
For more information on how to tie your USPs and value proposition into your B2B marketing strategy, read B2B Marketing Plan; A Compelling Case for B2B Content Marketing
4. What's the difference between; Key Performance Indicators (KPIs) and Marketing Metrics?
Key Performance Indicators: A critical marketing measurement directly associated with your overarching strategic objectives and goals. These give you an indication as to how well the performance of your marketing programs are succeeding in achieving the overarching targets.
Marketing Metrics: These are quantifiable measurements directly aligned to your tactical goals. Often a set of metrics are selected to support an overarching KPI. These metrics help provide more granular insight into the various components such as actions, activities or events that contribute to success of a KPI.
For example
Key Performance Indicator:
Number of new online customers
Marketing Metrics
Number of web sign-ups
Number of returning visitors
Number of new visitors
For more marketing myth-busting we've put together an essential B2B Marketing Handbook: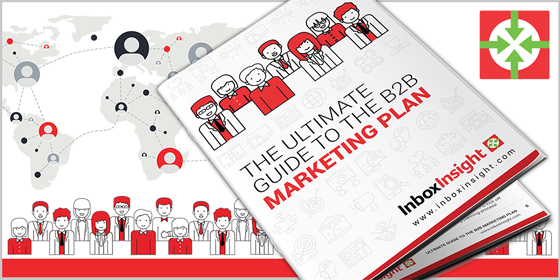 A refreshing approach to unifying all your marketing campaigns into one powerful B2B marketing strategy, this resource has been a big hit with our marketing community. Request yours now to discover:
How to structure your market research
How to build accurate buyer personas
How to select the right marketing tactics