If it's not – here's why it should be…
Market intelligence customized specifically to your business plays a pivotal role for B2B marketers looking to unlock specialist B2B insights around their audience and understand real-time demand of their target personas.
Our own first party research revealed that 41.5% of senior B2B marketers say they outsource their market research.
B2B market research is the driving force behind your B2B marketing strategy, allowing it to gain a competitive edge by generating unique, timely insights into the true intentions of your in-market buyers.
This article recognizes the importance of competitive marketing intelligence, exploring the benefits of leveraging external resources such as a market intelligence company to upgrade your B2B marketing plan moving into 2022.

This article covers:
Why custom marketing intelligence research can provide unrivalled competitive advantage
How to plan your B2B research to maximize results and notice real differences
Read on to discover why B2B marketing professionals are seeking a far more tailored approach to their persona research to truly understand and engage their target audience.
Reading time: 3 minutes
Why is market intelligence crucial to your B2B marketing strategy?
If you're looking to make a significant investment, would you pick the first option in front of you? Or would you take your time to carefully consider numerous alternatives before deciding which one will best serve your purpose not only now, but in the future?
Business to business market research is very much the same. Conducting it provides the foundations needed to identify exactly what your target audience is interested in and understand how best to engage them and tailor your offerings to meet their needs.
Unlock specialist B2B insights: Audience and real-time demand
Knowing how to effectively harness B2B marketing research so that it can provide true, actionable audience insight isn't always straight forward. That is why many B2B marketers rely on a marketing intelligence company to do the leg work for them. When captured successfully, market intelligence can unlock specialist knowledge around your audience and real-time market demand, looking at where buyer personas are showing strong in-market tendencies and clear investment intentions.
Basing your strategic decision making on highly credible research ensures that your product or service remains relevant to the existing market. It helps identify and inform your positioning, confirms that demand for it is still present and high, and ensures that your messaging remains on point. It can even inform product development by highlighting the latest market desires and areas where your competitors are excelling ahead of your current capabilities.
Increase targeting strategy accuracy and effectiveness
B2B customer research can also help enhance your targeting techniques and drive success by allowing you to better understand your Ideal Customer Profile (ICP). Your ICP requires analysis of your CRM to uncover the most attractive customer segments that best suit your internal capabilities. You might have a good idea of your top customer segments, but it's highly unlikely that you will know them in fine detail and with enough next level custom insight, without B2B market research.
That is why B2B market research tools exist. They construct your ideal customer segments and conduct first party research to expose unique insights shaping real-time demand. This saves you valuable time and resource that can be better utilized elsewhere. It also means your research is being performed by experts who know exactly how to build a successful and credible B2B marketing survey for optimal results.
What's more, B2B market research companies allow you to establish the most effective strategy to target your Target Account List (TAL). They unlock key market trends and pinpoint areas of greatest interest to your buyer personas, highlighting where to focus your resource. They can also provide a far greater level of custom market research through powerful AI enabled technologies, providing more specific data to identify new markets and Lookalikes. This means you can tap into new markets unknown to competitors, leading to sustained market growth.
Aids a superior content marketing strategy
B2B research can uncover the timeliest themes and topics that you should be talking about in your content marketing. Key insights into the areas of greatest interest to your target audience should not be ignored for the power they hold in informing how best to shape your content so that it resonates as highly as possible with your ICP for maximum engagement.
In addition, market research underpins thought leadership to drive brand credibility and authority. It demonstrates that you have expertise in your field and are able to talk about it with confidence and accuracy in your content marketing, providing solid evidence of your position in the market.
How can you plan your B2B market research to maximize results?
We've considered the importance of research, but how can you use it to achieve outstanding results?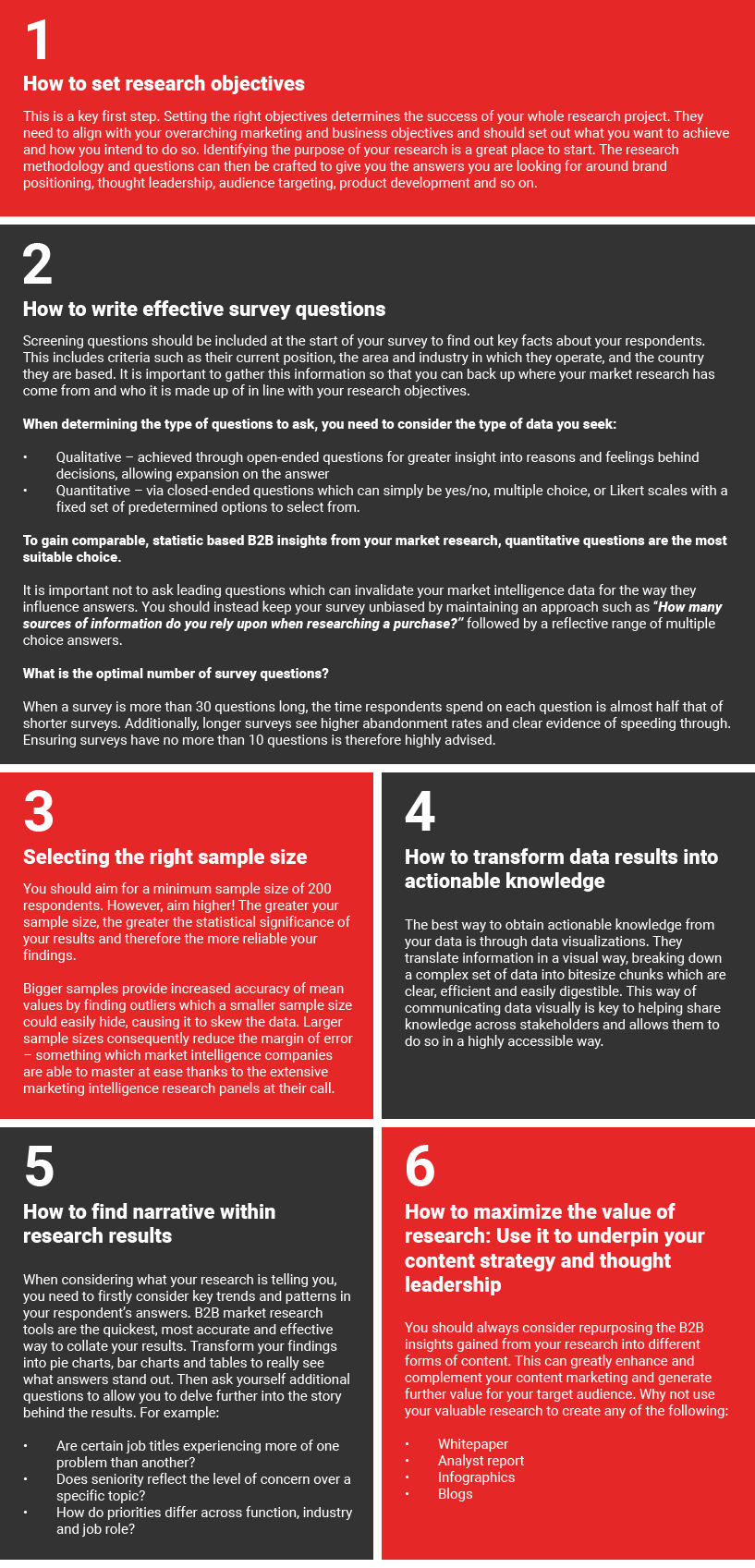 Are you ready to discover greater clarity over the challenges, tendencies and focus areas of your target personas?
B2B market research needs to be deployed from the offset to ensure that your B2B marketing plan has the ability to reflect the true intentions of your target audience. As more B2B marketers rely on market intelligence companies with sophisticated AI technologies at their fingertips, driving the most accurate and relevant market intelligence into businesses, it's no wonder they can help drive your marketing plan to new levels.
Custom market intelligence can expose unique audience insights shaping real-time market demand. It generates B2B insights that matter the most to your business, aiding your planning and communication strategy. It can reveal full transparency over your competitor landscape, allowing you to discover how industry leaders are tailoring their content strategy to intercept your target personas.
Whether you're looking to discover the next big trend to fuel your thought leadership, or simply looking to better understand your audience, discover InboxINTELLIGENCE to drive the most accurate first party B2B research into your business shaped around your core research objectives. From concept to data delivery and research analysis, our experts are on hand to keep the right insights flowing into your business.