Customer data has become a business asset beyond imagination, with endless opportunities for Marketing and Sales to create seamless B2B customer experiences. The use of intent data, while relatively new and often complex in nature, brings unbelievable value when it comes to demand generation and nurturing leads through the funnel.
Giving you the power to identify when a prospect is actively considering or ready to purchase products and solutions, it can transform the future of B2B marketing. But in a world where there's an infinite amount of data to sift through, it's vital to have a strategy in place. Here is our definitive, step-by-step guide to deploying intent data in your business and making it work for your bottom line.
Reading time: 10 minutes


1. Define your goals and objectives
Understanding what you are trying to achieve is essential for creating a successful intent data strategy. Our latest research highlights that 64% of B2B marketers using intent data are struggling to action on insights gathered, suggesting that they are somewhat 'data blind'.
This means that very few companies are even close to getting the full value out of their available data. When organisations rush to invest before understanding how data fits in with the wider business strategy, or when outdated data methods are used due to fear of the complexity and challenges associated with data, strategies fall down.
A solid strategy will help you effectively monetise data, and it all begins with knowing your goals and objectives. What problem are you trying to solve? What do you want to achieve? How do you plan on making it happen? These are the questions to ask when starting out on your intent data journey.
We surveyed 200 senior marketers working in large organisations with 500-5000+ employees and asked them about their key objectives when using intent data. Almost two thirds (61%) want to develop buyer personas, over half (57%) hope to identify early buyer interest, and similar numbers want to improve lead scoring or create shareable insights for their sales department.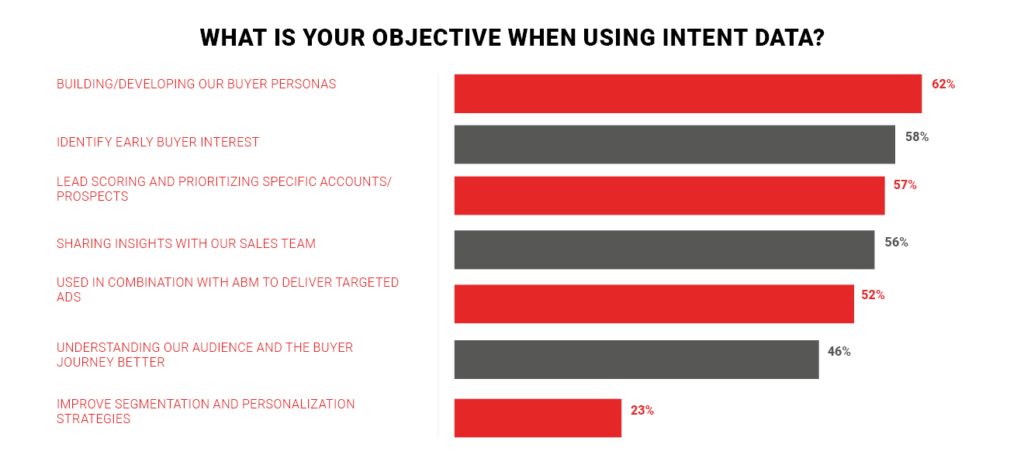 Other objectives highlighted by the B2B marketing leaders in our study are: deliver targeted ads in Account-Based Marketing (ABM), understand audiences better, and improve segmentation and personalisation.
Whatever it is that you are trying to accomplish, make it clear from the get-go to ensure all teams are on the same page. This is the only way you can make intent actionable and results-driven.
2. Decide where to source your intent data
Should you rely on first-party, third-party or a combination of both?
Once your goals and objectives are set, you need to consider the right approach for gathering data. First and third party data are both used in B2B marketing, and both have their uses when applied in the right way. Our survey results tell us that there's a mix of marketers using solely first party data, marketers using solely third party data, and a large percentage using both.
Find out more about the differences between the two, in our article 'First Party vs. Third Party Intent Data: Which is Best for Demand Generation?'
Over half (55%) combine both types of data to drive results in their demand generation activity, while over a quarter rely on internal data alone, and less than 20% turn solely to data providers.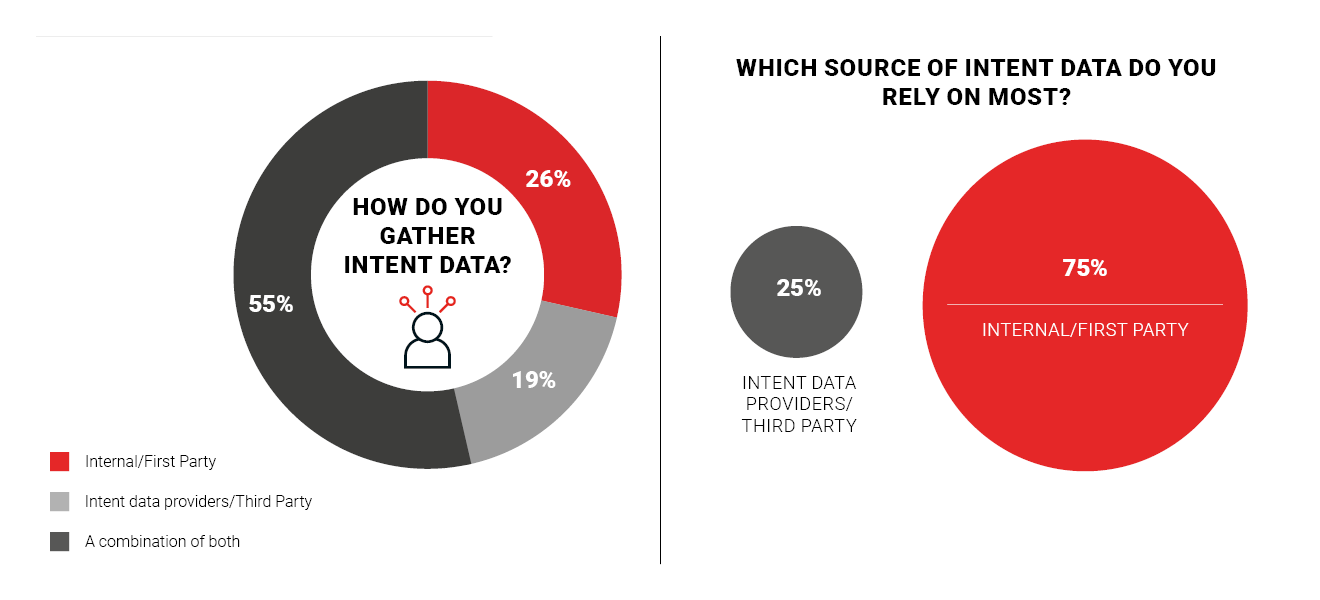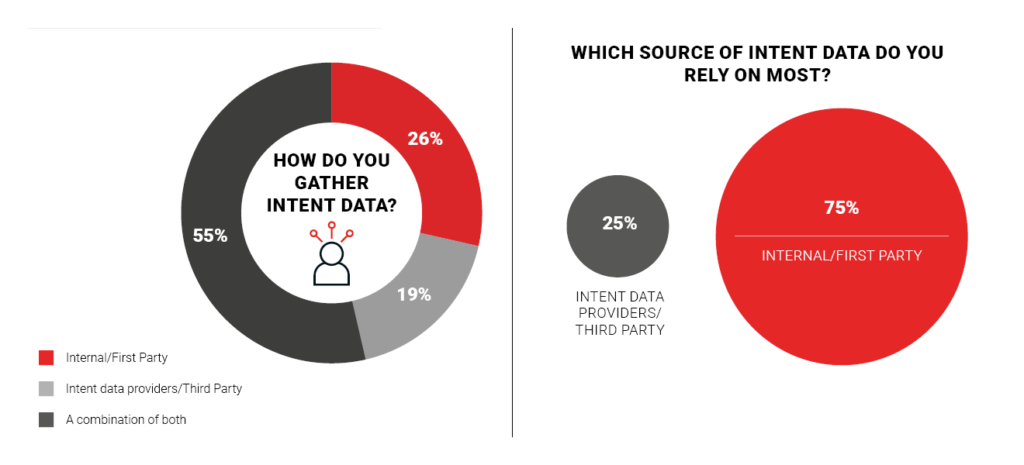 Further, research suggests that first-party intent data is more commonly relied upon, with more marketers incorporating it into their strategy. However, one of the biggest challenges faced by said marketers is having the ability to action on intent data insights Are marketers missing the trick when it comes to utilizing intent data? Is a combined approach the way forward? Over half our responders believe so – therefore it is worth considering this when deciding which type of intent data to use.
As per step 1, when deciding where to source your intent data, it's also essential to focus on what you're utilizing your intent data for. Whilst first-party intent data offers deeper insights into the way your customers and leads are engaging with your brand, third-party intent data offers scale and provides visibility of prospects earlier in the buyer journey. When deciding which type to use, and where to focus your spend, focus back in on your objectives.
3. Make the data actionable at every stage of the funnel
Our survey reveals that top three challenges faced when it comes to intent data are all based on human application. These are: not being able to create action insights gathered from the data (64%), not being able to successfully combine data with the marketing strategy to deliver targeted ads (63%), and not being able to monitor how well the sales team use the data (56%).
Other challenges highlighted include justifying investment, ensuring data quality, and measuring success, all of which can be improved through human planning, training and management.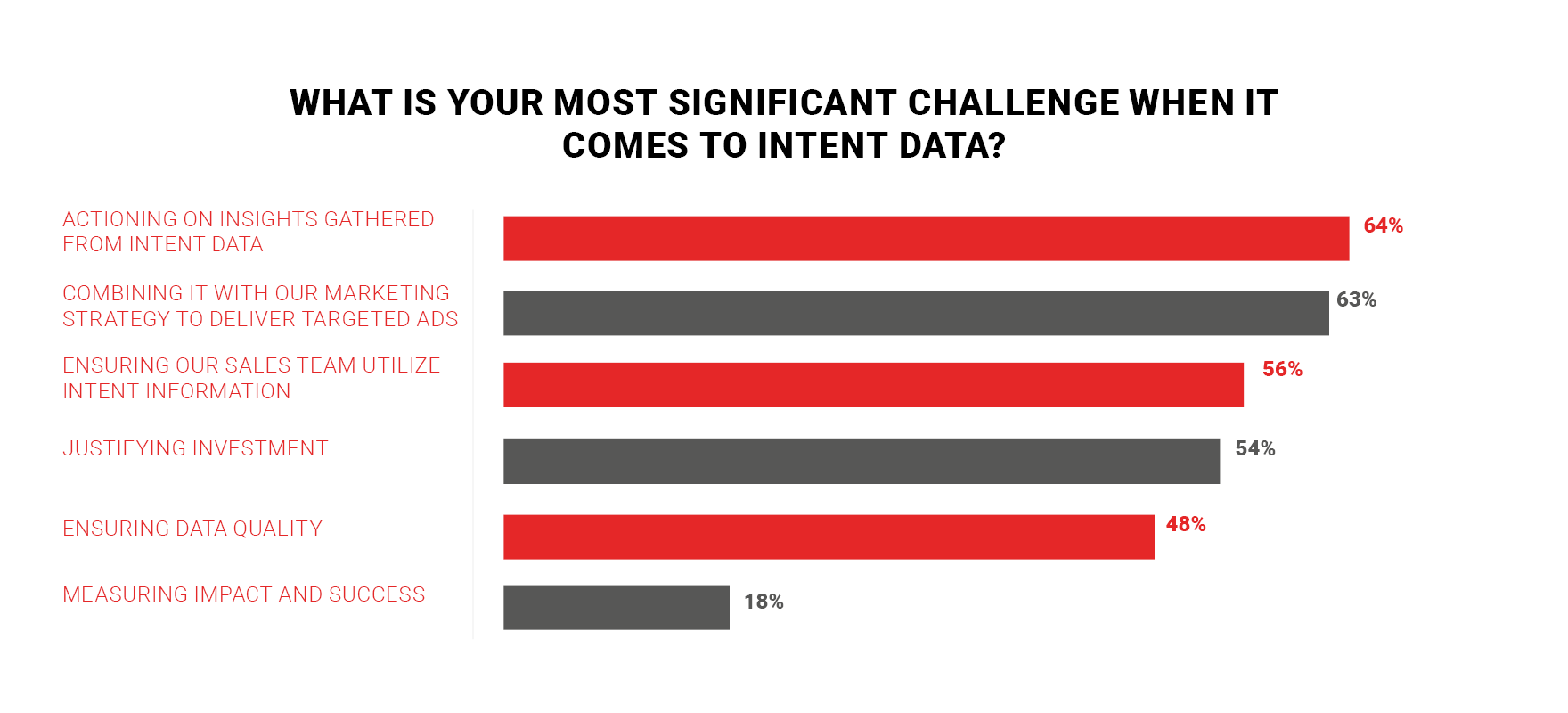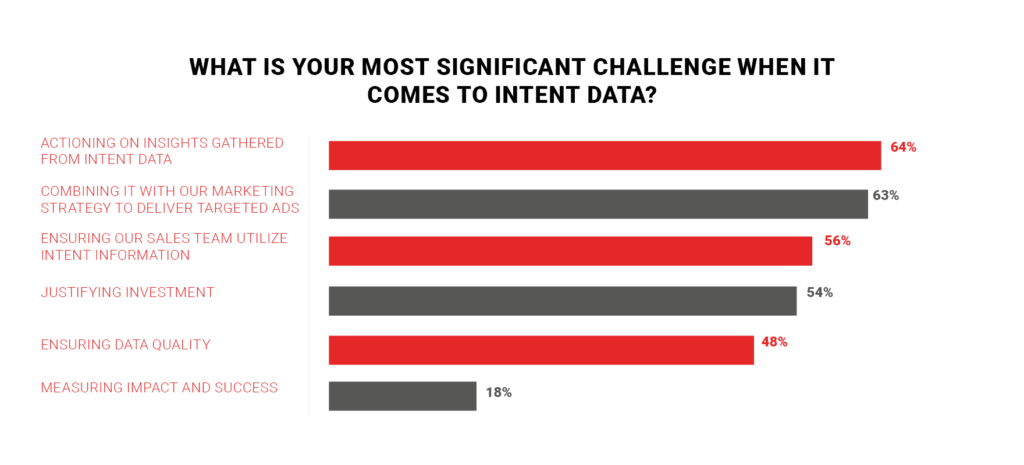 We all know that in order to best engage our customers and audience, we need to understand them and be aware of where they are in the customer journey. Intent data provides just that – but how can this then be used to impact and personalize communication streams with said customers?
Consider the different ways to you can utilize intent data within your planning and strategy, as opposed to once you already have these insights. Our research highlights the most common channels marketers are leveraging their intent data within: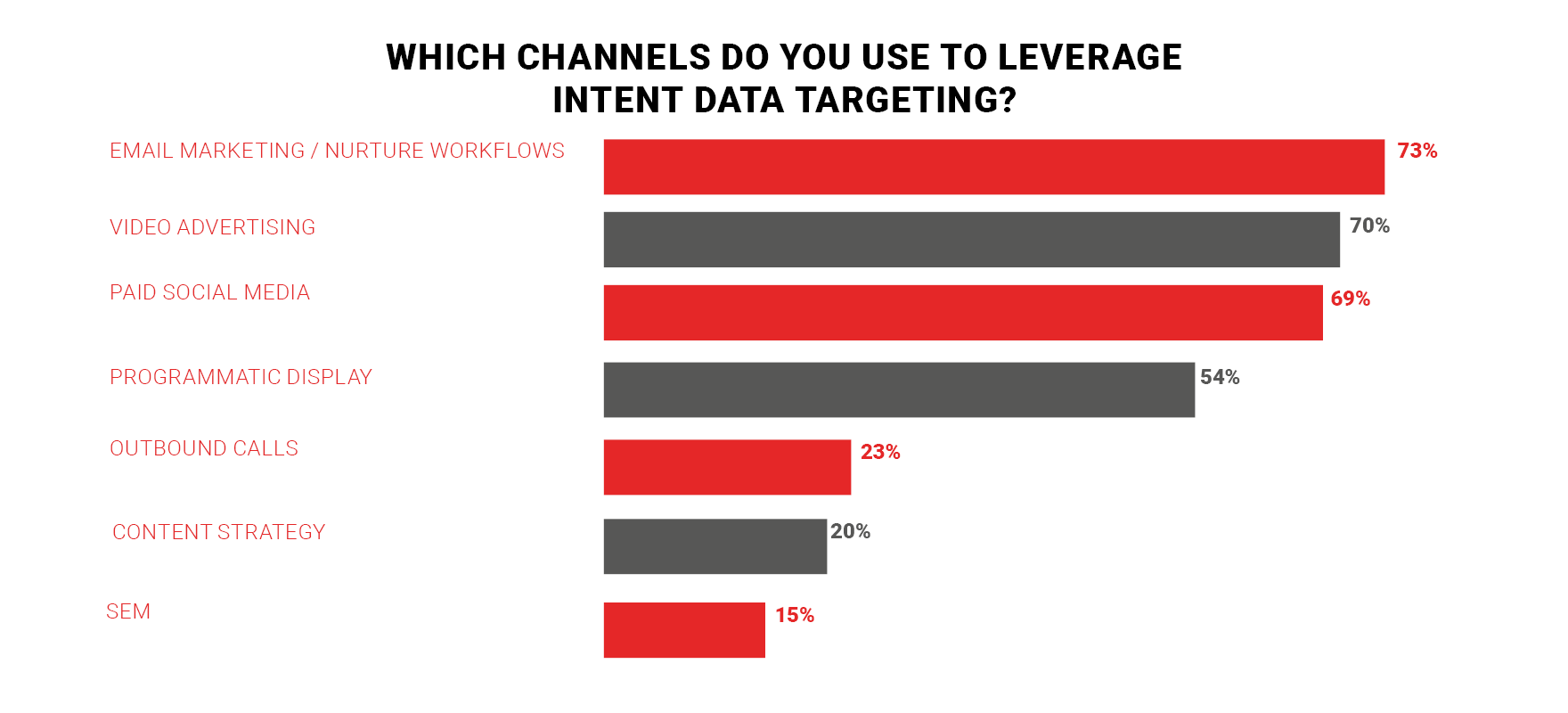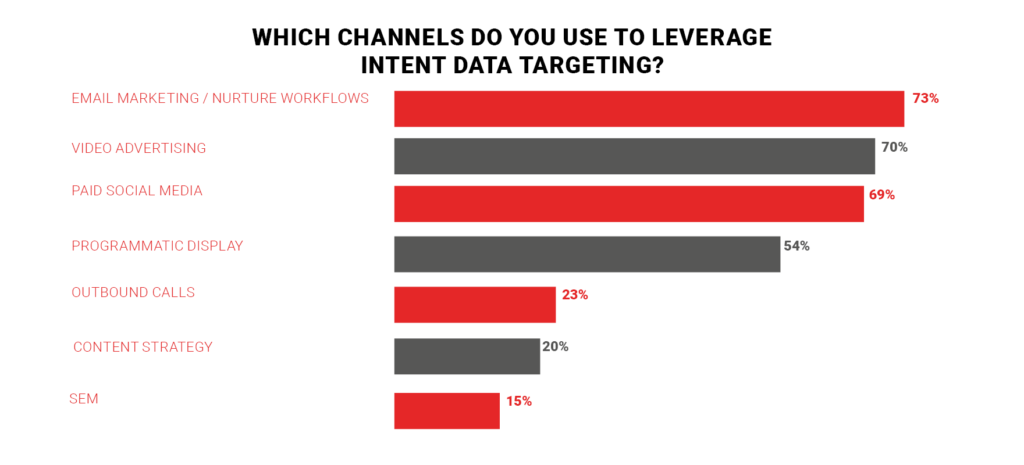 Simply having the data doesn't automatically mean that it is going to bring the benefits intent data offers. The impact relies entirely on the ways you can utilize intent data, and how much value you can pull from your data is up to you. This is why building a solid strategy with clear goals and actions, and efficient processes set up, is fundamental to campaign performance.
4. Perfect your communication process
In order for data to be truly actionable though, your approach needs to have the human touch. Finding ways to communicate your insights across your company is essential – else no one can do anything to change their processes to better suit customers and prospects.
Indeed, with 56% of marketers saying they struggle to ensure their Sales team utilizes the data, this is clearly a key area where marketers can focus their attention.
If you have plenty of intent-based insights to provide internally, set an internal communications plan in place, focus on aligning Sales and Marketing, and provide your Sales team our Demand Generation Masterclass handbook to set the groundwork for data-driven follow ups.
5. Circle back to your objectives and keep an eye on KPIs
Want to know the impact of your investment? Trackability is critical. Metrics should include things like conversion rates, sales revenue and customer retention rates. You should also measure ROI to understand the real value of the data you are collecting. This not only helps you understand whether what you are doing is working, but it helps you build a case for your finance department or for securing budget for the year ahead. With 54% of marketers agreeing that justifying investment is a significant challenge, tracking KPIs effectively can help.
In terms of what benefits to expect, the most common advantages seen in our survey sample include better buyer personas, improved personalization and nurture workflows, more accurate predictive targeting and segmentation, being able to reach leads early in the funnel, and being able to prioritize lead follow up.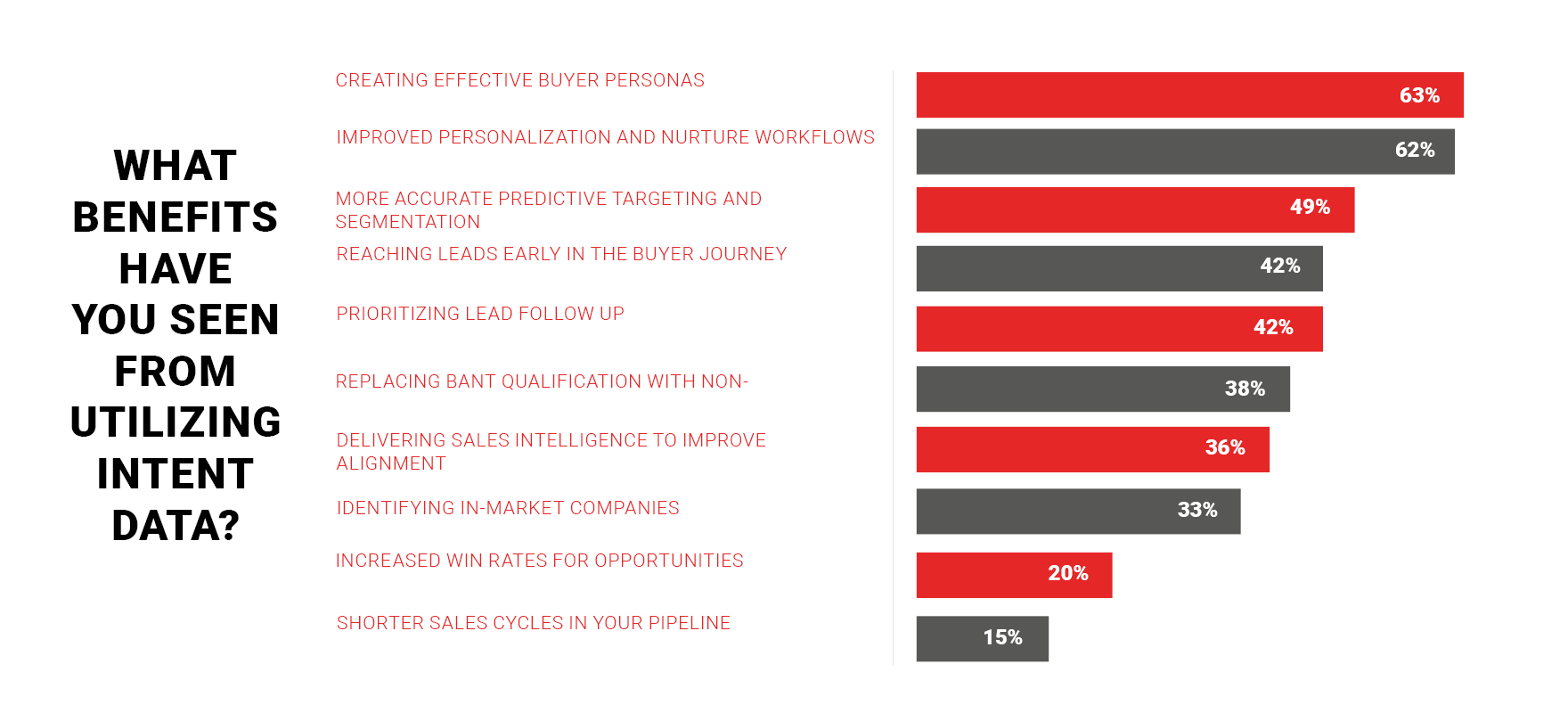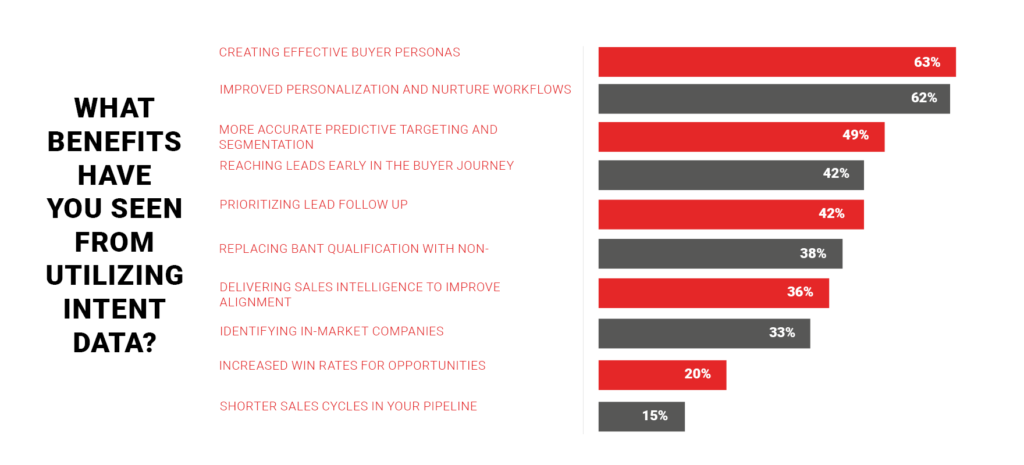 What's abundantly clear from our research is that intent offers incredible opportunities for businesses, with 99% of marketers attesting to increased ROI, improved conversion, or both. Only a minute 1% of organisations said that it was too early to tell if their intent data strategy was effective.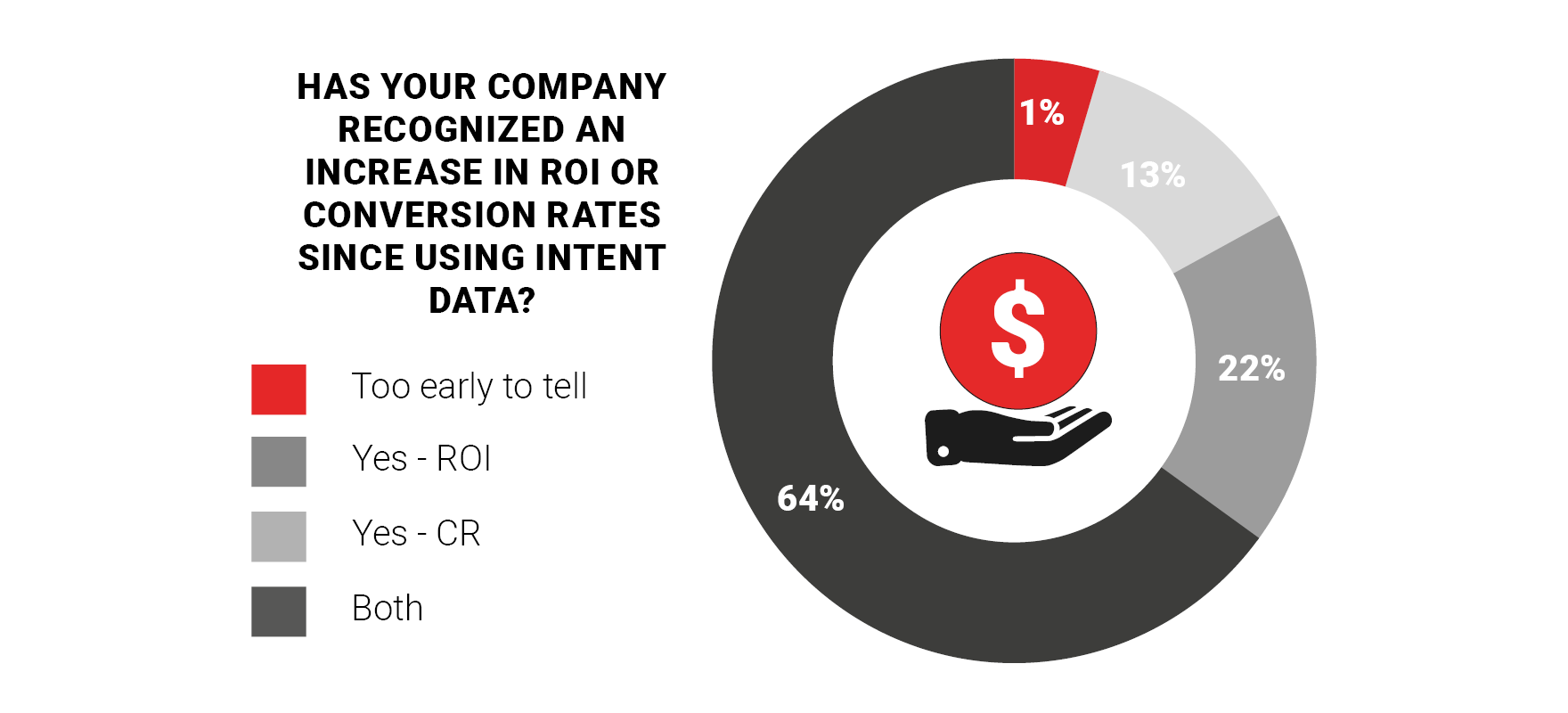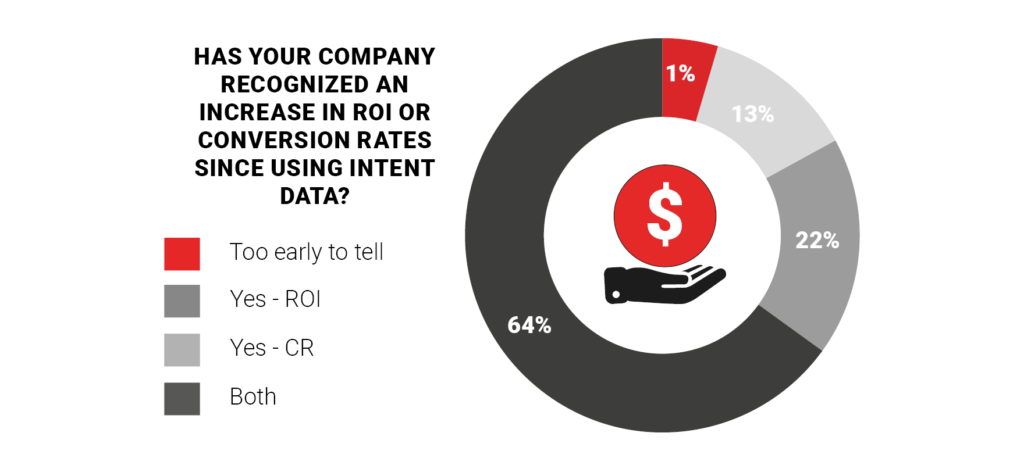 If you have the right tracking in place, you can monitor your progress and set a benchmark for future campaigns. And if you're not seeing the success you desired, it could be an idea to question what went wrong internally.
As seen with our resoundingly positive results, almost every company in our sample set reported improvements to their bottom line. And as the top three challenges highlighted by our survey respondents are all based on human inefficiencies, it's important to question how well your teams are working to make the data actionable, accessible and shareable.
Have a clear strategy in place from the start – one that supports collaboration between Sales and Marketing – and you will have the recipe for success when using intent data in demand generation.