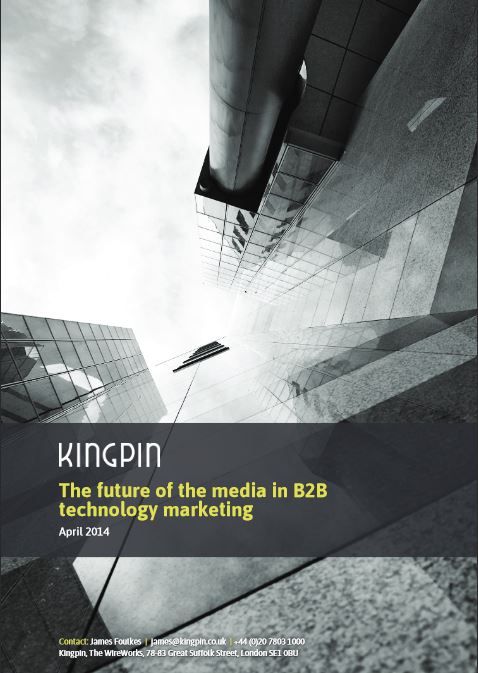 As marketing budgets rise this year, where will technology marketers place their bets, what are their goals and what role will the technology media have in helping them?
London based agency Kingpin, recently got together with 95 top marketers, five leading publishers and other leaders in technology media at a panel event, to find out what the future holds for media in B2B technology. Annual marketing budgets, lead generation, marketing automation and social media are just a few of the topics covered in the poll.
Kingpin were keen to ask how much marketers would work with technology media to achieve their goals. With more options than ever and greater scrutiny over what we do, is technology media still relevant in marketing?
This report presents you with the findings and opinions from the top thought leaders within the industry. It also includes vital insight and opinion from Kingpin, delving deeper into the key findings and conclusions, taking you through how B2B technology media can help in this ever evolving industry.
Just one in ten are seeing a decrease in their marketing budgets, which is promising for marketing departments UK-wide. Unfortunately success still continues to be measured by revenue delivered.
Lead generation is becoming increasingly important to technology marketers.
Findings show that marketing automation platforms are trailing traditional management tools and that those currently using marketing automation aren't always feeling the benefit from their investment.
With marketing budgets for technology vendors on the up and a stronger focus on lead generation, marketers are investing not just in marketing automation software for their own content, but on using technology media noticeably more than they did last year.
So while it doesn't make marketers' lives any simpler, we can probably assume that in the near future technology media will still be a part of B2B vendors' marketing mix.
Kingpin would love to hear your thoughts and views on the future of the media in B2B technology marketing, so take a read and drop them a line! 
+44 (0)20 7803 1000 / enquiries@kingpin.co.uk