Global IT spend continues to rise this year and the world of HRM is no different. As advancements like AI, automation and IoT get on the radars of HR leaders, we can anticipate a significant climb in tech investment. Organisations that are keen to improve talent management and drive forward change for a more positive culture will be the first to optimize their tech stack.
In the midst of this change, vendors have an opportunity to reach, engage and convert HR tech buyers, turning prospects into loyal customers. And with content at the heart of any successful demand or lead gen campaign, the most prolific channels of communication are now online. This means it's easier than ever for marketers to maintain relationships with leads – even during a global pandemic.
But knowing what makes buyers tick is essential for getting your content right. As research can be directly attributed to buyer behavior, we decided to delve into our readership stats to see what's piquing the interest of decision makers. By looking at trends in our Insights for Professionals community, we can reveal exactly what buyers want to know about, what content they want to see, and how this affects their actions further down the line.
Reading time: 7 minutes

A look at the IFP community:
Insight For Professionals is a website by Inbox Insight, designed to provide high quality, relevant and credible resources for business professionals.
Our content features whitepapers and reports from vendors, brands and industry experts, as well as our own primary research. And with over 800,000 subscribers using our site, we are able to analyse patterns and trends in key topics. IFP readership stats include downloads from senior HR professionals, such as managers and department heads, as well as C-suite and board members.

We have used bespoke analytics to compile data on common themes within buyer research and aligned these stats with our recent survey. By bringing together these reliable methods of data collection, we can ascertain some of the most important content trends that appeal to your target audience.
For vendors and demand generation marketers, this is valuable insight into how HR buyers are motivated, as well as their intent to buy.
The HR technology topics that are trending
From the 250 businesses we surveyed, some clear themes were seen when it came to buyer research. The most popular areas of focus in 2020 according to our sample are L&D, employee benefits, employment law, recruitment, core HR topics, talent management, and payroll.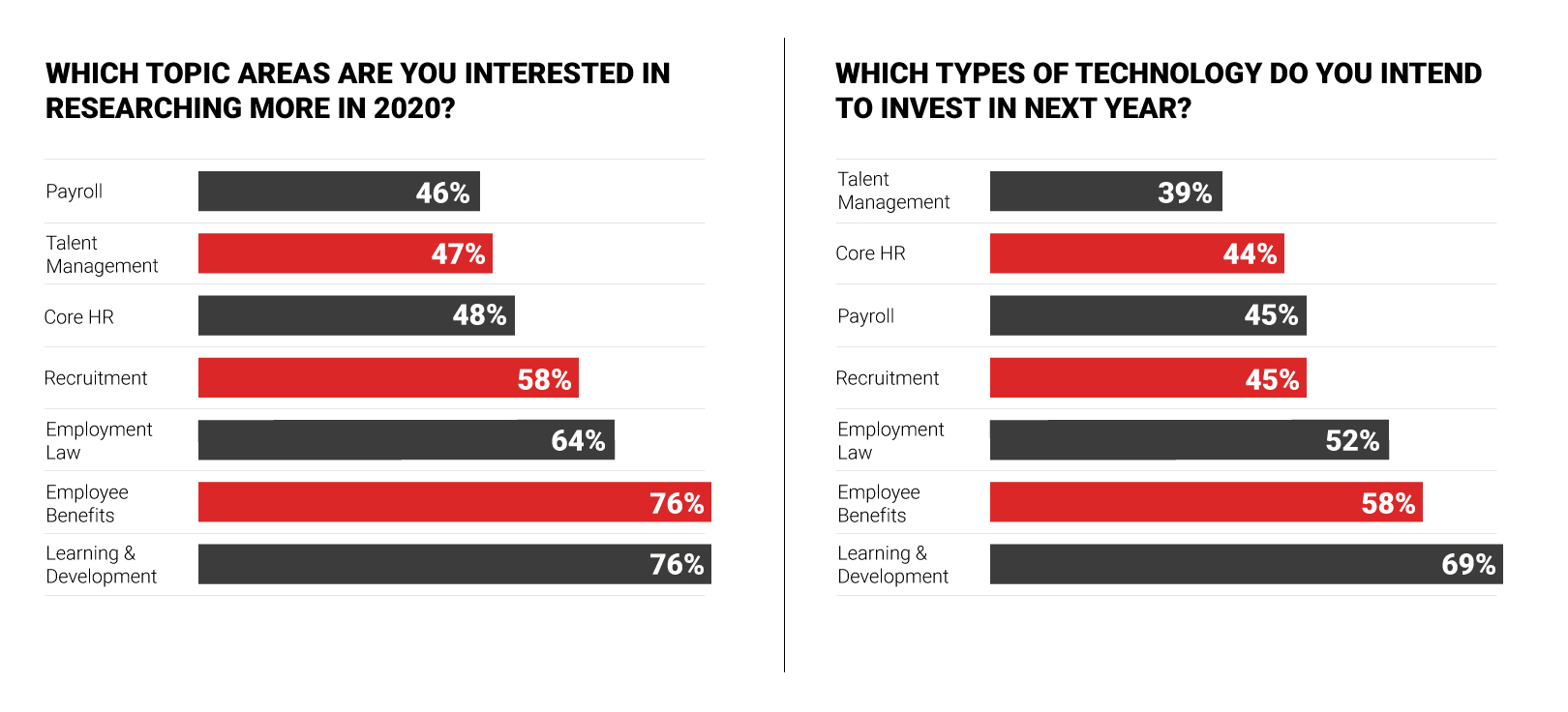 The two key trends are L&D and employee benefits, both of which have been prevalent for a while.
Things such as virtual learning practices, user experience and real-time solutions are areas that will interest companies wanting to enhance their Learning & Development program.
A big shift has also been happening with the way that businesses deal with employee benefits. From increasing the scope of maternity and paternity leave policies to dishing out one-time cash bonuses, businesses are doing more to attract talent and improve retention.
Diving deeper these trends, we can see specific content that buyers are interested in reading or downloading.
L&D
Performance and personal development are more important than ever. With the millennial and Gen Z workforce craving engagement – not just a paycheck – employee assessment technology will become a vital part of L&D strategies.
The challenges faced by HR tech buyers include creating an employee-friendly work environment, finding simple ways to onboard and train, and providing the right compliance training or tools. Plus, being able to adopt technology and roll-out a successful change management program will also be important.

Pay and benefits
Looking deeper into the type of benefits that employees are after, it's clear that there's a resounding desire for flexible work contracts. Evolving to cover the needs of parents is essential for businesses, and allowing remote teams and flexible hours will help brands attract the right kind of people.
With over three quarters of our IFP community researching flexible working, the demand for further knowledge and clarification is apparent. In order to achieve effective remote work environments, networks need to be secure, cloud sharing needs to be seamless, and software and devices need to be successfully managed.
Remote and flexible working comes with many challenges, including major cyber-security risks. Tailoring content around HR/IT pain points can help to position your brand as a thought leader in the market, and a trusted solutions provider.

Talent
The future of the workplace is changing and people management is no longer just a numbers job. Nurturing talent, helping employees grow, and empowering them to have continuous improvement in their work are the holistic ways that HR managers are helping businesses get the best out of their staff.
As more HR teams apply their skills to more intangible endeavors, it's important for companies to make the human resource management process as seamless as possible. The right technology should be able to improve collaboration, enable easier recognition for good work, and assist with selecting, developing and retaining talent.

Recruitment
A lot has been happening within the recruitment world too and this shows in the readership stats from our IFP community. Almost 80% of our readers have shown an interest in recruitment topics and employers are keen to prioritize candidate experience in 2020.
The key sticking points include being able to access and use people analytics, perfecting the process for diversity and gender equality, better screening and on-boarding, and adopting tech-enabled strategies successfully.
Content that discusses these topics will aid HR tech buyers in gathering information and building their tech stack in an educated way.

Leadership
According to our reader stats, around half of HR professionals are researching HR management. There's also a significant percentage (16%) looking at content about company culture. As hierarchies flatten and collaborative work environments become favored, it's important for HR departments to find solutions to help them with the transition.
From communication tools, remote working facilities and easy access management to file sharing and project management platforms, there are plenty of content topics that will have HR leaders entering the funnel.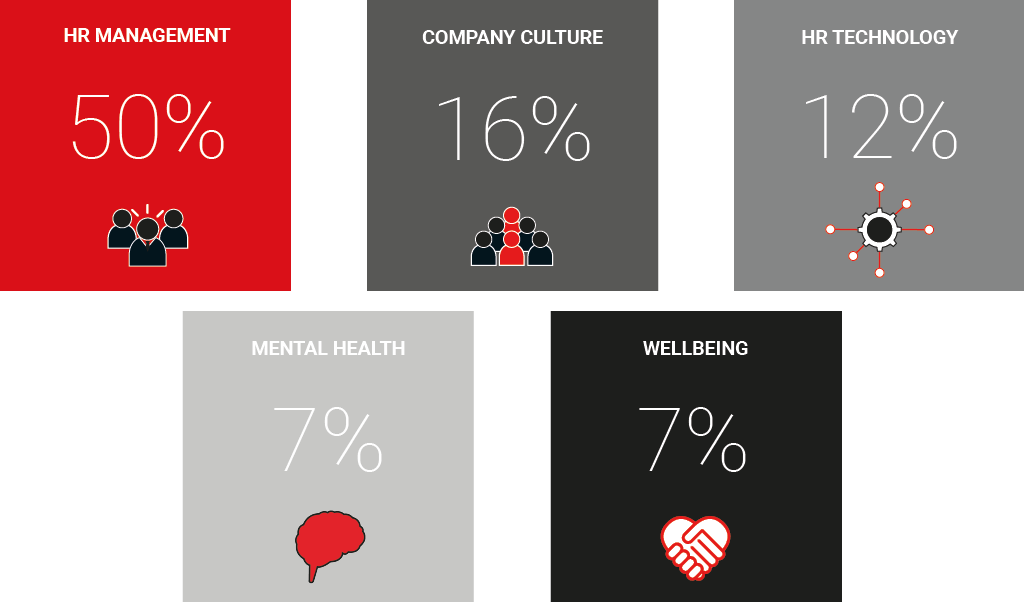 Employment law
From a HR/legal perspective, the political climate has had many effects on the way that businesses conduct processes to do with their employees. Big movements such as the MeToo campaign or the more recent BLM protests highlight just how delicate things can be in the workplace. Being able to manage issues of diversity, gender equality and the gender pay gap, discrimination or bullying means HR teams need to have access to the right tools.
They need to rely on automated processes to handle the mundane, repetitive admin tasks, and they also need effective communication platforms to build and manage staff relationships. Additionally, there are the matters of compliance with laws such as GDPR and data protection.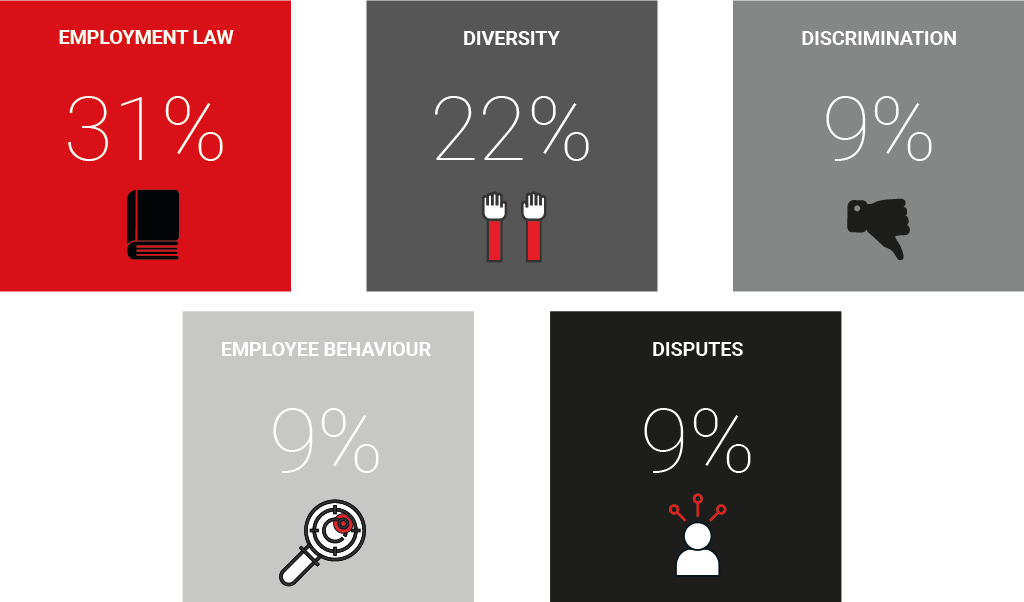 How do trends relate to buyer behavior?
What's most interesting from our survey and readership figures is the direct relationship between research trends and buyer intent.
According to our surveyed professionals, the topics that capture their attention in 2020 are largely linked to the HR technology they want to invest in next year.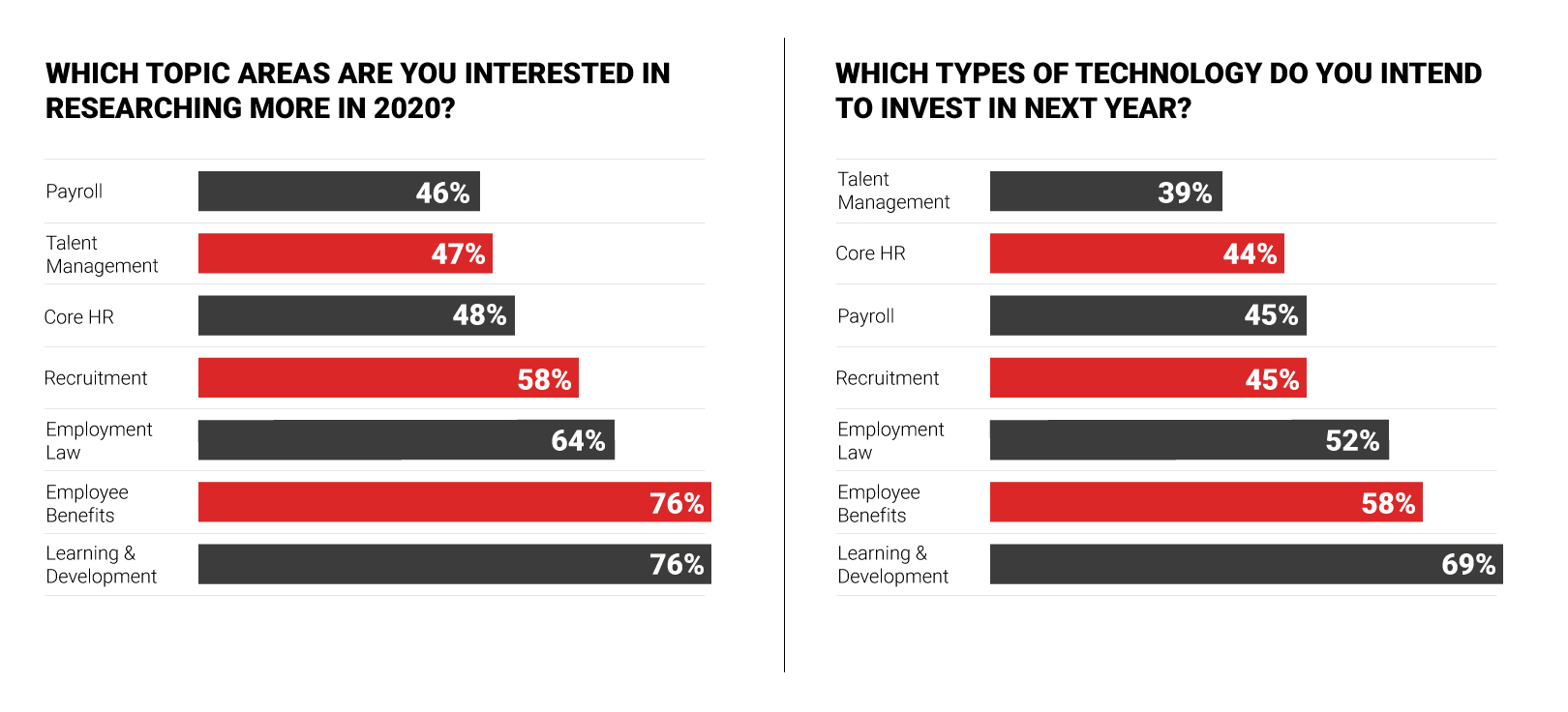 In 2020, the three biggest research areas are L&D, employee benefits and employment law. These are in exactly the same order for the types of tech that buyers want to buy in 2021.
Similarly, documented interest in recruitment, core HR, talent management and payroll in 2020 are also areas buyers will likely invest in.
This correlation means that developing content to nurture prospects along the funnel can result in a conversion further down the line. However, in order to capture your audience and put your brand at front of mind, vendors and marketers must have a long-term content strategy in place.
A variety of content forms should be used and tech companies must be able to meet their prospects on their desired platforms. With multiple stakeholders often involved in a single purchase, content strategists must also position their content in reach of decision makers in every job role. With HR tech purchases, there's almost always more than one person influencing the final decision. Designing campaigns that delight everyone in the DMU is the key to successfully engaging and converting leads into customers.
The HR leaders we surveyed
We surveyed 250 senior HR professionals across the US and UK. All respondents are responsible for decision making when it comes to tech purchases for their respective organisations.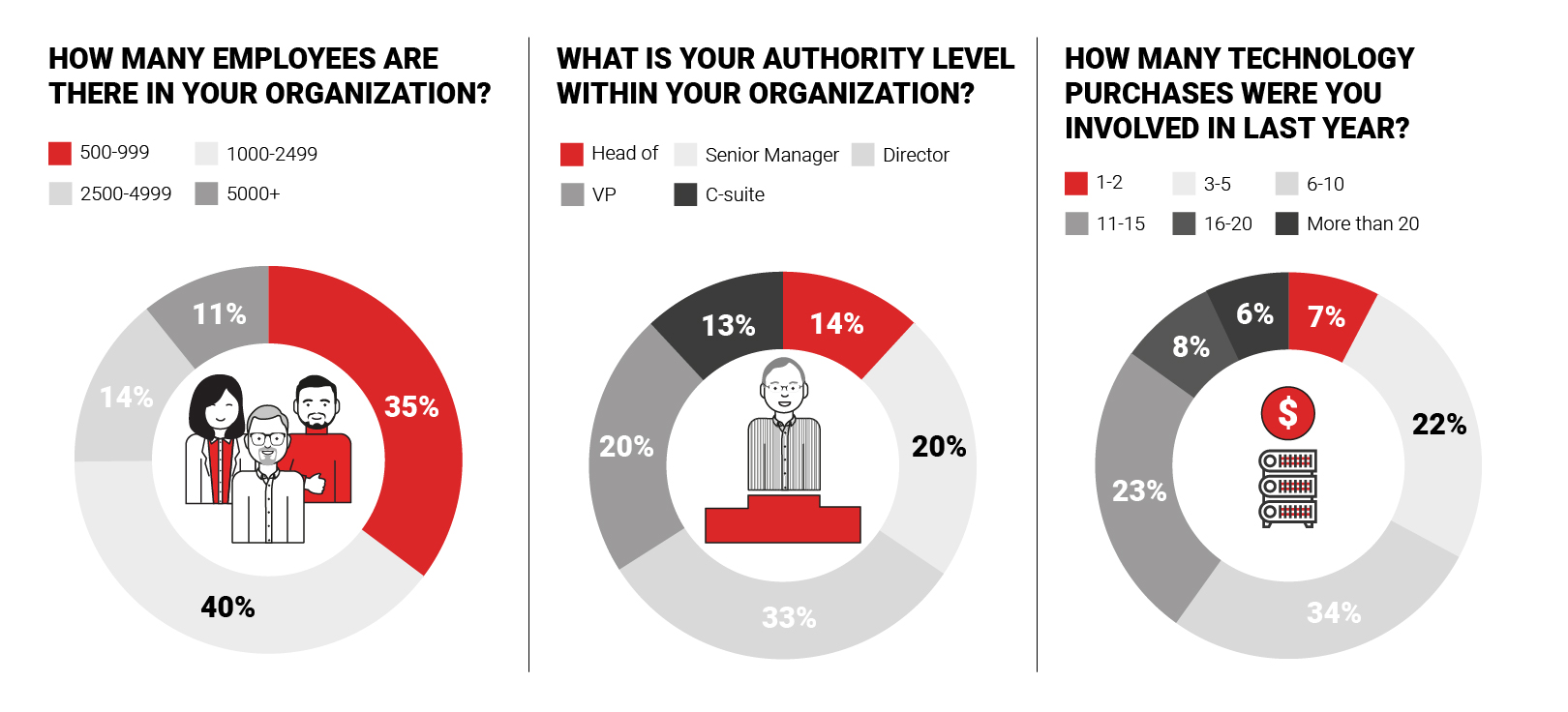 Each respondent in our study is from a large company with more than 500 employees. A breakdown for company sizes can be seen below. Over a third are from companies of 500-999 employees, 40% are from companies of 1000-2499 employees, 14% are from companies of 2500-4999 employees, and 11% are from companies with over 5000 people. Our sample shows a good mix of senior levels, ranging from managers to C-suite.
The largest groups are company directors (33%), followed by VPs (20%) and senior managers (20%). This highlights the importance of marketing to prospects and leads at every level and not being short-sighted with targeting factors, such as limiting yourself to certain job roles.
Purchasing experience
In terms of how involved our respondents are when it comes to HR tech buying, it's clear that many are buying in volume.Over a third are involved in 6-10 purchases per year, almost a quarter handle 11-15 purchases, and 14% are responsible for 16 purchases and upwards.
---
Interested in learning more about the purchasing habits of HR buyers? Access all our research, in the full report.