What's behind our B2B email marketing campaigns?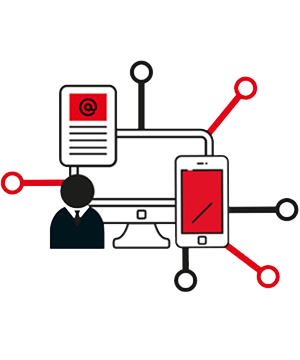 Inbox Insight is a portal to your business to send marketing emails to an active community of 4.1m business professionals specializing in Marketing, HR, IT and Business Management.
We use this engaged community as a springboard for our email campaign services, using data-driven tactics to optimize conversion and engagement.
Due to our experience and proprietary technology, we're able to provide real-time insights that make a significant impact to your b2b email marketing campaign outcomes.
LEARN MORE ABOUT InboxENGAGE
Why consider outsourcing your email marketing?
By targeting professionals with an active interest in what you do, you spend less resources prospecting and more time focusing on what matters most, engaging the right business professionals for your sales pipeline.
With email marketing at our core, delivering thousands of campaigns for global front runners such as Google, Gartner, DocuSign, IBM and Volvo, we're best seated to steer your activity towards a winning email strategy.
Data-Driven Insight
Interests
Behavior
Purchase Intent
Content Preferences
Targeted Publications
IT
HR
Finance
Marketing
Business Management
Dedicated Campaign Team
In-house content creation
Continuous monitoring & performance improvement
Real-time campaign feedback
Lead verification & QA
How do our email marketing programs work?
Our audience members are real people with real interests, preferences and behaviors. That's why we take a nimble approach where constant campaign monitoring is key. This enables us to capture prevailing trends just as they break, so your email campaigns always stay relevant.

LEARN MORE ABOUT InboxENGAGE
Behind all our email marketing communications is TESS, our proprietary ESP that is supported by an in-house team of highly experienced developers. This enables us to maintain complete control while continuously integrating new functionality that enhances our ability to effortlessly reach the right audiences at the right time.
This includes the flexibility to deliver responsive email templates, built for all platforms and optimized for email deliverability and conversion.
B2B Email Marketing Advice
Read our latest articles on email marketing strategy, including advice on building an integrated email campaign that delivers results. Our email marketing guides will highlight our processes and explore what works and what doesn't.

An Advanced Guide to B2B 
Segmentation
Sense-check your current segmentation strategy against some of the best tried and tested approaches…
LEARN MORE
7 Pillars for Successful Demand Generation
What goes into a well oiled demand generation engine? Discover how to plan and execute better digital marketing activities…
LEARN MORE
Ready to see us in action?