Organizations with aligned Sales and Marketing teams generate more than 200% revenue growth from marketing tactics, experience 24% faster growth in revenue, and are over two-thirds (67%) more effective at closing deals (MarTech Alliance).
When the two teams unite, it is clear that great things can be achieved – making way for a highly-converting lead generation strategy. Though, Sales and Marketing alignment is often found to be a key challenge, with almost half of these professionals feeling that they aren't well-aligned.
With this in mind, what key tactics can be used to encourage B2B Sales and Marketing alignment? How can a more unified approach be formed and a relationship between the two teams built?
Read on as we uncover 8 steps to Sales and Marketing alignment based on tried-and-tested best practice…

Reading time: 4 minutes
Why is Sales and Marketing Alignment so Important?
When the two teams align, they are automatically sharing and striving towards the same business goals rather than objectives at individual and team level alone. This sense of collective unity means they are able to take full advantage of business growth for considerably improved:
Return on investment (ROI)
Sales pipeline velocity
Top-line growth.
The more harmonized Sales and Marketing are, the greater the efficiency and effectiveness of the sales cycle thanks to the increased:
Communication and relationship building
Transparency across teams
Understanding of one another's roles
Appreciation of the type of content and formats Sales utilize the most
Awareness of relevant Marketing content to use for Sales purposes.
While it may appear that it's all down to Sales to close the deal once a Marketing Qualified Lead (MQL) has moved along the buyer journey to become a Sales Qualified Lead (SQL), it is in fact a real collaborative effort across the two teams that allows a closed communication and feedback loop to exist. This is why Sales and Marketing alignment is so crucial to driving Sales Acceleration in today's B2B landscape where feedback and improvements are key.
Sales and Marketing Aligned: Continuous Feedback Cycle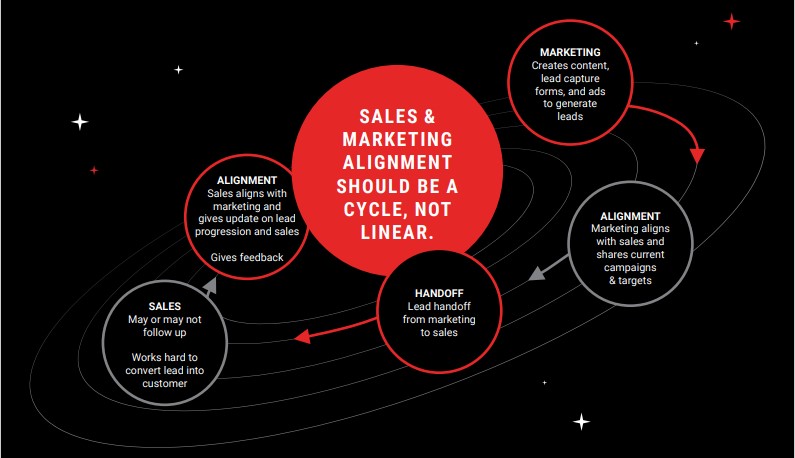 Key to remember is that Sales and Marketing alignment is a continuous cycle of feedback and improvements. The diagram above demonstrates the key areas within this loop and how they must constantly orbit the two teams to enhance alignment as far as possible.
How can B2B Marketers Plan for Sales and Marketing Alignment?
Planning is a crucial element to effective Sales and Marketing alignment in order to ensure every individual understands exactly what is expected of them within their role and, equally important, the timescale and budget they must work within.
This also encourages transparent accountability among team members, ensuring everyone is working towards one clear and shared agenda. This is of course the ultimate aim – it's essential that your Sales team is working from the same page as your Marketing efforts are focused on.
In order to plan consistently and effectively, we've put together the following framework that can be used to clearly set out key tasks and responsibilities across both Sales and Marketing teams:

Once you have a completed plan of clearly defined tasks and responsibilities, it's vital that these are referred to and monitored in line with your overarching shared goal to ensure that everyone remains on track to achieving this.
Sales or Marketing: Who's Accountable?
The following diagram visually demonstrates the role of both Sales and Marketing throughout the B2B Sales journey, to develop a clear understanding of who is accountable at what stage of the Sales process and how.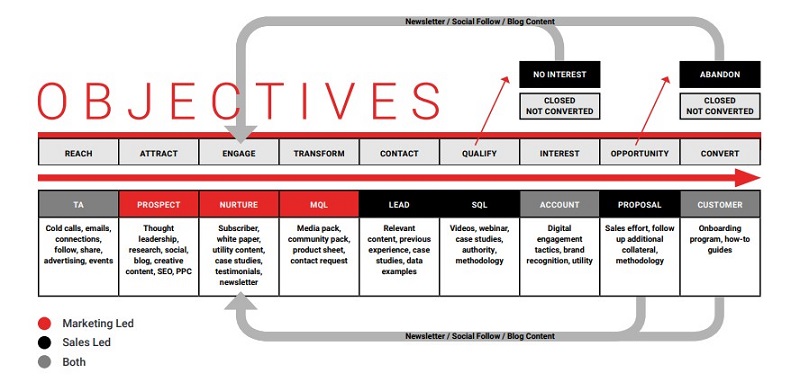 Laying out exactly which activities each role and wider team is responsible for is a great way of measuring how well your current roles and responsibilities align with best practice. For instance –
Do you have enough resource to meet the role expectations and requirements?
Do you have enough relevant and up-to-date assets to place suitable content in front of buyers at the right stage along their purchase journey?
How to Enhance Sales and Marketing Alignment to Drive B2B Sales Acceleration
Achieving Sales and Marketing alignment is a process that takes time, effort and commitment from all involved as well as planning and accountability towards one shared agenda. But what steps can B2B businesses take in order to increase their Sales and Marketing alignment?
Here's 8 key tactics to enhance unity across the two teams:
Lay out clear responsibilities
Both teams need to understand their roles, responsibilities and tasks for a smooth hand-off of leads while encouraging accountability. Plan and review continually in order to ensure it is working efficiently and effectively.
Meet regularly
Regular meetings ensure everyone is on track, feels connected, and are fulfilling expectations. This greatly helps to build relationships and prevents the two teams working in silos.
Create ample new content
Sales reps communicate with prospects on a daily basis – and learn a lot from them. It's vital to develop an effortless way for them to feedback key pain points and areas or topics of interest to help Marketing create relevant content that truly resonates.
Communicate all new content
Keeping Sales updated with all new marketing collateral or promotions that leads are sent is crucial to aligning everyone's collective efforts. This also allows Sales to hold productive, professional and accurate conversations with leads.
Learn from each other
Sharing reports and analysis with the other team provides essential insight into the performance of key activities, areas for improvement and strategic takeaways based on what the data reveals. It's there, so share it!
Shadow Sales
In order for Marketing to truly understand how Sales calls are conducted, set aside time for the team to shadow calls. The amount of appreciation for the challenges faced by Sales daily will no doubt be considerable – and will importantly help with content planning.
Sales enablement resources in one location
Having all Marketing assets in one easily accessible location for Sales to utilize will save a lot of wasted time searching for appropriate assets. Company guides, templates, presentations, promotional information and so on should be included here.
Promote teamwork
Building relationships outside of the office is important. Joint team lunches, workshops, team build days or after work drinks will go a long way in establishing strong relationships among the two teams. After all, the more they know one another as people, the more likely they are to work as one.
Final Thoughts
Effective Sales and Marketing alignment brings the two teams closer together for a more unified approach that drives B2B Sales Acceleration – making way for a highly converting lead generation strategy. While aligning the two teams can come with challenges, it is not impossible.
Therefore taking the time to properly plan and lay out key roles, responsibilities, timelines and budgets is critical for ensuring accountability. Likewise, continuous monitoring, communication, content creation and regularly meeting both in and out of the office is how Sales and Marketing can really unite.