B2B Account Based Marketing
How can I break-free of traditional targeting limitations?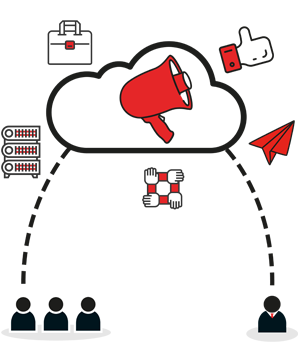 As a gateway to over 3.5m engaged B2B decision makers, match your target accounts to our in-market buyers.

With an active business community spanning IT, HR, Marketing and Business Management, we help you move beyond first party data restrictions to discover a wealth of audience insights.
This may include matching a pre-compiled target account list (TAL) to our existing first party audience profiles or working with our channel partners to connect millions of data points to create a clear picture of your audience.
Whatever your account based marketing plan, we have the depth and breadth of audience insights and intent data to accommodate every targeting requirement.
LEARN MORE
Instant access to traditionally hard to reach accounts
Some accounts are notoriously hard to reach using traditional B2B account based marketing methods. As data-driven specialists with strategic channel partnerships, we enable you to transcend previous limitations, so you can reach the people that matter to you most – at scale!
This means identifying key touchpoints across your target audience's digital ecosystem, along with the most relevant intent data insights to deliver your message at precisely the right times to generate engagement.
LEARN MORE
1-2-1 account based marketing strategies executed at scale
The sheer scale of data we harbor means we can facilitate any digital account based marketing strategy whether one-to-one, one-to-few or one-to-many.
It all starts with your segmentation strategy, from which we build out accurate prospecting lists and execute data-informed content marketing campaigns that can be dialed up or down according to your marketing objectives.
LEARN MORE
Multi-channel tactics for immersive content experiences
Drive profitable engagement through serving your audiences the right content at the right touchpoints to generate the right response.
We understand the 'right type' of response is dependent on your campaign objectives. That's why we build multi-channel tactics around your goals to ensure the best fit. This flexible approach makes accomplishing your objectives, within your budget and timeframe, achievable.
From driving brand awareness through to lead generation and fully integrated demand generation campaigns, we have the expertise and digital channel capabilities to tailor the best digital campaign for your account based marketing approach.
Check out our product suite…

LEARN MORE
The 10 Building Blocks of Account Based Marketing
87% of B2B marketers agree that ABM delivers higher ROI than other strategies. How does your ABM measure up?
LEARN MORE
5 Easy B2B Marketing Mistakes
Why isn't my ABM working? Evaluate the health of your ABM strategy with this 5 point checklist.
LEARN MORE
Ready to see us in action?