While ABM may seem like a buzzword, the concept of prioritizing high-value accounts is not a new one for successful sales teams. They have always organized and prioritized accounts based on factors such as their fit, value, and potential to close.
However, what has changed in recent years is the expanded role of marketing in complementing and enhancing the account-focused sales approach. With the rise of ABM, marketing has become an equal partner with sales in identifying and engaging key decision-makers and stakeholders within target accounts. This collaborative effort creates a more personalized and effective customer experience, resulting in increased revenue and customer acquisition and customer retention.
ABM is all about focusing efforts on identifying and prioritizing best-fit accounts and customers that provide the most attractive opportunities for your business. And, with recent advancements in technology and data analytics, it's easier to implement ABM at scale and with greater precision.
In this article, we will delve into the key elements of ABM and show how it can benefit your B2B marketing strategy by improving targeting, engagement, and revenue growth.
Reading time: 12 minutes
How does ABM work?
Unlike traditional marketing methods that focus on a broad audience, ABM targets high-value accounts as individual markets, rather than a wider audience. This approach involves identifying and prioritizing key accounts, creating personalized messaging and content tailored to their specific needs and interests, and engaging with decision-makers and stakeholders throughout the entire buying journey.
How to choose the right account-based strategy?
When it comes to your strategy, there are three main ABM strategies to consider:
One-to-one account-based marketing – Also known as Strategic ABM, in this tier, marketing works directly with the customer account teams to create highly personalized marketing programs for 'markets of one', otherwise known as micro-campaigns. The resources and budgets needed for 1-1 account marketing mean typically only the highest value accounts are in scope where the opportunity value must be large enough to warrant the white glove experience – ideally six figures or over. As an example, a typical one-to-one campaign may target around 5 to 10 of your key accounts.
One-to-few account-based marketing – The second tier can also be referred to as ABM Lite. Depending on the number of accounts in focus, this approach may use digital marketing techniques but more often than not, it's limited to 10s rather than hundreds of accounts which share similar attributes based on segmentation criteria such as industry or business challenge. The key is once again to target them with highly personalized content that speaks directly to the audience
One-to-many account-based marketing – Also known as programmatic ABM, one-to-many, as the name suggests, focuses on a large number of named accounts delivering personalized content at scale. More often than not, this approach to ABM relies on specific tech to aid delivery. 
Choosing the right strategy is the most important step, so it's vital to analyze the types of accounts you have in order to realize the best-fit approach. 35% of companies apply more than one strategy to ensure that their top accounts receive optimum personalization, while a broader campaign is used to reach other customers.
Build strong account intelligence foundations
To ensure the effectiveness of any ABM strategy, it is crucial to establish a robust foundation of account intelligence. To achieve this, you should start with the following essential steps:
Evaluate your ABM capabilities:
Begin with evaluating your current ABM capabilities to identify any gaps and areas for improvement. Consider factors such as your team's level of expertise in account-based marketing and account-based selling, your ability to identify target accounts and decision-makers, your ability to personalize messaging and content, and your ability to track and measure the success of your ABM efforts.
Audit your tech stack:
Technology plays a critical role in helping businesses identify the right accounts to target, engage with them effectively, and measure the success of their marketing efforts. Technology also plays a crucial role in measuring the success of ABM efforts. Advanced analytics platforms can track key metrics such as engagement rates, conversion rates, and revenue generated from targeted accounts. These insights allow you to refine your ABM strategies over time to achieve the best possible results.
Conduct an audit of your current tech stack to ensure that it includes the necessary tools for account identification, personalization, and measurement. Look for tools that can help you identify target accounts, track account activity, personalize content, and measure the success of your ABM efforts.
High-performing ABM teams:
Learn from high-performing ABM teams to gain insights into their strategies and tactics. Look for case studies, webinars, and other resources that can help you understand how successful ABM and revenue teams identify and engage target accounts, personalize messaging and content, and measure the success of their efforts.
By following these steps, you can build a strong foundation of account intelligence to support your ABM efforts and increase your chances of success.
The role of sales and marketing alignment
Alignment is more than a buzzword; it is a crucial element for the success of ABM.
At the core of account-based marketing lies the need for sales and marketing teams to collaborate and combine their resources, including knowledge, data, ideas, talent, and budget.
The first step is to identify and prioritize the highest-value accounts. This requires a deep understanding of the customer's needs and preferences, which can be achieved through data analytics. The next step is to personalize outreach efforts to stand out with potential buyers.
And finally, teams need to agree on shared key performance indicators (KPIs) such as conversion rates, engagement rates, and revenue generated from the target accounts.
Based on the analysis of these KPIs, marketing and sales teams can together identify areas for improvement and optimize future ABM campaigns.
How to create an effective ABM framework
In any ABM framework, the first and most critical task is selecting the right accounts to target. The account identification process should begin by defining an Ideal Customer Profile (ICP).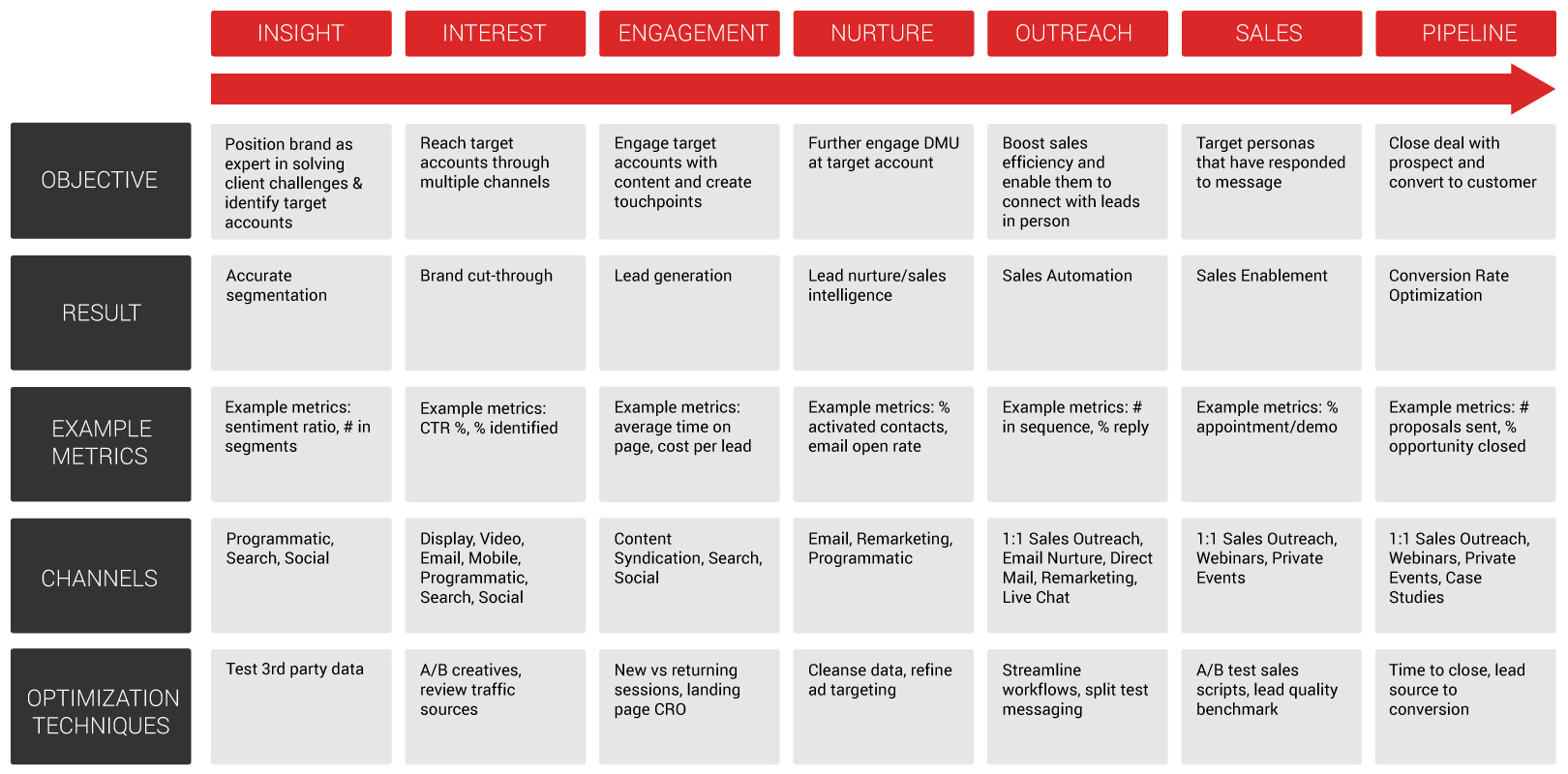 Step 1: Identifying your ideal customer profile (ICP)
This involves creating a detailed picture of your target accounts, including their industry, size, revenue, pain points, the buying committee and buying behavior. The ICP helps you understand which accounts are most likely to generate the highest return on investment (ROI) for your business.
Step 2: Conducting account research and mapping
While sales teams may have a general idea of which accounts to pursue, the process should be data-driven and led by marketing. This involves researching and analyzing the accounts that fit your ICP, identifying the key decision-makers and influencers, and mapping out their organizational structure. This stage is critical to understanding the account's challenges, goals, and buying cycle. By incorporating intent data, businesses can gain a better understanding of which accounts are actively in the market for their products or services and prioritize their outreach efforts based on the buying signals they are seeing accordingly.
Step 3: Account prioritization and entitlements
Account prioritization is the process of ranking the accounts based on their potential to generate revenue and their strategic importance to the business. Account prioritization enables you to focus your resources and efforts on the most valuable accounts, maximizing ROI.  It involves ranking target accounts based on their fit, value and potential to close. Entitlements refer to the level of resources and attention that each account should receive. This stage ensures that the right level of attention is given to each account, based on its value and potential.
By following these three stages, you can create a targeted ABM program that focuses effort on high-value accounts and that have the potential of delivering greater ROI.
The next step in any framework is to create personalized and targeted campaigns that resonate with your target accounts, to increase levels of engagement and drive higher conversion rates.
Creating ABM content
Personalized messaging and targeted content
One of the key principles of ABM is personalization, and this extends to the content that you create and share with your high-value Target Accounts. To effectively engage and resonate with your target accounts, it's essential to develop personalized messaging that speaks directly to their unique needs, challenges, and interests.
Mapping content to the buyer's journey
To begin, you'll want to map out the buyer's journey for each account and identify the types of content that are most relevant and valuable for each stage of the funnel. This could include educational content to build awareness, thought leadership content to establish credibility, and product-focused content to drive conversions.
Crafting content that resonates with your target accounts
Once you have a clear understanding of the types of content needed, you can begin crafting targeted content that speaks directly to the needs of each account. This could include customizing existing content pieces or creating new content specifically for each account.
To ensure that your content is resonating with your target accounts, it's important to gather feedback and insights from them throughout the engagement process. This feedback can help you fine-tune your messaging and content strategy, making it even more effective in driving engagement and conversions.
Selecting the right channels for each account
ABM is all about tailoring your marketing and sales efforts to specific accounts or groups of accounts, so it's essential to use the channels that will be most effective for each one. Different accounts may prefer to consume content through different channels, so it's important to tailor your outreach efforts accordingly. By analyzing account data and incorporating intent data, businesses can gain a better understanding of which channels are most effective for each account, allowing them to create personalized and targeted campaigns that resonate with their audience – whether that's digital advertising, direct mail, phone or social channels. By selecting the right channels and delivering a consistent brand experience, businesses can maximize the impact of their ABM campaigns and drive better business outcomes.
Engaging target accounts
When it comes to engaging with target accounts, it's important to consider which channels will be most effective for reaching decision-makers and influencers within those accounts. This may vary depending on the size and industry of the account, as well as the individual preferences of the people you're trying to reach. Some channels to consider might include email, social media, direct mail or even in-person events and meetings.
Building account-specific campaigns
One of the key benefits of ABM is that it allows you to create highly targeted campaigns that are tailored to the specific needs and interests of each account. To do this effectively, you'll need to consider which channels will be most effective for delivering the messages and content you're creating.
Creating personalized experiences for each account
Personalization is a crucial aspect of successful ABM, and selecting the right channels is key to delivering personalised experiences to your target accounts. Consider which channels will allow you to customize messages and content for each account, this could include direct mail, email or interactive channels such as chatbots or personalized landing pages, which can provide a more tailored experience for each individual.
Understanding the role of sales in ABM engagement
While marketing is typically responsible for creating and delivering ABM campaigns, sales also play a critical role in engaging with target accounts. As you select channels for your ABM efforts, it's important to consider how sales will be involved in those efforts and which channels will be most effective for their involvement. Sales need to be able to leverage their personal networks and connections to help build relationships with target accounts.
Measuring ABM success
Measuring ABM success is crucial to understanding the effectiveness of your efforts and identifying areas for improvement. While traditional marketing metrics like click-through rates and conversions are still relevant, ABM requires a more account-focused approach to measuring success.
Setting up ABM-specific metrics:
When it comes to ABM, it's important to establish metrics that are specific to your goals and objectives. While leads are important you'll want to be analyzing the number of engaged target accounts or the percentage of target accounts that have progressed to the next stage of the sales cycle. By setting up ABM-specific metrics, you can better track progress and understand the impact of your efforts.
Tracking account engagement and progression:
Engagement and progression metrics are key to measuring ABM success. These metrics track how well you're engaging with target accounts and how effectively you're moving them through the saldes cycle. This could include website visits or content downloads from a specific account or the number of meetings or calls with decision-makers at an account.
Measuring revenue impact:
Ultimately, the success of ABM is typically measured by its impact on revenue. This nearly always includes the amount of revenue generated from target accounts, the percentage of target accounts that have become customers, or average deal size for target accounts compared to non-target accounts.
By measuring revenue impact, you can demonstrate the value of your ABM efforts and make a strong case for continued investment in the approach.
Analyzing and optimizing ABM campaigns:
Once you've established metrics for measuring ABM success, it's important to regularly analyze your results and optimize your campaigns accordingly. This could involve A/B testing different messaging or tactics, experimenting with different channels or content formats, or refining targeting criteria to focus on the accounts that are most likely to convert.
Scaling ABM
Scaling ABM is an important consideration for organizations that want to expand their ABM efforts beyond a small pilot program or initial test. While scaling ABM can be challenging, it's also an opportunity to extend the benefits of this approach to more accounts and drive even greater revenue growth.
Best practices for scaling ABM:
There are several best practices that can help organizations scale their ABM efforts effectively. These include identifying high-value accounts that are a good fit for ABM, creating a scalable ABM framework that can be replicated across different accounts, and leveraging data and analytics to improve targeting and personalize messaging. It's also important to establish clear processes and workflows to ensure that ABM efforts are coordinated and aligned across different teams and functions.
Incorporating technology for ABM success:
Technology can play a critical role in scaling ABM by automating repetitive tasks, providing data and insights to inform targeting and messaging, and enabling more personalized and targeted communications with target accounts. Tools like account-based advertising platforms, predictive analytics and marketing automation software can all help to streamline and enhance ABM efforts. However, it's important to choose technology that aligns with your overall ABM strategy and goals, and to invest in the necessary training and support to ensure that your teams can use these tools effectively.
Understanding the challenges of scaling ABM:
Scaling ABM can present several challenges, including maintaining a consistent level of personalization and engagement across a large number of accounts, coordinating efforts across different teams and functions, and ensuring that ABM efforts are aligned with broader marketing and sales strategies. To overcome these challenges, it's important to have a clear plan for scaling ABM, establish clear roles and responsibilities for different teams, and communicate regularly to ensure that everyone is on the same page.
The benefits of ABM
ABM offers a range of benefits, including increased alignment and collaboration between sales and marketing teams, better customer engagement, and greater insight into customer needs and preferences.
In this final section, we will explore these benefits in detail and explain why ABM is a crucial strategy for any B2B marketing plan.
Shorter sales cycles
To shorten the sales cycle and avoid wasting time and resources on unqualified prospects, it is essential for sales and marketing teams to focus their efforts on accounts that have a higher likelihood of converting. By targeting these accounts, you have a higher chance of efficiently eliminating unqualified prospects early in the sales process, saving time and resources while increasing your chances of success.
Clearer path to ROI
By targeting specific high-value accounts and tailoring marketing efforts to their unique needs, ABM provides a more focused and measurable approach to marketing. This allows teams to track the impact of their efforts more accurately, enabling them to make data-driven decisions making it a particularly effective strategy for companies looking to grow their revenue and scale their business
Targeted use of resource
A lot of campaigns require businesses to hedge their bets on multiple prospects, spreading resources across a wide range of accounts and prospects. This can mean wasted resources and money. ABM focuses on a select group of high-value accounts that are most likely to generate significant ROI. This allows teams to allocate their resources more efficiently and effectively, ensuring that they are spending their time and money where it will have the most significant impact. 
Sustainable growth
Marketing to a set of key accounts helps organizations develop sustainable growth strategies. 49% of marketers use personalization technologies to achieve this holistic view of marketing, allowing them to go far beyond just lead generation. Instead, they build trust with top decision-makers and position themselves as a thought leader or expert in their industry.
Encourages collaboration
Not only is account-based marketing fantastic for nurturing client relationships, but it can help build bridges internally too. Since ABM is a highly targeted approach, it requires a deep understanding of the customer's needs and preferences. This understanding can only be achieved through close collaboration between sales and marketing teams. By working together to define the Ideal Customer Profile (ICP), conduct account research and mapping and deliver content experiences, sales and marketing teams can gain a better understanding of their target audience and develop even more effective campaigns. This collaboration not only helps to improve the efficiency and effectiveness of marketing efforts but also strengthens the overall relationship between sales and marketing teams, leading to better communication and alignment in achieving shared business goals.
Conclusion
Account-based marketing strategies may take some time and effort to get right initially but once you do, you could achieve so much more from your digital marketing strategy. Overall, ABM is a powerful strategy for companies looking to grow their revenue, scale their business, and build stronger relationships with their most valuable accounts. By following the best practices outlined in this guide, you can also create a successful ABM program that drives real business results.
Was this article helpful? For more best practices written by digital marketing specialists for marketers, check out our articles: