Reading time: 4 minutes
As 88% of senior B2B marketers see an improvement in conversion rates when using ABM, we considered the 5 Account-Based Marketing Facts Every B2B Marketer Should Memorize to avoid the common pitfalls of adopting an ABM approach.
One main obstacle identified was the neglect to factor all the different members of the decision making unit (DMU) into the B2B marketing segmentation strategy. Nearly 70% of businesses involve 5 or more people in every buying process. While 90% of business professionals agree that there is usually or always one member of the decision making unit who tries to influence the decision to match their own.
So while directing your focus on the main budget holder or C-suite decision maker may seem like an obvious strategic move, power in numbers is as critical.
For example, have you ever experienced success building strong engagement with a prospect that suddenly and quite unexpectedly drops off or never progresses? This could have been the result of another DMU member's involvement. Not producing enough content that directly addresses the needs and priorities of all the key stakeholders in the buying process could derail your efforts later down the line. However, by winning them all over, you have a significantly better chance of success.
It's therefore time to explore the often untapped and persuasive power of lower and mid-level stakeholders that make up a significant proportion of your target account's DMU. These pockets of influence are often within easier reach and can have a big impact on the effectiveness of your campaign success.
This article puts the DMU back in the center of your B2B marketing strategy, making sure you deliver what they want to hear, in order to win their trust (and business).

The combined power of individual B2B decision makers
The B2B buying decision is made collectively. But in order to win over the majority of individual stakeholders that make up that buying collective, you've got to know what each member wants to hear, and when they want to hear it.
This statement brings forth 2 considerations:
The individual needs of each stakeholder (81% of B2B buyers now expect a personalized online buying experience)
The processes they go through when making a decision about you (94% of B2B buyers research online at some point in the buying process)
In order to address the above, it's important to go back to marketing basics – the Decision Making Unit model (also known as a buying center).
According to marketing professor and author David Kotler, there are 6 archetypes in the DMU:
Initiator
Buyer
Decision Maker
Coordinator/Gatekeeper
Influencer
User
Each member plays a significant role in the B2B buying decision, regardless of seniority. This doesn't necessarily mean you must create an individual content marketing strategy for each individual role, it does however show the importance of engaging more than one member.

Take for example the needs of a User assigned the task to find a solution to make their output more productive. Their need is to uncover best practices or tangible solutions that will enable them to perform their tasks with greater speed, ease and competency.
This may be a video tutorial or a how-to guide or a learning series that provides easy-to-digest, actionable advice that can be applied to their day-to-day duties with immediate effect. You don't need to look far to see real-life examples – the Hubspot Academy is a free online educational program targeted at entry to mid-weight marketing roles.
Through translating their content strategy into a learning program that delivers a constant stream of information that feeds both the rational and emotional needs of a modern marketer (i.e. to become better in their role and to gain social currency through accreditations), many would argue Hubspot have hit the nail on the head…


(Source: HubSpot Academy)
This is even more apparent when you consider the influential sway a team of Hubspot Academy advocates may have on the department's decision to implement or upgrade a marketing automation solution that supports the newly optimized way of working.
Now let's turn our attention to a stakeholder further up the ladder; a time poor manager, balancing both strategic and operational priorities. What sort of information could help them discern between new emerging technologies and the time to act?
This is where prevailing thought leadership and analyst reports transformed into easy-to-digest infographics and guides provide high value, especially if accessible through a trustworthy aggregator that leverages digital intent data to deliver the most relevant information straight to the inboxes of those too busy to search.
These examples illustrate the need to understand the DMU of your target account and their unique information requirements. As each member of DMU has a different perspective and set of needs, we must create a dynamic content strategy that pitches the right message to the right types of decision makers.
Dig Deeper: understanding the modern DMU to improve your B2B targeting strategy
The DMU concept was first created by Webster and Wind in 1972. Unsurprisingly, it's evolving. Here are 3 game changers:
1. Millennials 
Millennials have entered the workforce. 73% of 20-35 year olds are now involved in product or service purchase decisions at their companies. 75% of the global workforce is predicted to be made up of millennials by 2025. This new demographic has brought new B2B market research habits. They are digital natives who gravitate more strongly towards video and online, being the digital savvy individuals they are. Oh, and by the way – 75% of millennials feel phone calls are too time-consuming…
2. Online buying
61% of B2B buyers research products from their smartphones, with over half of all web traffic now existing on mobile phones. Meetings and phone calls with sales contacts now take place much later in the buying process. After completing their online research, buyers are choosing who they want to speak to. It's an 'invitation only' sales shortlist. To make it onto the guest list, you must provide relevant information throughout the customer journey. Essentially, around 80% of all internet traffic is triggered by user intent; the need for information.
3. Bigger DMUs
As our earlier stat showed, the DMU is growing –  climbing from an average of 5.4 two years ago to 6.8 today. To reach this larger, more diverse group, marketing campaigns have to work harder than ever. This means creating more diverse audience personas and relevant content. One-size-fits-all is unlikely to succeed (Account-Based Marketing Research Report).
How can I map the DMU to better plan my demand generation campaigns?
We've created the following template to assist with your digital campaign planning. Through mapping each member of your target audience's DMU, you can begin building a better B2B content strategy that delivers the right content to the right person in the right way.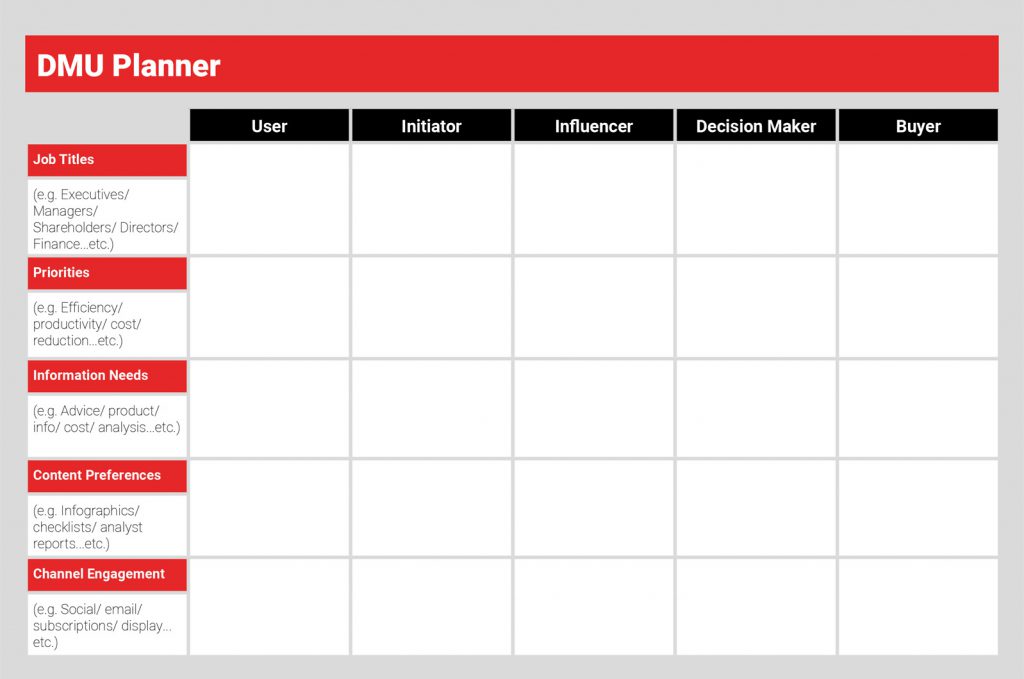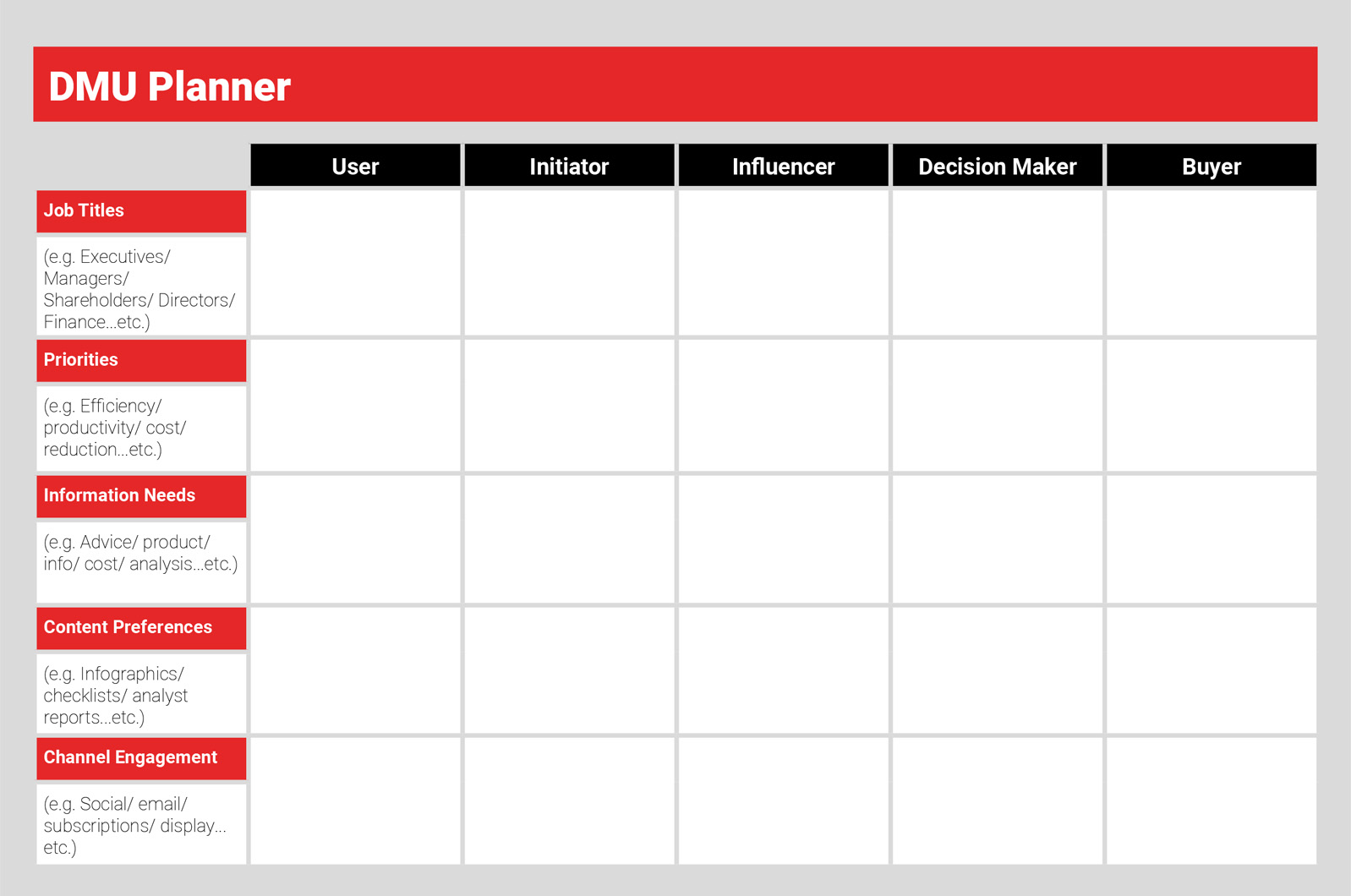 What other factors shape the mindset of modern B2B Decision Makers?
The traditional notion of a B2B DMU stakeholder as a rational, calm and calculated buyer immune to emotion is shifting, especially when you consider the impact the talent shortage, social media and a growing millennial workforce have on the importance of cultivating employee wellbeing and company culture. Millennials are replacing retiring baby boomers, bringing different aspirations, beliefs and values to the workplace. 94% of business professionals believe company culture is important to an organization's success.
In a digital age where we're encouraged to think and feel, in equal measures, can we afford to neglect the emotional side of a B2B buyer? In fact, in a major study partnered with Google it was revealed on average, B2B customers are significantly more emotionally connected to their vendors and service providers than consumers and are 50% more likely to buy a product or service when they see personal value (Google, CEB Marketing, Motista).
What's more, further CEB research suggests the phycological impact of living in an abundance of choice and information is taking its toll, leaving many buyers deeply uncertain, stressed and overwhelmed (Harvard Business Review).
With this in mind, here are 10 questions to help tap into the psyche of your B2B buyers:
Who are they trying to impress? (Other members in the DMU, peers, family…etc.)
What struggles are they going through? (Professional/personal…etc.)
How can your content make their jobs easier? (Gain back time, increase productivity…etc.)
What trends or topics do they follow? (Intent data, subsciptions…etc)
What content are they likely to share in their LinkedIn feed? (Curated content, their own thought leadership, news alerts…etc)
What knowledge will make them look good in front of peers and other stakeholders? (Thought leadership, strategic input, trend forecasting…etc.)
Who do they trust? (Thought leaders, peer groups…etc.)
Who do they aspire to become? (CEO, Director, Thought Leader…etc)
Which Tone of Voice (ToV) resonates best? (Specialist terminology vs accessible language, warm  vs authoritative tone…etc)
How can you simplify their decision making process? (Prescriptive approach, nurture process…etc.)
The bottom line
The more you uncover what makes your target audience tick, the more accurately you can plan your communications to deliver the best content experiences that result in a purchase. This includes factoring in all the key stakeholders, after all, many individuals lead to one powerful and coercive buying collective.
Was this article helpful?
For more expert tips and actionable advice, download our definitive guide 'The Holy Grail of B2B Marketing Segmentation'