A step-by-step guide to turning knowledge about your target DMU into actionable buyer personas.
Reading time: 4 minutes
This article is part of our marketing mini-series on B2B Marketing Segmentation, designed to help marketing professionals advance their targeting techniques to drive performance.

In The B2B Decision Making Unit (DMU); The Real Faces of Persuasion we explored the potential that lies within different stakeholders of the DMU. Tapping into these often unnoticed opportunities can improve the probability of purchase through building an army of advocates from within your target organization.
Today we look at how to draw on all this knowledge to build accurate buyer personas that inform your content strategy and help you construct a customer-centric view.
Marketers who use personas and map content to the buyer's journey enjoy 73% higher conversions from response to marketing qualified lead (MQL) (Aberdeen Research).
To make this process as painless as possible, we've created this time saving template that will help you accurately map out your DMU insight into a meaningful picture of your target audiences.
DMU Buyer Persona Template
For illustrative purposes, we've assumed the role of a marketing automation provider targeting an account.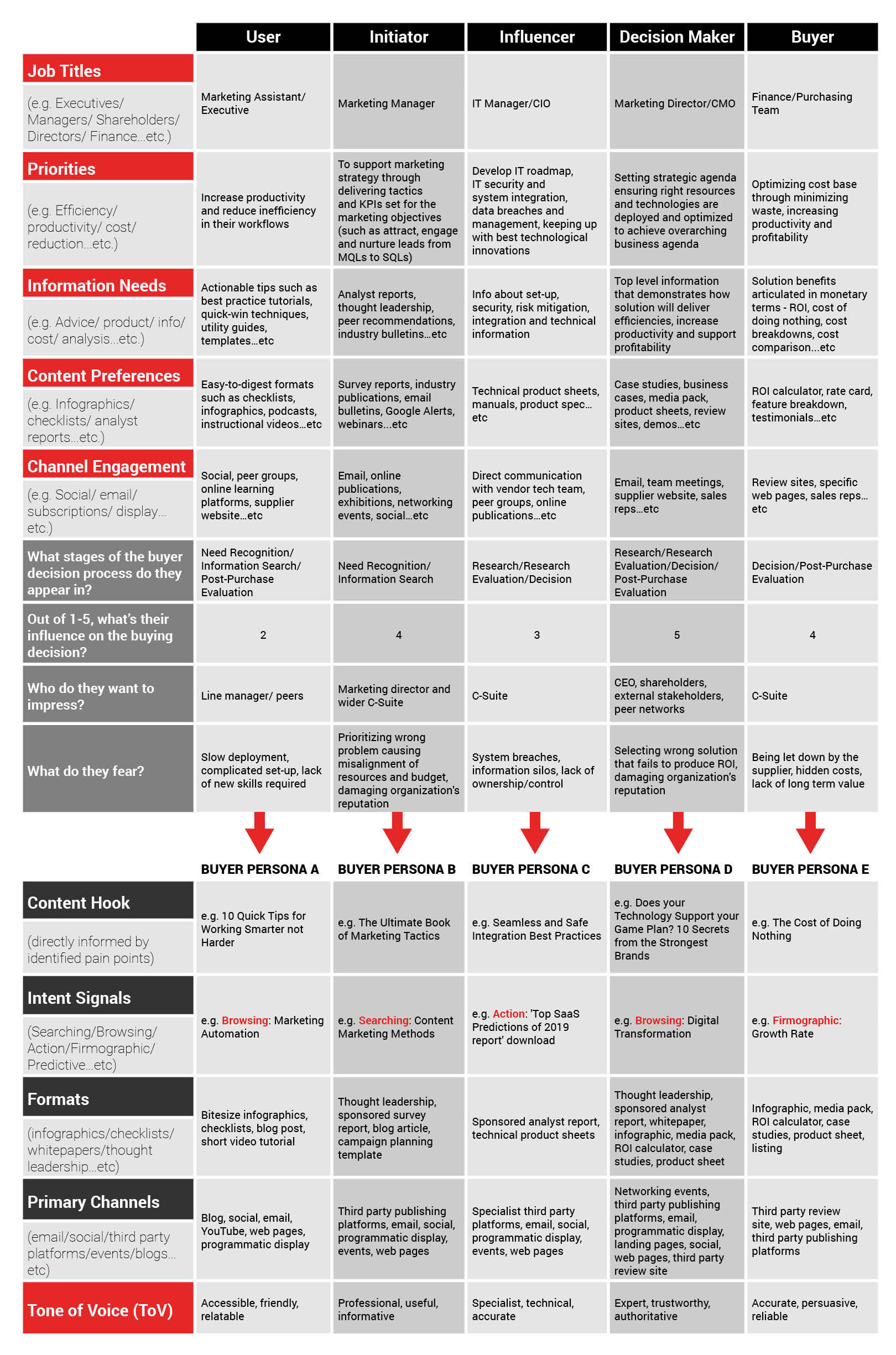 Action Point: Job Titles
From the above example you'll see a whole range of job titles are involved in the B2B buyer process. By identifying and assigning key roles against different DMU archetypes, you can begin plotting a more accurate content marketing plan.
You can also see how it's not just a range of job titles within one discipline you need to focus on. The buying center often involves members of different departments, each with their own unique set of information requirements.
Recommended read: The B2B Decision Making Unit (DMU); The Real Faces of Persuasion
Action Point: Priorities
Priorities are directly linked to job roles and responsibilities. By uncovering what daily duties and initiatives are fundamental to the success of each job title, you can reveal what really matters to your readers. This in turn helps you identify opportunities to provide value and trust.
You can expand this section with personal goals which will add another layer of insight. Here are a few considerations:
How will your solution help this person achieve their goals?
How will it accelerate this journey?
Tip: Looking up job specs on recruitment sites (especially those posted on behalf of key organizations your targeting) can reveal a lot about a target stakeholder's priorities.
Recommended read: For key insight into the factors driving many priorities, check out our IFP survey report findings:
Action Point: Info Needs
Like with priorities, each DMU member will have their own unique set of information needs which coincide with their priorities. The complexity and depth of information required is related to the seniority and involvement in the B2B buying decision.
Providing the right level of information to satisfy these needs will help you generate value exchanges that spark engagement and trust.
Action Point: Content Preferences
It's not just about the information itself that provides value, understanding which content formats trigger the best engagements is vital to the success of your communications. It's important to identify which roles are more comfortable with specific content types.
Action Point: Channel Engagement
As well as content formats, different stakeholders have distinct channel preferences, favoring channels they deem as trustworthy. Finding out where they go to consume information is key to your content strategy.
Action Point: What stages of the B2B buyer decision process do they appear in?
From need creation through to purchase decision and evaluation, it's important to identify where your key stakeholders sit within the B2B buying process. This has an impact on the types of information they require at key touchpoints in their understanding, awareness and interaction with your brand.
Action Point: Out of 1-5, what's their influence on the buying decision?
Identifying B2B influencing and purchasing power is critical and will help you to better assign your resources and prioritize the types of content you need to produce and amplify.
Tip: With lower ranking scorers, consider how winning a team of advocates could help improve their influential sway on the final buying decision.
Action Point: Who do they want to impress?
Peers?
Line managers?
Senior board members?
External stakeholders (friends, family, associates…etc.)
Social kudos is a huge motivator for most employees. Whether it's an entry level graduate looking to establish themselves amongst their colleagues or a manager wishing to fast track their journey into the boardroom, social currency is key for unlocking the mindsets of your target readers.
Tip: Using social media to discover who your key audiences follow and engage with can help reveal key influencers and thought leaders deemed 'trustworthy' by your target readers.
Action Point: What do they fear?
Fear is another significant psychological factor that can shape the behavior, attitudes and motivations of your readers. This knowledge can help you understand how to articulate your value offering to minimize fear and reduce perceived barriers to purchase.
Tip: Seek feedback from key roles within your own organization. It's likely many of these attitudes and opinions are universal.
Action Point: Content Hook
A great content hook combines knowledge of what they want to read with other factors such as their fears, information needs and social currency. It will attract their attention through arousing their interest, while providing enough value and substance to satisfy their curiosity and get them wanting more.
Action Point: Intent Signals (Searching/Browsing/Action/Firmographic/Predictive…etc.)
Whether first, second or third party, intent signals will sprinkle a whole load of additional insight that can radically improve campaign performance, ensuring the right message goes to the right DMU member, at the right touchpoints to drive the most profitable engagements.
This does not mean simply dropping cookies, becoming a data-driven business requires leveraging all available insights.
Recommended read: Ready or Not? 5 Types of Buyer Intent Data to Gauge B2B Engagement
Action Point: Formats (infographics/checklists/ whitepapers/thought leadership…etc.)
Your choice of content formats should always reflect the preferences of your audience. A time poor marketing manager may not have the time to consume a 70 page report, while a infographic displaying key survey report finding may add a wealth of value.
Having a flexible approach and repurposing content into a range of formats, will open up the amount of touchpoints a reader has to interact with your brand.
Recommended read: 6 Popular Content Re-Purposing Quick-Wins You Can Use Today
Action Point: Primary Channels (email/social/third party platforms/events/blogs…etc.)
Action Point: Tone of Voice (ToV)
ToV is the personality of your brand expressed in writing.  Just as you adjust your own register to converge with different people in different social settings, your ToV should be as adaptable.
It's crucial therefore to understand your audiences and leverage the language they use in order to build rapport and accelerate trust.
Tip: Reading the comments sections of blogs, forums and social posts is an effective technique for observing the language your target readers use.
Final Thought
If you've pulled together a TAL list, we recommended running each account against this template to identify key contacts within each account.
This exercise will enable you to better understand what content to create and how best to amplify it to drive high levels of profitable engagement.
You can download the template for free here: B2B DMU Buyer Persona Cheat Sheet.