90% of top performing content B2B content marketers place their target audience's information needs first. (Content Marketing Institute)
This means it's essential to not only understand what information your buyers are hungry for but also which formats are best to serve it up on.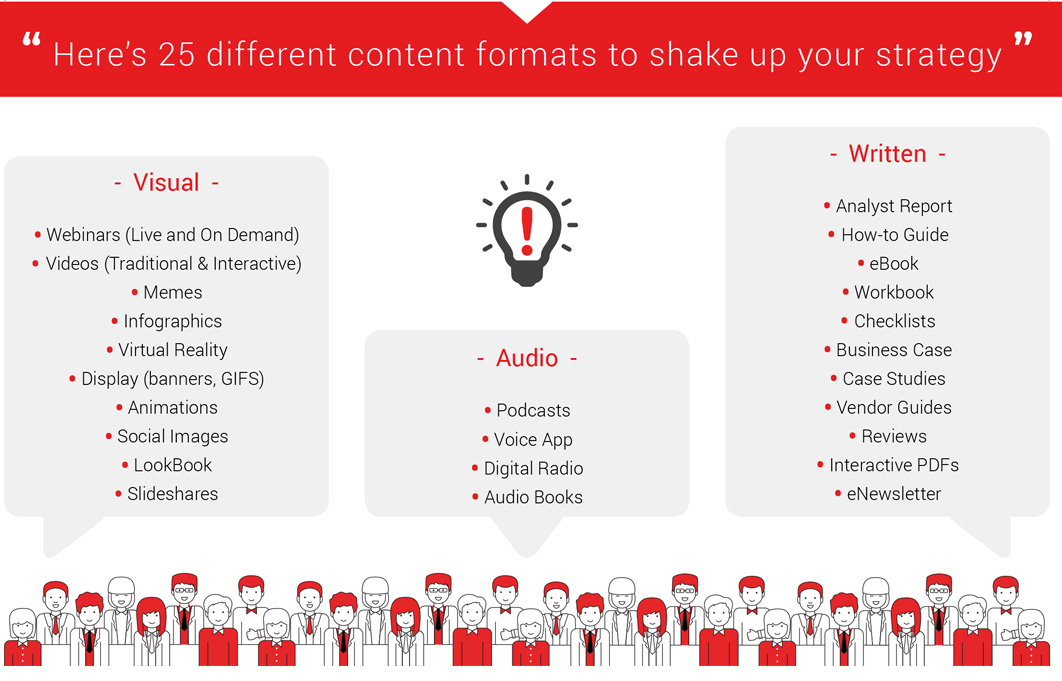 Different formats hold different value to each reader depending on where they sit in the buyer's cycle. Providing an information dense survey report to someone who was just after a quick snackable infographic, can fail to satisfy their appetite.
Likewise, a returning web visitor on the hunt for a meaty report to help beef up their business case for using your products or services, may leave your website unsatisified after only finding short form blogs that only address broad pain points.
The best B2B content marketers are getting ahead by translating their target audience's information needs into a rich buffet of formats, optimized for buyer's need stages and multi-channel distribution. The secret to achieving this without having to radically increase your content creation spend is – content re-purposing.
In fact, content re-purposing can often mean writing less and promoting more. (Neil Patel)
What is content re-purposing and how does it help me get more value from my content strategy?
In simple terms, repurposed or up-cycled content does exactly what it says on the tin – uses an existing piece of collateral and fine-tunes it by changing its angle, approach or format all ready for delivery to a new audience.
For example, you could turn a podcast into a blog post or vice versa, or convert an eBook into a whitepaper – or a series of blog articles. You might also want to consider turning data sets or tables into infographics, converting an advice article into a slide deck, or reworking a webinar into an online report.
You can even snapshot small takeaways or soundbites from an existing article and share them as social media snippets to drive engagement to your original content.
Why re-purpose your content?
So, what are the benefits of re-purposing content? Well, re-purposing content allows you to maximize the amount of bang you get for your buck, and fully explore and expand upon your original theme in detail. You can also fine-tune your content to appeal to different types of audiences and target demographics, using the same core information or content and highlighting the elements that are most relevant to each market.
Perhaps the greatest benefit of re-purposed content comes from its ability to catch the eye of the widest possible range of potential recipients – some people prefer to read blogs, others to listen to podcasts, and others to view slide decks and visuals. After all, 73% of Millennials are now involved in B2B purchasing decisions (Forrester).  Think about the impact this now has on the types of content experiences expected.
Re-purposing content into a different format gives you options to cater to all of these preferences and more. Some people might be really interested in what you have to say but automatically ignore certain types of content formats that don't gel with their preferred viewer or listener style.
6 great content re-purposing formats to try today
When you understand the value of re-purposing content and are willing to give it a whirl, the next step is to identify viable content to work with and decide upon the best format to convert it to. Here are six of the best content re-purposing formats to try out.
1. Blog post > podcast
Turning a blog post into a podcast is perhaps one of the easiest content re-purposing formats to try out, and provides a neat intro for your first foray into the world of re-purposing. Not everyone wants to read through a long blog post and take the time to digest and analyse what they read – so by converting a well performing blog post into a podcast, you can reach a new audience who might prefer to listen on the go, or take in information in a bitesize, easy to digest format that will make them think.
2. Webinar > video tutorial
Webinars are really popular today, and can really help to drive engagement and interest, enabling you to gain followers and keep them with you. However, not everyone who might want to attend a webinar can make it at the time – and if your webinar goes really well and people keep talking about it after the event, you will find yourself with a whole new audience of receptive individuals who missed the first iteration but would appreciate a second chance at hearing what you have to say.
Re-purposing a webinar into a video tutorial can allow you to do just this – and you might find that many of your original webinar attendees will do a lot of the hard work for you when it comes to sharing your new tutorial content and spreading the word.
3. eBook > whitepaper series
eBooks don't have to be overly long to get their message across, and often the most effective eBooks are those that are short, sharp and to the point. However, the very name "eBook" implies long form content that the reader needs to commit to reading and digesting – something that not everyone has the time or inclination to do.
Breaking up your eBook's chapters or main topic areas into a series of shorter whitepapers can help to encourage people to take a second look, and refresh interest in the eBook itself.
4. Data sets > infographics
Data sets can be highly illuminating and very informative, providing value for the reader and producing a definitive picture of a certain situation or scenario. However, not everyone is great at parsing the relevant takeaways from data sets or critically analyzing their deeper meaning – and this is something that you can make much easier by turning your data into infographics.
Infographics are highly visual, easy to take in, and provide an at-a-glance summary of your data content, which makes them a superior method of disseminating information and core takeaways. Try converting some of your existing data sets into infographics and promoting them with snippets of the most pertinent information.
5. LinkedIn articles > vlogs
LinkedIn articles are hugely popular and can effectively launch your personal brand or business onto the wider stage as an authority in your field or someone worth following – if you do it right.
If you have a well performing LinkedIn article working for you, you might want to consider re-purposing the core content into a vlog, presented by yourself and giving you the added advantage of building engagement and reaching out to new audiences that prefer visual content to the written word.
6. Updating existing content in its original format
Finally, an additional option to consider when you feel that you have something new to bring to the table is to update some of your existing content in its current format – such as a blog post – by adding new information, conducting a later follow-up analysis, or expanding upon what you have previously written.
Using one of your most popular evergreen blog posts or pieces of content will allow you to not only reach new audiences, but re-engage existing or historical users too who follow your content or who bookmarked the post in question for later reference.
Cross-promoting content for optimized multi-channel performance
One other great benefit of content re-purposing is the opportunity to cross-promote your best content across multiple channels to create optimized content journeys that accelerate the buyer journey. (Content Marketing Institute)

Through plotting your formats against your funnel, you can weave a compelling content journey that widens the touchpoints for engagement across your owned and paid for media channels. Perhaps one of the key tactics to achieve this, is to take a cumulative approach and ensure every new piece of content served to your users, builds on what they leant before.
This can be achieved through taking your best performing content and repurposing it into a content format that addresses each stage of your funnel. You can then build out your content amplification strategy by matching each content format to the most suitable channels, and coordinating your CTAs so that your readers are seamlessly guided along your plotted content journey.
For example, you could launch a lead generation campaign that takes your latest infographic (designed to generate top of the funnel engagement) and amplifies it to a large audience of relevant professionals. Once they've engaged with your content you could push them further down your funnel through offering them opportunities to interact with other related content hosted on your owned media channels, such as slideshow on LinkedIn or an indepth report that the infographics were based on, that drives traffic to your website.
There are numerous mechanisms that can optimize the conversion touchpoints, such as:
Getting this formula bang on may require a little trial and error to begin with. However by continously monitoring and improving your conversion paths and leveraging intelligent data insight to better understand how your target audiences want to consume your content, you are in a strong position to serve up the right content, to the right people, in the right way.
For more information on how you can amplify your content using the best channels, why not check out our product suite here.