By nature, account-based marketing is bespoke, tailored and one-of-a-kind. So how do you measure success and ROI across your ABM operation?
With account-based marketing, each account is different, however, there are still a variety of ways to measure activity, and the more advanced the approach, the more interesting the challenge. The critical part is identifying the most valuable metrics where you can limit the number of variables to provide a clear framework for you and your team.
Reading time: 6 minutes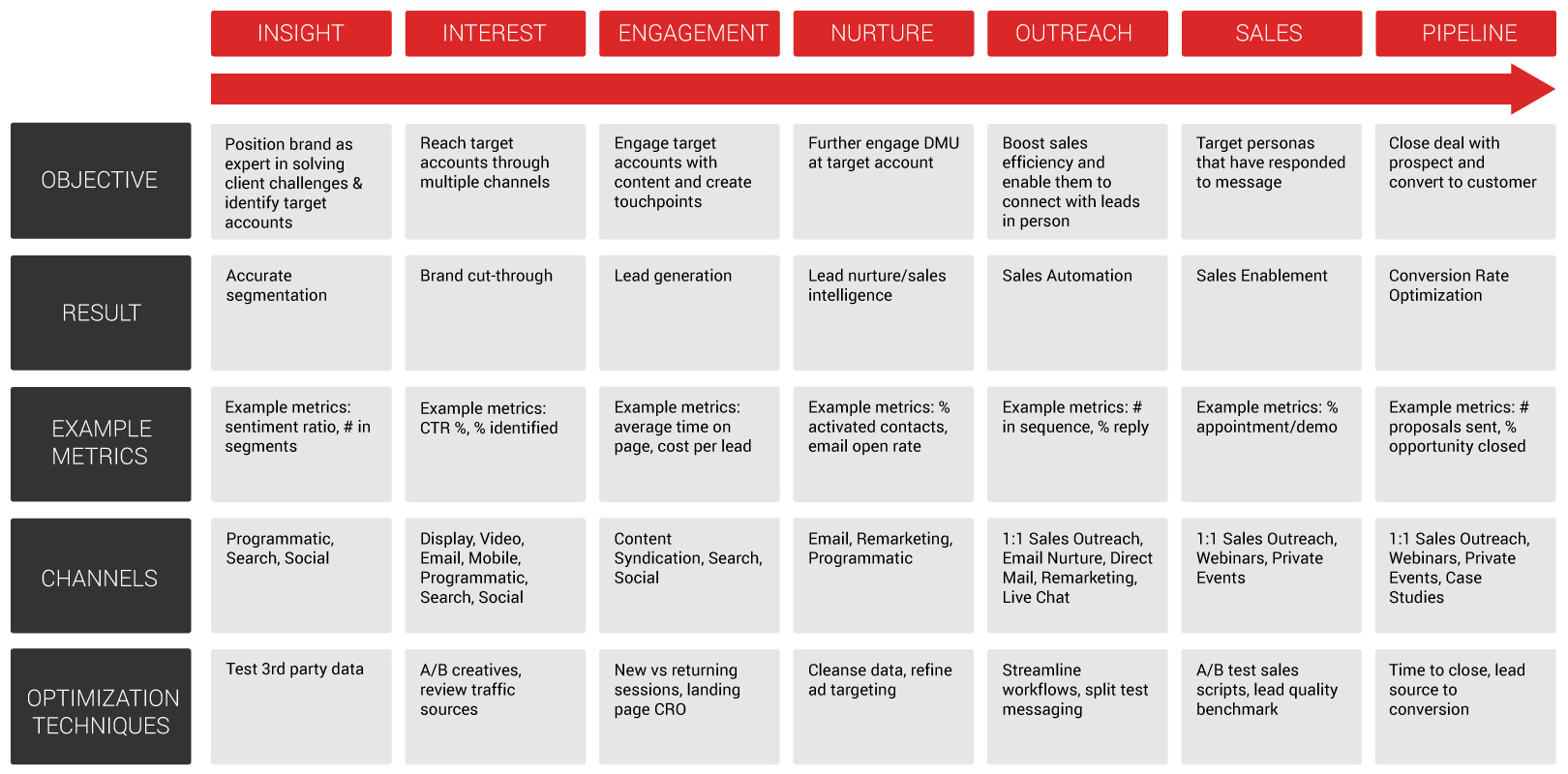 While it is important to treat each account as unique, they will all have fundamental similarities than can be used to align your approach and improve account segmentation:
However, that doesn't mean you have to forgo measuring success or identifying the approaches and principles likely to yield the best results. It also shouldn't prevent you tracking the basic metrics that will help you keep track of the time and resources spent and the overall health of your ABM program.
Using metrics to qualify accounts
Since ABM involves devoting substantial resources to a single account, it's important to have a robust and accurate process for identifying the best ones to pursue. Insights from our Account-Based Marketing Research Report shows 83% of marketers are using lookalike strategies based on already qualified accounts, but how do you determine what an ideal account looks like?
ClickZ recommends adopting specific parameters for an MQA (marketing qualified account) which can indicate a state of possible sales readiness, for example:
Having more than one engaged contact
Meeting a threshold number of hours of contact time
They also suggest creating an ideal customer profile (ICP) – a persona that represents the customer you are looking for, which can be used as a benchmark for assessing potential leads. The ICP will capture a number of criteria, such as annual budget, annual turnover and sectors or industries served.
How to establish macro objectives
Everything can be tracked, analyzed and optimized in the interest of better performance, so it is important to measure the metrics that are relevant for your specific objectives. Big data is great, but it can often be overwhelming, with ABM you can start simple, with metrics around reach and response, and then move onto penetration of accounts, engagement rate of the DMU, uplift by account and account revenue potential.
ABM is a journey and you can have many different tactics to deliver ROI from your accounts, but to do so, you need to separate your high-value opportunities from those considered to be low-value and then build that into your planning.
According to our ABM Research Report, 40% of marketers use close rate as a measurement for their ABM efforts. This number seems a lot lower than many would anticipate and this could be as a result of the lengthening sales cycle in the last decade. Data from MarketingSherpa's 2009 B2B Benchmark Study showed that 57% of sales cycles take less than 3 months, whereas in 2019, data from CSO Insights showed the volume of sales cycles that take place within 3 months has decreased to 43%. This change in the sales cycle points to an increasing need for marketers to create more targeted messaging; by measuring the time it takes for these accounts to close, marketers will be able to determine whether accounts receiving customized content convert faster.
Consider, introducing metrics as a way to keep track of progress against top-level objectives. Start by measuring reach to your target accounts, or specific contacts at those accounts, to give you a percentage or a conversion rate by account, which can give you something to build on.


Account by account: what to measure
But how much time should it take to deliver results, and how do you know when it's time to take a step back, reassess and adopt a new strategy?
There are three key metrics your ABM strategy needs to track:
1. Account coverage
Developing in-depth intelligence on your target accounts is critical when setting up your ABM strategy. Without this insider knowledge, how can you be expected to customize messaging and personalize content to appeal to that particular account?
Account coverage is the level of penetration you've achieved with a customer company, or an industry sector. Consider:
How many contacts have been identified
How complete your knowledge of them is
What level of seniority and decision-making power the contacts have
How frequently you interact with them
Answering these questions enables you to pinpoint where you have information gaps with a certain company, sector or business function. You can then focus resources and attention on filling in those gaps to ensure you have a solid foundation to work from.
2. Brand awareness
This reflects how well your contacts understand your offering and how it might apply to their business. If your target accounts don't know who you are, they are unlikely to purchase from you. Ask yourself; do they know the full range of your products and services? Have they seen them in action? To gauge awareness, look at:
Number of product demos or presentations
Email click-through and time spent reading content
Attendance of trade shows and events
Having a handle on brand awareness helps you to create the right type of content for different contacts, pitch conversations at the correct level and make sure that basic onboarding and introductory information isn't being overlooked.
3. Account engagement
Engagement refers to how interested and enthusiastic a prospect is and their appetite for doing business with you. However, measuring it can be complex and the metrics used will vary depending on your business, industry and target accounts. Start by looking at:
Number of calls and meetings with contacts
Time spent on calls or in person
Proactive engagement with you on social media, web or offline
Introductions the customer makes to other leads, internal or external
Further insights in our research showed almost half (49%) of marketers measure engagement through the number of net-new accounts they've interacted with. Engagement is where the magic happens – it's the interaction that deepens the connection and lays the groundwork not only for individual sales but for continuing loyalty, referrals and brand trust. High engagement means you have a green light to invest more time and attention on an account.
Being able measure engagement can give you crucial insight around what is happening between the top and bottom of the sales funnel. Brandon Redlinger, Director of Growth at Engagio, says you want to look for insights such as 'Accounts in the top 25% of engagement have 18% faster sales cycles than those in the bottom 25%'.
Operational performance
Tracking the right metrics can help you view performance on an account-by-account basis, as well as the whole ABM operation itself to see how it performs over time. Are your teams becoming more efficient at finding and converting leads? Are your odds of achieving conversion up from where they used to be? Look at:
Speed – how long does it take to identify a lead and make first contact?
Conversion rates – how often does a new contact result in a sale?
Value per deal – how large are the sales, and are the volumes trending upwards?
However you employ metrics in your ABM program, it's important to tailor them to your needs and make sure they are working for you and not the other way around. Metrics are only valuable if you can act on the insights they provide. If a certain measurement isn't helping you to perform, don't hesitate to take it off your radar.