Account-Based Marketing (ABM) relies on the successful identification, engagement and nurture of high-value accounts which form the list of key accounts to prioritize your ABM activities against. As ABM relies on a high level of personalized content and experiences, as well as adapting your marketing mix to attract a specific high value segment, it can be a considerably labor-intensive strategy.
That is why identifying target accounts is crucial to a successful Account-Based Marketing campaign. When only 5% of your B2B accounts are actively in-market to make a purchase right now, a lot of wastage occurs if your efforts aren't synced around engaging that small cluster at the right time in their buying journey.
Hence why ensuring valuable resource is put to best use for maximum effectiveness and return on investment (ROI) is at the core of ABM prioritization…


Reading time: 5 minutes
High-value account prioritization: A 2 step process
An essential 2 step process exists for successful target account prioritization:
Step 1: Accurately defining 'best fit' through Ideal Customer Profile (ICP) criteria
Knowing your Total Addressable Market (TAM) is one thing but in order to execute effective Account-Based Marketing, you need to know which accounts in that market are the best fit for you business in terms of revenue opportunity and compatibility with your market offering.
How can you narrow down the list of accounts within your TAM?
Key processes and considerations that should help evaluate your TAM:
Accounts with existing relationships with your business – your sales team will have an established customer base and no doubt loyal customers within this. Working with accounts where an open dialogue already exists and where trust has been achieved through tangible results is highly likely to be more effective than pursuing net new accounts.
Sales reps understand your current customers, their buying stage and their buying experiences – all of which go a long way in closing a deal. Strong sales-marketing alignment is therefore paramount. Marketing teams need to produce engaging, relevant content that complements each stage of the sales cycle ready to intercept in-market buyers and provide sales with the ABM-specific tools they need to secure ideal accounts.
Accounts that support your overarching business objectives – your Account-Based Marketing approach needs to align with your overarching business objectives and plan, otherwise your business goals will not be fully met. As a long term strategy, it is therefore important to continue to attract the right accounts to support the direction and growth of the business – a sound way of future proofing.
Your content marketing is key to achieving this – enabling you to engage and attract those best fit accounts.
Accounts that match and are highly compatible with your internal capabilities – certain individual accounts will require less effort to accommodate as they are effectively a high company fit and therefore complement not only your internal capabilities but your Account-Based Marketing strategy already. Cease the moment with these accounts for they require far less sales and marketing efforts and are likely to see shorter sales cycles.
Accounts that competitors work with – if other B2B companies within your market are working with specific accounts matching your target customers, it's clear that such accounts have a need for your product or service offering. Hence why if your competitors have worked with them, it's almost certain that they will be a target company for your business as well. Leverage this knowledge when evaluating your TAM, just like your competitors will do back.
What tech they currently utilize – technographic data can be obtained to understand a businesses' technology stack such as their current tech tools, what they are used for, how they are implemented as well as key adoption rates. This provides a clear picture of how advanced their tech capabilities are and where gaps and opportunities exist to intercept with your solutions.
Accounts already engaging with you – accounts who already engage with your business via direct traffic to your website, PPC ads, paid or organic social and search or even through email marketing and nurture sequences are clearly showing some buyer intent towards your business offerings. Don't fail to recognize this early stage engagement within your Account-Based Marketing approach – after all, if the intention is there you'd be wrong to ignore it…
Length and complexity of buying cycle – knowing the optimal length and complexity of the buying process that best fits your Account-Based Marketing strategy is key here. You need to be able to assess whether accounts in your TAM will be too lengthy and complex to support your ABM campaign strategy or will complement it and make them a strong potential client.
Using intent data on a firmographic level, these key considerations to evaluate your TAM can be distilled into criteria for your ICPs. Here's a handy ICP criteria template that can be used for this purpose.
Account scoring and tiering against your ICP criteria
Your account-based strategy requires careful scoring or grading of accounts in order to determine those best fit. Lead scoring is a methodology adopted by marketing and sales teams to determine the value and worthiness of a lead based on their behavior and interest in a product or service. Here's an account scoring model which can be used as a helpful template for your own scoring: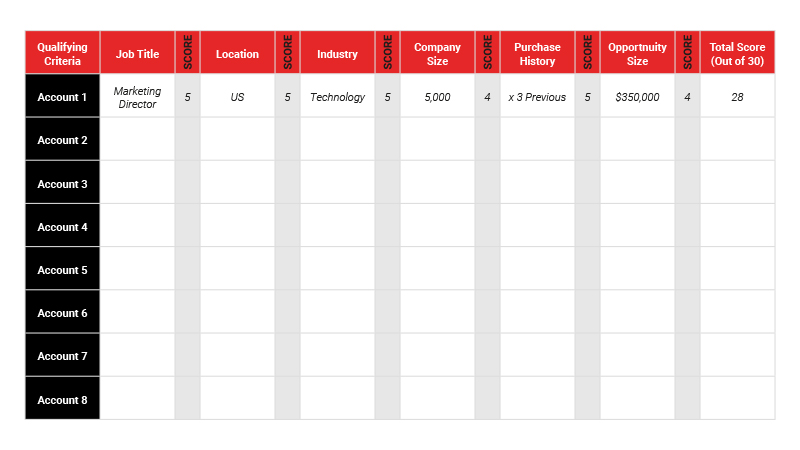 From the scores you can then determine how well each account matches your ICP criteria and rank them accordingly in tiers, based on the principle that:
Tier 1 = high-value accounts that you need to prioritize with personalization and purpose
Tier 2 = accounts which match your ICP but not quite at the level of tier 1 accounts for reasons such as company size or opportunity size
Tier 3 = accounts yet to prove themselves within your ICP, for example those who've entered a new industry.
What's important to keep in mind when scoring and tiering is 'FIRE' – fit, intent, relationship and engagement. Does the account fit your ICP? Do they show intent to purchase? Have they had a previous relationship with your business? Are they engaging with your content, website, paid media etc?
Step 2: Developing your Target Account Lists (TALs) for further prioritization
While the above helps ensure you are going after the right accounts for your business and market, it doesn't help identify the small percentage that will be most receptive to your message.
Action-based intent helps you prioritize accounts further according to in-market tendencies, making it a highly effective B2B marketing tactic. This can facilitate:
Precision targeting – an initial target list is drawn up and overlaid with first and third party intent data using a keyword relating to the theme. This delivers a list of accounts who demonstrate research for the topic, allowing B2B marketers to really hone in on those specific accounts.
Engaged prospects – the better you understand your potential customers showing the greatest tendencies to purchase, the more you can deliver relevant, engaging content that meets the exact stage of the buyer journey they are at while addressing their pain points and highlighting how your solutions can alleviate them. This makes way for more engaged prospects which only strengthens the relationship and subsequent success of the ABM campaign you deliver.
Predictable pipeline – prioritizing accounts is very beneficial in helping to predict your sales pipeline as it allows for more accurate account scoring while the relationship sales persons develop with accounts allows them to effectively gauge opportunity size.
Identifying market intent trends
Another way to identify priority accounts for a successful ABM campaign is to look at market intent – businesses showing active or in-depth intent – to see not only the industries but the topics experiencing spiking interest too. The process for this is as follows:
Identify the most relevant keywords associated with your ICP clusters
Track activity against these words (surges in intent)
Perform first and third party intent enrichment
Conduct competitor analysis
Leverage account scoring to give an indication of those with the greatest prosperity to be in-market.
Ready to get your ABM campaign underway?
Identifying priority accounts for a successful ABM campaign can go a long way in ensuring that your marketing budget and efforts – as well as those of your sales team – are utilized in the most effective ways possible with minimum waste and maximum personalization and effectiveness.
Get this account prioritization right and a successful ABM campaign will follow…