In the midst of transformation, vendors have an opportunity to capture the attention of HR tech buyers with great content, and turn cold prospects into hot leads. Things are evolving quickly in the world of HR, and businesses are investing more time and money into people management than ever before. Human resource professionals are no longer just doing the heavy lifting of everyday admin and payroll. They are now a core part of business development, taking on a more strategic role in helping companies grow and thrive.
This strategy is very much down to a company's ability to manage its biggest asset, its people. Being able to attract the right talent and retain valuable workers is a top priority and this means ensuring HR teams have all the tools they need to do their job. As more companies become reliant on technology to be agile, efficient and competitive in their field, vendors will be able to reach more buyers at the top of the funnel.
Investment in technology is indeed growing, as seen across other business functions. But converting HR tech leads requires a good understanding of their biggest pain points. As industry progresses rapidly, marketers must be on the pulse of the latest trends. They must also know how their buyers think, how they manage the purchasing process, and exactly what makes them tick when it comes to vendor partnerships.
Our latest research combines Insights for Professionals (IFP) readership data with survey data to shed the light on the HR tech buyer's journey.
Reading time: 10 minutes

Survey sample:
We surveyed 250 senior leaders working within HR for companies in the US and UK. All survey participants are from large companies with over 500 employees.
In the sample set, 35% of people are from companies with less than 1000 workers, 40% (the largest group) are from companies with less than 2500 workers, 14% are from companies with less than 5000 workers, and 11% are from companies with 5000+.
Everyone we surveyed is in a senior position in their organisation, with 14% of department heads, 20% senior managers, 33% directors, 20% VPs, and 13% at C-suite level.
In terms of involvement, over a third said they are involved in at least 6 purchases per year.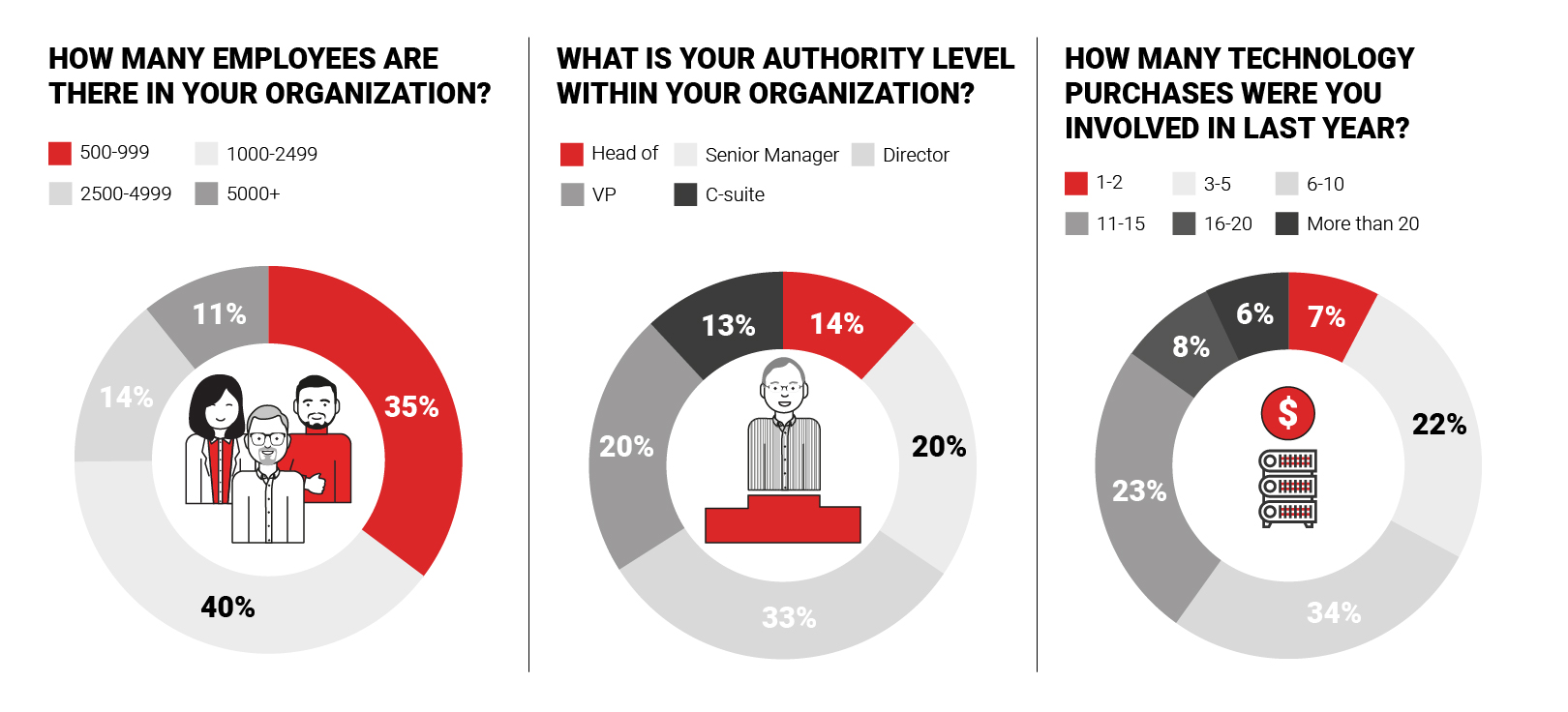 How HR tech buyers plan their budget
Understanding when and how HR technology buyers plan their budget is key when it comes to building your content strategy. Tech purchases can often be complex, involving more than one decision maker and requiring multiple touchpoints along the funnel.
Demand generation managers will need to create a range of content to appeal to people in a number of roles, and connect with prospects on their preferred platforms. Our survey data delves into the ins and outs of budget planning, highlighting the importance of nurturing the sales funnel at every stage. Here, we answer some fundamental questions…
When do buyers plan?
According to our research, budgeting takes place annually for over half of the people surveyed. This shows that traditional forward planning is still important for many organisations. At the same time, we also see a substantial percentage (27%) conducting quarterly budget reviews, as well as 20% doing it on a project-by-project basis.
That's almost 50% doing their budgets at various points across the financial year. This indicates that a certain level of flexibility is strategically beneficial for businesses, increasing opportunities for demand generation content to get noticed.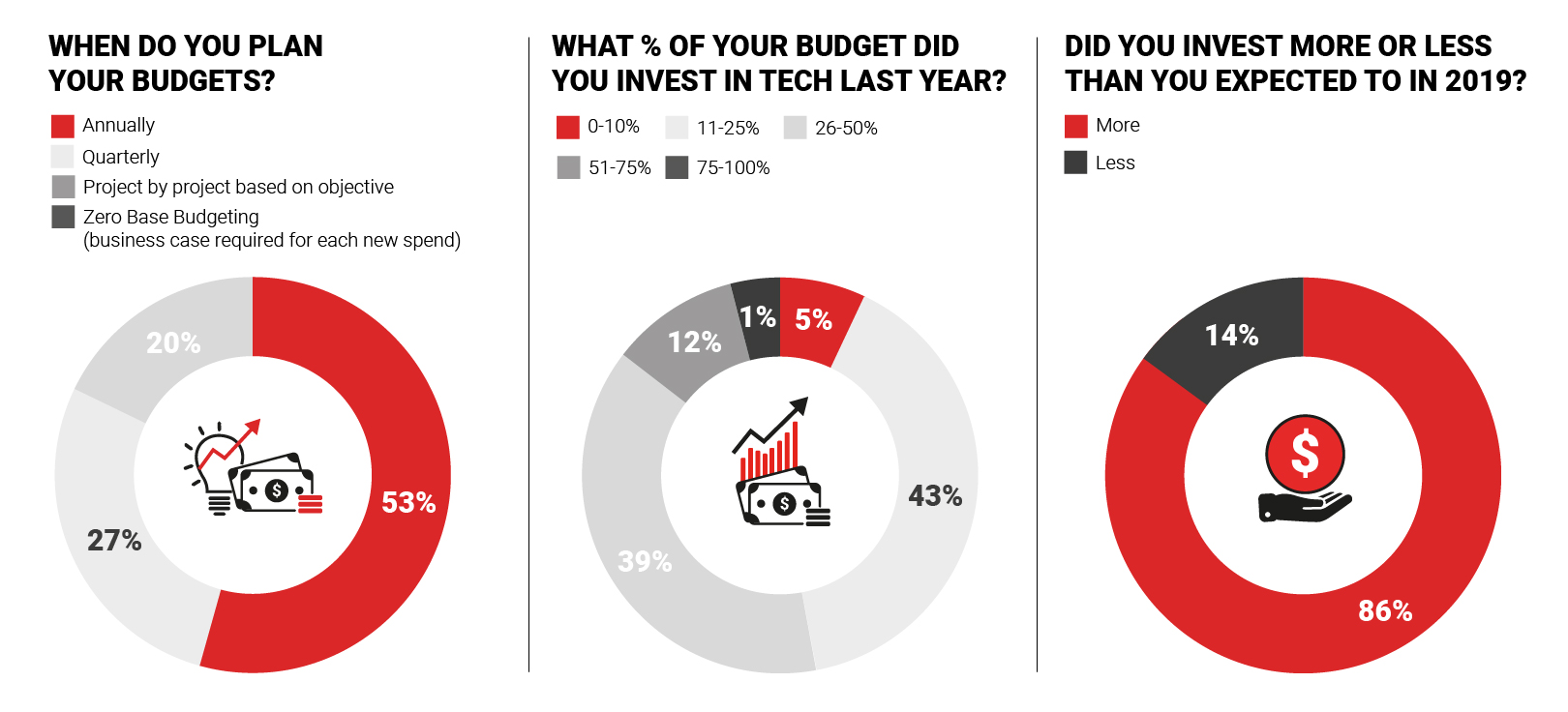 How much are buyers spending?
Of our group, 52% spent at least a quarter of their total budget on HR tech investments last year. In monetary terms, that translates as spend anywhere between $10,000 and $1,000,000+. Impressively, almost 60% of HR leaders said they spent at least $250,000 in 2019, with 16% investing over a million.
Do buyers go over budget?
Our survey also reveals that a huge 86% of buyers have ended up spending more than they budgeted for. Again, this highlights the rise of agile budgets and brands being more reactive when it comes to new technology trends.
Do they plan on spending more?
From our survey, it's clear that HR/IT spend is huge. Even more significant is that HR budgets are increasing year-on-year. In fact, 97% of businesses will be spending the same or more in the coming months.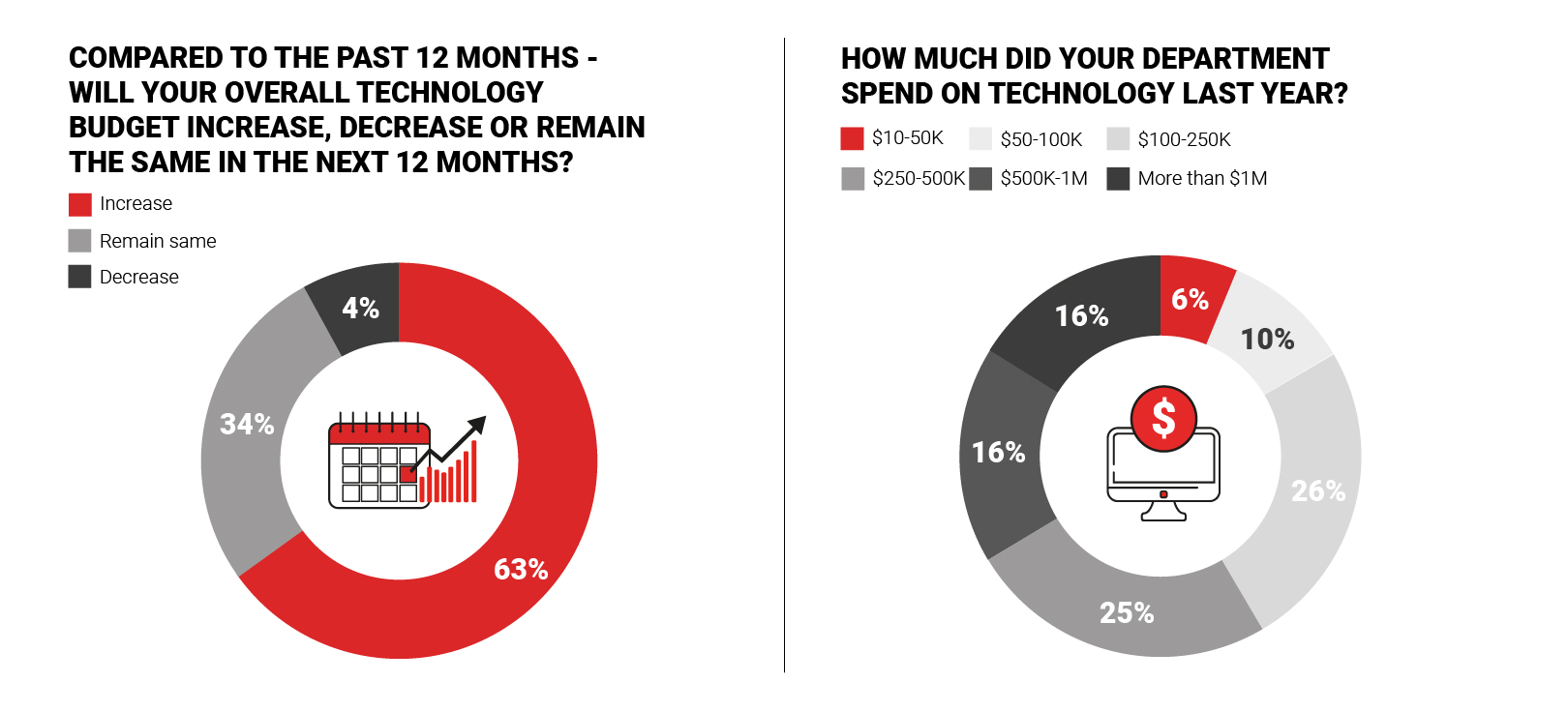 The people behind the buying decisions
The complexity of HR technology deployment is often down to the multiple stakeholders involved in a purchase. Not only can the technology itself be difficult to research and implement, but managing stakeholders can be a major stumbling block when goals and objectives are conflicting.
This means that vendors and tech marketers must tailor their content to appeal to various people across a number of departments, not just HR. And as our survey reveals, stakeholders can be as many as 20 or more per company.
How many people are involved?
Nearly 70% of respondents said that there are at least 5 people involved in each technology purchase in their workplace.
With so many decision makers in the mix, demand generation specialists and content strategists that are too strict on targeting factors may find it hard to convert leads. To nurture different prospects through the funnel, make sure you are producing content for all members of the DMU. Then follow this by targeting leads across a range of channels.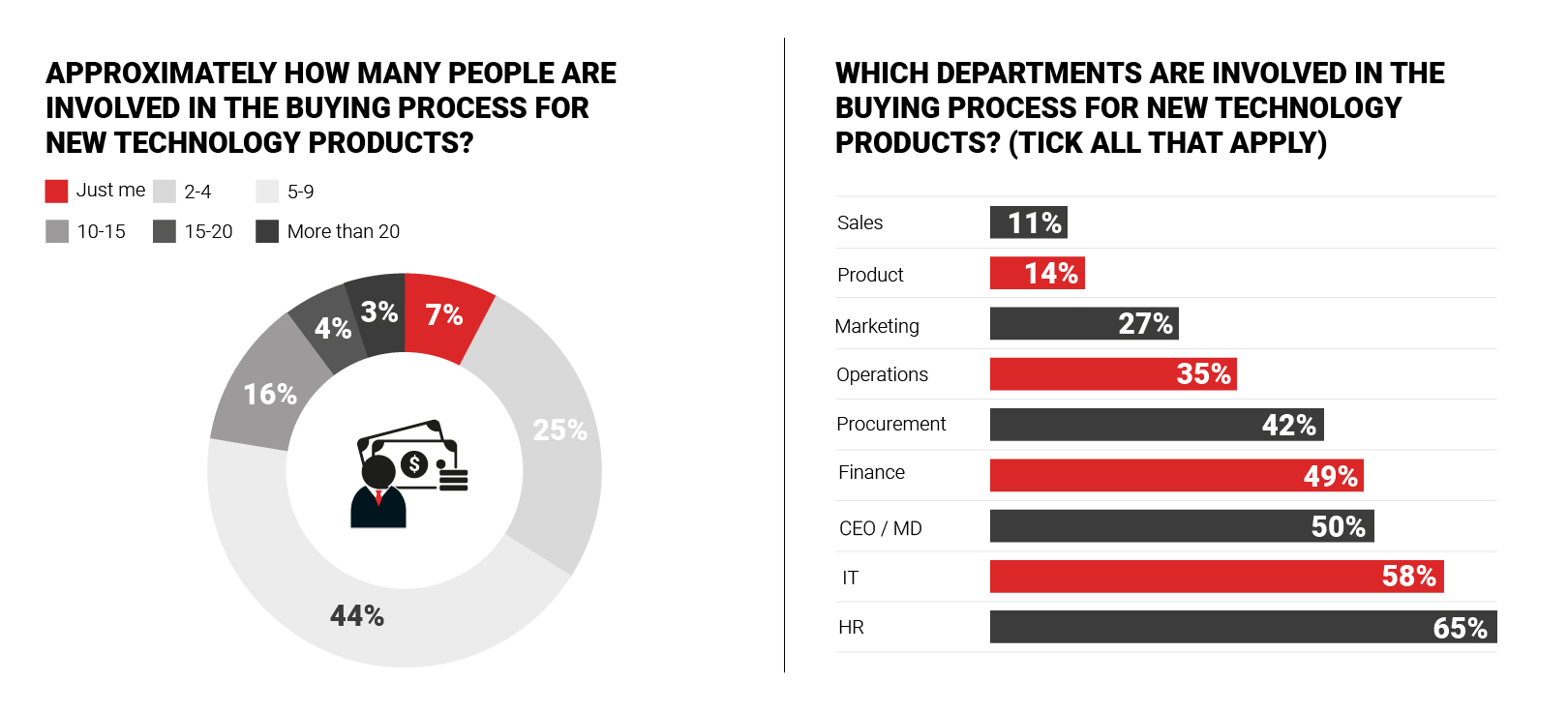 Who is involved?
The influencers involved in HR technology purchases extend beyond just HR senior leaders. Other departments with heavy involvement are IT, Finance, Procurement, Operations, and board members such as CEO/MD. Other functions that have a say include Marketing, Sales, and Product teams.
Inclusivity is key here. Not only does your content need to solve the pain points of HR managers. But you also need to create informative papers, reports, articles and videos for stakeholders across the business. Consider what their day-to-day challenges are, what their goals might be, and how their needs could align better with both the business and the HR decision maker.
Content marketers should apply a customized approach for different product lines and make sure there are content streams for varying audiences. This includes utility content for end users, ROI-driven content for financial controllers, and content that talks about top line benefits for C-suite executives.
How HR tech buyers do their research
Getting a closer look at how buyers conduct research and gather information about solutions is just as important as knowing who their decision makers are. With increasing connectivity through IoT business devices, we know that consumption has changed dramatically in recent years.
While face-to-face meetings are still a critical part of the buyer's journey, content found online is progressively more popular. Not only are digital research methods convenient and easy, but they allow buyers to have independence when knowledge-building.
The recent global pandemic will also impact the way that research is done going forward. And with trusted hubs such as IFP (used by over 800,000 senior professionals), it's never been easier for buyers to access the data they need.
What sources do your buyers trust?
As seen in our survey, events and conferences are still very much trusted by buyers. But following closely are vendor websites and specialist tech content sites like IFP. This shows a growing reliance on online sources.
Other important sources of information for buyers include vendor sales representatives, webinars and video content sites, peers within their own company, and whitepapers or reports.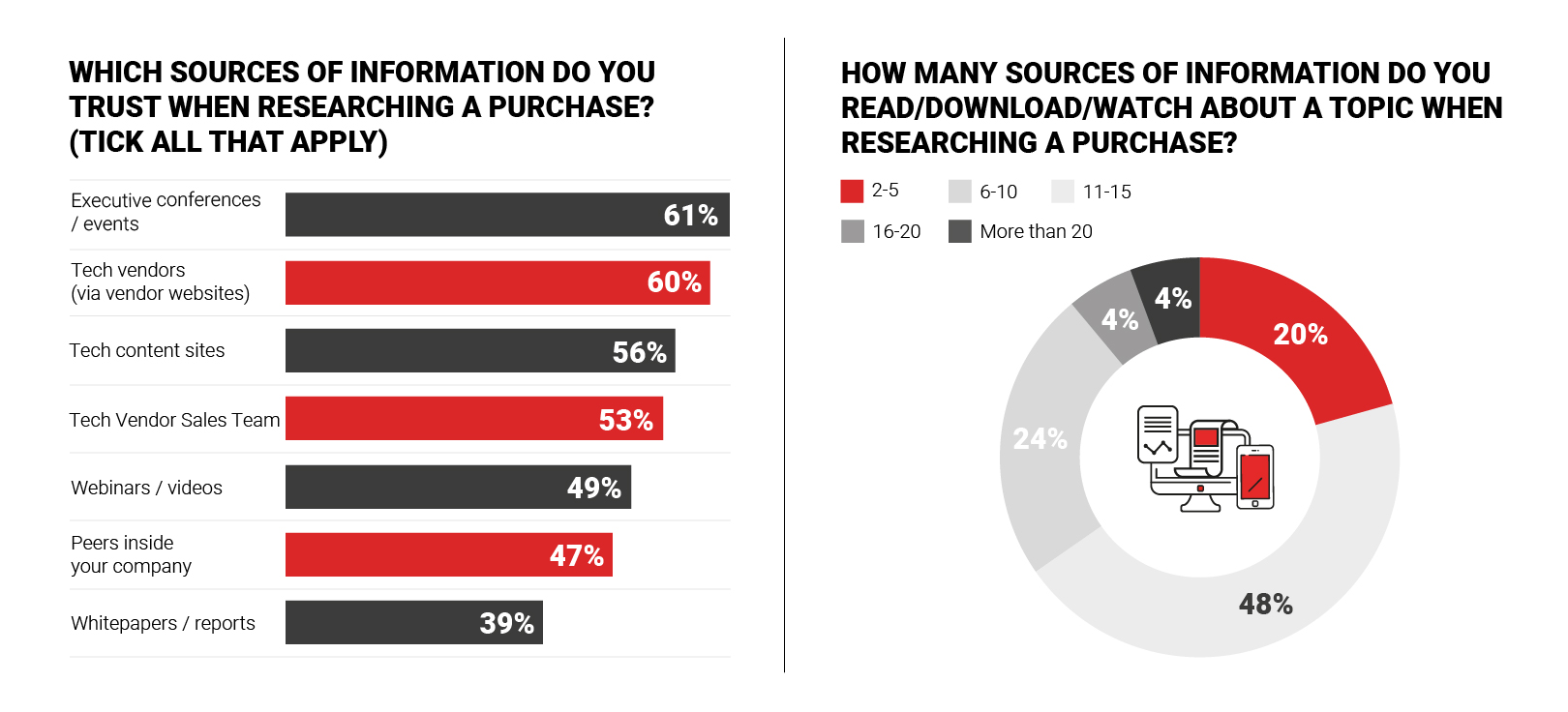 How many sources do they trust?
What's abundantly clear from our survey is that buyers are likely to turn to multiple sources to gather information. Not a single respondent said they trusted just one single source. The majority (80%) said they research at least 6 pieces of content before making a decision, with many reading or downloading 10+ items in the buying process.
This shows the scope for content across various publications and platforms. Not only should marketers develop strategies for the vendor's own website, but they should expand their content plan to be delivered across specialist sites, social media and other channels.
It's likely that buyers will be looking for content to solve numerous pain points and answer several questions. The more high quality, relevant and helpful content you can provide at different touchpoints, the more likely your brand will be front of mind further down the funnel.
Things that buyers want to hear about
Want to know what HR decision makers are interested in right now? We asked the 250 senior HR leaders in our survey about their most significant research topics. The biggest areas of focus are L&D and employee benefits. Followed by employment law, recruitment, core HR topics, talent management, and payroll. Going into next year, the themes are very similar.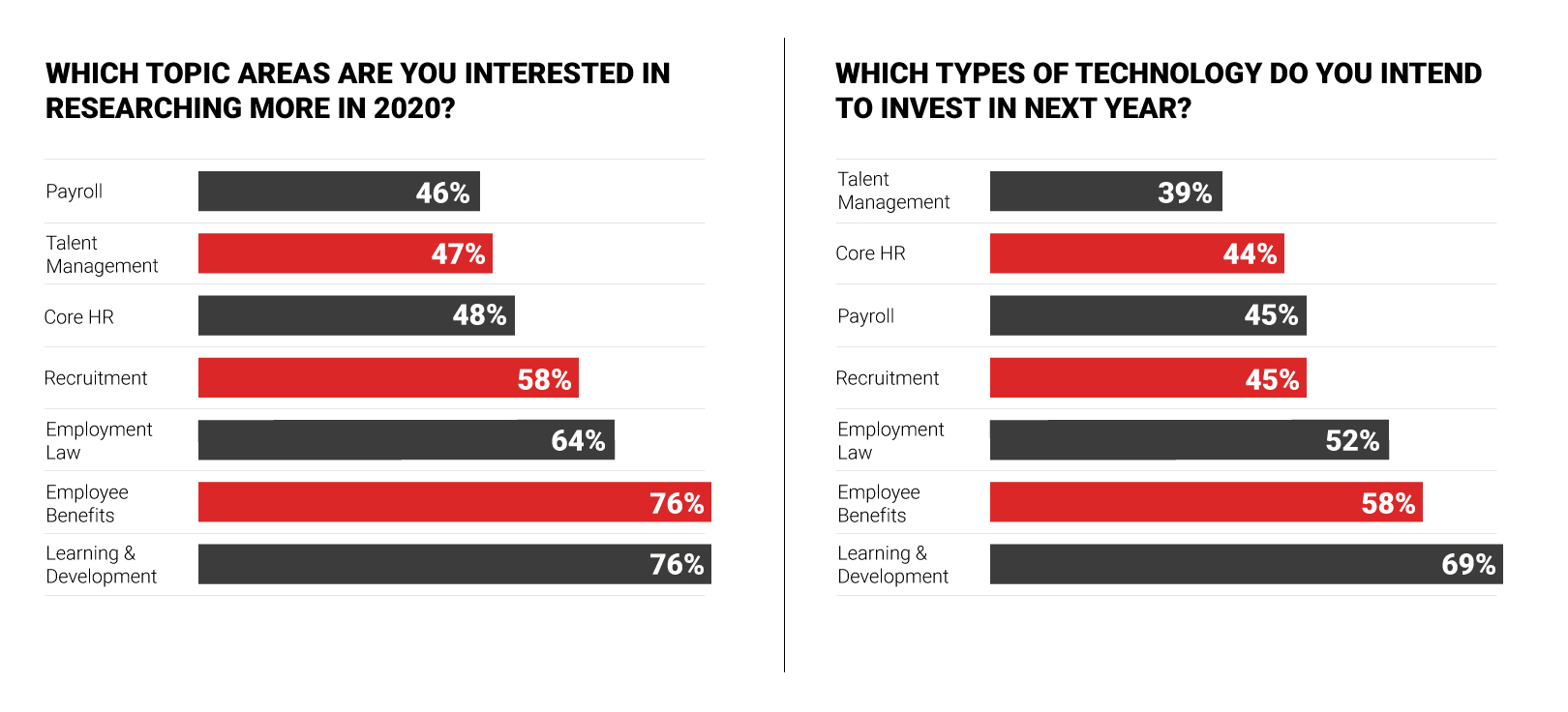 The biggest areas of focus are L&D and employee benefits. Followed by employment law, recruitment, core HR topics, talent management, and payroll. Going into next year, the themes are very similar.
L&D
Nearly three quarters of our network are downloading content on employee assessment. This aligns with current trends for engagement in millennial workers.
Pay and benefits
Employee benefits aren't just for millennials and Gen Z recruits, but are just as appealing for C-suite managers. This a growing topic with our readers, but even more substantial is flexible working. Content that covers the benefits, challenges, and ways to navigate the remote landscape with cloud can be hugely beneficial to buyers.
Talent
Talent management and employee engagement go hand in hand, and content marketers should tap into this trend with both short and long form content that discusses ways to boost morale, improve workforce planning and increase talent retention with tech.
Recruitment
Almost 80% of content downloads are on recruitment topics. The biggest sticking points for businesses right now are reaching the right people, having seamless diversity measures in place, getting to grips with gender equality, better candidate screening and onboarding. These are all good angles of discussion when it comes to helping businesses build their recruitment tech stack.
Leadership
Around half of IFP readers are interested in HR management, while there seems to be a growing interest in company culture. The two subjects also overlap as organisational structures are slowly becoming flatter. Hierarchy walls are coming down, and being able to encourage open discussion through better communication is key. It's likely that cloud, file sharing, project management platforms and business messaging tools will all be vital areas over the next few years.
Employment law
Employment law and diversity issues are major areas of interest according to our readers. HR buyers will be interested in solving problems to do with gender equality, pay reporting, diversity, handling discrimination in the workplace, and also compliance.
The typical buying timeline
When planning content, aligning your delivery with buyer timelines is a fundamental step. While the technology purchasing process can be complex, our stats tell us that there is still some predictability to the way that buyers approach decision making.
There are three phases in their timeline: research, buying and implementation. And IFP survey data indicates that most buyers are ready to complete each phase within a year.
In total, the typical HR technology purchase is under the three year mark, although many complete much sooner than this.
Research stage
95% of respondents said they are ready to complete the research phase in under 12 months. Almost 70% (69%) are ready to do this in under 9 months.
Buying cycle
Similarly, 90% of the buyers we asked finalize the whole buying cycle in 12 months or under. And 75% can do this in under 9 months.
Implementation stage
The implementation of technology takes a similar timeframe, with 94% of businesses completing this phase in 12 months. Over three quarters said that deployment is possible in 9 months or under.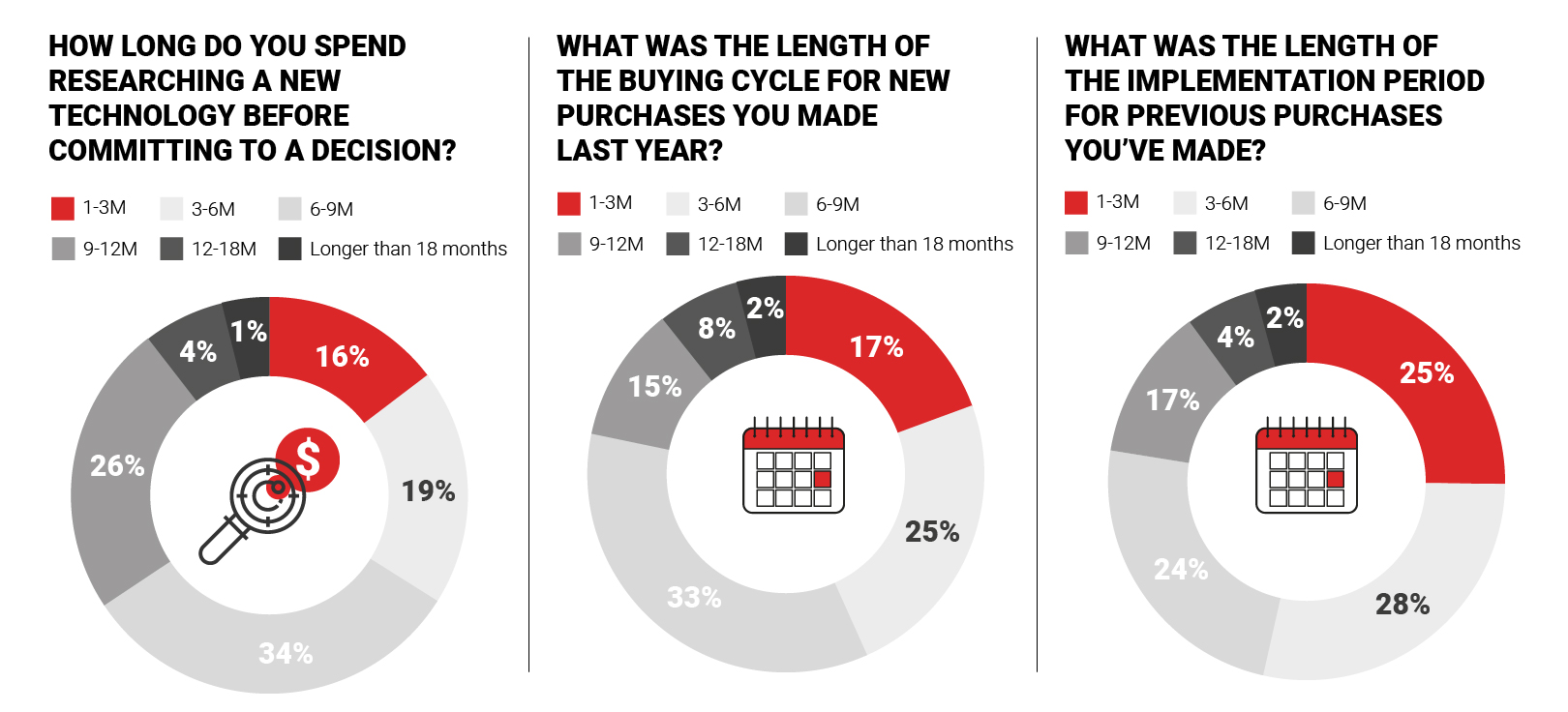 For vendors, ensuring that content strategies are continuous throughout every phase is important. There also needs to be a focus on after-sales content to maintain a relationship with buyers and assisting with change management.
It's also imperative to note that buying timelines can still vary dramatically. This depends on a variety of factors, including the internal structure of companies, their various stakeholders and decision makers, funding, and urgency to solve problems in their business. Tech companies must consider all of these factors when trying to reach, engage and convert prospects.
The challenges buyers need to overcome
As mentioned, there are many factors affecting the purchasing timeline and setbacks do happen. Difficult challenges are common amongst buyers, but vendors can use this opportunity to position their brand as one that can help them problem-solve.
According to our study, the biggest challenges include comparing different solutions, finding the right solution for a specific use case, and being able to adopt new technology effectively.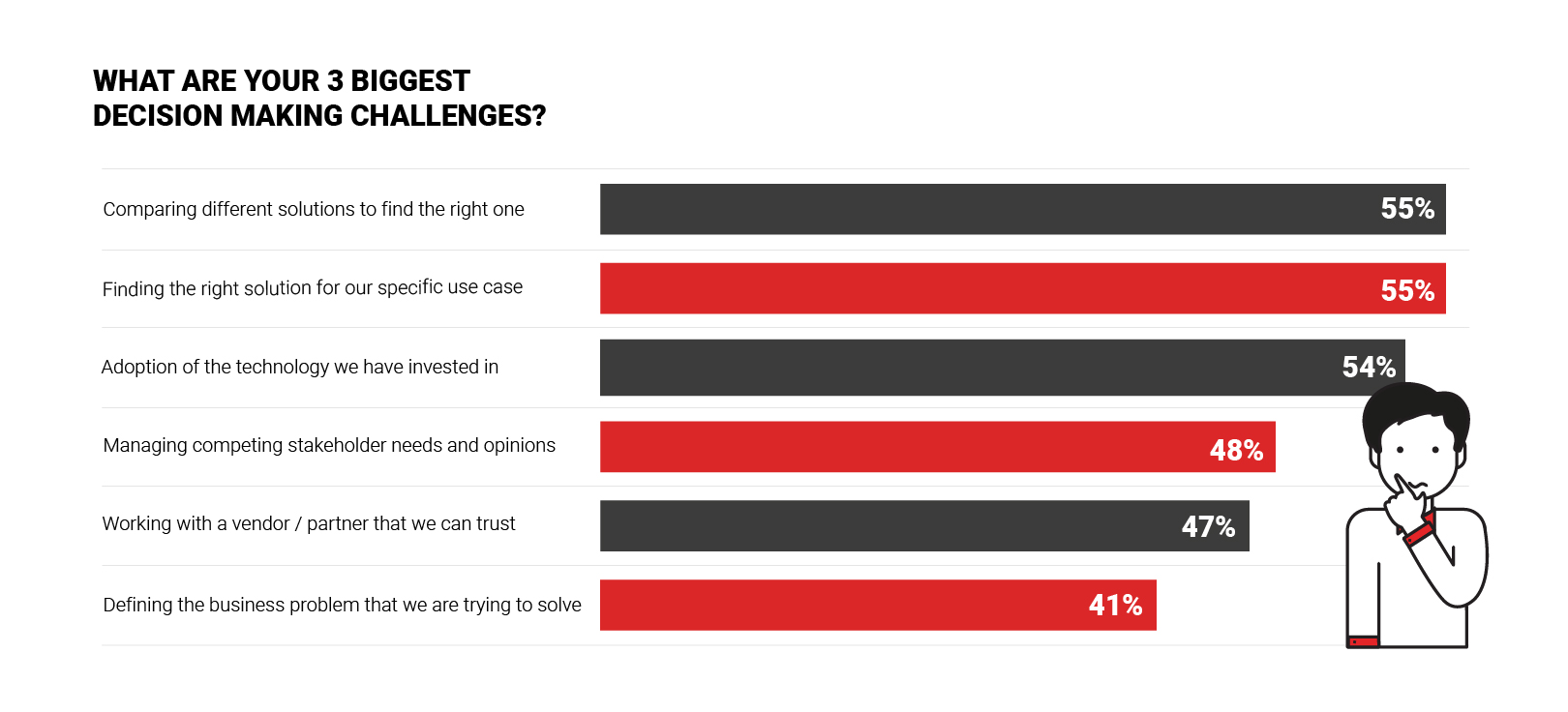 These results prove that pain points exist across the entire buying process, not just early on. This highlights the importance of continuous content streams for new and existing customers. Change management is crucial to successful adoption and vendors should aid this as much as possible.
Other challenges mentioned are finding a trusted partner, managing stakeholder needs, and being able to correctly define business problems in the first place. Tech companies that can position themselves as thought leaders in the digital space and reach decision makers across every department (not just HR) have a much better chance of success when it comes to engaging their audience.
It's also important for content to relate specifically to problems in the workplace, targeting common challenges then providing an answer that is useful for the buyer.
The outcome after purchasing
In addition to unravelling the inner workings of senior HR buyers and prospects throughout the buying process, we have investigated the outcomes of purchases in the last year. And the result is resoundingly positive across the board.
Not only are almost all buyers surveyed happy with their technology purchases, but they have experienced cost savings and efficiency gains for their respective organizations.
Customer satisfaction
Only a tiny 2% did not have a good experience with their purchase. That means 98% are satisfied, with 66% stating that expectations were met and 32% stating that expectations were exceeded.
Cost savings
96% have realized cost savings for their company. While 55% said they enjoyed some cost savings, an impressive 41% said that the savings were significant.
Efficiency gains
Similarly, 97% experienced improvements in efficiency, with 45% agreeing that these gains were substantial.
The hugely positive results seen within our global business community signifies the enormous opportunities for tech vendors to build successful relationships with buyers. Despite there being some challenges along the way, HR buyers are overall very pleased with their investments.
For marketers to take advantage of this high success rate, customer data should be compiled into case studies and reports. If brands are ready to connect with prospects across various platforms and touchpoints, and if they can develop content that builds trust with buyers (and their peers), they'll be able to delight leads and successfully convert them loyal customers.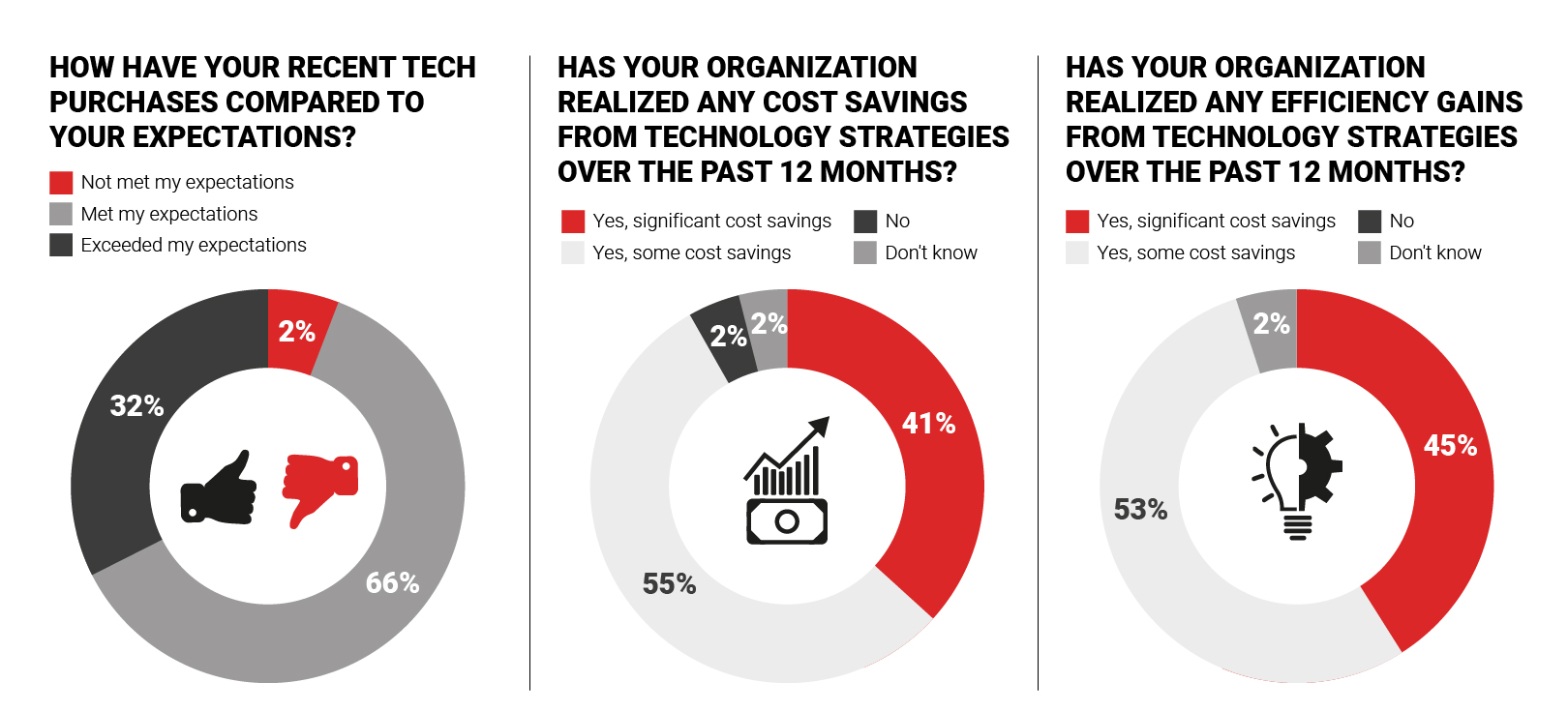 About IFP
Inbox Insight's content platform, Insights For Professionals (IFP), is an online source of information for senior professionals across HR, Marketing and IT. We gather the best content from vendors and experts, and combine it with our own unique research, to provide resources on different trends and business solutions.
HR leaders use IFP to download credible and relevant content for vital business research. By tracking content consumption, we're able to get into the minds of our subscribers.

To find out more about HR Buying Behavior, check out our research report.