Determining what a quality lead looks like to not only prioritize these but effectively nurture them is a key area of focus for the majority (40%) of B2B marketers in 2022. Effective lead generation comes down to quality rather than quantity – though ample high quality leads is undoubtedly the ultimate aim.
How can B2B lead quality be achieved in 2022 and beyond? Why is lead quality so important for B2B Sales Acceleration?
Discover this and more as we deep dive into exactly what lead quality entails…

Reading time: 4 minutes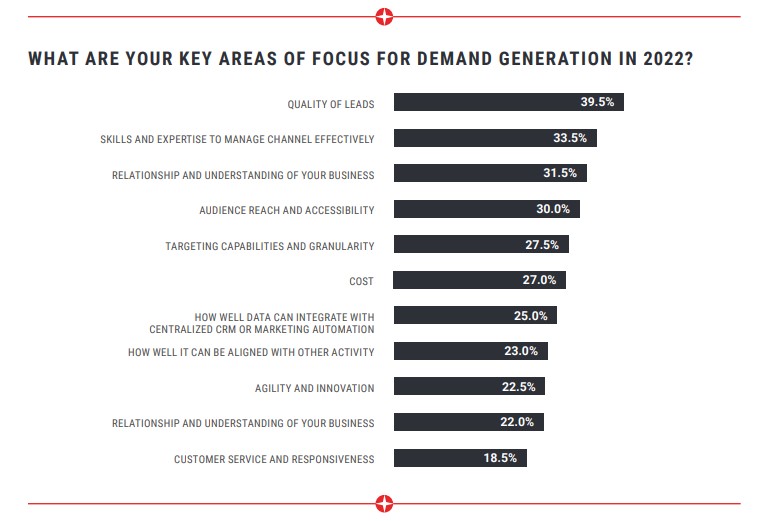 Why is Lead Quality the key area of focus for Demand Generation in 2022?
It's easy for B2B marketers to become fixated on generating greater lead volumes, but this doesn't guarantee lead conversions. Bad leads are in fact a waste of valuable time, effort and resource that can be better utilized elsewhere in the B2B Sales Acceleration process.
High quality leads not only fuel business growth and success, they help to:
Avoid wasted time and resource – the pivotal reason lead quality is considered more significant than lead quantity by many B2B marketers striving for optimal lead generation
Boost conversion rates – ensuring only high quality leads qualify by selecting only those who meet specific criteria can help produce higher conversion rates
Deliver a more consistent and focused sales process – by preventing waste, streamlining the entire process
Motivate sales teams – by ensuring they spend their valuable time communicating with only quality leads who are likely to close deals, rather than bad leads who aren't meeting pre-defined criteria, nor are likely to convert
Improve efficiency – if you push customers into your sales funnel too early, this will have an impact on efficiency and your ability to effectively identify whether the channels you have been using to acquire those leads have been successful or not.
What does Lead Quality look like in today's B2B landscape?
Essential to speeding up the B2B sales process is to understand:
Which leads to prioritize
Which are likely to convert
This will help move your top of funnel leads through to becoming Sales Qualified Leads (SQLs). But how can B2B marketers determine high quality leads?
Important to note firstly is that this holds an element of subjectivity – countless types of leads exist and what's considered a quality lead for one business might not be for another. A standard lead where key business card details are given in exchange for a whitepaper tends not to hold as much value as a BANT (Budget, Authority, Need, Timing) qualified lead, but that's not to say it should be disregarded.
The following diagram demonstrates how to develop a holistic view of your Ideal Customer Profile (ICP) with some of the key data points that can be tapped into to help ensure campaigns deliver the greatest quality of leads.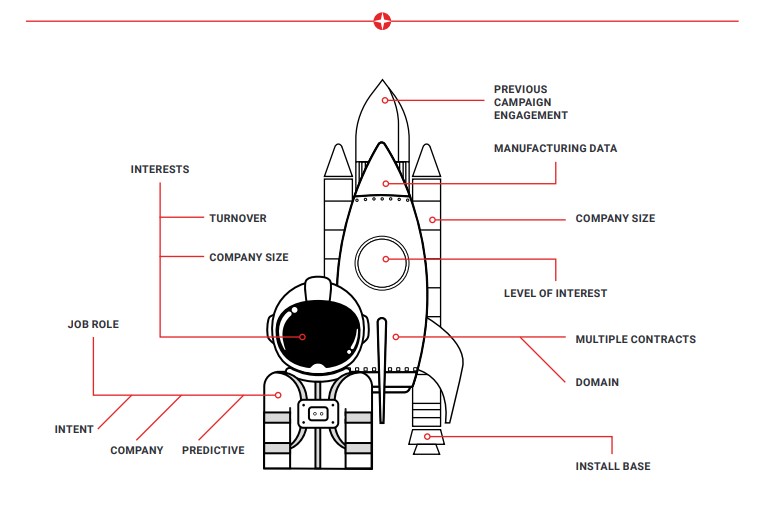 Using a broad range of these data points can help you to develop a comprehensive profile of:
Who your target audience is
The industry in which they work
What their job role entails
Their key interests
The greatest challenges they face
Content and formats of highest relevance to them.
This way of building informed relationships with prospects is a crucial way for B2B marketers to improve lead quality in today's digitalized world where personalization has become an expectation.
What's more, it allows B2B marketers to understand:
How leads have been generated
The content prospects are engaging with
Where they are likely to be in their buyer journey.
This provides key insight into not only how leads should be treated against the stage they are at along their purchase journey, but the content that will resonate best with them at that moment in time. Ensuring leads are nurtured and scored correctly before being passed to sales is crucial to maintaining a high MQL to SQL conversion rate and reducing lead rejections to keep driving B2B Sales Acceleration.
How to nurture leads effectively…
Nurture streams are essential to help push your top of funnel leads through to becoming SQLs. They help B2B marketers avoid losing lead interest by keeping them moving down the funnel, all the way through the often lengthy sales process.
Continually bottom feeding is simply not sustainable and your brand awareness activity will help keep creating top of funnel leads to ensure you have a constant flow…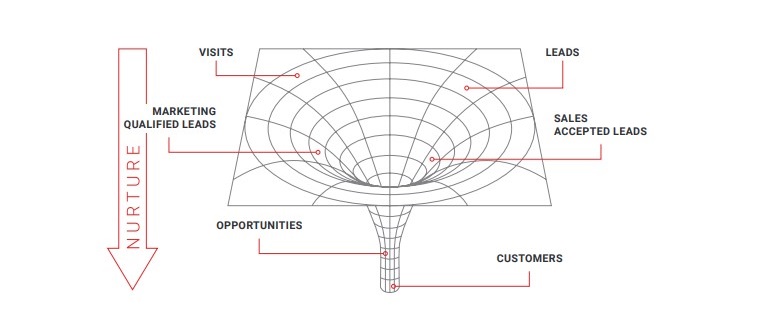 Though, bear in mind that the velocity at which you are able to move leads through the funnel to become SQLs is the critical factor at play. The quicker you are able to convert Leads > MQLs > SQLs > Opportunities, the faster you will see B2B sales accelerate at great speed.
Here's how to nurture your quality leads for maximum effectiveness: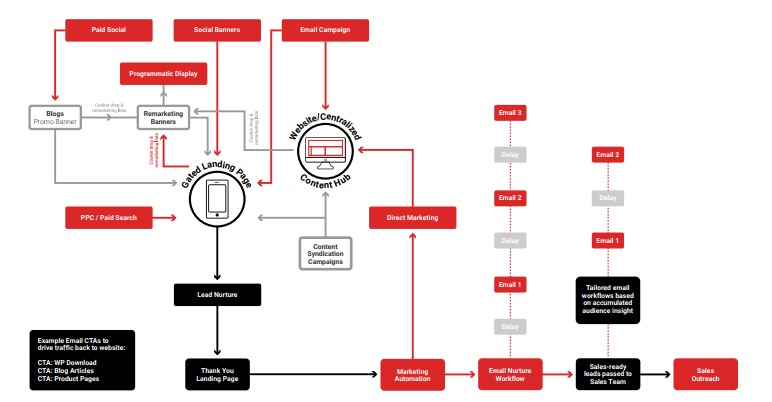 Focus on nurturing leads through a nurture stream that essentially creates a digital ecosystem for your leads to orbit, ensuring they receive your key messaging while maintaining front of mind awareness. Combining your first and third party data and utilizing a range of owned and paid channels is how you can achieve maximum lead conversion rates and increase the velocity of your B2B sales process.
To go one step further, best practice would require creating multiple nurture streams that each align to different personas, buyer stages and product interests – ensuring content and formats that resonate for each is readily available to intercept at pivotal stages to really drive B2B Sales Acceleration.
Final Thoughts
Lead generation needs to focus on quality of leads rather than quantity in order to achieve its greatest potential to accelerate the B2B sales pipeline. Once lead quality has been determined and specific criteria established, relationships can be fostered and sales can really accelerate.
Achieving high B2B lead quality ensures valuable time and resource is put to optimal use and spent engaging with leads who hold the greatest propensity to convert, rather than following up bad leads. Nurturing leads effectively takes this one step further, enhancing your initial efforts by providing relevant content at significant stages of the buyer journey to ensure quality leads are being looked after – again increasing the velocity of B2B Sales Acceleration.