Is content marketing strategy still high up on the agenda? We surveyed a panel of B2B marketers to discover what their key priorities were for the next 12 months.
Reading time: 4 minutes


An astonishing 91% of B2B marketers are leveraging content marketing to achieve their demand generation initiatives.
To shed light on which overarching business objectives were influencing their content marketing strategies, we asked the panel which top level goals they are planning to achieve through their content marketing efforts. The top 5 are as follows:
Increase Marketshare (62%)
Improve Customer Retention (59%)
Increase Profitability (55%)
Grow Revenue Streams (54%)
Keep Competitive Advantage (46%)
We then wanted to see how these overarching business goals are being translated into content marketing goals. 5 of the most popular include:
Grow Awareness of Business (54%)
Nurture Leads (52%)
Generate Leads (51%)
Thought Leadership (42%)
Support Long-term Customer Relationships (40%)
This article takes a top level view of how B2B content marketers might translate these content marketing goals into an effective B2B content marketing strategy.
But first, here's a quick dive into content marketing strategy and its place in the digital marketing landscape…
Is the B2B content marketing strategy still relevant in today's digital demand gen space?
Over the next 12 months, key challenges B2B marketers are focusing their efforts on overcoming include:
engaging buyer personas through content (31%)
distributing different content across multiple channels (28%)
The most switched on B2B marketers understand content marketing strategy is still pivotal to designing content that meets the information needs and digital consumption patterns of their target buyers.
82% of B2B marketers we surveyed see a correlation between strategy and content marketing success, with 86% leveraging a documented content strategy.
Little wonder. Without a clear content strategy, producing low quality content or poorly timed messages can devalue your customer relationship, damage your reputation and take a sucker punch to your profitability.
A content marketing strategy will help you avoid this by organizing crucial knowledge about your buyers into tangible content syndication programs that deliver the right message, at the right time in the right way.
So if you're wanting to increase conversion rates, create better online customer experiences and ultimately drive an uplift in sales, we recommend you start by strategizing your content marketing.
How can a content marketing strategy help me reach the next level?
Immersive content experiences are the new digital marketing initiative, with 68.5% of B2B marketers saying multi-touch MQLs are part of their strategy.
The potential to surround your target audiences with all-ways on content that simultaneously fulfils their information need while inciting their next, accelerates the decision making process while building trust, credibility and authenticity.
This demands strategic content that consolidates in depth knowledge of your target audience's pain points, buyer journey and digital footprint.
A winning strategy will ensure you have a comprehensive supply of strategic content to fuel your digital eco system and keep your target audience orbiting your brand.
Putting your content strategy into action
We've seen why marketers still place a high level of importance and relevancy on the content marketing strategy. Now it's time to put it into action – let's explore how to translate your content marketing goals into effective content tactics.
1. Content marketing goal: brand awareness
53% of B2B marketers leverage content marketing to grow awareness of their business, what might this look like on a tactical level?
As the B2B buyer's journey is longer and more complex than ever, marketers understand the need to reach their buyers much earlier. This demands knowledge of your target audience's information eco system.
Your target buyer persona may have a similar digital footprint to the one shown below: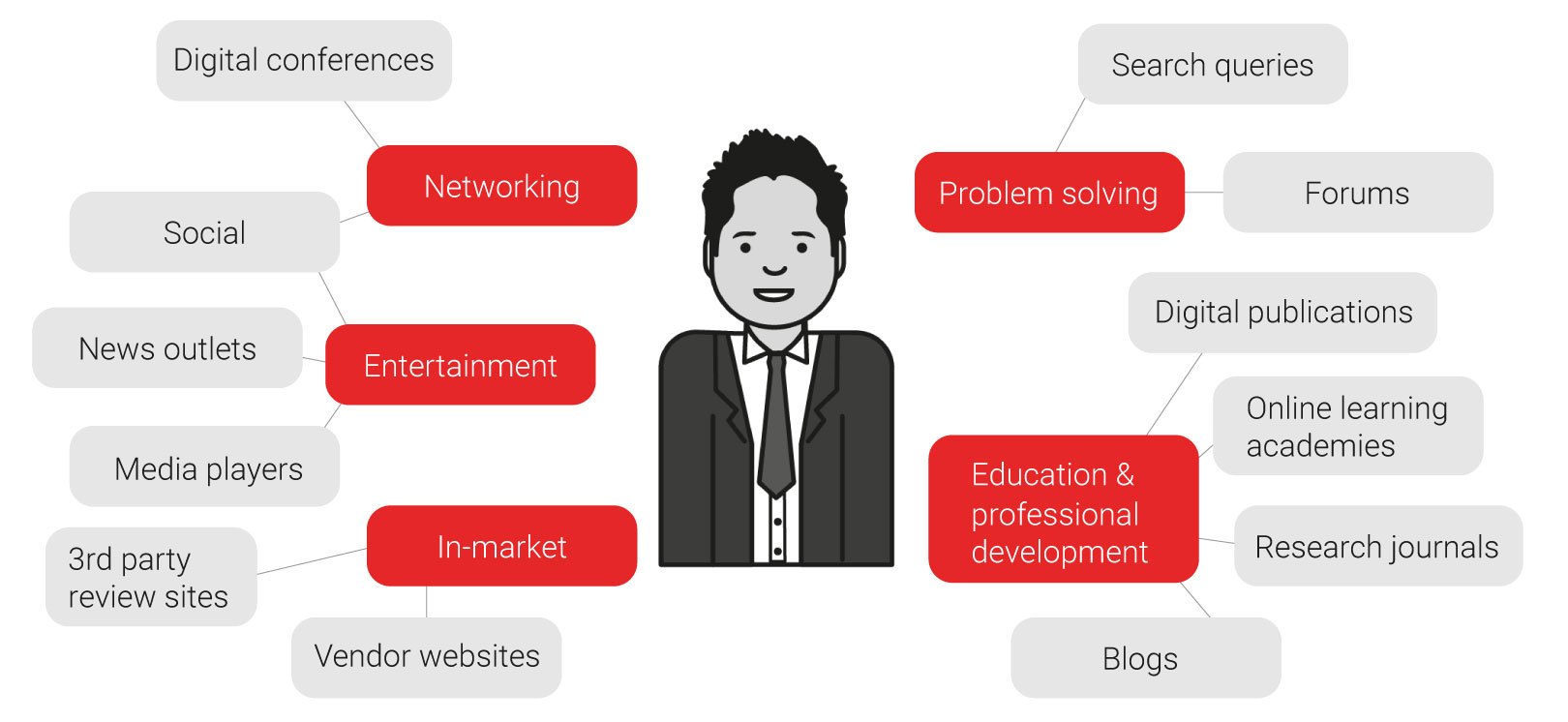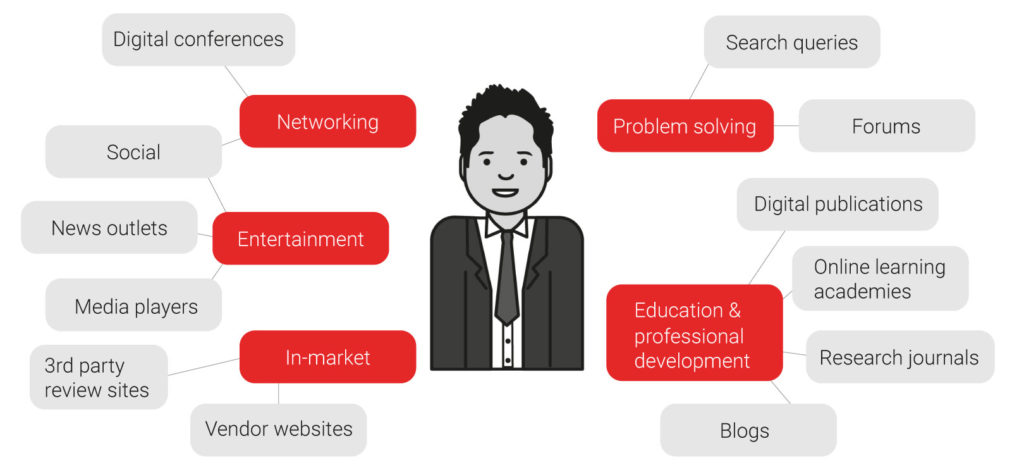 For example, your target buyer may catch up with the news on their way to work, they may stream a program in their lunch hour, they may keep up with the latest best practices advised by their trusted experts, they may rebuff a invite to connect with an old colleague. It's here you can begin understanding where key touchpoints lie for engaging your audience and, as importantly, the context in which your engagement will be received.
To put this into action, here is a list of content designed to raise awareness of your brand. We have then mapped these against the digital eco system of a ficitional target buyer to demonstrate how you might gain mind share through extending your content footprint.
Brand awareness content ideas
Company profiles
Report stats
Infographics
Sponsored posts
Native advertising
Targeted Programmatic
Videos
Checklists
How-to guide
Webinars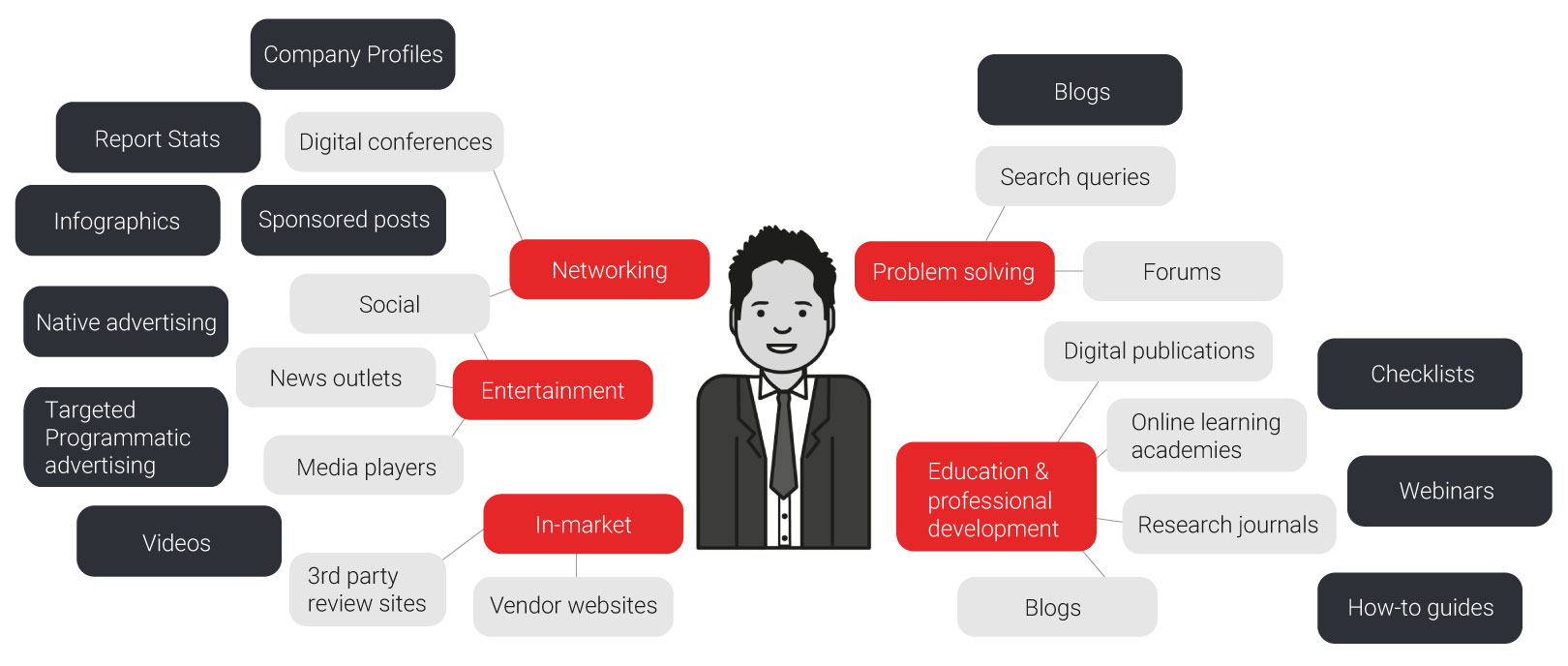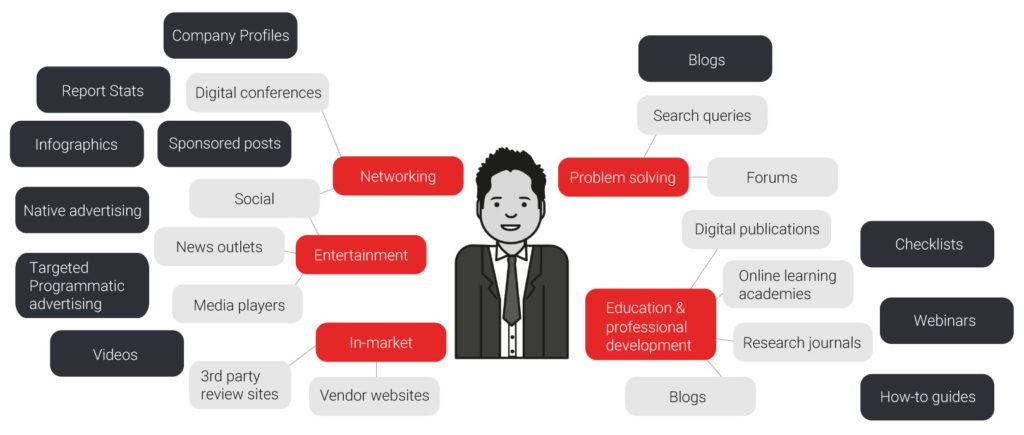 By mapping out your content tactics against your target buyer's digital eco system, you can begin identifying the best digital channels for reaching and engaging your audience very early on.
For further reading on content strategies for brand awareness, check out: How to launch a 'cut through' content strategy in 3, 2, 1…
2. Content marketing goal: thought leadership
42.5% of B2B marketers use content marketing to establish thought leadership.
To be valuable to your target buyer you have to be relevant, trustworthy and credible. B2B buyers look to experts throughout the buying process for information that will help them solve their pain points, further their knowledge or simply to keep them up-to-date with professional practices.
This demands 2 things from your thought leadership content strategy:
Your thought leadership content needs to be accurate, insightful and relevant
Your thought leadership articles must be published on credible platforms trusted by your target audience
Thought leadership content examples include:
Survey reports
Analyst reports
Whitepapers
Webinars
Sponsored topic hubs
Slideshares
Debate panels
The secret to fast tracking your thought leadership marketing
If you're not already a leading authority in your field of expertise, there are ways you can grow mind share outside of your owned media.
Co-sponsoring a thought leadership piece such as an analyst report or a whitepaper can help you piggyback off the credibility of a more established influencer, enabling your audiences to create associations with your brand that are otherwise unattainable.
Another technique is to publish your content on third party sites that have the following that matches your target audience. Such communities can provide a wealth of opportunities to have your content seen and read by the right people, at the right time in their buyer journey.
For further reading on content strategies for thought leadership, check out: The psychology of thought leadership; what influence mechanisms are at play?
3. Content marketing goal: lead generation
51% of B2B marketers leverage content marketing to achieve lead generation goals.
Gated content has been a tried and tested practice for generating leads for a long time, however additions such as of LinkedIn lead gen forms, have provided new opportunities to shorten the lead gen conversion journey.
A successful content strategy for lead generation is all about the perceived value exchange – your audience's details in exchange for something of worthy value. This could be a whitepaper, the very latest insights, a virtual seat at a webinar…etc. The key to getting it right is ensuring the content your exchanging is relevant, of high quality and meets the expectations of your audience. Lead gen content that falls short of this essential criteria can cause serious damage to your relationship with your potential buyer.
We've put together 5 rules for creating winning lead gen content:
1. Only gate your very best content – if your content lacks the insight, the depth or the finesse to wow your audience, it's best to leave it out of your primary lead generation asset library.
2. Produce content around the topics/pain points or interests of your target audience – this requires taking the time to research your buyers to help you construct a customer centric perspective.
3. Keep the conversion journey clean – don't make your audience jump through too many hoops to get the content they want. Limit the amount of landing pages, streamline the amount of form fields, don't delay the reward of a download.
4. Leverage intent data to pin point which assets will best meet the needs of your audience at different stages of the buyer process. Being the brand that facilitates 'eureka' moments for your buyer is a sure way to fast track trust and credibility.
5. Make sure you enter your leads into a well thought out nurture program – ensuring the next piece of content they are served is relevant to their needs.
For further reading on content strategies for lead generation, check out: Ramp Up Your Lead Generation with 3 Easy Content Tactics
4. Content marketing goal: lead nurture
51.5% of B2B marketers leverage content marketing for lead nurture programs. 
Considering 92% of marketing technology buyers turn to 6 or more sources of information when researching a tech purchase, content remains a critical factor in securing sales.
We asked our panel of B2B marketers what content formats they are investing more into now, compared to 5 years ago. The top 10 are as follows:
Reports (23%)
Product Sheets (25%)
Buyers' Guides (25%)
Events/Conferences (29)%
Infographics (29%)
eBooks (29%)
Explainer Videos (30%)
Live Demos (31.%) 
Product Reviews (33%)
Case Studies (38%)
This provides insight into the types of content B2B marketers are using to engage their buyers through the decision making process.
Thanks to the crossover in channel and platform capabilities, along with the ability to host content beyond your owned channels, retargeting and remarketing tactics have evolved to help you keep your branded content in the peripherals of your target audience.
This means even the earliest of engagements, such as blog visit, can be captured and pushed through your digital lead nurture program. What's more, we no longer have to rely on onsite activity to trigger retargeting activity.
When asked which channels they were most surprised by in 2020, due to significant improvements or changes since 2019, Display came up top with 46% of B2B marketers. This suggests its potential to engage and reengage buyers is firmly making its way into the lead nurture content strategy.
5. Content marketing goal: customer relationship marketing
40% of B2B marketers use content marketing to support long term customer relationships.
Is email the best tactic for sustaining engagement?
50% of our B2B marketing panel agreed email was the channel they saw the best ROI in. This suggests email is still a powerful medium for delivering your message. However, forward thinking marketers see the potential of cross pollinating email with paid media to retarget their audiences and resurface their message.
We've certainly seen a rise in the adoption of ABM marketing with a surge in target account lists (TALs) used to tightly pin point the audiences brands want to engage or reengage. With the widening retargeting capabilities of platforms such as Facebook and Google Ads, brands are able to make their email lists work a lot harder than ever before.
What other content tactics are marketers leveraging to keep customers onboard?
Content that helps keep customers up-to-date with their products or services along with customer success strategies are an effective way of ensuring customers perceive long term value from your brand.
This may take the shape of an Ask the Experts webinar designed to help clients troubleshoot any issues they're encountering, a customer survey to discover ways in which your service can be improved to accommodate the evolving needs of your customer or a serialised set of 'How to' guides to keep your clients up-to-date with best practices.
Final thought 
As the buyer's journey grows in sophistication, so must our content marketing strategies. New applications of tactics are constantly sprouting up providing innovative ways to engage target audiences through content.
It's down to you, the most forward thinking marketers, to cultivate the very best content tactics to plan, execute and refine the very best digital strategies to achieve your content marketing goals.
If you found this article useful, why not download our latest guide. Packed full of insights from our survey, uncover the content marketing state-of-play this 2021…