A lot of marketers may be wondering…
What is the best approach when it comes to choosing between inbound and outbound marketing campaigns?
Is one really better than the other?
Are there benefits to deploying both types in your strategy?
The truth is, inbound and outbound marketing don't have to be enemies. Whilst the movement from invasive ads to subtle content may be the main trends, outbound still has a place in marketing strategies, and can be valuable and beneficial if used in the right way.
Here we'll take a deep dive into what each type of marketing is, how it works, and what the pros and cons are for both…
Reading time: 8 minutes

What is outbound marketing?
Outbound marketing is the traditional type of marketing that most of us know.
In the past, there wasn't a clear distinction between inbound and outbound, and therefore outbound was simply known as "marketing". It encompassed the entire function, and was how consumers would discover new products, services and brands; it was the most effective way to communicate with a large audience.
Over the years, it has been a format that many customers have been familiar with, and the scope to reach so many people at once made it a go-to strategy for businesses.
Today, with customers becoming increasingly savvy with their buying choices, it takes a lot more for them to part with their cash. Other less invasive methods of marketing are now used to get their attention, and traditional outbound can now be described as "interruption marketing" – a type of ad or communication that obstructs or intersects them, including:
Cold calling
TV and radio ads
Banner and display ads
Pop-up ads
Blanket email blasts
Billboards and outdoor advertising
Newspaper and magazine ads
Direct mail campaigns
Trade shows
This type of marketing is a one-way conversation between the brand and the customer. It tends not to allow interaction, and is always focused on the product or service, rather than addressing specific pain points of customer segments. The audience reach is wide and the messaging tends to be broad in its nature. There isn't any nurturing of relationships or making deeper connections, other than providing a direct product/service to a large group of people at once.
What is inbound marketing?
Inbound marketing, on the other hand, is all about taking a non-invasive approach.
This way of marketing doesn't interrupt people in their daily lives with ads, banners and unsolicited contact. It's much more holistic in its methods, encouraging people to come to you rather than just pushing your company's products and services. This is considered to be the new and better way to market many products, including in the B2B sector, as it aligns with the wants and needs of the digital customer.
It can also be described as "magnetic". Unlike outbound, which uses general ads to tap into a wide audience, inbound marketing focuses on your best prospects. These targeted campaigns speak directly to those who are actively looking for solutions, but remain hands-off in approach and never promote with a noticeable sales pitch. The main goals are nurturing the funnel and increasing engagement, so these customers are more likely to shop with you – not necessarily straight away, but sometime in the near future. An organization that has a successful inbound marketing strategy will invest a lot of time and resource into these types of tactics:
Blogging
Social media marketing
Video content
Email marketing
Search engine optimization
Growth driven design (GDD) for websites
The key differences between inbound and outbound marketing
It's not just about which tools, tactics, channels and content formats are utilized. The differences are formed based on the marketers objective; the way they want to communicate with the audience, the budget available and the intent and/or buying behavior of the consumer. We've summarized this below:

So, which approach is more popular?
We have seen a major shift in marketers adopting inbound methods more favorably in recent years.
Many companies are now replacing outbound marketing tactics with inbound content, social and email efforts. And for organizations that want to improve their digital marketing maturity and deliver seamless, digital experiences for their customers, the move to inbound is an easy decision to make. At the same time, it can be hard for traditional businesses to make the leap when outbound has been the main strategy for many years. Nonetheless, it seems the trend is on an upward trajectory towards holistic methods, and more businesses are ready to change their tactics.
We surveyed over 200 B2B marketers working in companies with more than 500 employees to see what they intend on spending on inbound marketing. Over half of respondents (60%) informed us they are looking to spend more this year and over a third (38%) are planning to spend the same.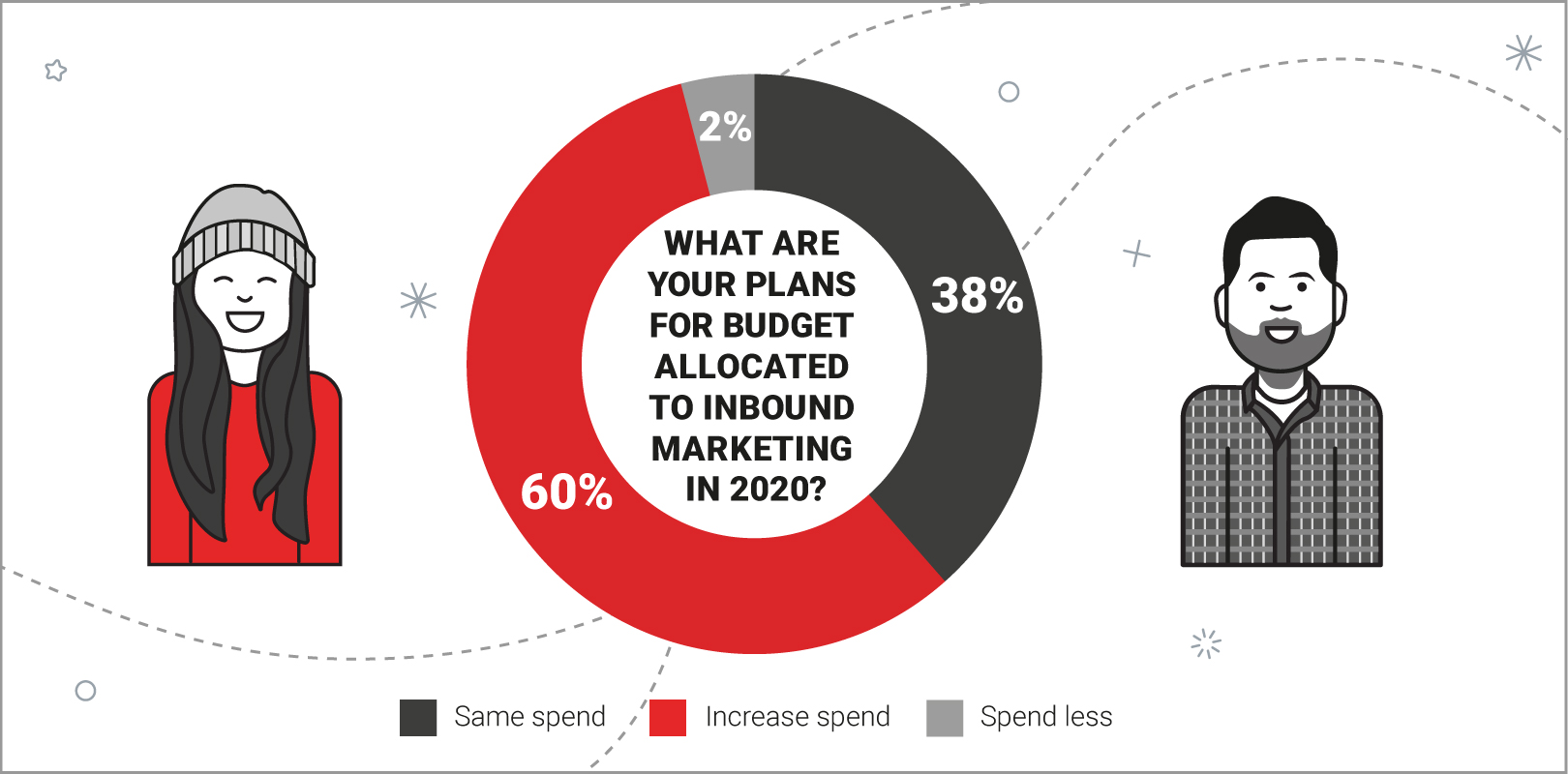 The pros and cons of outbound marketing
Since the advent of the ad blocker, click-through rates on outbound marketing content have suffered considerably. While the very first banner ads of the internet had an average CTR of 44%, they are now a dismal 0.05%.
This isn't to say they're completely redundant though, and there may be new ways of approaching advertising, such as the use of videos, or the combined effort of content and outbound ads on social. Like all other outbound tactics, there are pros and cons.
Pros of outbound marketing:
Reaches a much wider audience at once
Helps you target people who may not know about your product or service
Cons of outbound marketing:
High cost, low yield
Invasive and often disliked by customers
Products/services not always relevant to customer
Blocking techniques (ad blockers and spam filters) are common
The pros and cons of inbound marketing
While inbound techniques drive digital marketing maturity and help companies engage better with their intended audience, there are both pros and cons to be considered.
Pros of inbound marketing:
Inbound marketing costs 62% less per lead than outbound marketing
Long-term branding benefits
Creates better digital experience
Encourages customer loyalty and retention
Positions brands as experts/trustworthy source of information
Cons of inbound marketing:
There are a lot of channels and platforms to juggle
It can be difficult tracking return on investment
Things change all the time so an agile team is required
Proving ROI and gaining buy-in
While there are some invaluable benefits of running an inbound strategy, it's important to approach with a solid strategy and KPIs in place. The methods of measuring success require improvement if marketing departments are to get decision-makers on board and secure the budget they need.
As the digital landscape is always evolving, and new social networking sites and apps are always popping up, nimbleness is key. Your teams must stay agile in order to be responsive to change, and they must stay abreast of the latest trends as not to fall behind. This isn't something that time-poor marketing departments can always accommodate, making it a smart option to partner with a specialist agency instead.
Choosing the most effective strategy
When it comes to measuring ROI, inbound gives businesses a much better return. While outbound targets a huge audience (of which many won't find the ad relevant), inbound tactics connect brands with the right people at the right time. There's also a focus on lead quality over quantity, with content such as informative articles, research papers and video content helping to generate demand and feed people through the funnel. This means that money and resource is only spent on prospects that have the potential to convert.
There's no denying that inbound is much more sustainable for future growth. It's a fantastic way of creating brand awareness, building trust and delivering a seamless customer experience (CX). The latter is a concept that has been popular with retail marketing for a number of years, but B2B organizations are only just understanding the importance of and improving their CX efforts. For businesses that really want to future-proof their brand, an escalation of inbound marketing is a must.
However, it can be challenging to measure ROI and this is for a number of reasons, including:
Lack of knowledge of analytics for different platforms
Multiple touchpoints and a complex sales cycle
Efforts are long-term nurturing, never a quick sale
1 in 4 (26%) inbound marketers say proving ROI is the biggest challenge, and 11% said find it difficult to get board-level buy-in.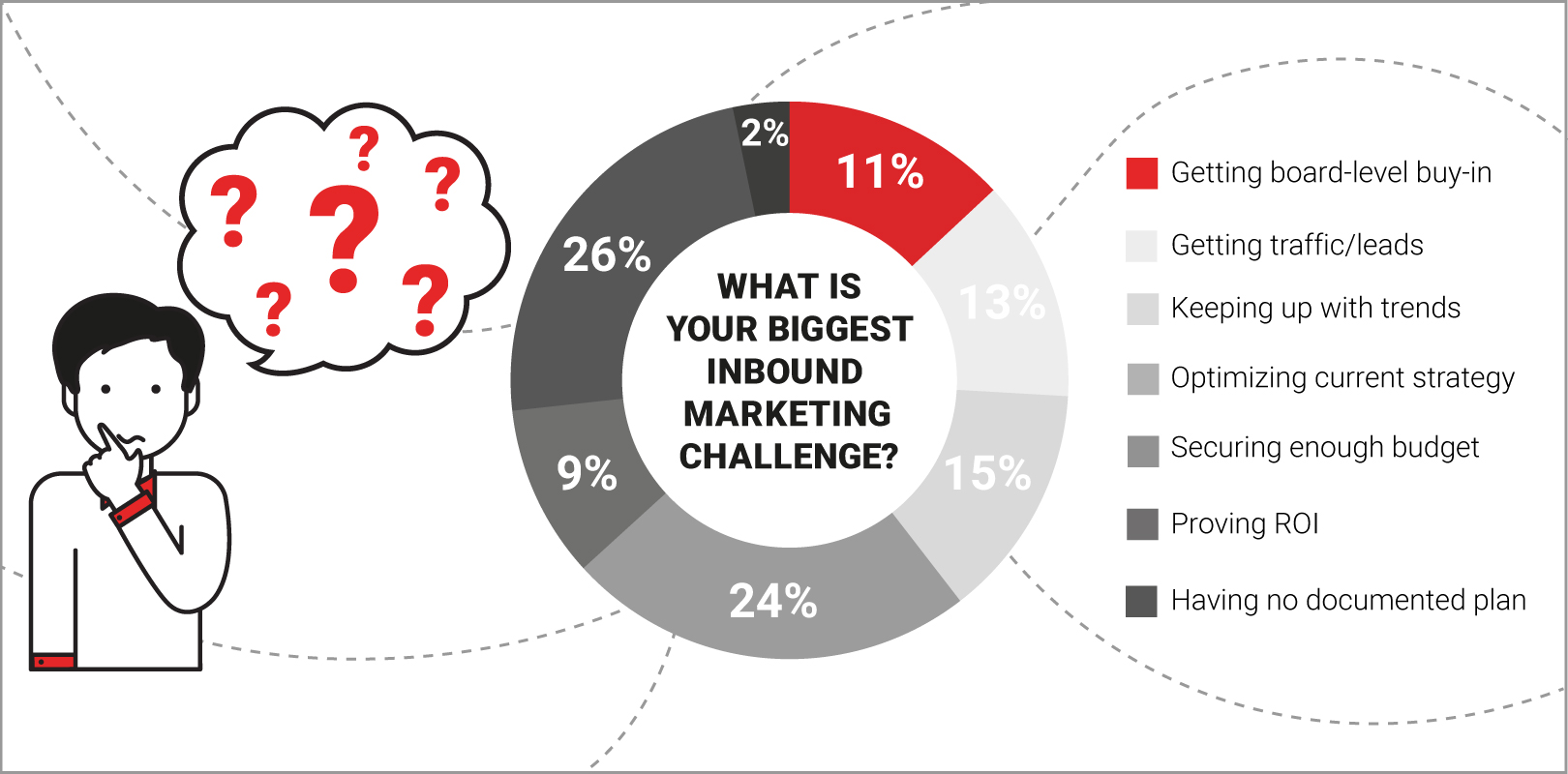 In order to ensure return on investment, a continued effort is required with lead nurturing, and that complex sales cycles will need to be intelligently navigated to prevent loss of prospects at the very last hurdle. Nearly three quarters (73%) of inbound marketers said visitors consume more than 3 pieces of content before converting.

While inbound does deliver the best long-term results, it can also be a slow-burner. One campaign won't give you immediate results and marketers will need to find various touchpoints for interaction. For instant results or a quick boost in sales, outbound may prove to be more attractive. Ideally, a mix of both can ensure that businesses are driving sales as well as long-term, loyal and higher-spending customers.
Running inbound and outbound marketing together
Inbound and outbound strategies can work together for a two-pronged approach. While ads and interruptive media can be leveraged to reach as many people as possible, carefully crafted content campaigns can be used to move in on target segments. Both strategies can work together by covering all bases.
By intertwining these strategies, you can tick the boxes with quantity and quality in terms of leads. More specifically, there are ways that certain outbound tactics can be used to support inbound campaigns and make them go further. A common example is combining well-written content pieces such as informative and interesting articles that help to solve problems with outbound Facebook ads.
This combined strategy will get your content out to a wider audience, yet you can still use targeting technology to specify your desired demographic. Here's how you would set up a typical inbound/outbound Facebook campaign:
Create a blog, article, whitepaper or eBook that would be of interest to this buyer persona.
Upload the content to your blog, website or gated landing page (for lead generation).
Design a Facebook ad that links to this content.
Create a sponsored story in your Facebook Ads Manager and set your targeting/bid amount.
This is just one example of how inbound and outbound can work together effectively, presenting prospects with a more well-rounded view of your brand. For companies that wish to build meaningful connections with customers while maximizing their reach in this way, the hybrid approach can be an invaluable one to employ.
To explore the state of B2B inbound marketing, why not check out our brand-new report?