What are the top challenges leading tech buyers to actively search for your products or services?
We surveyed over 1,500 senior professionals within our Insights for Professionals (IFP) community to discover real-time challenges and pain points shaping demand. Every member of our research panel holds an influence on B2B technology purchasing decisions within their company, cementing the reliability of our data.
This article pulls out key first party research findings to help you better understand your B2B buyers going into 2022.

This article covers:
The main areas of concern for IT, Marketing and HR tech buyers in the next 18 months
How B2B buyer insights can help you master tailoring techniques to win buyers over
Discover exactly what's causing your buyer's frustrations – here's what our first party research reveals ahead of your 2022 planning…
What do IT tech buyers consider their most prominent threat?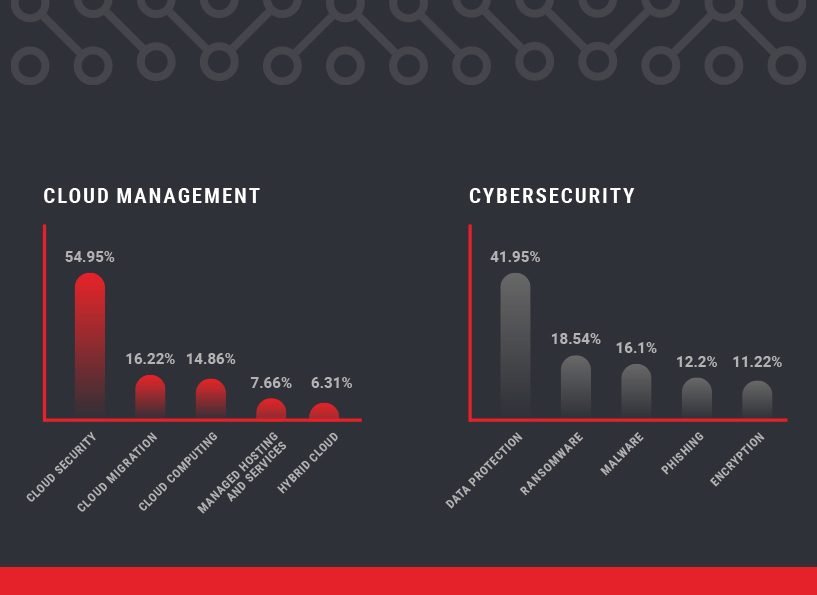 Cloud Management and Cybersecurity concerns
Over half (54.95%) of IT professionals specializing in Cloud Management consider Cloud Security to be the greatest challenge, leading by a considerable way. Less than a sixth consider Cloud Migration (16.22%) to be of any major concern, with Hybrid Cloud being the least pressing issue at just 6.31%.
In terms of the Cybersecurity market, over 40% cite Data Protection as their main threat (41.95%) with just under a fifth choosing the next biggest option, Ransomware (18.54%). Phishing (12.2%) and Encryption (11.22%) are the two least concerning obstacles for IT tech buyers in this market.
When analyzing these findings side by side, there is a clear connection between Data Protection and Cloud Security. Cloud storage has become widely accepted, yet it is evident that IT professionals are aware of the great difficulties storing data within the cloud can bring in terms of keeping it secure at all times. That is why we are seeing so much emphasis placed on protecting data within the cloud; the two go hand in hand and are clearly areas of significant concern for IT tech buyers over the coming year.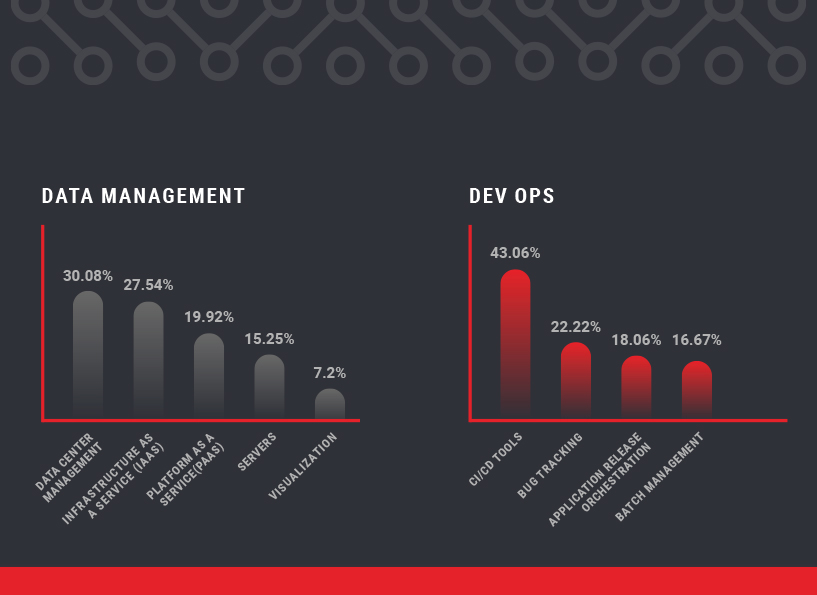 Pressures within Data Management and DevOps
Contrary to all other areas within IT, there is no single stand-out pain point within Data Management – with all five options being less than 10% apart. Data Center Management does come out top however, with 30.08% of the vote, making it the top area of focus for almost a third of respondents operating within this field. Infrastructure as a Service (IaaS) closely follows (27.54%), highlighting the importance of ensuring the right infrastructure is in place to support and maximize the capabilities of data centers – crucial to efficient and effective data center management which can outshine that of competitors.
43.06% of DevOps specialists believe CI/CD Tools to be their greatest threat. Such tools connect processes and eliminate manual tasks, bringing increased efficiency to the table and freeing up resource to be better utilized elsewhere. Yet, for tools to exist with such vast and impressive capabilities to achieve this, their complexity must be high. Hence why they have been identified as the top challenge within DevOps for the specialist knowledge and skillset required to not only use them but know how to use them to their fullest advantage.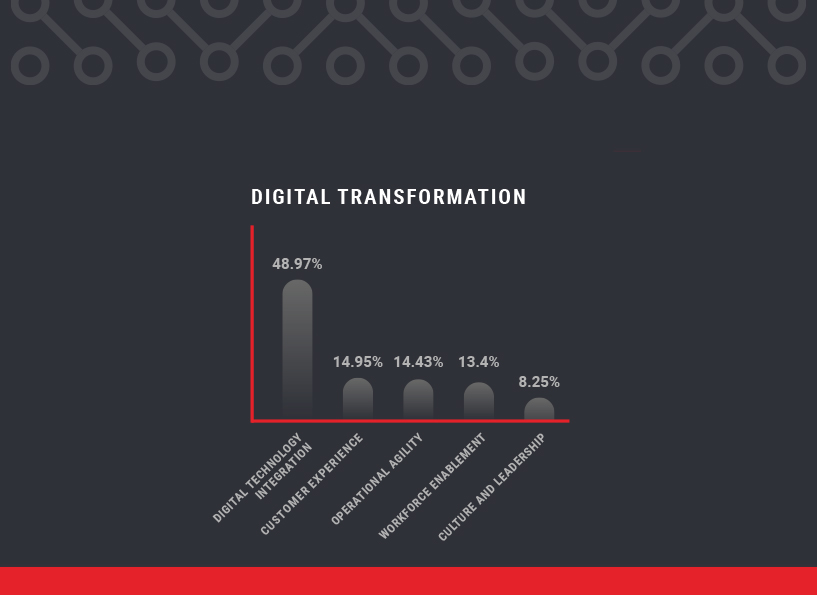 Obstacles facing Digital Transformation specialists
Digital Transformation also has one clear winner when it comes to the most pressing barrier of success, with just under half of IT professionals citing Digital Technology Integration (48.97%) as their biggest challenge. Being able to integrate all aspects of digital technologies that generate, store and process data is never easy – so it's no wonder we see this area dominating. Take the cloud as a prime example; the level of sophistication of such a transformational tech solution requires intensive know-how and skillset to successfully integrate. Along with continuous cloud security threats from ever advanced hackers, it's clear why Digital Technology Integration ranks so highly.
Take a deeper dive into the top pain points faced by IT professionals with our easy to digest IT infographic.
What are the greatest pressure points for Marketing tech buyers?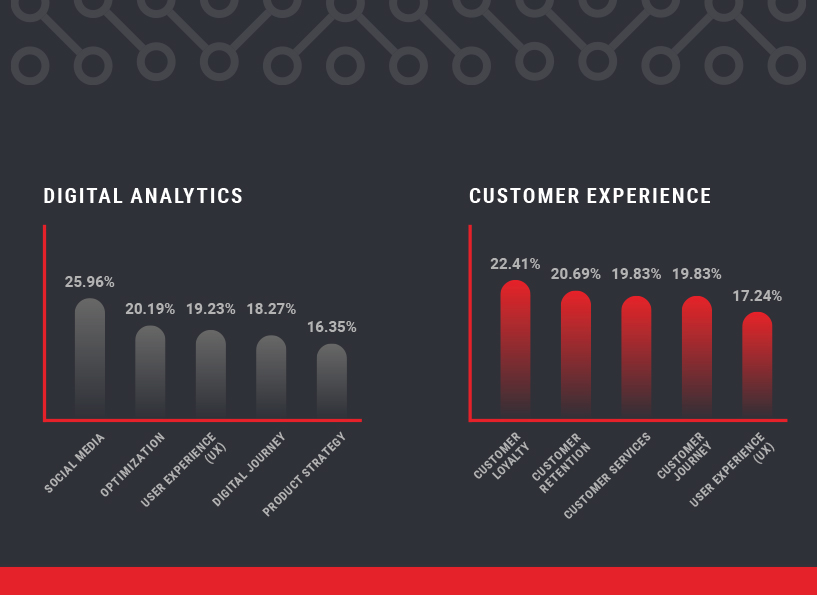 Challenges faced by Digital Analytics and Customer Experience markets
First glance at the problem areas faced by marketing tech buyers indicates that all areas contribute very similar levels of concern. In the Digital Analytics market, Social Media is the biggest pain point for over a quarter of respondents (25.96%), followed by Optimization with a fifth of the vote (20.19%). Analyzing data from various social media channels and being able to understand what the data is telling you can be tricky without the right tools, especially when lacking the time to really focus in on your social campaigns. Abundant analytics tools now exist to make this easier, but marketers are clearly still not satisfied.
What's more, knowing how to optimize without compromising or reducing value requires experience and careful planning; something which can be difficult to get the balance right for marketers without upsetting staff in the process.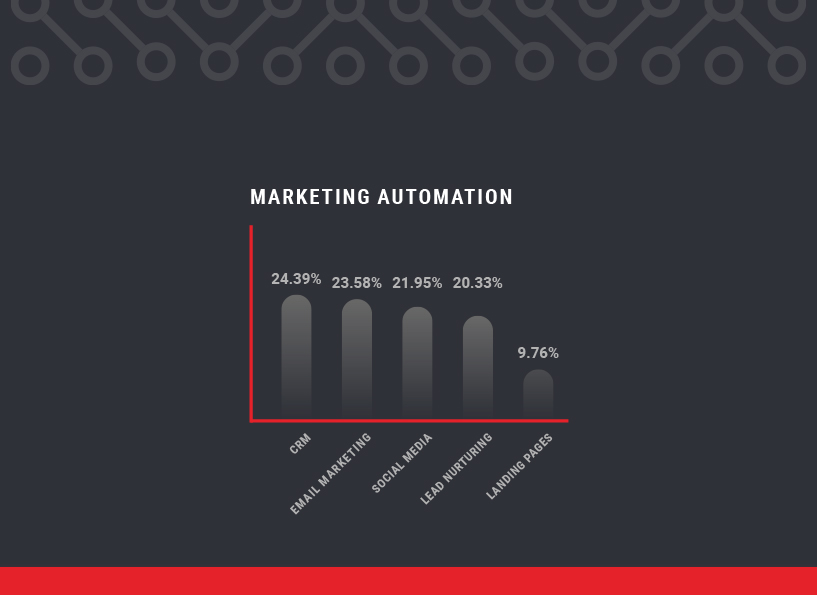 Marketing Automation: Key barriers to success
When it comes to Customer Experience, Customer Loyalty is the greatest challenge (22.41%), with Customer Retention coming in a close second (20.69%) – both with over a fifth of the vote. CRM (24.39%) is the biggest sticking point for Marketing Automation experts, which strongly correlates with the focus on customers and relationship management in terms of loyalty and retention within the Customer Experience world.
Social Media is a concern for over a fifth of marketing professionals specializing in Marketing Automation (21.95%), supporting those in Digital Analytics who found it to be their main barrier to success. Greater understanding of how to best utilize social channels and understand their performance is an apparent need. While solutions that can alleviate the challenges of social media are clearly needed across the board for marketing tech buyers.
Delve further into the depths of marketing tech buyer challenges with our handy Marketing infographic.
What are the biggest challenges faced by HR tech buyers?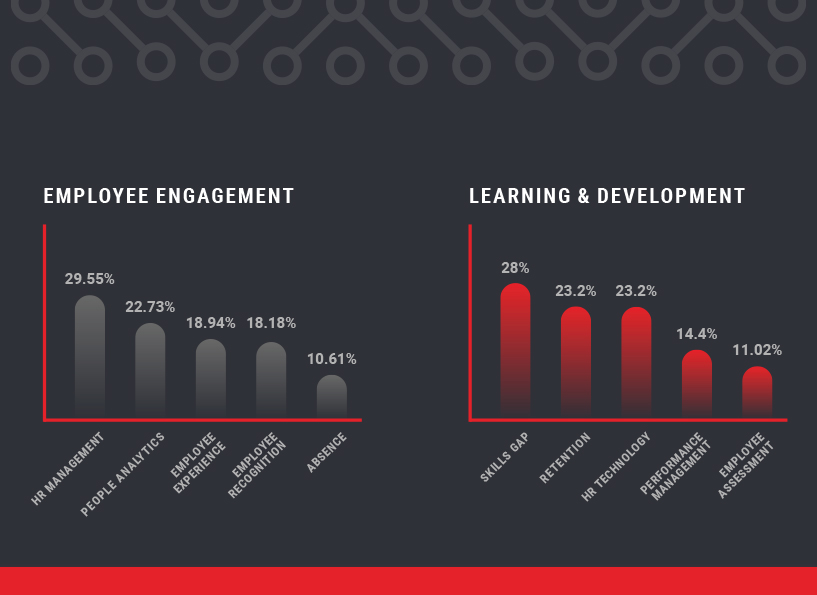 Pain points for Employee Engagement and Learning & Development professionals
Almost a third (29.55%) of HR professionals working in Employee Engagement identify HR Management as their greatest challenge. In the Learning and Development market, 28% cite Skills Gap as the most pressing, closely followed by Retention and HR Technology (both 23.2%). Learning and Development and Employee Engagement are closely intertwined; employees who have time and money invested in their learning and training to improve their skillset feel more motivated, rewarded and engaged as a direct result. Therefore, if one of these areas are posing difficulties it's no wonder the others are too.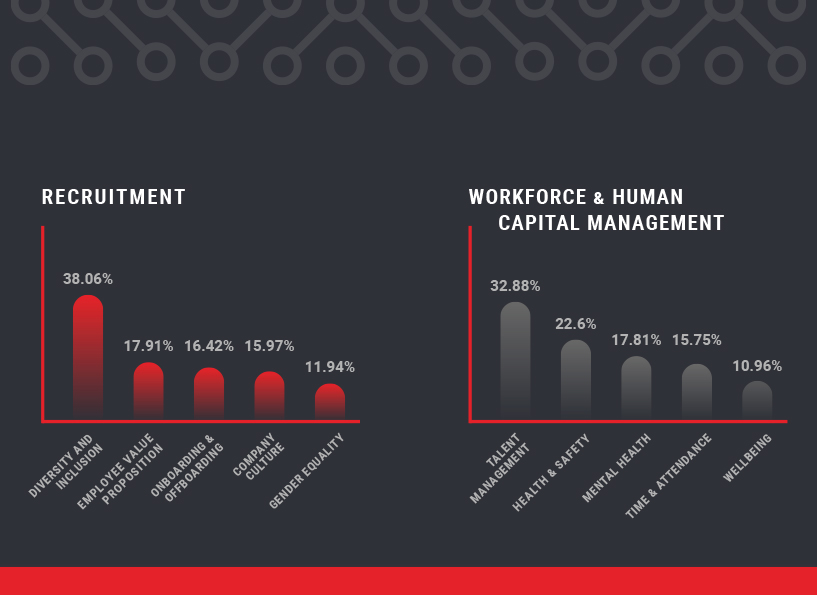 Recruitment and Workforce & Human Capital Management: Greatest threats
A significant obstacle for over a third of HR tech buyers within the Recruitment market is Diversity and Inclusion (38.06%); more than double that of the next biggest barrier, Employee Value Proposition (17.91%). HR management need to place considerable focus on creating a workforce which feels far more diverse and inclusive than it does at present. Otherwise, employee Retention will take a nose dive and become an even greater challenge than it already is.
It is therefore unsurprising that Talent Management is the top sticking point for a third of HR professionals (32.88%) specializing in Workforce and Human Capital Management. The need to provide employees with effective talent initiatives, training opportunities, workshops and so on is ongoing and shouldn't be ignored if you want to keep them motivated.
Looking for a different angle? Here's our HR infographic for a deeper exploration into HR tech buyer pressure points.
How can B2B tech buyer challenges help shape your targeting techniques?
Wondering what the next steps are now that we've explored the biggest barriers to success for B2B tech buyers heading into 2022?
We've summarized the key takeaways to help get your planning underway:
Cloud Security and Data Protection are high on the stakes for IT tech buyers. Showcase your ability to keep data within the cloud secure at all times to entice IT professionals within the Cloud Management and Cybersecurity markets.
Effective Infrastructure as a Service (IaaS) leads way for exemplary Data Center Management. Both are top pain points for Data Management specialists, so providing adequate solutions to support infrastructure in a way which can drive data center capabilities and efficiency would truly make your business stand out.
CI/CD Tools that allow teams to remove rigorous, time-intensive work through automating development, deployment and testing processes will be of real value to IT tech buyers within DevOps.
The ability to successfully perform Digital Technology Integration will significantly help almost half of Digital Transformation buyers. With sophisticated software such as the cloud becoming so widely adopted, the need for solutions to support integration is only growing.
Marketing professionals require resolutions to their Social Media struggles when it comes to Digital Analytics and Marketing Automation. Solutions offering better visibility over social performance and which enable more comprehensive analysis, along with compatibility with marketing automation platforms, would fulfil a prevalent need.
Enhanced CRM tools which can manage customer relationships effectively would also greatly help marketers with expertise in Marketing Automation.
HR Management is an area requiring vast improvement for HR professionals. Providing the tools and software to really get to grips with this will have a positive knock-on effect across many other areas of HR including employee Retention, Skills Gap, Talent Management and Diversity and Inclusion.
Final Thoughts
It is clear from our first party research findings that each specific market has its own, differing set of obstacles to overcome over the next 18 months in particular. Understanding what challenges impact your in-market tech buyers is crucial for focusing your targeting techniques effectively, creating campaigns which highlight how your product or service can provide the optimal solution, and identifying where competitive advantage can be gained.
For further B2B buyer insights, download our full research report: B2B Tech Buyer Behavior: Unique Insights for 2021/22