In the ever-evolving landscape of modern marketing, ABM has emerged as a powerful approach that blends cutting-edge technology with strategic precision for targeting high-value accounts. Among the arsenal of tactics deployed by ABM marketers, Programmatic ABM has emerged as a seemingly cost-effective method for reaching large numbers of accounts at scale.

Its appeal is undeniable – Programmatic ABM allows you to reach a vast number of potential target accounts with relative ease, ensuring broader exposure and increased efficiency in delivering tailored messages. Yet, as companies set their sights on this strategic approach, an often-overlooked truth emerges – it can be a perilous and expensive journey for those who venture into the Programmatic ABM before possessing the necessary skills and resources to implement it in-house effectively.
Our recent 2023 ABM Research report suggests that companies investing in Programmatic ABM may face not only significant cost but in the wrong hands, its enhanced advertising capabilities can result in less precision rather than more. In this blog post, we explore some of the costs and challenges of implementing Programmatic ABM in-house and discuss cost-effective alternatives for optimizing your ABM efforts.
Reading time: 4 minutes


Game-changing benefits of Programmatic ABM
Before we dive in let's remind ourselves of some of the benefits of Programmatic ABM or 1-many ABM as a strategy:
Scale and Efficiency: Programmatic ABM allows you to connect with a vast number of potential target accounts expanding your reach and making it simpler to deliver tailored messages more efficiently.
Personalization at Scale: With the power of programmatic tools and techniques at your fingertips you can infuse your messaging and content with a personal touch to build stronger relationships with potential buyers on a larger scale.
Enhanced Advertising Capabilities: With unparalleled targeting options and precision, you can reach the right audience at the right time with messages that truly resonate to make every impression count
Streamlined Sales Processes: With Programmatic ABM every interaction can become a stepping stone towards accelerated conversions increasing sales velocity and shortening sales cycles as prospects are nurtured with targeted content and experiences
Data-Driven Insights: Insights into campaign performance, audience engagement, and ROI gives you the power to refine and optimize your strategies to ensure they are backed by intelligence.
Navigating the realities of in-house Programmatic ABM implementation
While the benefits of Programmatic ABM are enticing, it's crucial to acknowledge the realities that businesses encounter on this path. Our study shed light on some of the challenges, complexities, and inconvenient truths that arise when attempting to navigate the in-house implementation of Programmatic ABM.
1. The illusion of cost-effectiveness: Programmatic ABM is often hailed as the most cost-effective method for targeting high-value accounts at scale. However, our groundbreaking study exposes a harsh reality. The expenses associated with technology, software, data, and ad placement fees can rapidly accumulate, making in-house Programmatic ABM a cost-draining initiative, especially for early-stage adopters and those seeking to scale.
2. High costs and low confidence in identifying in-market accounts: Implementing Programmatic ABM during the Early and Scaling Up stages of program maturity has significant cost implications. Our research reveals that a staggering 57% of businesses investing in Programmatic ABM allocate an effective $3,000 – $15,000 per account at the Early Stage, while only 15% and 14% of businesses implementing Lite and Strategic ABM, respectively, spend the same amount. Moreover, a striking lack of confidence plagues companies in identifying in-market accounts, affecting 53% of expanding companies and 35% in the initial phases of ABM implementation.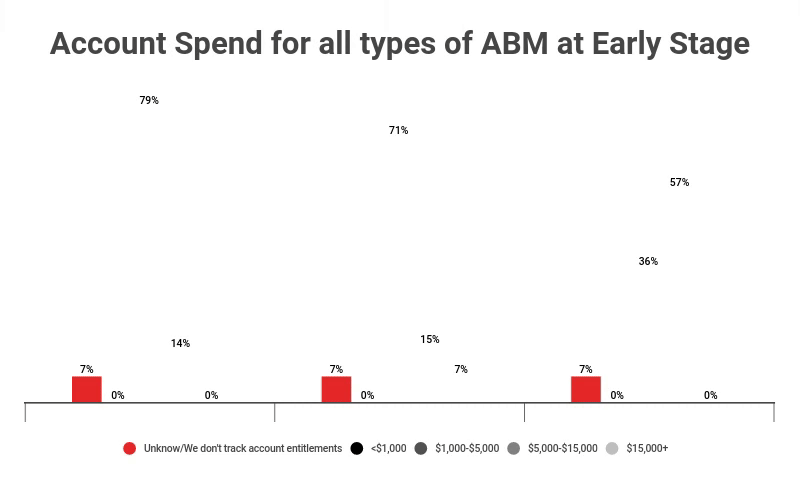 3. In-market targeting confidence declines as costs rise: The integration of new technologies during the ABM journey appears to instil an early sense of confidence for companies starting out. However, this assurance rapidly declines, coinciding with a surge in spend per account. According to our survey, a significant 21% of companies allocate an effective $15,000 or more per account, revealing an increasing reliance on tech investments to identify and reach accounts as they scale. The persistence of these costs as maturity levels increase suggests subscription-based models for tech acquisition. Additionally, a seismic shift in confidence occurs, with 53% of companies in the scaling phase recognizing the need to improve in-market account identification.
4.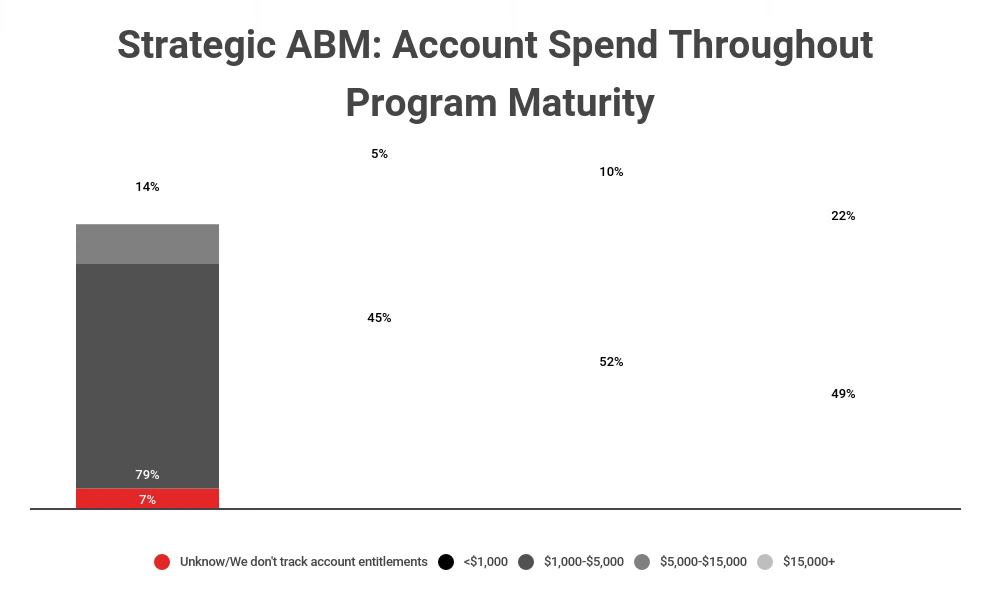 5.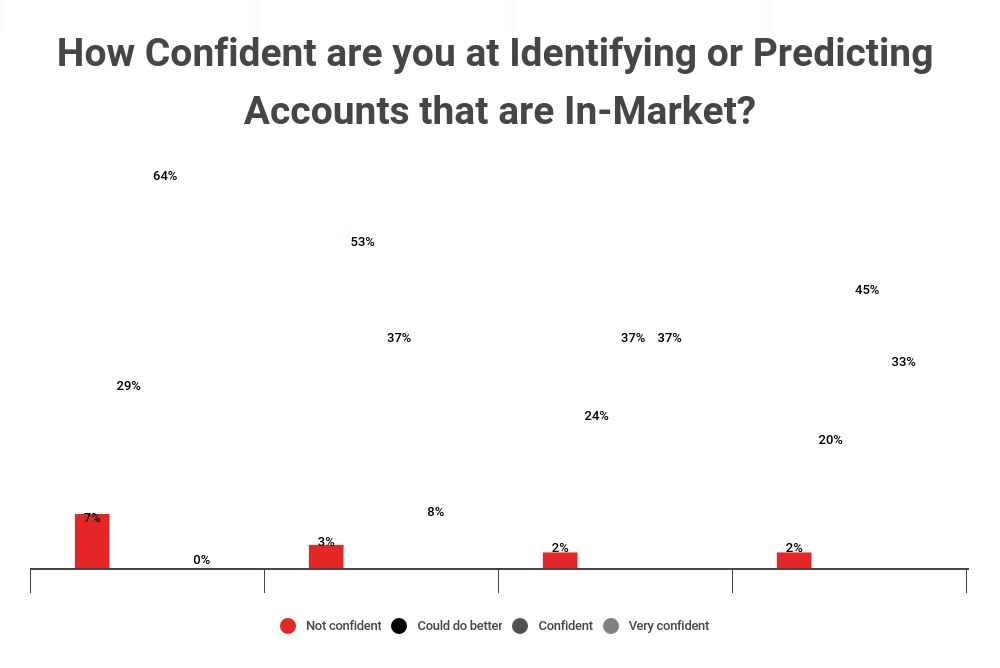 6. Relying on a single source of data can hinder account targeting: One of the most significant hurdles faced in in-house Programmatic ABM is often the lack of access to diverse data sources. Limited data sources mean organizations can find themselves at a disadvantage, unable to fully understand their target accounts and tailor their efforts accordingly. These sources, encompassing technographics, firmographics, and 1st, 2nd, and 3rd party intent data, carry a hefty price tag that is often prohibitively expensive for businesses to acquire independently.
7. The challenge of limited resources and technical expertise in Programmatic ABM: While programmatic ABM is often touted as a highly effective method, the reality is that not all organizations have the resources or expertise to fully harness its potential. Without sufficient budget or technical know-how, businesses may struggle to optimize their programmatic ABM efforts and achieve the desired results. Fully leveraging the targeting capabilities of programmatic ABM requires a deep understanding of the technology and the ability to make actionable targeting decisions at scale. However, limited budgets or a lack of technical expertise can often hinder the success of in-house teams.
Maximizing ABM success: Evaluating costs, challenges, and alternatives
Our study sheds light on the uncomfortable realities of running in-house programmatic ABM. While it promises the potential to reach a large number of accounts at scale, its implementation demands significant investments in specialized skills, technologies, and data management.
To make the right decision for your organization, it is crucial to carefully evaluate the costs, challenges, and expected outcomes of different ABM approaches. Consider factors such as budget, technical expertise, and target account profiles to determine the most suitable strategy.
One critical aspect to consider is a multi-dimensional approach to data. Partnering with Targeted Demand Generation experts provides access to the wealth of data they offer, which would otherwise be costly to acquire. It also provides access to the specialized skills and technologies needed to transform diverse data sources into meaningful insights. When you're able to cross-reference multiple data types, you can get a far more reliable picture of true intent and can optimize your account targeting efforts to unlock the full potential of your ABM initiatives.
Ultimately, the success of personalized ABM at scale hinges on finding the right balance between cost and effectiveness. Don't be lulled into a false sense of confidence and carefully compare different approaches before committing to costly tech investments that may not deliver against your ABM goals.