Leveraging relevancy and scale to accelerate the B2B sales pipeline is not to be overlooked by B2B marketers in their strive for increased conversions and ROI. Applying data science to accurately target prospects and accounts not only minimizes waste, it drives efficiency by generating better quality leads.
How can this be achieved in the current B2B landscape with tried and tested methodologies?

Reading time: 5 minutes
Applying data science to your targeting enables you to:
Find the most relevant target accounts
Identify who's in-market
Better understand your Ideal Customer Profile (ICP)
Gauge trends for potential new business
Amplify the lead conversion process.
As such, our intent analysis revealed a spike in intent around B2B Sales Acceleration – hence why our new theme is centered around this.
According to our first party research, when asked which insights are used to inform audience segmentation criteria 61% of senior B2B marketers say Action Intent, followed closely by Search Intent (60%), Customer Look-a-likes (54%), Behavior Intent (53.5%), Demographics (53%), Predictive Intent (51.5%), Firmographic Intent (50%).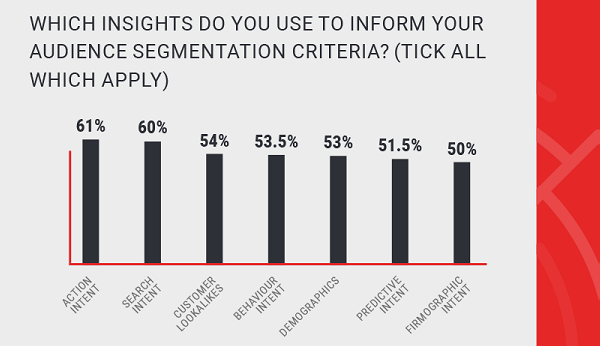 The advanced targeting capabilities that these – in particular, all types of intent data – can achieve are clearly unrivalled in their ability to provide meaningful basis for segmentation.
Read on as we take a deeper dive into how relevancy and scale can accelerate the B2B sales process through Look-a-Like modelling, Intent data and Propensity modelling. Here's what best practice looks like…
How can Look-a-like Modelling with AI and Machine Learning help prioritize target segments?
Almost half (48.5%) of senior B2B marketers cite 'identifying accurate lookalikes' as an area they struggle with the most in obtaining the right audience intelligence. This is why our Account-Based Marketing campaigns use precision targeting to ensure brands get in front of the right businesses, using a variety of tactics.
Look-a-like modelling is an excellent tool to help build a Target Account List (TAL) to apply to your advertising campaigns. Our ABM service uses look-a-like modelling to expand either your TAL or a list of existing customers by running an AI driven process via Natural Language Processing (NLP).
Look-a-like modelling can generate both look-a-like accounts and domains, allowing you to identify businesses with the same characteristics to those who have already purchased your products or services – for instance a similar size, industry or revenue etc. Here's what that looks like in practice: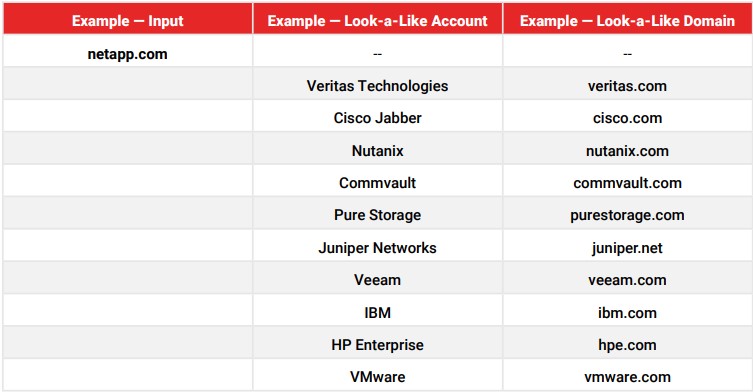 This example is based on Data Management Solutions specialist, Netapp. The organizations listed match the characteristics and attributes of Netapp so closely that they are deemed suitable look-a-likes.
Intelligence like this will drive B2B sales acceleration like no other, with its ability to accurately identify relevant accounts that are likely to need your solutions to address the same problems as your existing customers. Without this next level intelligence, it's possible you may otherwise never come across them.
To go one step further, AI and Machine Learning can be applied to establish key trends and patterns, allowing you to recognize accounts mirroring those of your existing customers which should consequently be prioritized.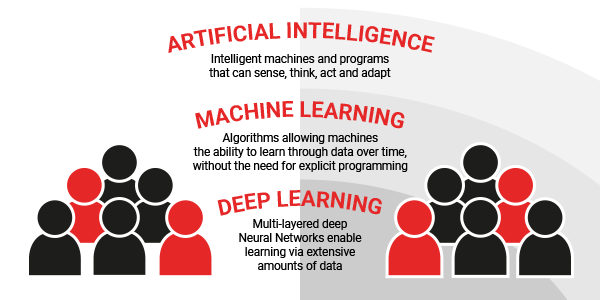 Precision targeting through Intent Data
Understanding who in your TAL is actively exploring solutions that match your product or service offerings is how you begin to create a data driven approach to your marketing strategy. This allows you to effectively prioritize your efforts on in-market accounts and provide them with the right content, in the right format and across the right channel depending on where they are along the buyer journey.
What's more, mapping your target accounts to understand what topics they are most interested in allows you to focus your efforts most effectively to engage your audience. For example, B2B Sales Acceleration showed a significant spike in intent across both US and UK audiences, followed by Content Aggregation and Brand Awareness (see below).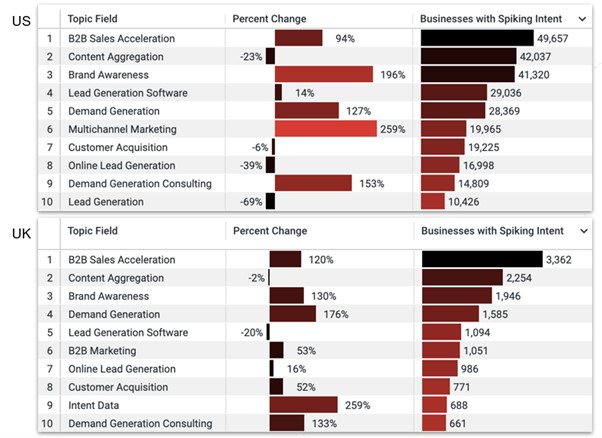 Intent data provides vast amounts of insight that drills down further into the mind of prospective buyers. This helps B2B marketers to:
Improve content performance
Track and measure content consumption at account level to gauge topics of interest
Get the right messages in front of the right members of the decision making unit (DMU) at the right time
Build and develop accurate buyer personas.
Analyzing intent data against an identified list of accounts that match your ICP enables you to prioritize companies showing signs of substantial interest in topics most relevant to your products and solutions, and segment them. Focusing on these as your optimum TAL is what your media should be executed against to accelerate the B2B sales process.
Why should B2B marketers listen to intent data?
Almost two-thirds (64%) of senior B2B marketers agree that intent data has increased both ROI and conversions; 22% say conversions only, 13% ROI only, and just 1% too early to say. These stats alone demonstrate how intent data can significantly boost conversion rates and ROI.
When asked whether intent data is fundamental to their marketing/sales journey, 41% said 'Absolutely – it's at the heart of what we do', over half (57%) 'Yes – it's very important' and just 2% 'No – we use it where possible but it's not fundamental'. Utilizing intent data to remain competitive in the current B2B landscape is clearly a highly considered way of driving the acceleration of sales.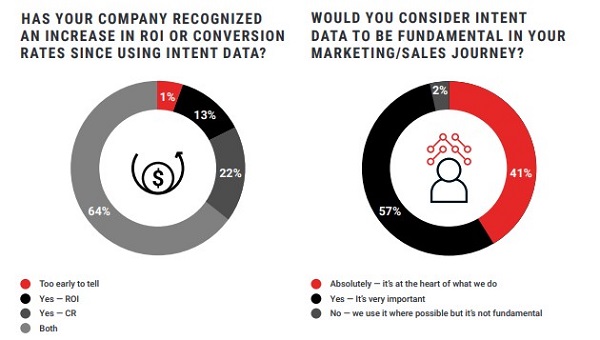 Discover 5 ways of harnessing intent data within your channels and marketing strategy with our quick checklist including top tips.
How can Propensity Modelling enhance accurate targeting?
By focusing on targeting and engaging prospective buyers with the greatest propensity to convert, propensity modelling is unrivalled in its potential to:
Boost conversion rates
Increase campaign ROI
Reduce media spend.
– all of which aid accelerating the B2B sales process.
Propensity modelling is based on predictive analytics geared around delivering mutual value. A quality propensity model provides unique user intent signals and combines them with an aggregate of the interests of others who share similar attributes. This includes the following levels of data in order to present a complete picture of the highest likelihood of engagement for that user:
Personal – content consumption history, job title
Account – size, industry
Contextual – content format, time of day of action.
This, combined with a machine learning model that understands how popular content has been previously with that particular user's persona segment, allows you to dynamically match content to users based on accurate interests while predicting information gaps they are likely to have.
Why is it best practice to predict information gaps?
By showing people problems they aren't yet aware of having is a tried and tested method of driving demand and accelerating B2B sales. While other intent markers are based on real-time and historic data, predictive intent models take things up a notch – comparing a prospect's pre-purchase behavior against vast quantities of previous customers', to identify similar characteristics or trends that indicate clear intentions to complete a desired action. This type of intelligence allows B2B marketers to predict the next best move.
The impact of relevancy and scale on driving B2B Sales Acceleration
88% of marketers have seen an uptick in conversion rates through adopting a data driven strategy in their marketing.
Understanding your ICP, tracking digital touchpoints on content topics relevant to your products and services and calculating an account's propensity to convert will considerably increase the affinity of your advertising to your audience.
The better quality your targeting, the greater your conversion rates will be and the more you will see B2B sales accelerate – hence why there has been a significant rise in the use of data modelling to identify in-market accounts.
Master your data strategy: 3 key takeaways
Looking to implement a data driven approach to your marketing strategy? Here's 3 ways that will minimize waste, maximize effectiveness and allow data to do the hard work for you…
Utilize Look-a-like modelling to identify new accounts matching your ICP
Find accounts who look and act like your existing and most profitable customers:
Start by analyzing your seed audience – use your CRM to isolate your best fit customers in terms of profitability and product/market fit
Then use a data partner with a machine learning model – to understand account features and scale that out across datapoints to determine next best fit customers
Apply this to your overall data – comprising first, second and third party data – to establish the key attributes you want to be targeting as your ICP, allowing you to find the closest matching profiles.
Prioritize your TAL based on intent behaviors
Focus your marketing efforts on businesses that are:
In-market
Actively researching relevant topics and competitors to you.
Segment your target audiences using intent data and then, based on their area of interest, deliver relevant content to each. Audience segmentation in this way will ensure you're able to intercept and nurture with the right content at the right time along their buyer journey.
Engage prospects with the greatest propensity to buy
Predict the next best move in order to focus your efforts on prospects most likely to take your desired call to action.
Ready to accelerate your B2B sales process?
Leveraging data science to increase relevancy and scale in the current B2B landscape will ensure your targeting is as accurate and advanced as possible. Applying a data driven approach to your marketing strategy will not only boost ROI and drive conversions, it will minimize waste for a far more streamlined and accelerated B2B sales process centered around quality leads.