Understanding the key Account-Based Marketing (ABM) metrics to report on ensures B2B marketers are able to truly gauge performance and make informed decisions with the ability to accelerate their B2B sales pipeline. Reporting not only presents solid facts, it highlights any areas requiring improvement or additional resource, aiming to boost ROI and drive Sales Acceleration to its maximum potential.
How can ABM velocity and penetration contribute to B2B Sales Acceleration? Read on as we take a deep dive into ABM goals and critical metrics…

Reading time: 4 minutes
Why is Reporting on Key Metrics Vital to ABM Success?
ABM allows you to:
Identify the target accounts you want to reach
Tailor messages to engage and resonate with key decision markers in those accounts, to truly resonate with where they are along the buyer journey
Measure critical performance metrics to gauge how well you are achieving your overarching goals and objectives.
Once you've identified the accounts to reach, tailoring personalized messages to each is how strong relationships are formed. ABM's more focused approach improves the accuracy of your targeting while reaching the right members of the decision making unit (DMU) with the power to make decisions. It's no wonder 62% of marketers have seen a positive impact since adopting ABM in their strategy.
Reporting on misleading metrics could guide your efforts in completely the wrong direction, so assigning relevant and quantifiable KPIs to clearly defined goals is crucial to ensuring irrelevant media metrics like CTRs and CPCs aren't weighing you down. This is why ABM metrics are so important to get right – to ensure you're listening to the right insights and taking action where it'll make the greatest impact to your ROI and Sales Acceleration.
Start by Defining Your ABM Goals…
Before we delve into ABM metrics, setting clearly defined revenue and non-revenue goals is a highly important first step to ensuring your whole marketing team is aware of the desired outcomes of their efforts. From this, key metrics can then be appropriately derived.
What do ABM goals look like?
Take a look at the following examples of revenue and non-revenue goals – both equally important for B2B marketers striving to accomplish Sales Acceleration.

If you consider sales pipeline health for example, and focus in on Marketing Qualified Leads (MQLs) and Sales Qualified Leads (SQLs) then setting targets for each – for instance "500 MQLs per quarter" – ensures your team has a tangible yet realistic goal to work towards.
In terms of non-revenue goals, you could measure how well aligned your Sales and Marketing teams are by asking them to complete a survey at the beginning and end of every quarter with scoring systems in place to determine how well aligned they are becoming.
Once these goals are clearly laid out, what are the most important ABM metrics B2B marketers should report on?
8 Metrics that Matter for B2B Sales Acceleration…
Firstly, assign relevant KPIs to your goals and regularly report on these to understand exactly how to further accelerate sales in your target accounts. This allows for the following ABM metrics to be recorded, monitored and analyzed:
Account Engagement Rate = Engaged accounts / target accounts. The % of accounts that are meaningfully engaged with your business.
Opportunity Rate = Accounts with a new opportunity created / target accounts. The % of accounts with a new opportunity created.
Account Win Rate = Accounts won / target accounts. The % of the account list with a new win in a given period of time.
Target Account Pipeline = Pipeline created in target accounts. The value of pipeline created with target accounts.
Bookings or Revenue = Value of new closed-won deals with target accounts.
Customer Lifetime Value = Average customer revenue across their entire lifetime with your organization.
Number of Marketing Qualified Accounts (MQAs) = Indication of an account's overall interest rather than of individual leads within it.
Average deal size = Total revenue / closed-won opportunities in a set period (i.e. a month, quarter, year).
These metrics can provide a deeper understanding into behaviors and trends – allowing B2B marketers to focus their efforts according to key insights, including:
Engagement per account / domain
Engagement score per domain
Prospects with the greatest propensity to convert
Accounts closed-won, to target look-a-likes
Revenue score per account.
Data Source Integration to Understand the Full Picture
Once you have the vital metrics in place, data source integration allows you to attain a wholistic picture of performance and distinguish key learnings from one central dashboard or reporting hub. InboxINBOUND achieves this level and detail of reporting in a clear and concise way – allowing you to gain a deeper understanding of:
Audience insights – around users, topics, and sessions
Content performance – page views, average time on pages, and top performing assets
Intent interactions – by content tag, by status, and over time – as shown below.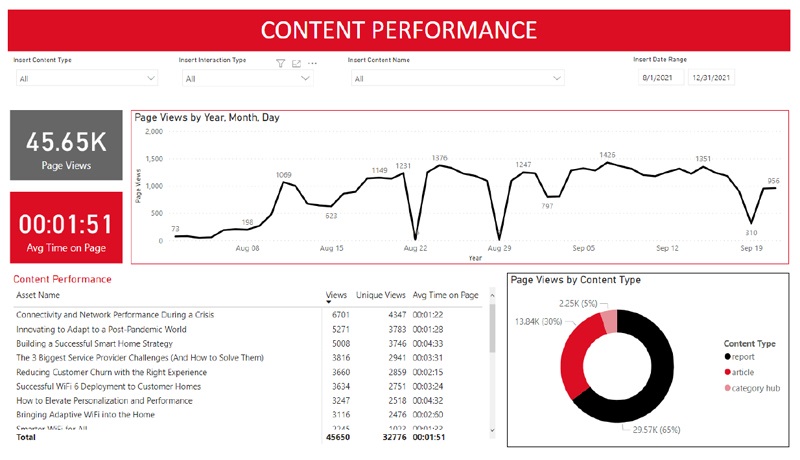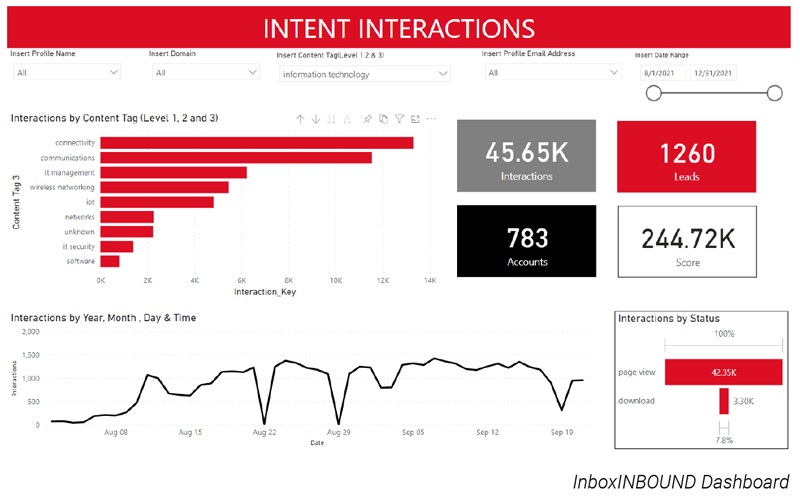 This level of insight enables B2B marketers to compare key stats over time and reveals any areas over and under-performing, which is highly useful in order to make improvements that aid accelerating the B2B sales process.
Looking to adopt a data driven approach to your marketing strategy? Discover 3 ways that will not only minimize waste and maximize effectiveness, but allow data to do the bulk of the work for you.
Let Your B2B Sales Acceleration Metrics do the Talking…
Tracking key metrics at account level allows you to effectively measure the performance of your ABM campaign, helping to prioritize accounts and feedback for sales. Understanding the vital measurement criteria that you need to be reporting on in order to boost ROI and drive conversions will aid B2B Sales Acceleration in more ways than you can otherwise achieve – for the relevant, accurate and reliable insights that can be obtained for a complete picture, to continually improve upon.