Landing pages are the core of your website, but are yours actually working for you? Read on to find how to create one that will be a success.
One of the biggest battles in modern day marketing is getting users to click on your page and, more importantly, stay there. Whether or not this happens depends on a lot of factors, but there's no getting away from the fact that landing pages are at the core of it.
You can be the Don Juan of social media or plan your marketing strategy to a fine art, but if your landing pages aren't working effectively, you won't get the conversion rates you need. Many teams can be so focused on how to drive traffic to their website, what visitors actually see when they get there is too often an afterthought.
So how do you go about creating a successful landing page?
Reading time: 7 minutes


What exactly is a landing page?
A landing page is a web page designed to capture the attention of visitors and encourage them to take a specific action. It's usually the first page a visitor will see after clicking on an advertisement or following a link in an email. Landing page design is an integral part of effective marketing campaigns, as an effective landing page will compel visitors to take the next step in the sales funnel.
Successful landing pages are typically tailored to specific products or services and are used to communicate key information about your offering. They typically contain visuals, product descriptions and call-to-action buttons. They can be used to generate leads, drive conversions and capture user data for marketing purposes, such as email addresses or customer feedback.
Why do you need a landing page?
Landing pages serve as the foundation of your lead generation strategy and help you capture and convert leads into customers. A well-designed landing page that's tailored to the needs of the target audience and optimized for search engines will help you communicate, build trust, drive traffic, gather leads and create more conversions. They can also help you to segment your audience and measure the performance of your campaigns.
The 3 types of landing pages
There are three common types of landing pages:
Lead generation pages are designed to capture leads, usually by offering a free download, consultation or trial in exchange for contact information. These pages should be designed to clearly explain the offer and include an easily identifiable call to action (CTA).
Click-through pages are designed to direct visitors to a specific page on your website. They're often used to funnel visitors to a particular product page or blog post and should have a clear headline, concise copy and a clear CTA.
Sales pages are designed to convert visitors into customers. These pages should include compelling copy, product images, customer testimonials and a strong CTA. It's important to make sure that the page is optimized for conversions, as this will be crucial in driving sales.
8 best practices for effective landing page design
When it comes to effective landing page design, there are 8 best practices you should always try and follow. By doing so, you'll increase their effectiveness and achieve a greater ROI as a result.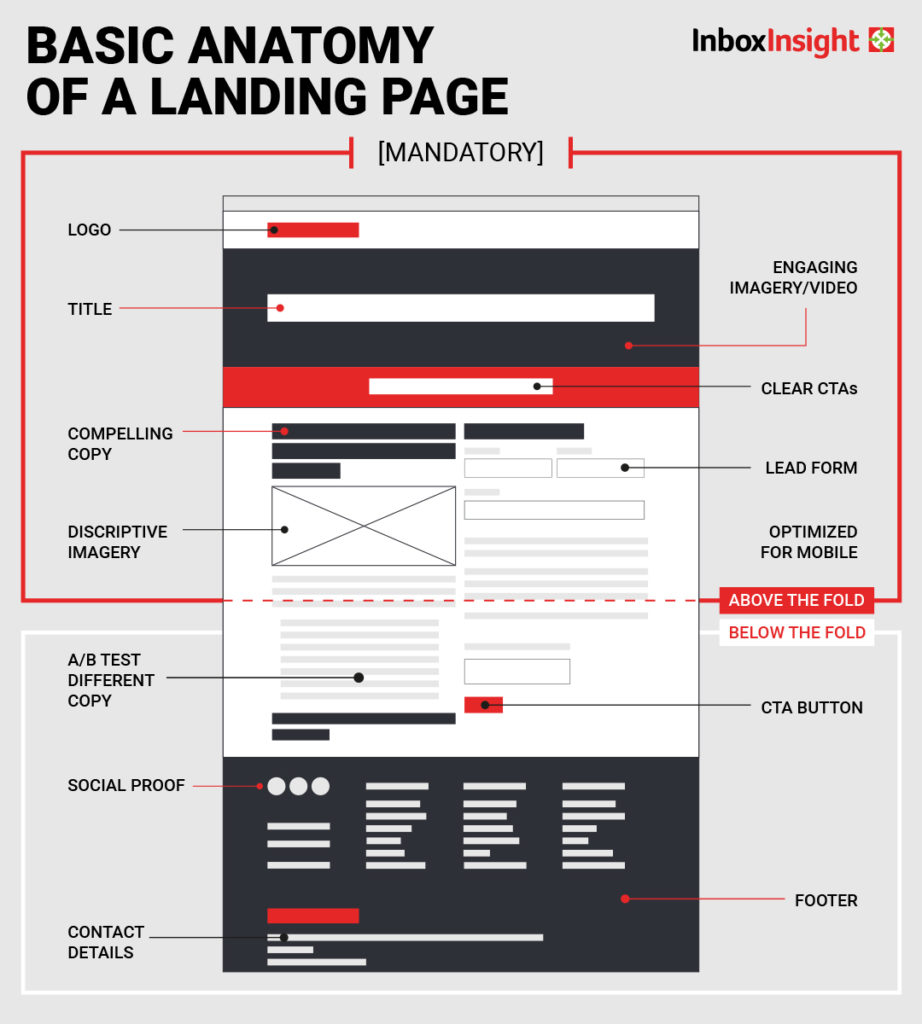 1. Everything should have a reason for being on the page
We all know how important it is to look the part when you're going to a client pitch or any other business meeting and it's the same for your website's landing pages. Each should contain a clear purpose and call to action (CTA) to ensure visitors understand where to go next if their interest is piqued.
It takes a matter of seconds for users to decide on an opinion on your website, so it's essential that everything on the page has a reason for being there. This includes the actual content on the page, of course, but you should also consider elements like the graphic design of the webpage, as well as how easy it is for users to progress through the consumer journey.
2. Measure and optimize your conversion rate
Much like other marketing practices, a key element of an effective landing page is trial and error. Conversion rate optimization (CRO) focuses on getting more from the users that are already coming to your website, instead of increasing your traffic. Whether you're tracking the number of people who sign up for a newsletter, give you information, or actually buy a product, you can optimize this process to get more value from your visitors.
This is crucial because most businesses have a finite demand, so making the most out of users that have already decided to visit your landing pages is important. It's fairly straightforward to work out the percentage of visitors that are converting on your website and then you can look to optimize the process so the number improves. Here are a few tips:
Look for blog posts that got high traffic but low engagement and see what may have stopped consumers from converting. It could be something as simple as not having a clear CTA or the title is misleading compared to the blog's content, but it can be extremely effective.
Consider live messaging for high-traffic web pages to push users to convert.
Create text-based CTAs within blog posts to entice users that may not read all the way to the bottom.
3. Write compelling copy and use clear CTAs
If you want to get the most from your landing page design and achieve your ultimate goal of converting prospects, you need to pair it with compelling copy.
A successful landing page will use clear, concise language designed to engage the reader directly (think of using the second person "you") and benefit-focused language with clear value in your headlines, as these will be the most likely sections to attract attention.
Be sure to pair your persuasive copy with engaging and eye-catching CTAs, too. Use attractive colors to make these stand out from the rest of the page, as you want a user's ideal next action to be as clear as possible.
4. Pair your copy with engaging imagery
Using eye-catching imagery and graphic design is another excellent way to engage your audience and reduce your bounce rate.
Effective landing pages will use appropriate images that represent visitors and convey their emotions. As with your copy, take a minimalistic approach to make your intended message and customer journey clear and avoid overwhelming users.
You'll also want to consider your color palette here, especially when it comes to graphic elements. Does the appearance of the page match your branding colors and the look and feel of the rest of the site? If not, this lack of consistency can make users feel uneasy and create an inconsistent journey.
5. Optimize your page for search engines (and mobile users)
The unfortunate reality for marketers is that you can have the best-designed and most compelling landing page in the world, but if it isn't optimized for search, your reach will be limited and you'll be missing out on potential customers.
To maximize discoverability, make sure your page appears in SERP results for your target keywords and align these keywords with your paid ads strategy.
And, with more and more users doing a significant amount of their brand and product research via mobile, make sure your landing pages are mobile-friendly, too. User experience is an essential element of landing page optimization, and neglecting mobile users in your strategy is an easy way to turn lose out on potential conversions.
6. Use A/B testing
There can be a lot of marketing jargon for businesses to wade through and most of the time, it's just another name for something that has already been established. A/B testing may seem like another one of these terms, but it's actually an important element of creating successful landing pages and ensuring they're driving conversions and guiding visitors through the buyer cycle.
The idea is simple; A/B testing allows you to see which performs better out of two slightly different options – A or B. However, executing it can be a little more complicated. Deciding what you want to test and what you want to change on each page will be the hardest step, but it is well worth the pursuit. This way, you can trial different styles of landing pages and see what the impact is on KPIs, such as time on page, conversion rate and CTA rate. For example, people are divided on whether short and concise or descriptive and advisory content works better. With A/B testing you can test both and decide what works best for your consumers.
7. Consider the placement of your content
Whether you subscribe to the importance of keeping content above the fold or not, one area where it can't be debated is in a landing page. Your CTA needs to be towards the top of the page, so it's one of the first thing visitors see and they don't need to scroll to click on it. This doesn't mean that users won't navigate the rest of your page, and you certainly shouldn't leave the rest blank, but you need to give users that are ready to convert the option straight away.
This not only makes it easier for visitors to continue through the buyer cycle, but it also ensures that the purpose of the landing page is conveyed right from the start.
8. Take advantage of social proof
With 88% of consumers trusting user reviews as much as personal recommendations, sharing social proof, such as feedback from your existing customers, can be great to convert new prospects.
Along with adding customer reviews, other forms of social proof – such as customer testimonials, number of users/signups, awards and certificates are effective ways to prove yourself to prospects and make them feel safer in trusting and eventually doing business with you.
Creating a successful landing page
There's no straight and simple formula for creating a successful landing page that will hit all your marketing and sales targets, but these tips should put you on the path to success. The most important thing is to regularly test and trial new ideas for your landing pages and see how your audience reacts. This will not only allow you to get the most from your landing pages, but also ensure your marketing doesn't get stagnant and that you can innovate when possible.