B2B marketers rely on data integration to drive higher ROI, and rightly so. For all channels to play an effective part in moving audiences through the user journey in a unified and seamless cross-channel experience, data integration is essential. The more data-driven your multichannel approach is, the more informed, efficient and successful it's likely to be.
Reading time: 9 minutes

What is marketing data integration?
Marketing data integration refers to the process of combining data from a wide range of sources to gain actionable insights that can be used to optimize marketing campaigns. This means collecting and consolidating data from various mediums such as social media channels, email marketing, website analytics and customer relationship management (CRM) platforms to gain a comprehensive understanding of customer behavior and preferences. By integrating all of this data, B2B marketers can develop more targeted and effective campaigns that resonate with their target audience.
The goal of marketing data integration is to create a unified, single source of information on customer behavior across all channels. This allows B2B marketers to see how customers are interacting with their brand and identify patterns and trends that can be used to improve future campaigns. For example, if you notice that a particular segment of your audience is more likely to engage with their brand on social media, this insight can be used to tailor your messaging and content to that specific group.
Marketing data integration also helps to eliminate data silos, where different departments within a company may be using different data sources that aren't connected. This can lead to inconsistencies in messaging and a lack of coordination in marketing efforts. By integrating all data sources, B2B marketers can ensure that everyone is working from the same set of data, which leads to more effective collaboration and better results.
Why is integrating marketing data important?
Integrating marketing data has become increasingly important in today's digital landscape. With so many different channels available for marketing, it can be challenging to keep track of all the data that comes in from each one. However, by implementing the right integration tools and processes, B2B marketers can integrate their data across marketing platforms to gain a more comprehensive view of their campaigns.
There are several benefits to employing data integration methods. Firstly, you can obtain a deeper understanding of your audience by analyzing data from multiple disparate sources by integrating data from social media, email campaigns and website analytics. This will help you create more targeted and personalized campaigns.
Additionally, using integration tools can help to eliminate data silos, which can occur when different teams or departments within an organization use different marketing platforms or systems. By integrating data across platforms, everyone in the organization can access the same data, making it easier to collaborate and make informed decisions.
You'll also find the accuracy and reliability of your data will improve as a result of the integration process. Combining data from multiple disparate sources via integration solutions will allow you to cross-check and validate data, ensuring that the decisions you're making are driven by data and based on accurate information.
Finally, integration can save time and resources by automating certain processes. For example, by using a marketing automation platform, you can automatically integrate data from different channels, eliminating the need for manual data entry and reducing the risk of human error.
How to integrate marketing data successfully
Data is the lifeblood of any successful B2B marketing campaign, but the challenge that B2B marketers face is how to integrate data seamlessly and effectively.
Integration solutions are the answer to this challenge. These solutions help marketers to integrate customer data from a variety of sources into a single platform, making it easy to access and analyze. This in turn helps marketers make informed decisions and create targeted campaigns that resonate with their target audience.
Customer data integration is another key aspect of successful data integration for B2B marketers. With customer data integration, marketers can bring together data from various sources, such as CRM systems, social media, email marketing and marketing analytics, to create a comprehensive, single source of information on their customers. This enables marketers to create personalized campaigns that are tailored to their customer's needs and preferences, which can result in higher engagement and conversions.
To integrate data successfully, B2B marketers need to have a clear strategy in place. This strategy should include identifying the data sources that are relevant to their business, determining how to integrate these sources and setting up a system for ongoing data management and analysis. It's also important to ensure that data integration is GDPR compliant to avoid legal issues.
Furthermore, B2B marketers should invest in advanced data analytics tools to gain insights from the data they collect. These tools can help marketers to identify patterns, trends, and opportunities that they can use to improve their campaign performance. They can also use these insights to refine their campaigns and make data-driven decisions.
How can integrated data contribute to multichannel strategy success?
Analysts expect the data integration market to grow in excess of $19.6 billion in 2026, highlighting clear investment trends and intentions in this rapidly growing market.
So what does this all mean for B2B marketers looking to adopt a multichannel approach? Data integration enables a more effective and engaging multichannel approach with a far lower risk of losing prospects along the way for the ability to tap into exactly the type of content that will resonate best.
5 data integration tactics to drive ROI
Trying to integrate data into your B2B multichannel strategy but unsure how to do so effectively?
1. Integrate first and third-party data sources
Integrating first and third-party data sources will help you uncover the best content intelligence to form a solid plan of action for your marketing strategy. It's important to understand:
What content and themes are trending
What content is being consumed by your target audience
What topics and categories to build into your strategy.
This will inform B2B marketers of exactly what they should be putting to market – allowing them to effectively engage and resonate with their audience through the right content and messaging.
First-party
Categorize the content you produce by topic area (e.g. Cloud Security), buyer journey stage (e.g. in-market vs already a customer) and format (e.g. Webinar). You can then split your analytics by each of these areas to understand if there are any trends emerging within your own content amplification. What are your top performers? Are you driving enough engaged buyers into your case studies? What about getting more traffic to your blog on important topics that might not be performing in organic channels?
Third-party
By extending this same logic to the data of trusted partners you can see what the market at large is doing. You can overlay firmographic data to see what certain types of companies are doing (even your target accounts) and predict the performance of your content accordingly. Are you seeing a spike in a certain industry researching your solution? Redeploy your ad spend to that market to maximize response that week. Trend on the decline in the enterprise? Shift your content creation to adapt and change up those email subject lines.
The route to accessing this third-party data normally comes through enrichment plug-ins on your website – but that leaves a big hole in what you are putting to market across your multichannel activations. Finding the right partner and running through their AdTech stack will integrate your campaigns and reporting, unlocking new visibility of these account-based signals.
2. Data integration from every channel
Integrating data from every channel also works wonders for your content strategy. It pulls together invaluable first-hand insight that informs your content marketing team of the key content themes to focus on. This not only ensures you are getting the right content in front of the right audiences at the right time, but helps build better conversion journeys along the way by keeping your brand front of mind with timely messages. Multichannel tactics to build always-on, always-present immersive content environments are key to achieving this.
It ensures message consistency across channels so that the overall experience feels unified while keeping your message clear and memorable. This removes any possibility for confusion around your messaging by reinforcing it at multiple touchpoints, prompting your target audience to sustain interest in your product or service offering.
Take email, for example. B2B marketers can gain insight into behaviors, interests and preferences of their audience as a whole and individually. A simple click on a CTA shows the topics of current interest, helping to guide targeting and enhance their understanding of where potential customers are along the buyer journey. Equally, paid social can help to highlight the ads generating the greatest reach and engagement; data which is invaluable for identifying top performing ads and areas for optimization.
What's more, integrating channel data can inform sequential messaging to strengthen your approach further. It enables you to see what your audience has previously engaged with to support the planning of what to serve them next, to sustain the chain of value exchanges that lead to the ultimate conversion of ROI.
3. Integrating data sources to improve targeting
Looking at your existing customer data helps you build your Ideal Customer Profile (ICP) to understand the type of prospect you should go after. First-party data such as demographics, interests and behaviors go a long way in shaping your ICP thanks to the insights they provide around your potential buyers. The data is readily available to you, so should always be leveraged.
You can then do lookalike modeling through third-party data to help find those prospects and hone in your targeting – enabling B2B marketers to get in front of those who match their target audience with ads and engaging messaging.
However, this comes with a warning: using just the built-in lookalike tools within Facebook or Google ads may not be enough to ensure quality and targeting accuracy. Remember that bug data algorithms don't know the context of your advertising and will lookalike potential users to deliver to based on their B2C interest categories as well as their B2B, which for most internet users may far outnumber their work browsing. You don't know the weighting of the algorithm being used so it's just as likely you are finding others with an interest in dog groomers in Ohio or avid unicyclists who follow Rage Against the Machine.
Work with data enrichment companies, or B2B demand gen specialists, who can overlay user behavior with signals about specific B2B content, link the user to a company, and lookalike based on firmographic characteristics. This means that you can be sure that your ads, emails and calls are reaching companies that are the best fit for your product and the decision makers within them that have intent in your category.
Targeting buyers at the right stages of their decision making with the timely delivery of content across multiple channels can significantly help to drive ROI.
4. Integrating data sources to provide one source of truth
Having one single source of truth will support unified reporting. It's important to understand the impact each channel has in achieving your overarching strategy so that you are able to measure channel performance and overall effectiveness in line with your objectives. Through data source integration, you can obtain the complete picture and distinguish key learnings from one central location, dashboard or reporting hub – an example of which is shown below for Demand Acceleration.


This allows B2B marketers to uncover exactly how their multichannel strategy is performing as a collective, to assess its success. From this, informed decisions can be made as to any adjustments and enhancements, aiming to boost ROI to its maximum potential based on solid data and facts.
5. Integrating channels with your marketing automation platform
This integration will facilitate nurture journeys. It's crucial to focus your marketing automation platform around channel integration to ensure that the full demand generation funnel is covered by your multichannel strategy – minimizing waste, increasing efficiency and optimization opportunities all of which contribute to increased ROI.
B2B marketers can enhance the nurturing of customers and prospects purely by making sure their channel data around behavior, interests and timings of best engagement for example, are all being integrated into their nurture approach – using this customer data to effectively segment audiences and offer the right content on the right channel, providing an effective, seamless customer experience. Something as simple as trialing different send times for nurture emails and comparing open rates and CTR, or analyzing blog, video and infographic content to learn which is generating the most engagement can help identify best performing send times and content preferences.
The below diagram is an example of how to combine data and channels in a way that keeps your audience moving freely within your channel ecosystem, whilst continuing to keep them responsive and engaged across many crucial touchpoints.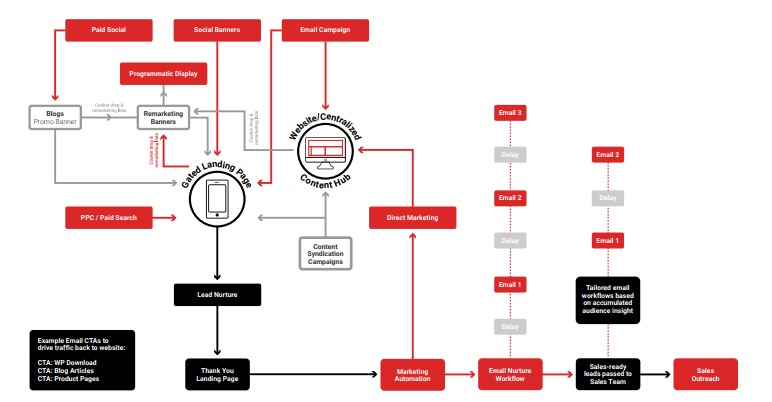 A well thought-out and fully integrated data approach like this allows each channel, system and platform to effectively talk to one another regardless of their differing metrics and capabilities. A triggered response based on an action will provide a consistent and natural user experience, making all the difference to your ultimate ROI.
Final thoughts
A fully integrated data approach in B2B multichannel marketing helps drive ROI as it encompasses channels and data to provide a unified customer experience. Through the 5 data integration tactics explored above, B2B marketers can understand how each contributes to overall multichannel strategy success and, as a result, improve reach, engagement and all-important ROI.