If you're a marketer who is responsible for email marketing, optimising your activity is of prime importance. The timing of email campaigns is now crucial to make sure your messages aren't ignored or missed by your audience. If they are, it will only diminish the amount of response your email marketing efforts receive and you run the risk of losing your readership.
For those who haven't thought about optimisation through the timing of your email marketing campaigns, you're missing out on a great opportunity and a lot of scope to actively engage with those receiving your messages. As a publisher of B2B email newsletters across the globe, we believe there are a number of things you can do optimise emails and most of them are fairly straightforward.
How can you optimise emails?
According to Campaign Monitor, there are a number of ways you can optimise your email sending:
Time of day – paying attention to when in the day you're sending your emails could impact whether or not their opened. For example, sending at 5.15 in the evening when people are starting to pack up for the day is not the best tactic.
Day of week – through the science of analysing 2016 data, there are 'best' and 'worst' days to send email marketing campaigns. This can depend on the region you are sending your marketing campaigns to but generally, if you send B2B emails regularly to people on a Saturday, they're unlikely to garner their attention and risk being sent straight to the trash folder.
Subject line – the subject of your email will play a big role in your subscriber determine whether or not they open your email. Getting the subject line right, will peak their interest and ensure your newsletter is opened.
When is the best time to send?
Irrelevant of the amount of research behind this, almost all of the results point irrefutably to one answer: the morning.
The reason? There's a whole host of reasons behind this, but the idea behind those who commute into work via public transport may be likely to be checking their emails on their phone. When sitting down at their desk in the morning, many will go through each email more thoroughly before the tasks of the day overwhelm the work schedule. For others it's a matter of being more productive in the mornings.
Whatever the reason, the number of emails that are opened in the morning is significantly higher than those in the afternoon.
Local and international email marketing tips
Before launching any email marketing activity, it's worth factoring in your audience. Here are some useful tips;
When it comes to global B2B marketing, it's important to take the regional public holidays into consideration and build a calendar so you know what days to avoid sending on. Here's a full list, broken down by country: https://www.timeanddate.com/holidays/
Making a note of local customs is important. In the Middle East in countries like the UAE and Saudi Arabia, the working week is Sunday to Thursday, with Friday and Saturday forming the weekend. We regularly utilise Sunday as the best time to send our Middle Eastern campaigns with some excellent engagement results.
If you're launching campaigns from one location to a region or country where time zones play a significant part, ensure your data is segmented accordingly. As an example, a campaign launched from the UK to North America could be segmented up by East and West Coast, where the difference is 3 hours. Likewise, APAC activity launched from a European office needs timing on GMT to factor in the time zone.
Although working days are proven to be better for sending than the weekends (subscribers often distance themselves from work related emails at weekends). if you are sending to small business owners who may require Saturday working hours, you may see some success if you tailor your marketing message accordingly. As an example, a B2B accounting campaign we launched with "Stop working weekends!" as the main content resonated particularly well.
Some controversial advice
Depending on where you look, the best day for sending emails will vary. Mailchimp says that Thursday is the best day for sending emails but this is based on research from 2014 and therefore stands to be outdated.
Others will tell you Thursday is the worst day of the working week to send emails. However, these results date back to 2013 and are therefore even more unreliable.
It can be confusing and frustrating when information is outdated so we've but together some of our own research based on the emails we sent in 2016.
Our results
We've drawn data from our regularly scheduled email newsletters and email marketing campaigns we sent throughout 2016. These email newsletters contain pieces of content such as eBooks, guides and whitepapers, which our subscribers interact with and download using gated landing pages as the method of data capture. The email newsletters are sent on a regular basis to our B2B subscriber base of 2 million professionals across Europe, the Middle East and Africa.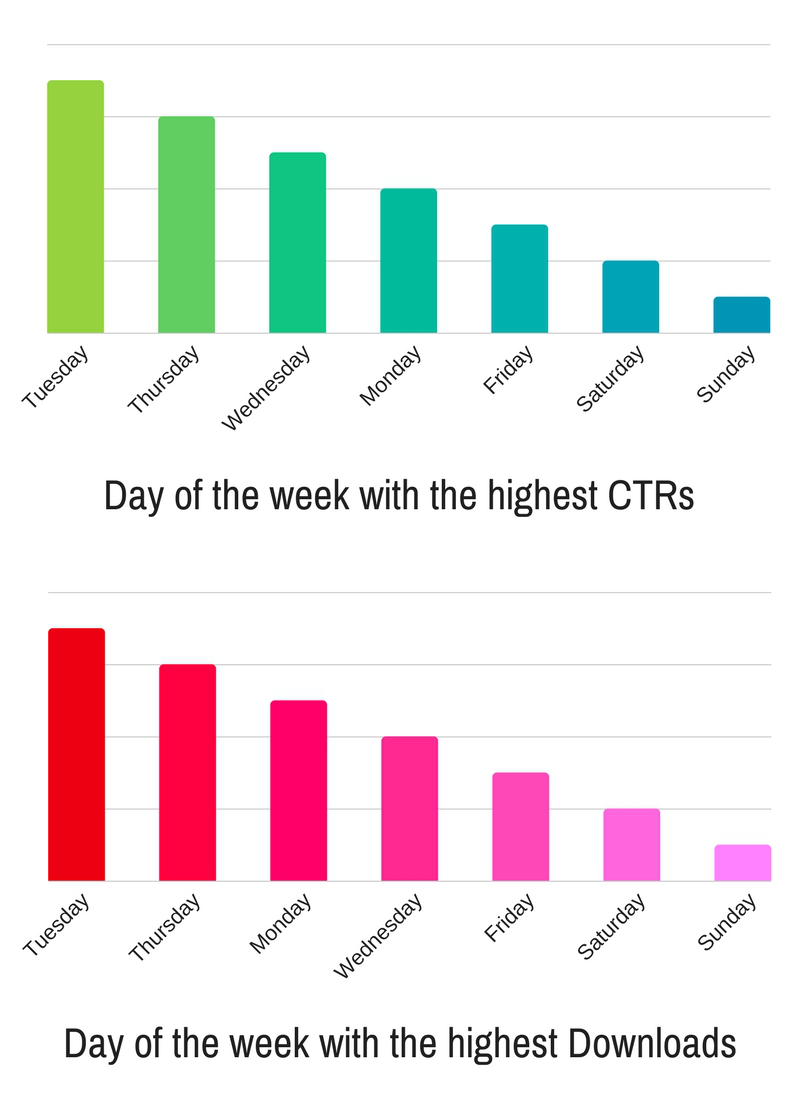 It's clear from our results that the best day of the week for B2B email marketing metrics such as CTR's and downloads is Tuesday. Indeed the second best day is also the same in both cases, which is Thursday.
Interestingly, in third place for CTR's is Wednesday but third place for downloads is Monday – this leads us to surmise that despite it being the start of the working week for the majority of the globe, business professionals are still able to dodge the "Monday madness" and spend some time consuming pieces of content. Therefore, utilise Tuesday, Thursday and Monday as the best three days to give B2B buyers 'research' to help nurture your leads.
Keep things consistent
For us, consistency is key.
Thorough testing means we have been able to tailor our schedule to reach the optimum frequency for maximise deliverability. Too many messages will make subscribers switch off or become alienated by your marketing communications and cause people to unsubscribe. Too few messages will inevitably impact your revenue and you run the risk of people forgetting your exist. Sticking between three emails per week at most, and two emails per month at least, and you'll maintain a good level of engagement with your audience.
Looking to syndicate your content across International regions? Download our EMEA and North America Media Packs for more information about our tactics for B2B lead generation, audience profiles and examples of our email newsletters…