When it comes to inbound marketing, there is a significant list of tactics at your fingertips. So which inbound marketing tactic should you be using? The short answer – there is not just one. According to our latest research, the majority of senior B2B marketers combine several tactics when building their inbound marketing strategies…
But that doesn't mean implementing every single option – in fact, only 5% said they utilize all methods available. So how do you go about choosing which tactics to use?
With so many tactics classified as 'inbound marketing', it's important you understand which ones lend best for your marketing objectives. Once you've got to grips with the tactics themselves, it's essential you focus on timing and delivery, ensuring you use methods that guide prospects and nurture them through every stage of the buyer journey.
In order to help, we've explored seven of the most popular tactics, including why they are important, how they work, and at what stage they are best used to support your strategy.
Reading time: 10 minutes

Blogging and ungated content
Many people – not just marketers – are aware of how blogging can be used to raise a brand or individuals profile online. But creating and providing free content is not just about becoming 'popular'. Blogging increases brand awareness, provides value to your audience, introduces your brand as an authority and drives traffic to your website.
Indeed, companies who post more than 16 blogs a month receive 3.5 times more traffic than those who post four or fewer. This makes it a vital part of driving awareness and making your brand visible in relevant sectors.
Our B2B Inbound Marketing Insight Report highlights that blogs/articles are one of the common content formats, used by 68% of senior B2B inbound marketers.
Twice as many marketers use blogs and articles compared to whitepapers and eBooks, which is ideal at the awareness and discovery phase where prospects are getting a sense of who you are and what you can offer in terms of knowledge and insight.
Blogs and short articles are a fantastic way to communicate in a non-disruptive way, so make sure they feature early on in your content plan to nurture the top of the funnel.
Social media marketing
Despite there being 3.2 billion social media users worldwide, and people spending an average of 2.4 hours per day on social sites, many still believe social media marketing is not a worthwhile tactic to incorporate in their inbound marketing strategy. A few examples of Google's top search queries surrounding 'Social Media Marketing' are:
'Is social media marketing worth it?'
'Is social media marketing effective?'
'Does social media marketing work?'
And with no singular metric to measure success, proving ROI from social media activity isn't always straight forward. However, the value of social posting isn't about quick wins, and organizations who are not utilizing social media marketing need to look at the long-term value of connecting with prospects on their preferred platforms.
Truth be told, successful brands are beginning to adapt to the evolving social media landscape. As seen within our research, social is the most widely used tactic, with over three-quarters (76%) of marketers leveraging social as an inbound marketing tactic, closely followed by content creation (70%) and display ads (71%). With so many senior B2B marketers utilizing social media as an inbound tactic, it can be inferred that social media is a fantastic tool to support your inbound strategy, driving traffic to your website and finding new customers.
Search engine optimization
If your website isn't optimized, how can people find you or access the content you are creating? This makes SEO another important technique for early-funnel nurture, one that every business should ensure to utilize in their inbound marketing strategy. 93% of all online experiences begin with a search, therefore, companies that don't optimize their landing pages are missing out on one of the most essential steps in the buyer journey.
Unfortunately, only 58% of senior B2B marketers are focusing on their SEO to support their inbound marketing strategy, suggesting that some marketers do not recognize its importance, or have perhaps have invested in SEO once and not looked back. But what is most significant with SEO is that it isn't a one-time investment. You can't just pay an agency to get your website fully optimized with keywords to never touch it again; content production needs to be continuous to keep your site relevant with Google bots, while ongoing link-building and keyword analysis must be performed to help maintain rankings once you achieve them.
It is therefore necessary for companies of all sizes, maturity and industries to routinely focus their efforts on SEO, aligning changes with their inbound marketing strategy. A successful SEO strategy has to benefit you in the long-term, building your site's authority over time.
Mid-to-low funnel content and nurture workflows
Our research tells us that most buyer journeys have multiple touch-points, and content needs to be leveraged at all stages of the sales process.
In addition to offering free content to early-stage prospects, it's therefore just as important to have more developed content available for nurturing leads through their buyer journey. This means creating content that is considered to be mid-to-low within the marketing funnel, such as whitepapers, research papers, industry reports, webinars and online business courses.
Provide mid-to-low funnel content too early, and you might not see uptake from new prospects – however if you successfully warm up leads with free content, your advanced content could entice them at a later stage.
In addition, high-quality leads don't always convert straight away. It could be a few content pieces down the line before they buy. It takes on average at least 3 pieces of content before a lead converts, according to 73% of marketers, while 18% say it takes more than 5.
The challenge doesn't end there – it's important to remember that the sales cycle isn't always straightforward, with many prospects showing interest but not wanting or being able to commit to purchasing. Unlike retail, where there is often just one single decision maker, B2B buyers have to get buy-in from multiple stakeholders.
While creating advanced content and building nurture workflows requires more time and resource, it's something that provides a lot of value in the interest and evaluation phase, and should have just as much time and investment as basic content. If your intention is to provide value, encourage your leads through the buyer process, and establish authority as a brand, mid-to-low funnel content is an essential tactic.
Publishing content on external sites
One of the areas that many businesses forget to look into when creating content is distribution. Publishing content on owned platforms, such as your website and social media profiles, is the first step. You must then consider how to reach your audience on other platforms where they are spending time and consuming content. Industry press or learning platforms are a resource that B2B decision makers use when researching potential purchases, and as such can prove valuable for your channel mix. Not only will you keep the content fresh and exciting, and continue the flow of information between you and your existing audience, but you will also bolster your SEO and domain authority.
Getting well-written blogs published on respected platforms can position your brand as a thought leader in your industry. But that's not the only type of content that site owners and online publications are looking for. Content such as infographics that are fun, informative and shareable are highly sought after too, as are videos, research papers and interviews.
There's a positive exchange that can be made here, and everyone benefits. By guest-posting on a relevant site, you're tapping into an existing audience and may even get some 'link juice' back to your own website. The site owner gets a free piece of content in return, and their audience gets access to fresh new information. This tactic is an inexpensive, quick and straight-forward method for raising brand awareness, enticing new prospects and asserting your authority within your industry.
Behavioral retargeting techniques
There's a common misconception that inbound strategies don't include ads. It's true that inbound isn't invasive and doesn't disrupt like outbound, but inbound marketing and display advertising can be compatible. As long as it's done with the right intentions.
71% of senior B2B marketers today are using ads to support their inbound marketing strategy – which is a significant proportion, suggesting that leveraging data and providing your engaged audience with high-quality content is indeed a popular tactic.
What's more, prospects are 70% more likely to convert when retargeted with display ads, so if the idea is to get the right information to the right audience, and find qualified potential customers without disrupting non-interested parties, the cohesion of these two techniques is a good thing. By using cookies to track your visitors after they have left your site, you can build remarketing audiences based on the topic area of the website or content hub that the user lands on. This will let you understand their interests, and remarket to them with relevant content to drive further interest. You might then create a high intent segment, that had visited more than 3 pages on the same topic, and advertise a whitepaper or case study to that audience to leverage that interested traffic to drive conversions.
This more targeted approach is the perfect marriage of outbound and inbound techniques, ensuring no opportunities are missed. If implemented correctly, it'll become a fundamental element of your inbound marketing strategy – and if you do not have the resources and/or skills to build and implement in-house, it could be worth sourcing an external agency to do it for you.
Email marketing
Tactics like email marketing can help drive traffic to your site, communicate with and engage your prospects, and increase brand awareness – overall helping you to convert and close in the long run.
With this in mind, almost 80% of new leads never become sales, making lead nurturing one of the most fundamental parts of demand generation and inbound marketing. And whilst 56% of B2B marketers are using lead generation as part of their inbound marketing efforts, only 27% are using email nurture too, suggesting that email marketing is a hugely overlooked area, with many businesses letting leads slip through the net.
When done well, email marketing is remarkably effective, delivering the highest ROI for marketers,  with every $1 spent yielding $44 ROI. If leads already shown interest in your product or service but haven't committed to purchasing, high-quality emails can maintain your connection until they're ready to buy. Email marketing is therefore a fundamental for successful lead nurturing, enabling you to stay in touch and keep your brand at front of mind.
Your inbound marketing tactic checklist
Is it time to decide which inbound marketing tactics you should be using?
It's clear to see, the best inbound strategies are woven together by a combination of tactics, sometimes incorporating other methods too. However, the key is to understand how each tactic works, and precisely when to use it with your prospects, and for which objective.
Our Inbound Marketing Tactic Checklist below identifies the fundamental benefits of each method, highlighting how you can use each tactic at different stages of the inbound marketing journey.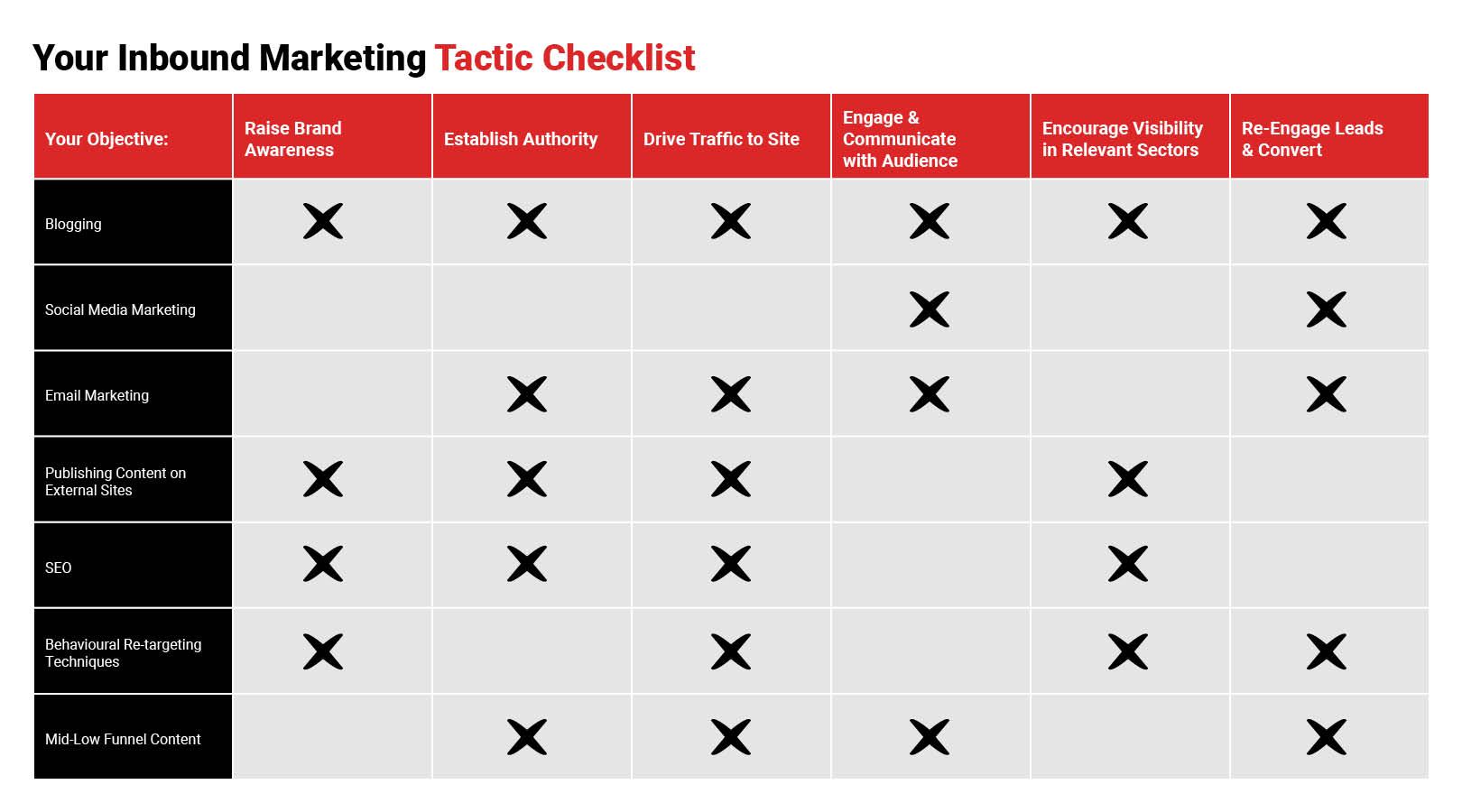 For further information, download our B2B Inbound Marketing Insight Report today.