59.5% of senior B2B marketers currently identify and prioritize market opportunities through analyzing their customer database and matching it to their ideal customer profiles (ICP).
But with 56% reporting difficulty in obtaining the right audience intelligence for creating ideal customer profiles, can this method still be relied on for delivering the 'best fit' opportunities?
These findings have been uncovered in our latest research among the Insight for Professionals (IFP) community of B2B senior marketers. Our aim is to gauge the current state-of-play and identify new opportunities to evolve and improve B2B marketing tactics.
This article explores the emerging applications of Content Intelligence that leverage AI and tech innovation to transcend common targeting obstacles and forge new ways of segmenting your accounts into better yielding opportunities.
Read on to discover how you can advance your targeting tactics through these research-based best practices…
Reading time:  4 minutes

Why do we need to rethink ICP and customer profile data?
Do your ICPs truly reflect ALL your best opportunities? Customer profiles informed purely by your own first party data such as your CRM, can be restrictive. While they give you a strong indication of the types of accounts you currently adequately serve, they may not provide a true reflection of the most attractive (and obtainable) opportunities within your total addressable market (TAM).
If you are one of the 38.5% of B2B marketers that don't calculate TAM to identify opportunities, you may also find yourself in the 49% that struggle to find the right audience intelligence to accurately segment your audience. As with 54%, this can impact on the reach and scale of your target account list (TAL).
As ABM is aligned to sales effort, having a restrictive TAL can limit the Sales ability to pursue the accounts that really matter to your business. It can also hamper the scope of B2B demand generation campaigns as limited counts mean smaller available reach.
When you take into consideration the small percentage of buyers that are in-market at any given time, it is clear to see why marketers are adopting a multifaceted approach to audience intelligence gathering in order to provide better visibility and analysis of their marketplace.
How are B2B marketers applying other forms of data to reveal target audience profile?
Different data points cut different perceptions of your audience – but which viewpoint will give you the most accurate assessment of your market?
Our research revealed action intent data (61%) closely followed by search intent (60%) are the most popular insights used to inform segmentation criteria.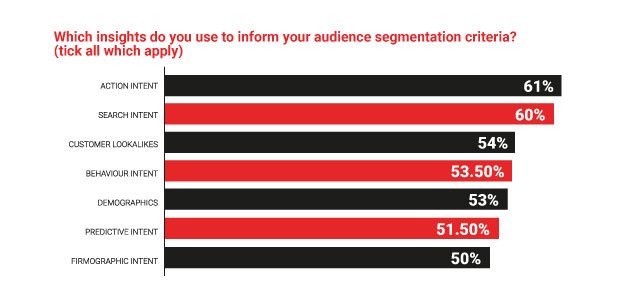 However, as our previous stats showed, over half our surveyed senior B2B marketers struggle with obtaining the right data to support their ICPs. This suggests that although crucial data that builds a more granular understanding around behavior is accessible, without updating approaches to target customer analysis, full scope is not realized.
Subsequently, brands can waste a lot of energy pushing resource against companies who appear in-market but do not match their ICP and vice versa.
How are senior B2B marketers using Content Intelligence to uncover viable lookalikes?
Using first party data, such as customer information, for compiling customer profiling and segmentation is good in theory but often too static. In a highly competitive marketplace with shifting demands and complex buying criteria, it is vital B2B marketers keep a finger on the pulse of the marketplace. Sense checking your segmentation criteria against real-life accounts outside of your customer base, is essential for winning market share and sustaining relevancy.
Natural language processing (NLP) is a field of artificial intelligence in which computers analyze, understand, and derive meaning from human language in a smart and useful way.
But more importantly it's a form of Content AI that can be leveraged to uncover new opportunities within your TAM.
One of the ways it can achieve this is through scanning thousands (and in some cases millions) of websites and online platforms, mapping key data against a defined data list such as your existing target customer profile.
When this knowledge is combined with firmographic intent data, it's possible to find other companies that deliver the same products, serve the same customers, and create similar content; and thereby have the same need for your product or service offering.
The use of AI via NLP can provide superior visibility over your TAM, along with your available market and target market profile. This is essential for B2B marketers looking to execute aggressive growth strategies.
It also opens up a valuable technique for building a reliable ICP that reflects real-life demand. With better visibility over TAM, marketers are able to further interrogate the salient characteristics of their target market segments, enabling them to adjust their targeting criteria to ensure the best fit opportunities are captured. This adds more weight behind strategic targeting decisions and should enable marketers to better justify budget allocation.
While this gives you a more reliable foundation to work from, AI supported Content Intelligence can step up your approach even further…
How are front runners transforming ICP into priority tiers?
54% of B2B marketers say improved accuracy of TAL would enable them to progress their ABM strategy.
While we have seen how AI powered Content Intelligence will improve the criteria in which ICPs are founded, it can also be leveraged to transform a target audience profile into a set of priority TALs.
The first step is to return to NLP to map real-life accounts against your ICP criteria, this should yield an accurate TAL list. However, our research suggests this is not enough to get ahead:
Interception of in-market buyers (30.5%), more sophisticated ABM strategies (29.5%) and better targeting (27.5%) are all threats perceived by our senior B2B marketing panel, from competitors applying intelligence to gain competitive advantage.
Therefore, if B2B marketers are to make up lost ground, a second step providing a further level of sophistication is required.
Through layering multiple intent data over your TAL, on both account and individual user levels, it is possible to create priority tiers according to digital in-market behavior.
The strategic application of intent that indicates real-time content consumption patterns alongside other crucial intelligence, expands the scope to derive a hyper relevant and highly engaged lists of in-market prospects.
This prioritization provides a significant advantage when it comes to designing digital campaigns that aim to reach your best fit opportunities and intercept the small percentage of buyers who are in immediate need of your services, at crucial touchpoints in their decision making journey.
Final thought
As the foundation of ABM, our research suggests B2B marketers need to rethink their approach to segmentation if they are to push the envelope and win market share. The top performing digital practitioners are quick to adapt, interweaving streams of Content Intelligence into their targeting strategy to improve the probability of reaching and engaging relevant B2B in-market buyers ahead of their competitors.
Would a fully customized ABM list of your best fit opportunities help refresh your targeting strategy?

To showcase our powerful AI capabilities, we're offering the opportunity to try out our ABM List Generator. It's the quickest, easiest way to discover the accounts you should really be focusing on.
Whether you're looking to sense check your current approach or uncover new viable lookalike accounts, our free tool will help you increase your available reach – with AI fueled accuracy! Learn more.