Are you leveraging market research to benchmark your B2B content marketing efforts against your competitors?
We guarantee the best performers in your target market are…
Over the last 12 months we've seen a surge in demand for custom competitor and market intelligence. Your competitors are utilizing such intelligence to tap into buyer personas previously unexplored, to gain real competitive advantage.
This article aims to provide you with the latest B2B market research insights to gauge the current market and provide tips for getting ahead this coming year.
Join us as we take a deep dive into how top performing tech vendors are tailoring their content to get those all-important top positions…
Reading time: 5 minutes

Importance of analyzing competitor content
Our first party research conducted among senior B2B marketers in the Insight for Professionals (IFP) community reveals the importance of using market research to inform your B2B content marketing strategy. Being fully aware and up-to-date with where your competitors are focusing their targeting techniques and the types of content they are creating provides an abundance of relevant and credible knowledge at your fingertips. This can then be fed into your B2B content strategy to enhance your competitive position against industry leaders.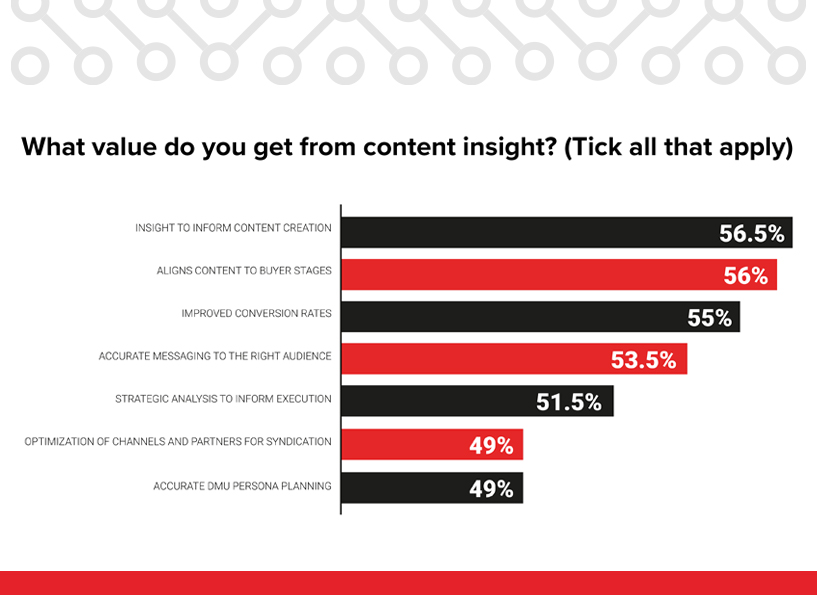 When asked what value they obtain from content insight, the top 3 responses from B2B marketers were very close:
Insight to inform content creation (56.5%)
Aligns content to buyer stages (56%)
Improved conversion rates (55%)
This suggests that B2B marketing professionals have numerous goals in mind when it comes to content intelligence. They predominantly use content insight to inform and guide their B2B content creation efforts, considering key aspects such as:
What types of content are the competition creating? Videos, webinars, whitepapers, blogs?
Is competitor content long or short, in-depth, focused on one specific area?
What level of personalization to leverage?
Which platforms are they utilizing to reach their target market?
What messaging best incentivizes action?
While researching your Ideal Customer Profiles (ICP) and target B2B buyer personas can reveal important insight that helps vendors achieve the above values, it's also vital to keep an eye on what your competitors are doing in your space.
With this in mind, trends which have performed incredibly well for your competition, obtained from careful analysis of their content, can then be mirrored in your own B2B content marketing strategy – ensuring that you aren't falling behind industry leaders.
Which technology generates the best competitive intelligence?
This knowledge can be trickier to unlock as it often requires specialist technology such as Natural Language Processing (NLP), a concept within Artificial Intelligence (AI) whereby computers analyze, understand and draw meaning from human language to provide useful insights. It scans thousands of websites and online platforms to map key data against your ICP, providing insights which tap into competitor's content strategies.
Crawling top performers allows reliable identification of topics and keywords that underpin competitor tactics to inform your efforts and benchmark against accordingly. The good news is, we've leveraged our own AI powered competitor intelligence platform to pull a wide selections of key technical SEO insights to share with you.
Use these insights to benchmark your own B2B content performance and inform the content your teams produce going forward…
Which tech companies have the best performing SEO within IT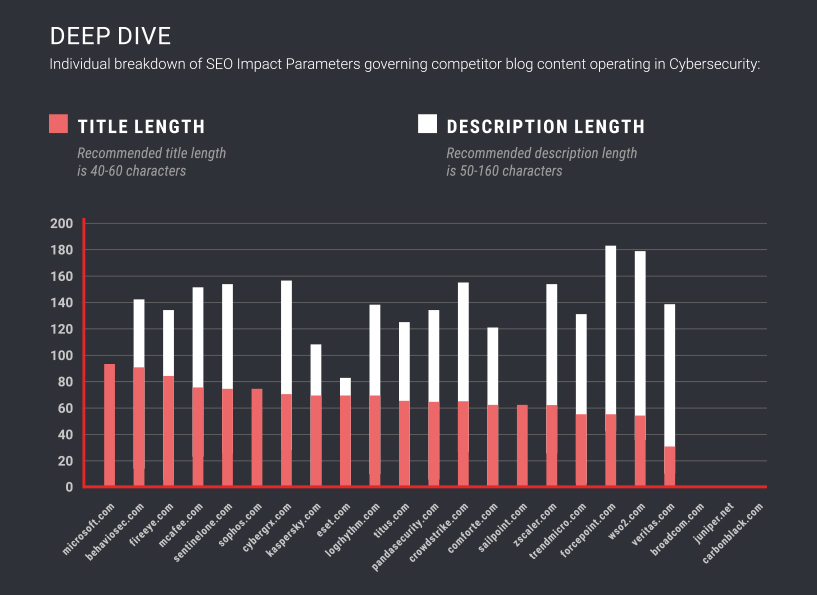 Within the IT community, the average blog description length of Cybersecurity companies is 136 characters. The recommendation is between 50-160 characters, fitting nicely towards the upper limit. The average title length, however, is 64 characters and therefore slightly above the ideal limit of between 40-60.
Cybersecurity firm WSO2 continually publishes blogs with titles within the recommended character count (50 characters) and likewise DevOps company GitLab consistently publishes descriptions within the recommended character count (121 characters). It's worth taking a look at their respective blog titles and descriptions for inspiration.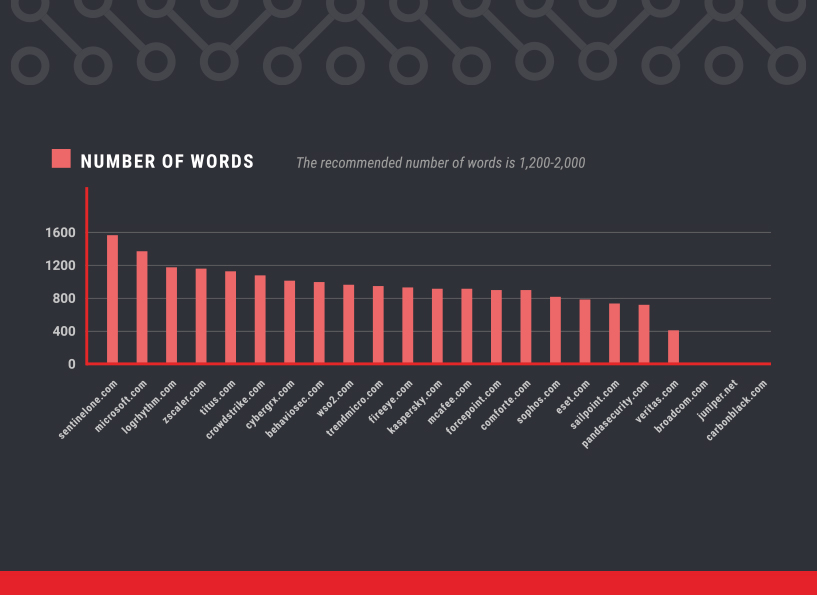 However, as can be seen in the graph above, when it comes to the number of words in their blogs WSO2 average significantly lower than the recommended 1,200-2,000 count. They also average at just 5 images per article compared to the ideal 8-12. So although they have mastered some technical SEO aspects, there is still work to be done to achieve the best possible score.
Technology giant Microsoft average highest of all tech companies at a considerable 90 characters. Yet, Microsoft's technical SEO score remains largely unscathed despite this, scoring 97 as well as the highest domain rank position by far with a score of 7.56/10. Limelight Networks has the highest average technical SEO score among Cloud Management companies, scoring 99/100 so consider taking a look at what they're producing to achieve this.
When it comes to Cloud Management companies, the average number of internal links per page is just 45, falling outside the recommended range 50-150. Likewise, the average readability of DevOps companies comes in short of the target score at just 41 compared to the optimal 60-70. Focusing on readability could provide a quick win in helping your content performance.
The average number of words for Digital Transformation is significantly lower than the recommended range (1,200-2,000 words) at just 987. This provides ample opportunity for optimization to gain competitive edge through ensuring content is always within the recommended limit. Data Management company Dropbox consistently publishes blogs within the recommended word count (1,511 words) so it's worth taking a look at those to see how they're structuring them.
Marketing tech companies: Who to benchmark for highest technical SEO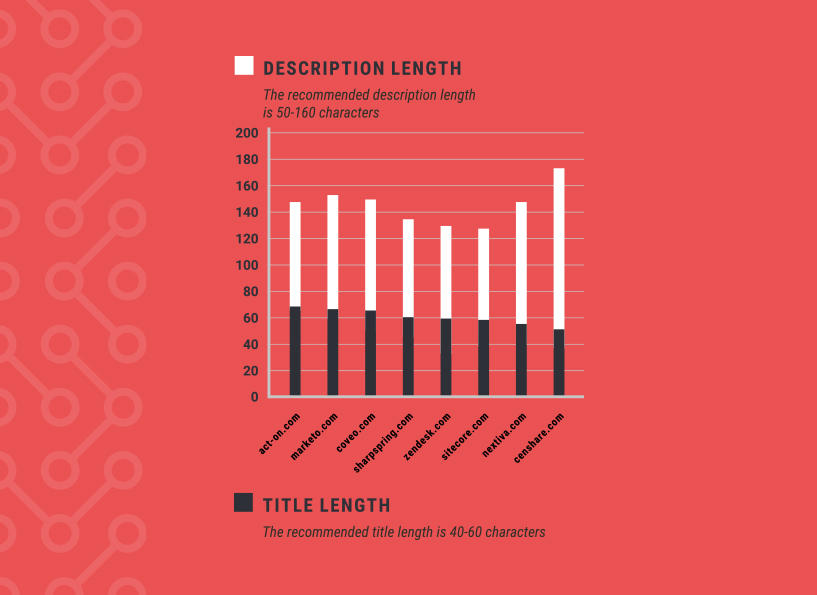 The recommended blog title length is between 40-60 characters. When it comes to Marketing Automation companies, Censhare consistently publishes blogs with titles within the recommended character count, averaging at 51 characters. The company also has the highest average technical SEO score of all marketing automation companies (98/100), though interestingly, average at just 837 words for their blogs – somewhat below the recommendation. What's more, Censhare's average load time is a staggering 2.83 seconds compared to the ideal <0.5 seconds. Despite this, they remain a strong performer and a lot can be learnt from their content.
The recommended number of words in a blog is 1,200-2,000, which Marketing Automation businesses fit right into with an average of 1,216. While this is perfectly adequate, it is towards the lower end of the scale suggesting that anything too long can in fact put readers off. The average target readability score, however, falls significantly short of the ideal at just 44.1 compared to the ideal 60-70. Resource needs to be focused on improving readability to improve the user experience.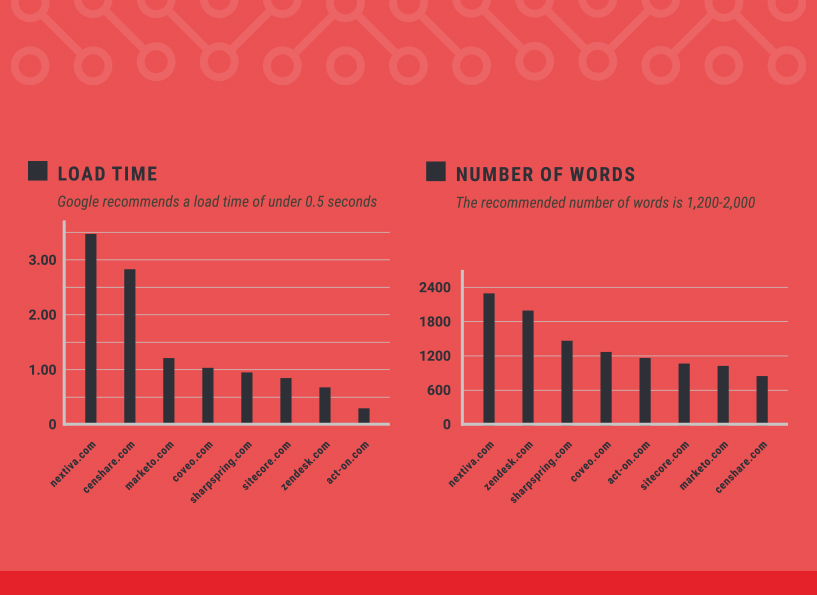 MarTech is another industry falling considerably below when it comes to readability, with a score of just 42.9. This could be down to the technical nature of topics covered, suggesting more explanation is needed that can be understood by buyers with more of a non-technical background. However, Yext has the fastest average load time of the MarTech companies (0.359 seconds), staying well within the optimal.
Customer Experience company Bazaarvoice consistently publishes blogs with descriptions within the recommended character count (50-160), at 129 characters. Yet, the average blog title length is 65 characters, taking Customer Experience tech firms just above the advised range (40-60). This highlights that such brands opt for longer rather than shorter titles, possibly due to the technical nature of articles they are producing.
When it comes to technical SEO, Digital Analytics company Snowflake and ABM firm Terminus both hold the position of highest average technical SEO score within their respective industries, coming in at 97/100. Analyzing the content they have shared to date and keeping a very close eye on content they produce going forward, can provide key competitive intelligence.
Which HR tech companies have the best performing SEO?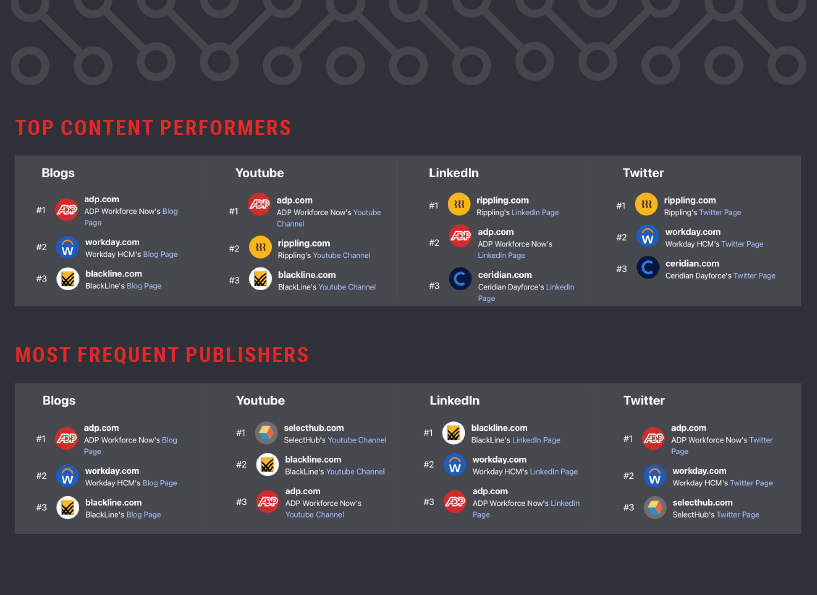 It appears that frequency does not guarantee high performance. As can be seen from our performance dashboard, Rippling appears in the top 3 positions for best performing content across 3 channels, YouTube, LinkedIn and Twitter, despite not appearing in any of the top spots for most frequent publishers.
However, ADP Workforce Now appear in the top 3 most frequent publishers across all content platforms; blogs, YouTube, LinkedIn and Twitter, while also appearing in the top 3 performance positions for all apart from Twitter. So in this instance, frequent posts are proving very effective. It could therefore be down to the specific type of technology solution you are offering as to whether more or less frequency is required.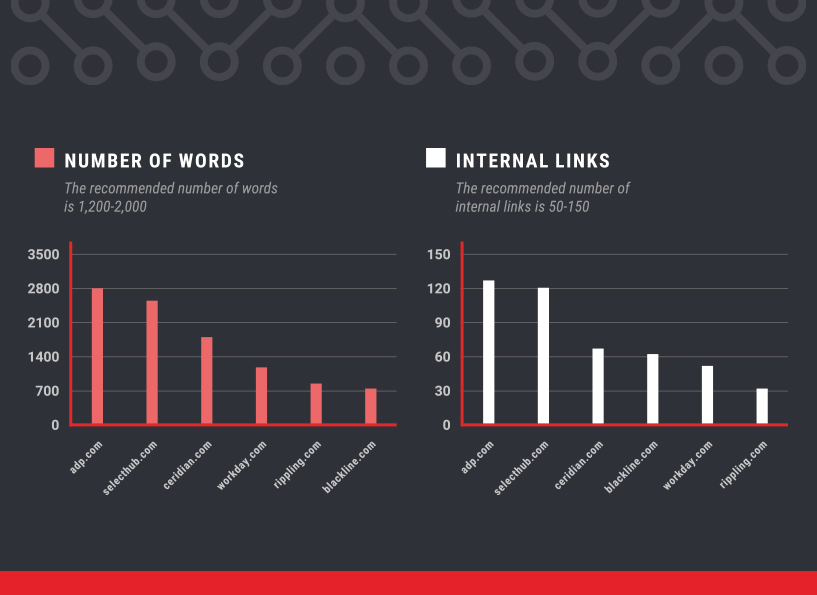 When it comes to Workforce and Human Capital Management, Ceridian Dayforce consistently publish blogs within the recommended word count (1783/ 1,200 – 2000). They also meet within SEO Impact Parameters for description length, title length and internal links. This provides a strong indication that adhering to as many of the recommended SEO parameters as possible, will contribute to performance success.
Load time appears to be a common and recurring problem, with not a single Employee Benefits company managing to achieve the target (<0.5 seconds), averaging at 0.95 seconds with the closest, Zenefits, achieving 0.528 seconds. Compressing files and images is a good place to start when looking to reduce load time – something important to do in order to avoid high exit rates.
Lattice consistently creates blog descriptions within the recommended character count (50-160), at 136 characters. However, their technical SEO score is second lowest of the Employee Engagement tech providers – potentially down to their very low average number of words at just 440. This continues to highlight the importance of content length in order to remain competitive.
Similarly, despite Cengage posting blogs within the recommended description target (138 characters), they continuously appear to fall short of the recommended word count within Learning and Development. Their blogs average at just 570 words, less than half of the recommended range. In the long run this could negatively impact their SEO as other technology providers leverage their own blogs to provide more valuable content that drills further into the topic and subtopics that interest their target audiences.
Transform your content with market research your competition won't see coming…
Utilizing your competitor's content to your advantage and analyzing industry leaders as a benchmark is crucial to identifying what content is being created and how yours measures up within your target market. This key insight can direct and inform your B2B marketing strategy through the unrivalled custom market and competitor intelligence it so reliably and conveniently provides. It takes careful planning and market analysis for top performing tech vendors to hold the highest position, therefore analyzing how they are tailoring their content and injecting this intelligence into your own content strategy will bring strong competitive advantage.
Get more invaluable competitor insights in our latest B2B Tech Buyer Report available to download now.