Content is the beating heart of every ABM strategy. Without it, your target account list (TAL) becomes a pointless exercise.
And when it comes to getting your content right, personalization is key. Nearly half (49%) of marketers use personalization technologies to support ABM, while 80% of marketers personalize their content to some extent. (Inbox Insight – ABM Research Report 2020)
Fully personalizing your content means focusing time and energy into tailored marketing and making content pieces specifically for each account on your list. If you operate a one-to-one strategy, personalizing content for 5 to 10 key accounts isn't an issue. The biggest challenge is doing this at scale. If you've seen success with your first campaign, you may want to scale up your initiative and connect with even more companies. But resource restraints don't always allow for complete personalization. So what's the solution?
Here we look at some of the tactics and techniques for content personalization at scale – it's not as tricky as you may think.
Reading time: 5 minutes

Try customization instead of personalization
One of the ways you can quickly make target accounts feel special, is by taking existing content you already have and repurposing it for them.
Modern personalization techniques are about more than just about addressing people directly; it's about getting to know them, their behaviors, their problems and their needs, and providing value to them by helping them on their path of problem solving. Consider the companies you are reaching out to and think about their business requirements, their goals and desires, their key challenges, and what's most likely to gain their attention. Keep the core of your message the same, but edit lighter pieces such as guides, articles and ads to make them more relevant to the audience.
In small scale ABM, you may look at each account separately and take a granular approach. But for larger scale campaigns, it's better to segment your target accounts based on demographic and firmographic data as well as their different needs, and then tailor content to those segments.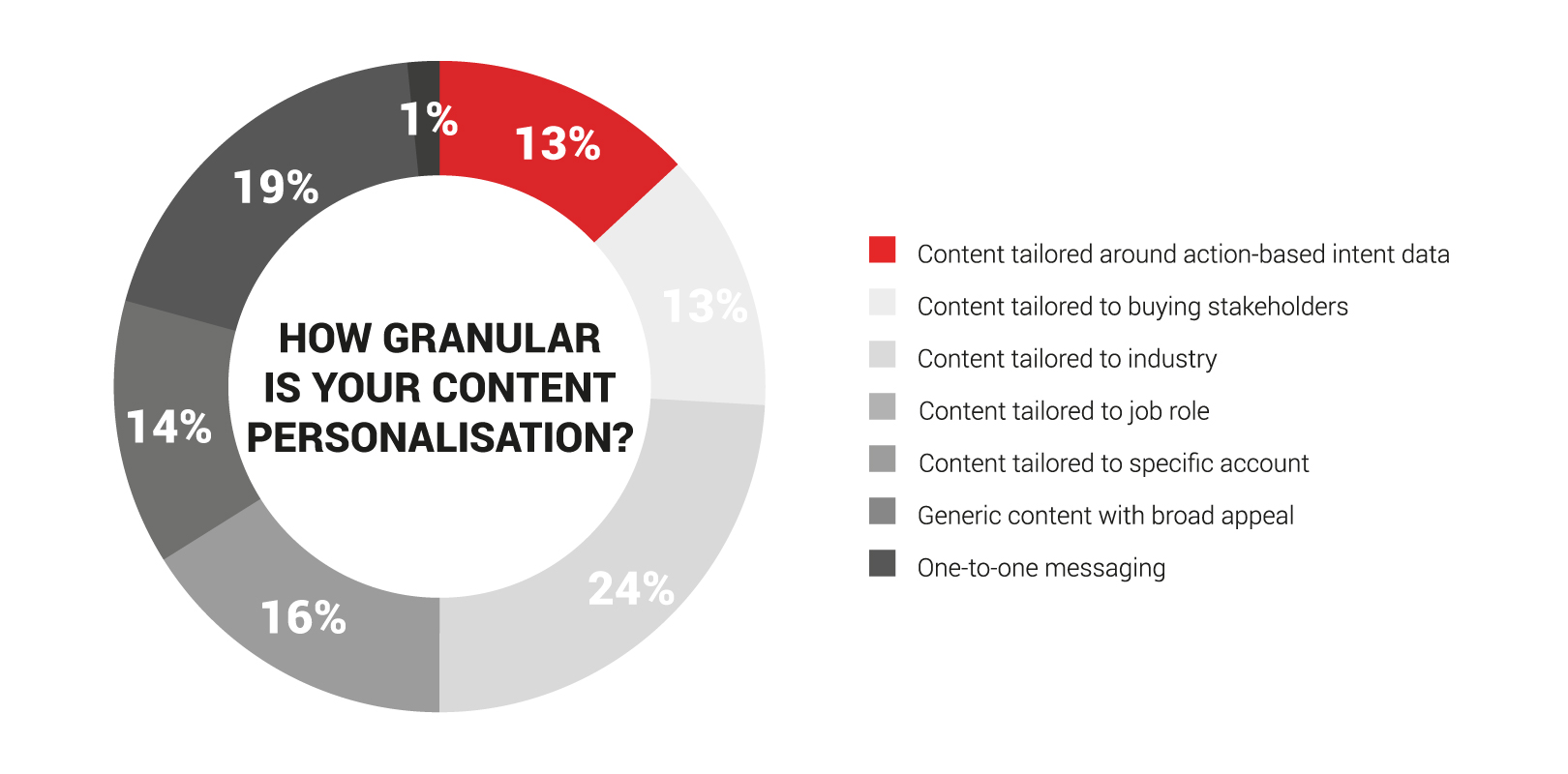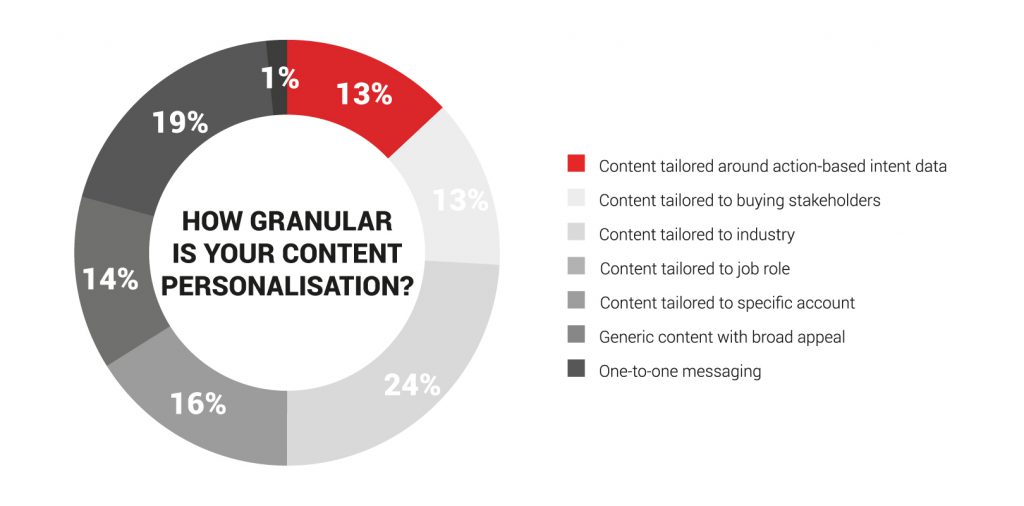 Businesses often assume that there's either mass marketing or complete personalization, but ABM isn't that black and white. There are different strategies such as one-to-one, one-to-few and one-to-many, all of which approach content differently. The truth is, personalization is a spectrum so the level of customization you offer depends on the scale of your project and how many accounts you're hoping to target.
Combine multiple content formats
When considering the type of content to use, it's important to drill down into the personas within your target accounts.
ABM relies on people-to-people interactions, good relationships and strong communication, and this means knowing everything there is to know about the individuals you're targeting. If the buyer on your account is time-poor and always stuck in meetings, a long-form article probably isn't going to appeal. Videos and webinar formats can be a great alternative for accounts like these, as they can deliver key messages quickly and with very little time investment from the user.
Even when you are unable to create attractive, informative videos for your campaign, you can still use visual formats to make your content more digestible. Condensed, image-driven formats such as case studies or infographics can help highlight important data, allowing target customers to extract the information they will gain the most value from. And for those always on the move or travelling, podcasts can easily fit into their day, no matter where they are in the world.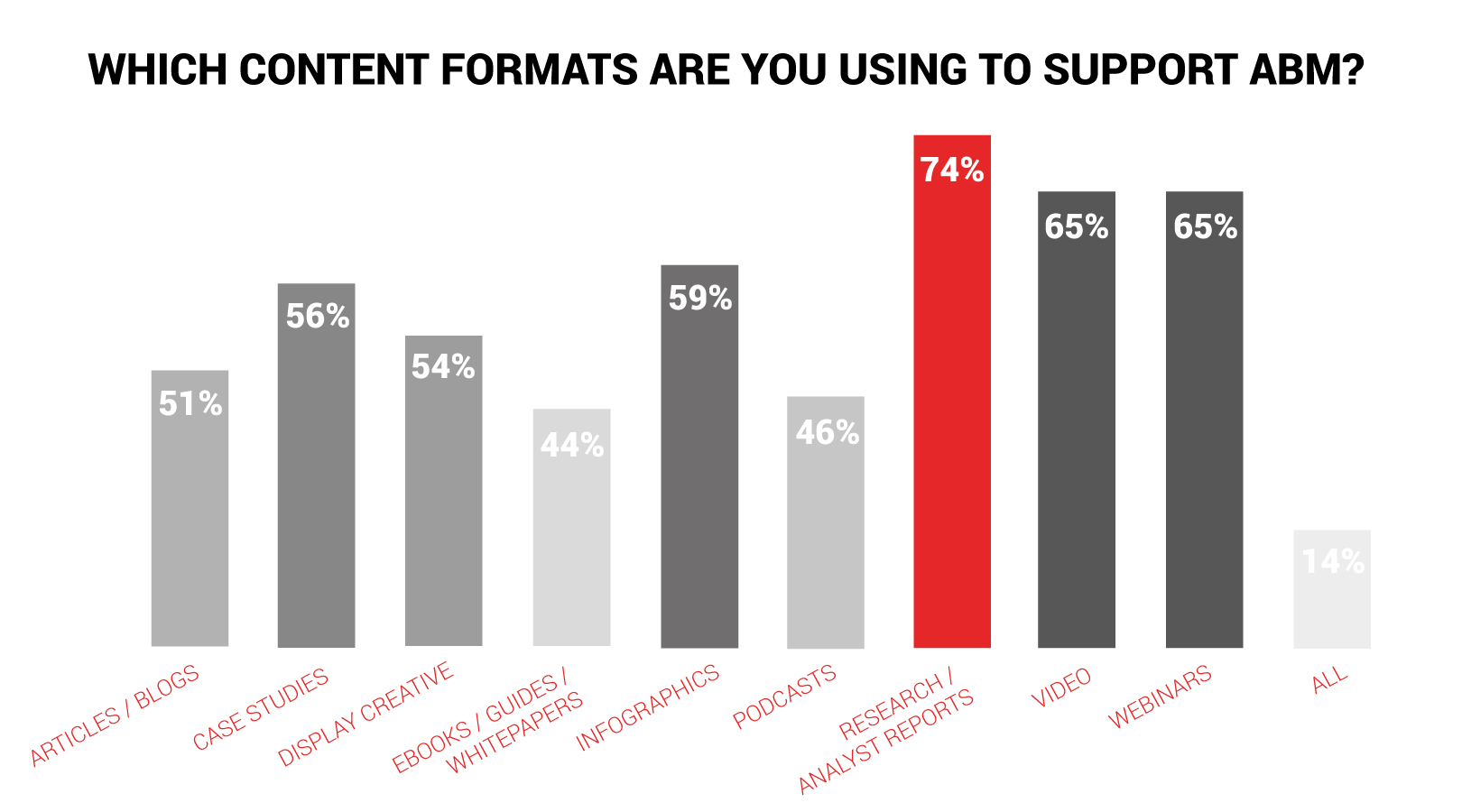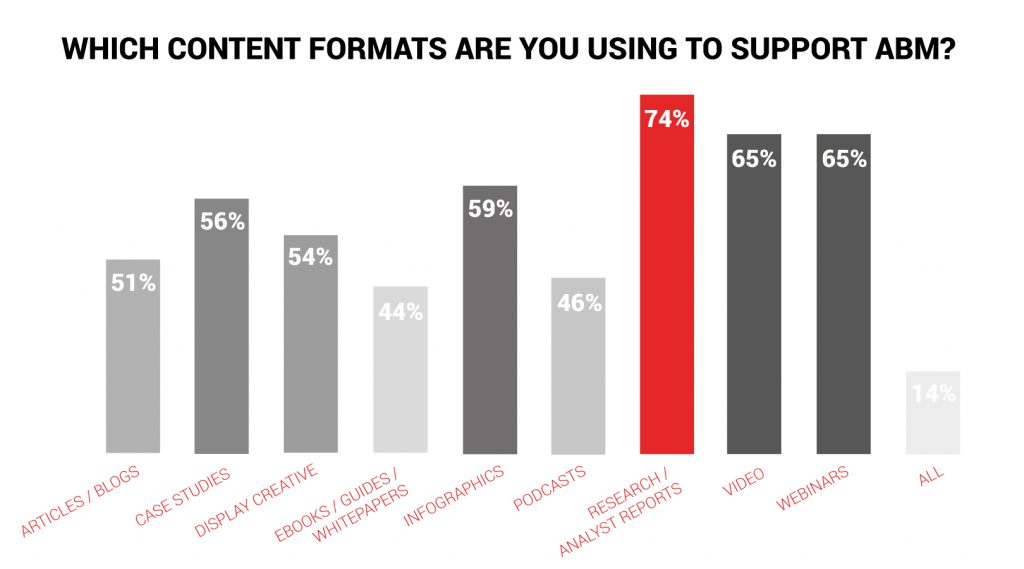 On the other hand, if you know the behaviors of a particular buyer who has downloaded reports from your website on multiple occasions, research-based content with lots of detail will probably be highly desirable to them. Some people love detail more than others and the best way of reinforcing your ABM campaign is by mixing a range of content types.
Most ABM strategies will combine different formats and schedule their delivery to the right audience, at the right time of engagement. This is how you build lasting relationships that make ABM a success time and time again. But before choosing the right content formats, you will need to get to know the people behind your accounts:
Find out more about your contacts
Get to know their needs, preferences and behaviors
Provide them with relevant, valuable content in their preferred way
Build meaningful, interconnected relationships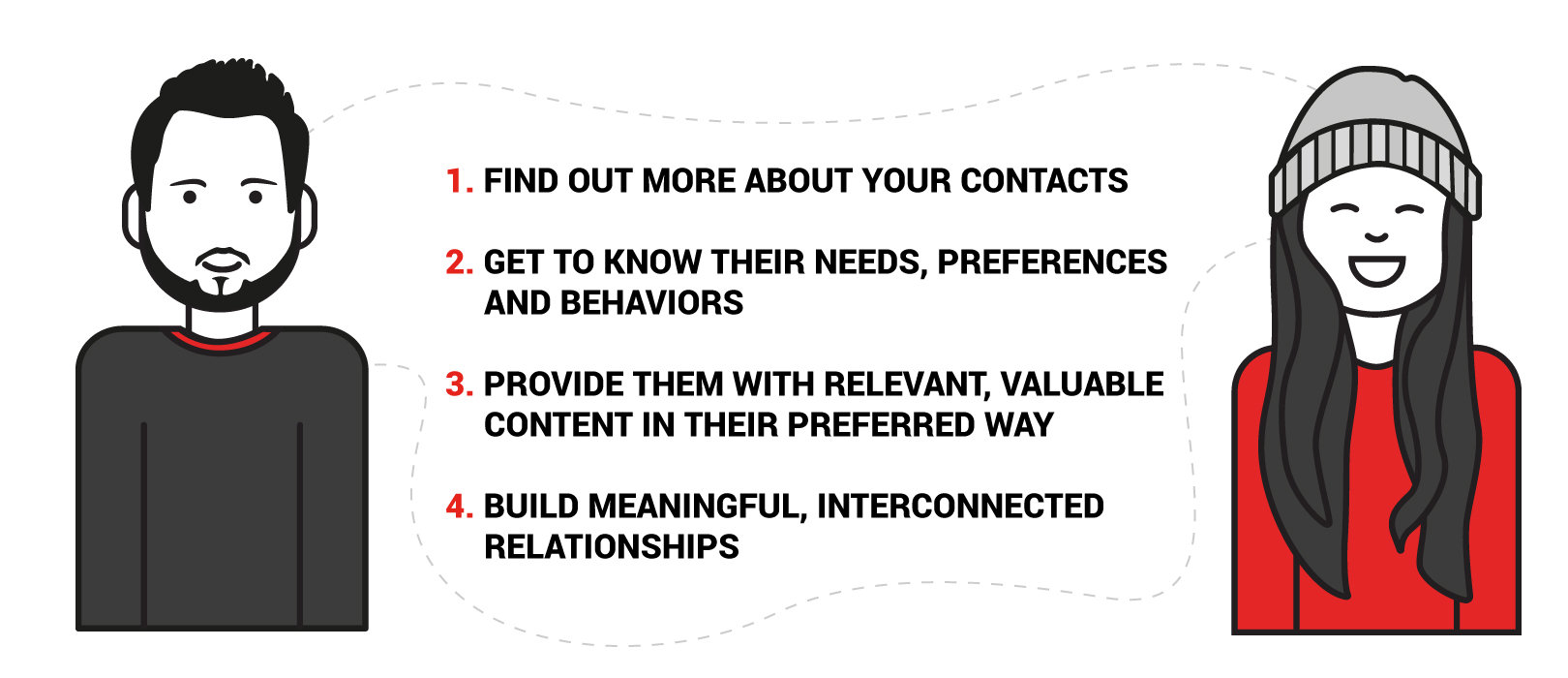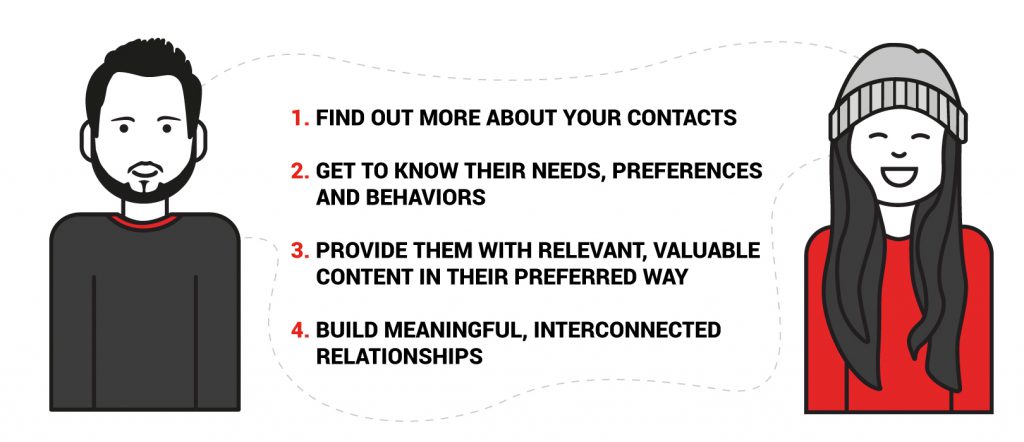 Create a library of content for broader campaigns
If your campaign is broad enough (for instance, if your campaign is following the one-to-many strategy), you can create a library of content that can be easily tailored for future campaigns. By pre-preparing a content archive, you can ensure nimble content production and stay agile when market or business circumstances change.
A good way of approaching this is to create industry based content or generic content with broad appeal, and edit them for different accounts or account segments. As long as the core message in the content is relevant and useful to the target audience, then it can be easily personalized at scale.
This tactic works best with broad campaigns where the general content is there to answer the needs of many. For more targeted campaigns, such as one-to-one campaigns, remember you will need to take a much more detailed approach to content development.
That being said, how granular personalization should be – even with one-to-one campaigns – can range from creating content for a specific account to creating content for someone's specific job role. It's all about finding the sweet spot between resource, budget and strategy along the scale.
Personalization, as mentioned before, is a spectrum, and not every ABM campaign requires fully personalized content. Only a 1% of marketers create personalized content for each individual, which suggests that mass personalization techniques provide the most benefits. (Inbox Insight – ABM Research Report 2020)
Looking for more advice on how you can effectively run account-based marketing in your business? Check out our comprehensive guide, here.