If you know where B2B tech buyers are planning to invest their budget, you are in a strong position for identifying in-market buyers and the optimal time to target them. But this data is often hard to come by…
Our first party research does just that through providing timely insights into where and how much B2B buyers are looking to invest in tech solutions over the next 18 months.

This article covers:
Key insights that reveal strong in-market tendencies
How to interpret these findings to improve your 2022 planning
Read on as we take a deeper dive into the tech solutions captivating the attention of tech buyers right now.
Reading time:  6 minutes
How can we validate the reliability and credibility of our data?
The data in this article comes from our own research panel of senior professionals, all with informed consent. This allows us to present you with the latest first party research from those of the highest relevance. Reliable conclusions can be drawn knowing that our data is up-to-date, accurate and has been captured from those who resonate with your target audience.
IT Tech Buyers
What areas of Cloud Management do IT professionals plan to invest in?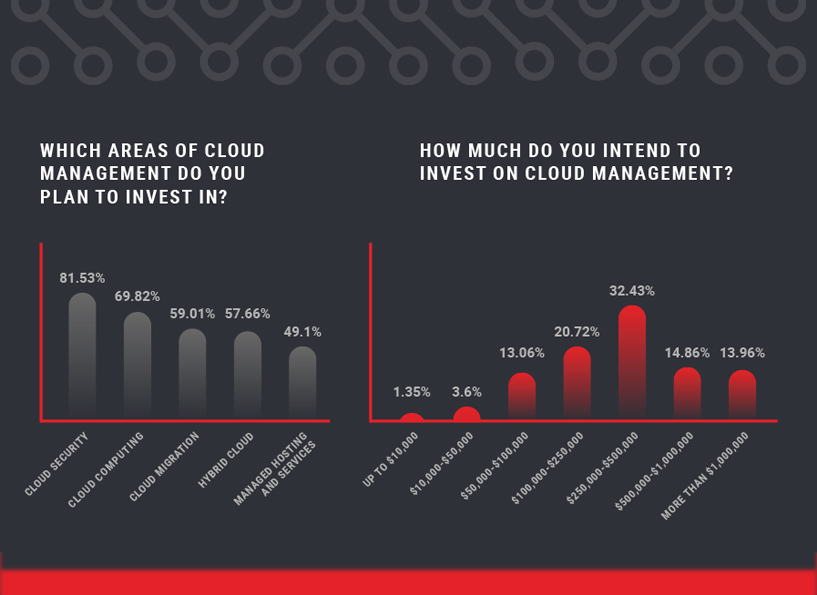 32.43% of senior IT professionals intend to invest between $250,000 and $500,000 on Cloud Management in the next 18 months, while almost 30% plan on spending more than $500,000. Only 4.95% say they'll invest up to $50k, highlighting the tendency for significant resource to be put into Cloud Management for businesses moving into 2022.
Cloud Security is the top area of intended investment with 81.53% of respondents selecting this. 98% of organizations now hold some form of sensitive data in the cloud, especially since the COVID-19 pandemic began causing remote working to take off so rapidly. This creates high vulnerability to cyberattacks, so it's no wonder ensuring data in your cloud is secure and protected from cybercriminals is a top priority.
While cited by nearly half of senior IT professionals, Managed Hosting and Services (49.10%) is further down the list for IT professionals in their investment intentions. As Managed Hosting provides support for operating system and application infrastructure, it seems that the concern for tightened security outweighs the need for infrastructure improvements. Infrastructure in the tech world has become highly advanced over the years, so over half of senior professionals clearly believe that what they are currently using is in fact substantial for the time being.
So how do these key B2B tech buyer insights relate to you?
You're leading the way in the tech solutions market, but you're unsure how to attract the attention of in-market buyers?
Just by considering our above insights, it is clear that you need to highlight how your solutions predominantly help to counteract the increasing threats on cloud security. Reassure buyers that you know how to protect the sensitive data stored in their clouds by providing them with evidence in numbers:
Why your Cloud Management solution stands out above all others – what is your USP?
How many cloud networks does your tech solution currently support?
What procedures do you have in place to ensure tight security?
How often are they reviewed?
Cybersecurity: What do tech buyers consider the top areas for planned investment?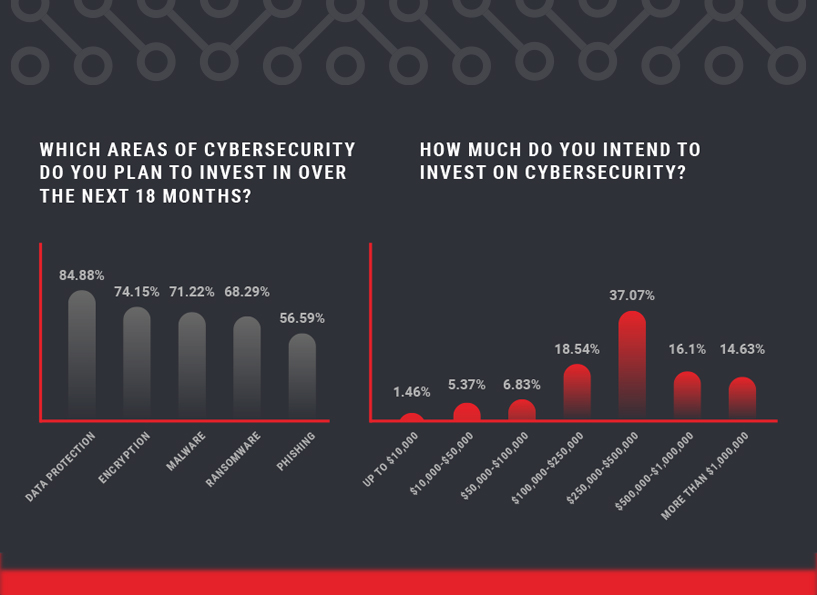 Over a third (37.07%) of IT professionals plan to invest between $250,000-$500,000 on Cybersecurity, with 30.73% looking to spend above this. Only 13.66% look to invest up to $100,000. Similar to Cloud Management, it is clear that expenditure on Cybersecurity is just as prominent as both show a significant result in the $250,000-$500,000 category and above. In fact, looking at the increments of the graphs, they show very similar patterns when it comes to investment amounts.
The main focus for the next 18 months is Data Protection (84.88%) followed by Encryption (74.15%) and Malware (71.22%). As with Cloud Security, Data Protection is crucial as cybercriminals develop more sophisticated hacking techniques and software which businesses need to protect themselves from. Otherwise, they face drastic consequences in light of GDPR regulations tightening the need for data to remain safeguarded.
Encryption is a way of scrambling data by converting it into secret code that conceals the information's true meaning to anyone other than authorized parties. This is effectively a way of protecting data, the top obstacle, so it's no wonder we see this a close second. Malware refers to any form of malicious software such as viruses, spyware and ransomware. Developed by cybercriminals, it is intrusive software used to steal data and damage computer systems.
There is a clear pattern emerging when it comes to the top investment areas in Cybersecurity; that of protecting data from hackers. Interestingly, Phishing comes out bottom of the investment choices (56.59%) suggesting that data protection of the more modern, heavily relied upon tech solutions such as the cloud are now a greater concern for cyberattacks than the threat of a phishing attack.
What do these IT buyer investment plans mean for you?
Data protection has been a hot topic for many years and clearly still remains a big focus point for tech buyers over the next 18 months. That's why you need to ensure you are targeting buyers in the cybersecurity market with evidence that your data protection solutions are incredibly reliable, given the serious nature of personal data involved. Successfully target buyers with:
Why your data protection software stands out above all others – what is your USP?
What level of encryption do your offerings provide?
How accurately can you predict and mitigate risk?
How many breaches have you prevented?
What are the most prevalent areas of Data Management to invest in over the next 18 months?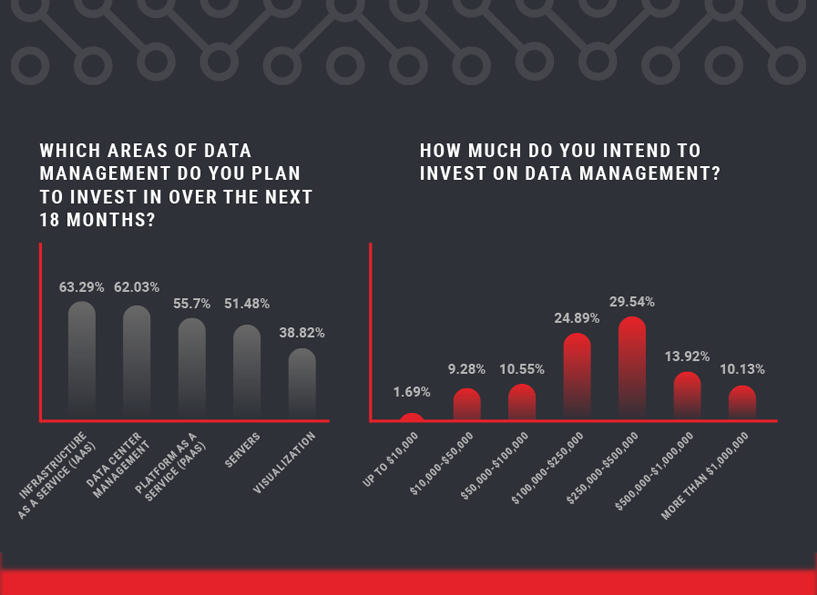 29.54% of senior IT professionals intend to invest between $250,000-$500,000 on Data Management, with 24.05% aiming to spend above this. Compared to Cloud Management and Cybersecurity, there is more weight towards the $100,000-$250,000 category (24.89%) here and slightly less for over $500,000 (24.05%) than we've seen with the previous two. This indicates that while it's still significant, Data Management will see a marginally less investment heading into 2022.
63.29% of respondents say the top areas of expenditure will be Infrastructure as a Service (IaaS), closely followed by Data Centre Management (62.03%).
The link between data management expenditure and the management of data centres goes hand in hand, as expected. Ensuring the right infrastructure to maximize the capabilities of data centres and how they are able to manage and store data is crucial to effective data management, which again confirms why this is a top area of interest for the next 18 months.
What do these B2B tech buyer insights reveal for you?
Do your data centre management solutions offer unrivalled accessibility? Best-in-class data tools? Unparalleled scalability? Well, you need to let your potential buyers know this!
Infrastructure as a Service (IaaS) and Data Centre Management can be difficult for you to prove you're excelling in without allowing prospects to try out first hand, so consider:
Short free trials of infrastructure to showcase capabilities
1:1 demos to walk through your data centre management solutions
Sending existing client reviews to tech buyers to provide unbiased feedback from those actually using your products and/or services.
Where do tech buyers look to focus their investment on DevOps?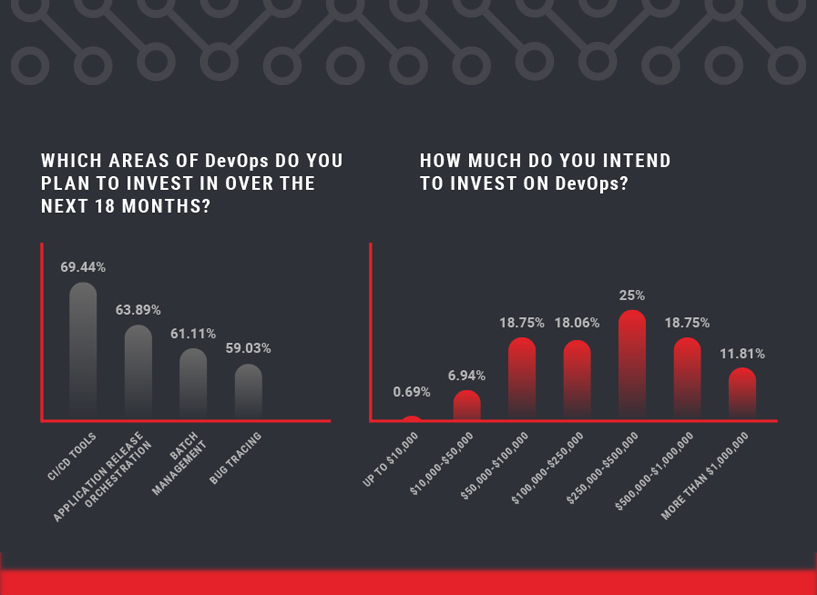 The planned investment on DevOps is far more intermittent than the previous areas of investment indications have shown. 25% of tech buyers plan on investing between $250,000-$500,000, followed by 18.75% for both $50,000-$100,000 and $500,000-$1,000,000. This indicates a disparity towards how much is the right amount to invest, yet it is evident that DevOps does hold significance across the board at some level.
Similar to Cloud Management, Cybersecurity and Data Management, the top choice by a notable way is the $250k-$500k bracket. Investing up to half a million dollars should be considered a worthy investment, confirming that tech buyers are taking these areas seriously and are indicating strong in-market tendencies towards them.
CI/CD Tools are the top area of investment for the next 18 months according to over two thirds of the IT community (69.44%). They connect processes and eliminate manual tasks, making it clear why they are in high demand for the increased efficiency they can achieve. Following this, 63.89% chose Application Release Orchestration tools, which are leveraged by DevOps teams and developers to manage and facilitate application release processes. These two areas are closely interlinked and both aid the smooth and effective running of DevOps, making them obvious winners in the investment stakes.
How should you interpret these tech buyer investment intentions?
You need to show in-market buyers that your CI/CD tools will make their job easier and can be relied upon by the whole DevOps team. You also need to prove that your Application Release Orchestration is capable of overseeing release processes effectively and efficiently. So, what are your next steps?
Find out which CI/CD tools they are currently using, if any
Provide a clear map of what processes your CI/CD tools connect and which manual tasks they eradicate
Present the time, cost and any additional resource savings that your solution offers and compare to current provider where applicable.
Digital Transformation: Where are senior IT professionals planning to invest?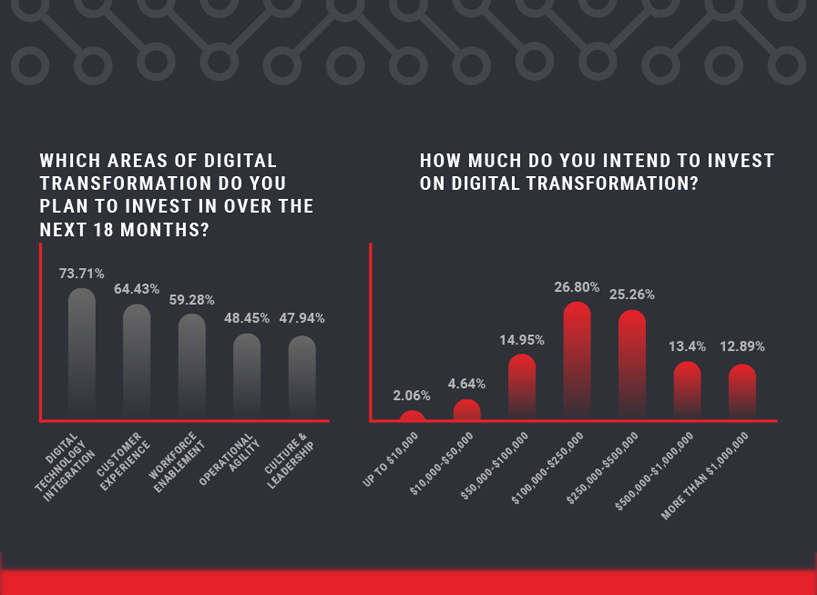 The top bracket of planned investment over the next 18 months for Digital Transformation is $100,000-$250,000 (26.8%), making it the only area where $250,000-$500,000 has not come out as the winner – though it is a close second (25.26%). This suggests that there is a slight difference in opinion when it comes to allocating budget towards Digital Transformation, however it is clearly of considerable importance nonetheless and 26.29% would even invest between $500,000 and $1 million.
Digital Technology Integration (73.71%) is the area where the majority of senior professionals look to invest in. As Digital Transformation involves businesses shifting to new operating models, requiring the successful integration of diverse technology to do so, it is evident why Digital Technology Integration comes out top for the requirement to aid the transformation process and ensure it runs smoothly.
Interestingly, Culture and Leadership (47.94%) are bottom of the pick, highlighting how Digital Transformation is concerned less about the culture in which it is being performed and more about the way it is integrated. It focuses on technical processes over actual people – possibly due to the somewhat automated nature of this area, placing people further down the focus line.
How do these B2B tech buyer insights relate to your own success?
Successfully integrating digital technology can be tricky and requires the right knowledge, which is why you need to draw attention to the fact that your solutions master it! Inform in-market buyers that your applications, data and processes work towards their business agility and growth by highlighting:
Easy-to-use, seamless experiences
Faultless implementation of modern integration technology
How you can help build them a more connected business
Final Thoughts
You should now be fully up-to-date with how much and where IT tech buyers are planning to invest their resource over the next 18 months. These key insights reveal their top areas of focus, allowing you to target in-market buyers with suitable tech solutions that resonate with their evidential needs. By understanding where they are weighting their attention across a representative range of tech areas you can better plan for the coming year.
For further B2B Buyer insights, download our full research report: B2B Tech Buyer Behavior: Unique Insights for 2021/22