An inbound marketing campaign costs 62% less per lead than traditional outbound marketing, with much better return on investment. Plus, when executed properly, it promises higher yield at lower cost.
And as 'inbound marketing' encompasses many aspects of digital marketing (for example, blogging, SEO and social media, to name a few), it's fair to assume the vast majority of organization's are implementing inbound marketing to some extent.
In fact, with the rise of digital and the prominence of a customer-centric marketing strategy, more companies are actually increasing their spend on organic inbound techniques, in order to better engage with customers – and it's proving to be hugely successful for a lot of brands.
However, it's not as easy as it might sound. Successful inbound marketing requires a solid understanding of multiple digital platforms and channels, and therefore, good planning, strategy, optimization and measurement are vital.
Here are the 10 steps you need to take to make sure it all comes together.
Reading time: 6 minutes

Assess your current strategy
The first thing you need to do is assess your current marketing. Look at current performance and review the areas that need improvement. In order to do a full evaluation of existing marketing, you will need to consider:
Marketing assets – what do you currently have and what are you optimizing?
Marketing budget – what is being spent on outbound techniques and how much can/should you reallocate to inbound?
Successes and failures – of the campaigns you are already doing, what's working and what's not? And why?
Once you get an understanding of your current status, it will be much easier to begin building your new inbound marketing strategy.
Learn basic inbound tactics and techniques
Once you've reviewed existing efforts, you will need to educate yourself and your team on the different tactics used for inbound. If you've traditionally deployed outbound techniques, you may find the more holistic approach difficult to juggle at first. The sales cycle can be complex with multiple touchpoints to bear in mind, and results aren't always instant.
A typical inbound marketing plan may include the following tactics: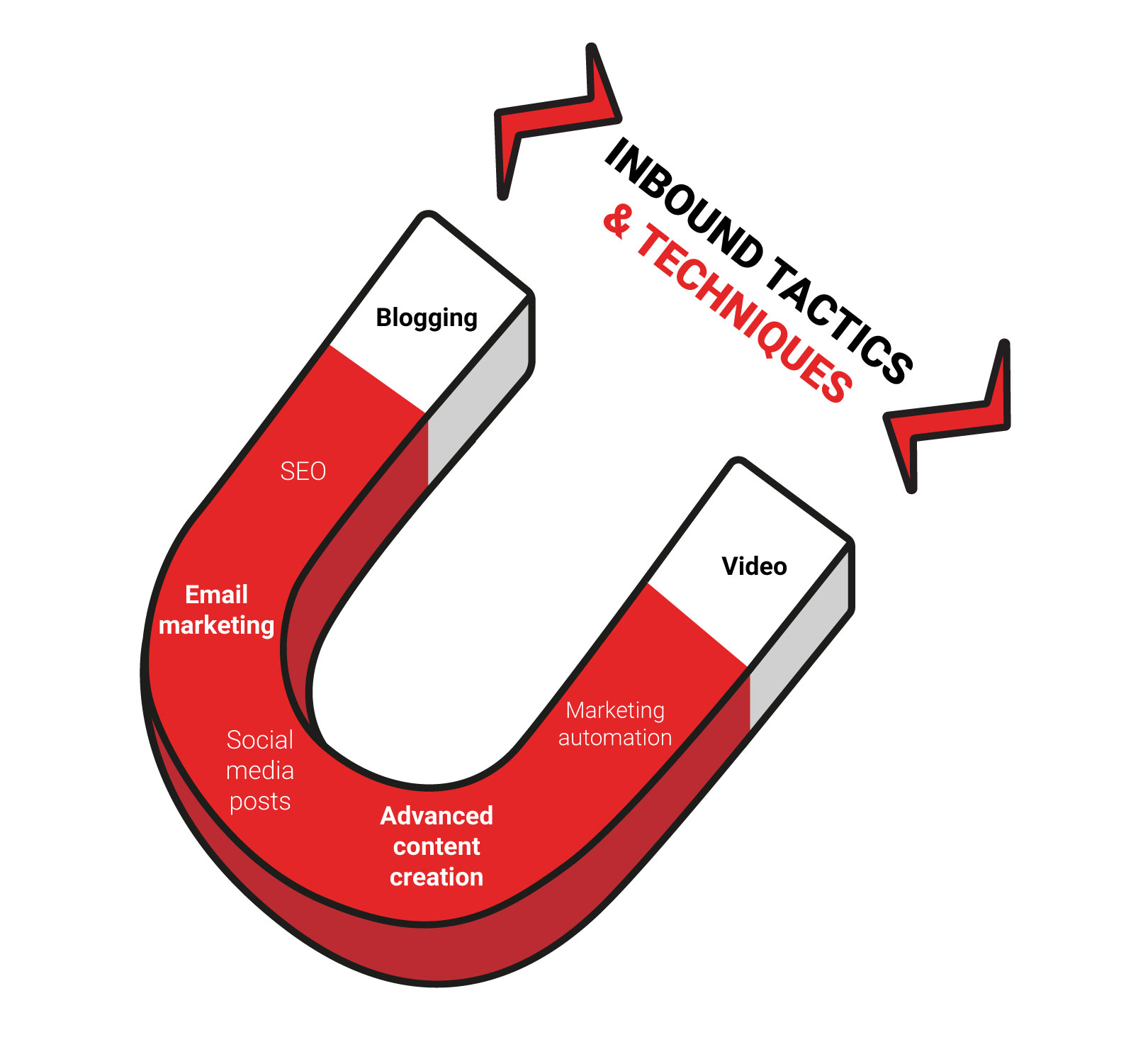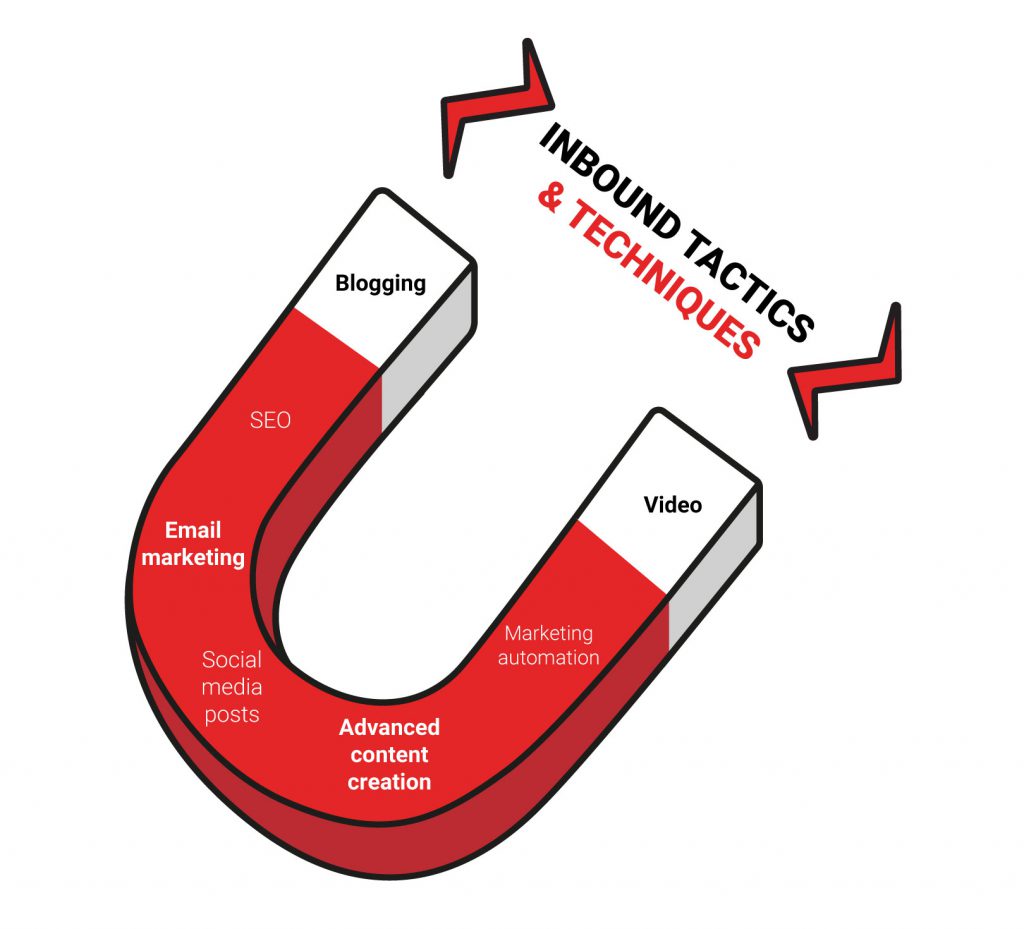 Create or outsource your team
Having the right people on board is essential if you want to drive your marketing forward and future-proof your business. Digital is a fast-paced, ever-changing landscape that can be challenging to navigate for traditional marketers. Having fresh, digitally-savvy talent – experts and innovators who know how to stay agile – is key to success.
In your team, you will need:
Inbound marketing strategists
Content creators and writers
Social media coordinators
Designers
Web developers
SEO managers and analysts
In-house hire can be expensive, and the costly, time-consuming nature of recruitment and training can be a major setback for a lot of organizations. If you need a flexible marketing function, working with an external team may be the best solution.
Define your core marketing goals
For every solid inbound marketing strategy, there needs to be clear goals in place. What is your business trying to achieve? And what do you want for your brand in the long run? Getting sales has always been the driving force of outbound, but inbound is about engaging customers in an organic way.
Use the SMART acronym to decide on the right goals to have in place for your team:

Your goals may not be sales-based alone, but could include retention, positive reviews, average spend, or social interactions and mentions.
Get to know your target audience
No inbound marketing plan is effective without direction. This is where buyer personas come in. Buyer personas are fictional representations of your dream audience, and they act as guides for every campaign, every piece of content, every message or choice of copy. Check what you're doing aligns with the persona in question to keep your strategy on track to reaching your goals.
To build your personas, you will need to consider key demographics, their job role in the company, their desired gains, their dreams and aspirations, their main pain points, and the solutions that are available to help them. This information should be collated from real data, and whilst potentially feeling like a job of little importance, it creates the foundation for truly getting to know your buyers.
According to recent research, 71% of marketers use CRM data, 52% gather this information directly from customers in conversation and feedback, and 52% also discuss with their account managers, to ensure their audience personas are correctly defined.
Begin to plan out your inbound marketing schedule
With your goals and personas decided, you can start to carve out your marketing plan. You will need a carefully considered content schedule in place, an SEO strategy for your website and other written content pieces, a social media calendar, as well as a lead generation and lead nurturing program to ensure that leads are followed up and fostered in the right way.
All of these different areas need to align, so having a timetable for each season is the ideal approach.
Optimize your website
One of the most important steps that companies often forget is ensuring their website is optimized. This includes usability, data capture, mobile optimization, as well as SEO.
Clunky website navigation makes it hard for potential customers to find what they're looking for, poor mobile function puts off mobile and tablet users, and inadequate SEO impacts rankings and visibility.
Constantly improve your content
Content is at the heart of any good inbound marketing strategy. It needs to be constant, it needs to be fresh, it needs to be well-researched and it needs to be of the highest quality. Not only do you need to keep your content updated regularly, but you also need to find new ways of improving on topics and themes.
One of the content techniques that often gets missed is repurposing. Even the best content doesn't get seen by everyone. By repurposing existing content, you can increase your reach and find more ways to connect.

Increase your audience reach
In order to get your content in front of quality prospects, it's important to use promotional techniques such as linking, social media posts, online distribution (such as forums and community sites), guest blogging, and social share buttons.
This is also the stage where outbound techniques can be leveraged for a hybrid approach. Create beautiful, compelling content that drives organic sales, but utilize paid ads to target more people. Inbound and outbound techniques can be combined to maximize your results.
Have a reporting system in place
Setting up a reporting system should be a priority if you want to grow and evolve. No strategy can be truly successful without analytics to learn from. Website traffic, click rates and conversion rates provide actionable data to help you improve your content. Even the less obvious metrics – such as social shares, likes and comments – can be useful. In fact, the majority (65%) of B2B marketers use social engagement their key metric for measuring inbound marketing efforts. This kind of data helps you understand audience behavior, giving you valuable information about what your prospects respond to, what they dislike, and what they recommend to others.