This article takes a deeper dive into how taking a more granular approach to segmenting your audience is crucial. Read on to uncover how B2B marketing segmentation is advanced by B2B buyer insights…
Reading time: 10 minutes

How can you unlock key audience intelligence to dial up your demand gen activity?
Putting the right message in front of the right buyer to generate the right response is key to effective B2B marketing. It leaves B2B marketers questioning:
how effectively they can identify real-time need that shapes buyer behaviors
how B2B buyer insights can help tailor their content strategy
how they can identify the most relevant buyer insights.
In our recent blog The Evolution of B2B Marketing Segmentation we explored both macro and micro segmentation strategies. Drilling down into highly specific market areas by micro segmenting your audience provides you with the top, most profitable opportunities. It looks beyond the basic demographic or geographic segmentation, requiring far more granular data. This is where next level buyer insights really come into play…
How effectively can you identify real-time need along with the influential factors that shape your target buyers behavior?
As leads progress along your buyer journey, content needs to be aligned with real-time need in order to:
increase the relevancy
stay competitive
resonate with their buying needs.
81% of B2B buyers now expect a personalized online buying experience. A more granular approach to segmentation allows your campaigns to achieve this by tailoring content to specific micro segments with different real-time needs. This ensures content is relevant and will resonate with your audience to maintain your competitive position. The one-size-fits-all approach is no longer likely to succeed.
How can B2B buyer insights help you to understand how to tailor your content strategy and USPs?
Insight that reveals key challenges faced by your target buyers will help you understand how to tailor your content strategy and USPs to demonstrate how your content, product or services will overcome these problems. After all, creating value in the eye of your potential buyers is what your content strategy is all about.
Here are some examples of real-time challenges facing professionals in our Insights for Professionals (IFP) community. These first party insights are part of our ongoing research into buyer trends and behavior that fuels our audience intelligence.
Top struggles for IT professionals
Data centre management is a key challenge for 30.08% of IT professionals. Knowing how to effectively manage data in a way which enables you to drill down into it and gain top insights is crucial. It can provide you with the necessary audience intelligence when used in conjunction with AI and intent data, to truly tap into the minds of your buyers.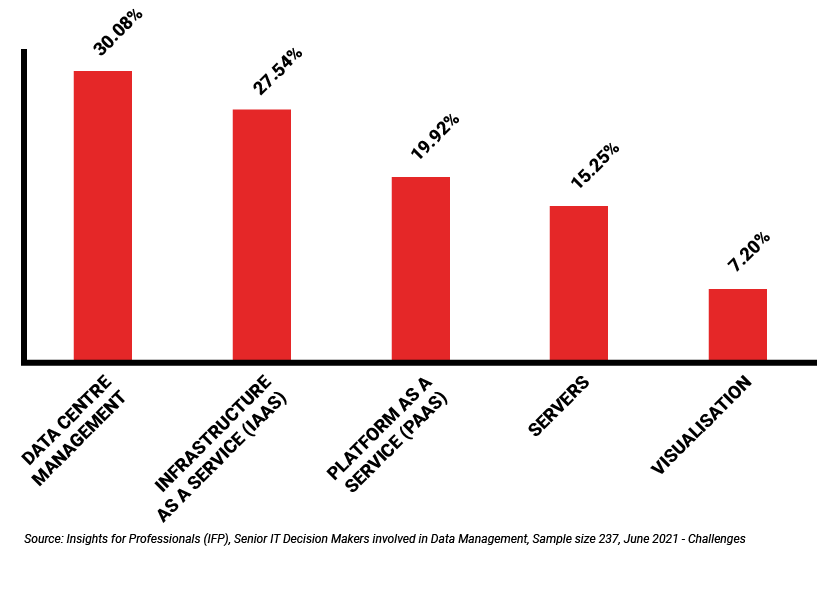 What's more, layering first party intent against AI and third party insights can make it possible to identify lookalike accounts outside of your Ideal Customer Profile (ICP) who share the same characteristics as your target audience, are compatible, and in-market. Investing more resource into the management of your data centre is key to providing the groundwork for the rest of your data interrogation. This is why 58% of tech professionals intend to invest in data centre technology next year.
Pain points faced by Marketing professionals
Customer loyalty (22.41%), closely followed by customer retention (20.69%) are top concerns for marketing professionals. How can you entice customers to keep coming back? And what USP can you offer to deter them from looking elsewhere?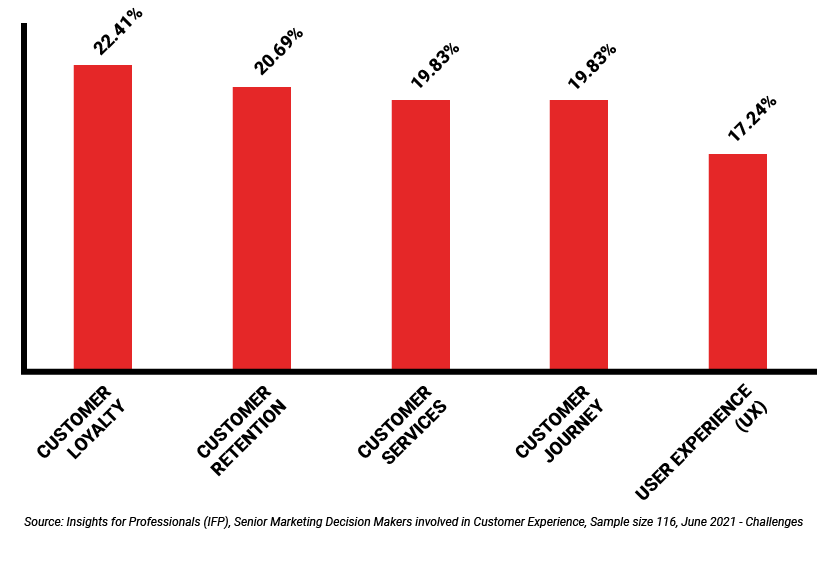 81% of marketing professionals research more than 6 pieces of content before committing to a purchase decision. Providing relevant content over a variety of channels will appeal to the differing preferences of research sourcing; 42% of marketers trust whitepapers/reports for buying decisions, 48% rely on peers within their company while 60% prefer executive conferences/events. It is clear that one size does not fit all. Adopting a multi-channel approach is necessary to ensure the right content is in the right place for B2B buyers to see and perceive as valuable.
In addition, 99% of B2B marketers agree that customer relationships are enhanced by personalization. Segmenting your audience granularly and identifying digital behavioral signals around content consumption and preferences provides valuable insights to tailor content effectively. The personalized expectation is met, enhancing the customer experience and the appeal to remain loyal to your company.
Key challenges in the HR community
The main struggles identified by HR professionals under the area of employee engagement are HR management (29.55%), people analytics (22.73%) and employee experience (18.94%).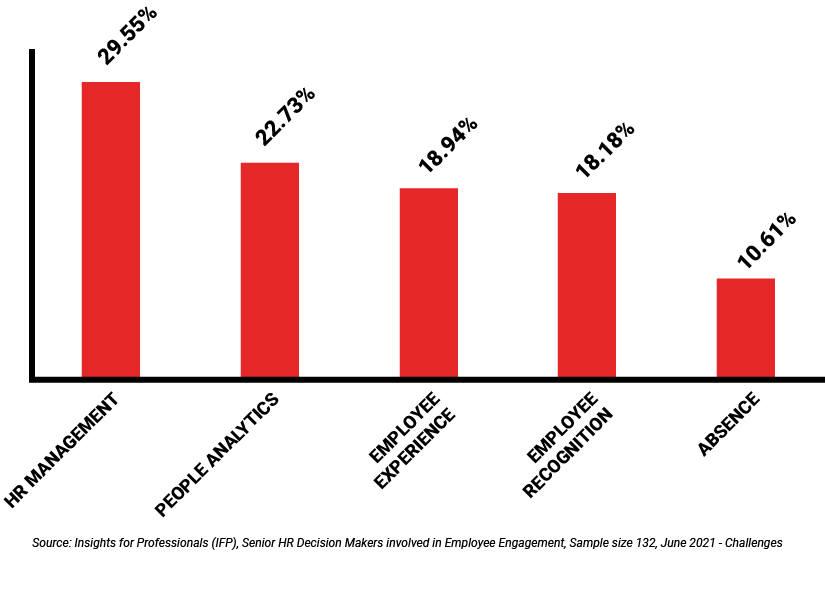 67% of HR tech buying decisions involve more than 5 stakeholders. While 56% of HR professionals research more than 10 pieces of content before committing to a decision about what to buy. Knowing the most effective ways to accurately segment your audience to ensure each relevant stakeholder is catered to in the content they receive from you is crucial. That's why drilling down into your audience to identify the varying needs of HR managers at the top, and being ready to tailor relevant content to them, is a great first step.
Leading on from this, tapping into the mind of the people through analyzing their behaviors and preferences, and breaking down the employee experience to reveal their needs, is what micro segmentation is all about. It ensures the right content is received by the right people at the right time.
Creating priority segments among your target accounts
It's not enough to just target the audience that matches your ICP. Not all accounts will be in-market, so you need to identify those who are and place them into priority tiers or segments.
Did you know, just 5% of B2B buyers are in-market and ready to buy immediately? 95% of buyers reached are out-of-market and unlikely to purchase for months or even years. So while in-market buyers are priority tiers, you shouldn't neglect those who are out-of-market as their need for your product or service will return in the future. Instead, invest in making every buyer remember your brand so that when they do need to make a purchase – it's from you.
Take a look at the following insights which reveal where and how much buyers are planning to invest…
Which areas of Cloud management do you plan to invest in?
32.43% of IT professionals intend to invest between $250,000 and $500,000 on cloud management, while 13.96% plan on spending over $1,000,000.
The clear area of focus is on cloud security (81.53%), as cybercriminals are now more interested in your cloud identity than your credit card number. An incredible 98% of businesses hold some sort of sensitive data in the cloud, so ensuring it is secure and protected from cyber attacks is vital. It's no wonder this is a top priority at a time when remote working is at its highest, bringing with it great cloud security threats.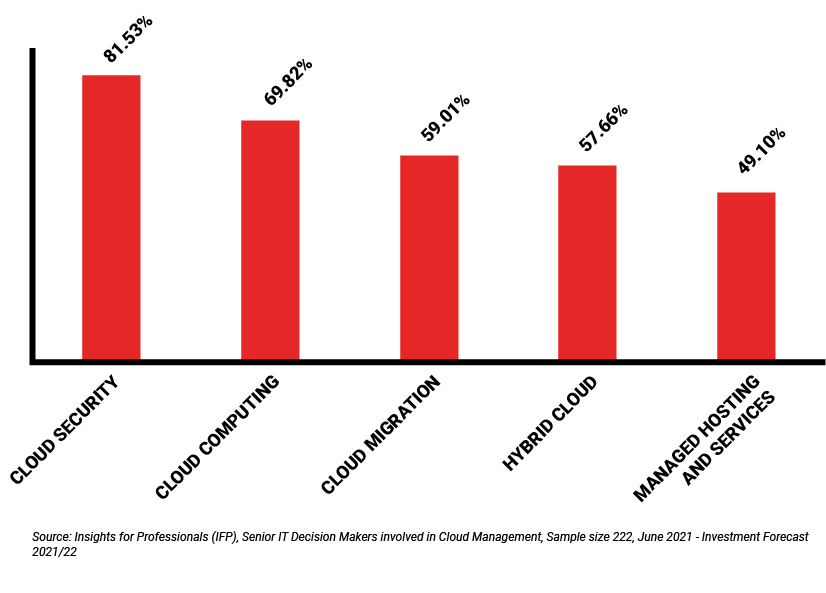 Which areas of marketing automation do you intend to invest in?
47.97% of marketing professionals believe they will spend between $100,000-$250,000 on marketing automation going forward, while 34.96% say between $250,000 and $500,000, with few going above that.
Social media takes the lead for expenditure, with 65.85% intending to invest in this type of marketing automation followed by email marketing at 59.35%. These insights provide strong indication of who's in-market; searching intent around social media and email marketing topics and associated keywords will highlight early buyer interest. Using intent data to examine digital behavior patterns provides a whole new level of buyer insight.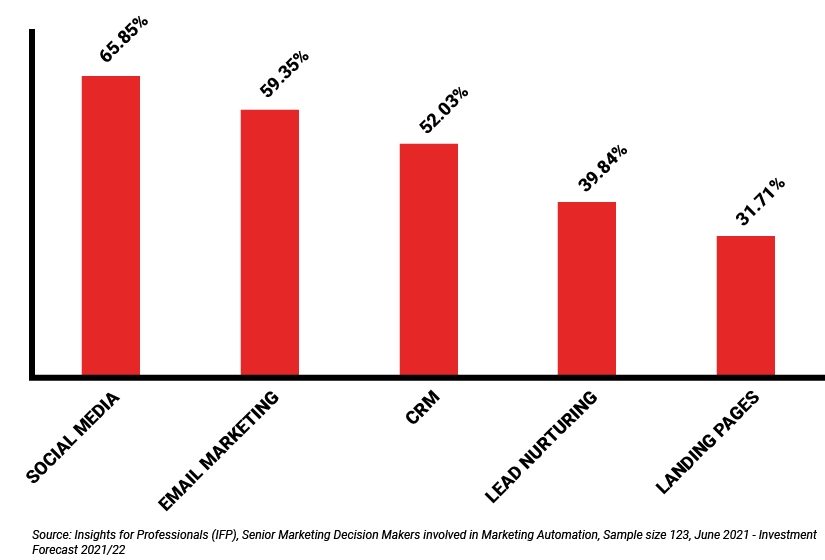 Which areas of workforce and human capital management do you plan to invest in?
Of the HR community, 39.04% plan to invest between $250,000-$500,000 in workforce and human capital management. 28.08% predict between $100,000 and $250,000, with a fair balance either side.
The top area of interest is health and safety (68.49%) which is unsurprising given the current and ongoing global COVID-19 pandemic. This brings with it many requirements to create covid compliant workplaces and policies, while placing a real emphasis on protecting the mental health and wellbeing of employees working remotely. Detecting covid related intent keyword and query searches, as well as analyzing action intent, will allow you to spot buyers who are in-market.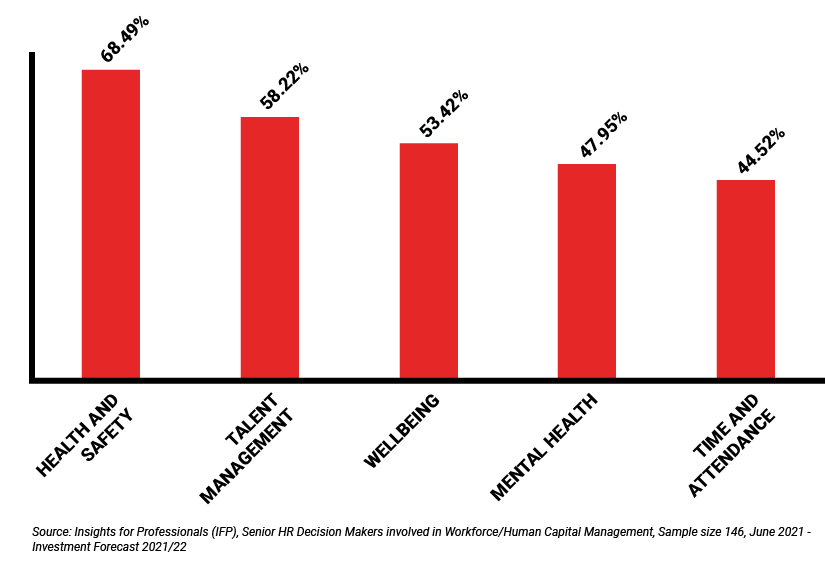 Final Thoughts
We've explored in-depth how B2B buyer insights can provide next level marketing segmentation success. Taking a more granular approach to segmenting your audience is crucial for unlocking key audience intelligence to step up your demand generation activity. Tailoring your content and USPs to demonstrate how your business can overcome the key challenges faced by buyers will ensure you are pushing the right content, at the right time, to the right buyer to generate the right response.