Reading time: 4 minutes
According to Google, B2B purchasers search up to 12 times before engaging, when conducting market research. Think about all that digital buyer intent data and micro-signals each user leaves behind – how can piecing that knowledge together help improve the performance of your B2B Content Marketing and Demand Generation activities?
For fast thinking marketers this is an opportunity to delve into the psyche of their B2B buyers through uncovering what content they are interested in, where they access information and which channels they respond best to.
These insights can then form the basis of segmentation criteria that organizes your audiences into meaningful clusters based around interests, information needs, preferences and behaviors.
What's more, if you have a coordinated set of promotional activity mapped against your B2B demand generation model, buyer intent data can help ensure the right message goes to the right stakeholders, at the right touchpoints to deliver the best outcomes.
Here are 5 types of buyer intent data to investigate:
Searching (keyword & queries)
Browsing (cookies & categories)
Action (interactions & downloads)
Firmographic (ABM)
Predictive (lookalike modelling)
Whilst buyer intent data is no new concept in the world of B2C, only 25% of B2B companies use intent data at present (Demand Gen).
This article dives into the copious opportunities these data-driven insights can bring to strengthen your B2B marketing segmentation strategy.
Through revealing the sweet spot amongst your audience clusters and helping to inform the type of content, format and channel amplification techniques you should leverage, you can then begin winning the right kind of engagements, over and over again.
Ready to join the top percentage of marketers, already applying intent data?
Read on…

1. Searching (keyword & queries)
When it comes to keywords and search terms – we are what we type. That's why these digital signals are an invaluable tool in a digitally savvy marketer's arsenal.
Each typed word or long-tail keyword phrase provides a strong indication of the user's intent. These can be used to better understand the motivations, interests and behaviors of your target audience.
From a business perspective, we want to track trends in the consumption of information on topics that you write about, and segment and target those users with relevant content during the many stages of their research.
Some key search query techniques to consider:
Informational Search Queries:
These are powerful because they tell you what users are looking for – in their own words! This is a crucial area you want to guide much of your research towards, as this is a critical touchpoint for consuming content that helps solve a problem, answer questions or grow knowledge.
By pumping out quality content that directly addresses the above, you are better positioned to build credibility, trust and long-term engagements.
Content recommendations:
Thought Leadership
Analyst/Survey Report
How-to guides
FAQ web pages
Instructional Video
Insight driven Infographic
Ask the Expert Podcast
We also want to ensure our content assimilates the language used by our target audiences. In the same way mirroring body language is a subconscious ploy to connect with someone, mirroring keywords your target audience actively use in our content, helps to accelerate understanding and trust by showing you're talking their language.
Navigational Search Queries:
These are Search terms users are actively using to find a specific page or website. For example 'Twitter', 'Inbox Insight', 'LinkedIn', 'Facebook', 'YouTube'…etc.
As a high percentage of navigational queries denotes a strong awareness of your brand, this could be useful metric to benchmark when launching campaigns with the objective of growing awareness amongst your key audiences.
Internal Site Search Queries:
Analyzing search queries on your own website is just as important, however only 7% of companies report they're efficiently learning from internal site search data (Econsultancy).
When analyzing your internal site searches, pay close attention to:
Most searched terms – trends of your audience
Next pages they visited – looking at intent behaviour flow
Popular searches that lead nowhere – great ideas for creating content
2. Browsing Intent (cookies & categories)
Which Specific Content Has the User Viewed?
Whilst keywords and search queries provide unique insight into how your target segments research along with the real-life language they use to express or articulate their pain points, browsing intent data provides an additional dimension, through which you can grow your audience understanding.
Cookies and browsing history involve tracking usage across devices and browsers, in order to avoid a fragmented view of your customer. We recommend investigating the following 2 areas:
First Party Browsing Intent
Pages that your users are viewing on your website, or reading in your marketing automation workflows. Combining this with metrics around length of engagement or content format gives you greater detail into user intent.
Third Party Browsing Intent
Users browsing relevant content on sites other than your own. This could include B2B publishers, business or technology-focused online communities, or even social media groups. Targeting these signals lets you reach relevant contacts outside or your own audience.


3. Action Intent (interactions & downloads)
A level down from browsing you can look at interactions. This is about understanding and recording the steps a user takes around your digital channel eco-system.
Buyers are 57% of the way down the sales path by the time they engage with a brand's website (Fronetics). How could understanding their journey prior to your first interaction, help you improve engagement?
By taking in the multiple touchpoints a user goes through before even wanting to connect with your brand enables savvy marketers to adapt their strategy to deliver optimized content experiences that increase the probability of a sale.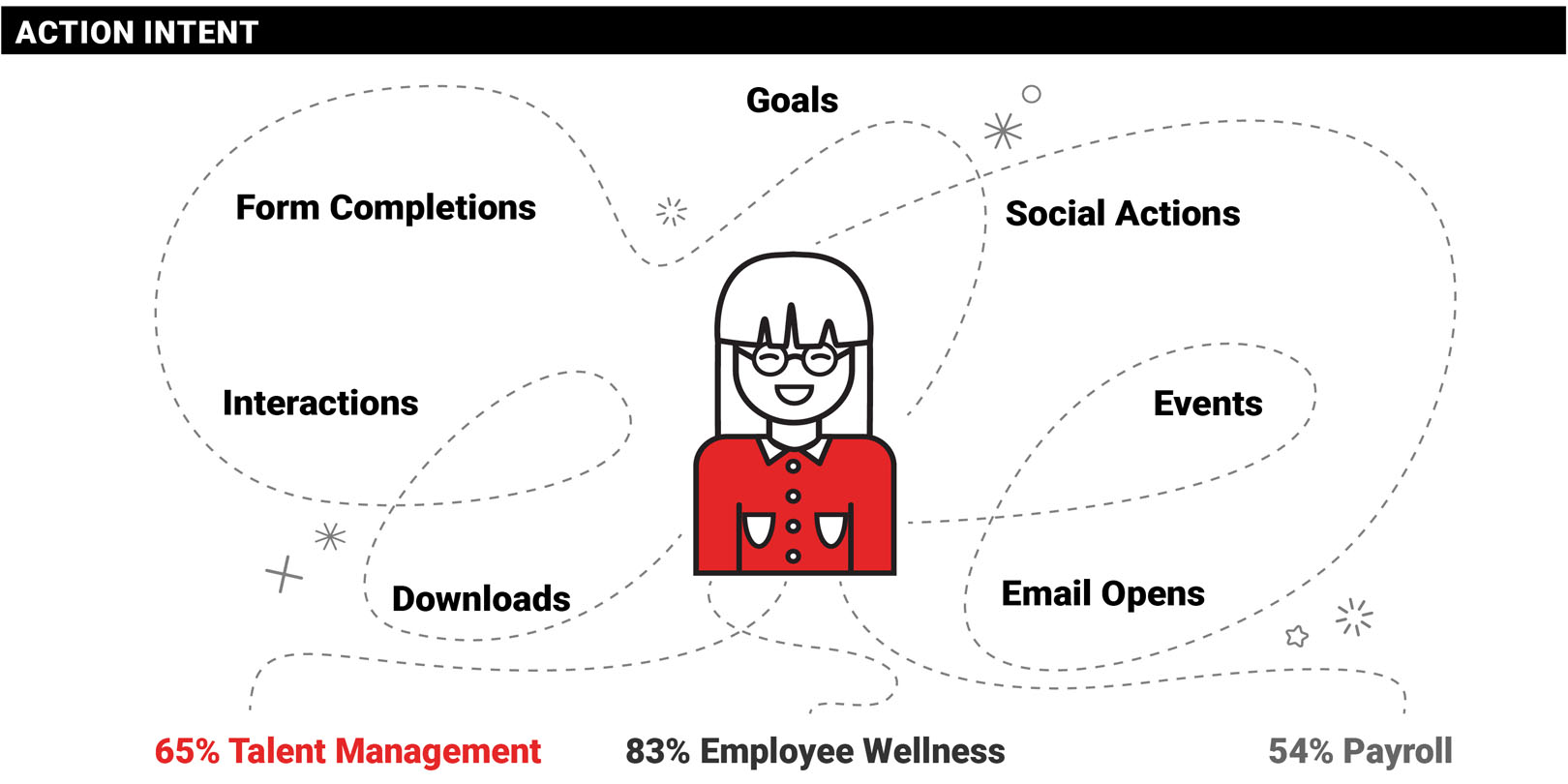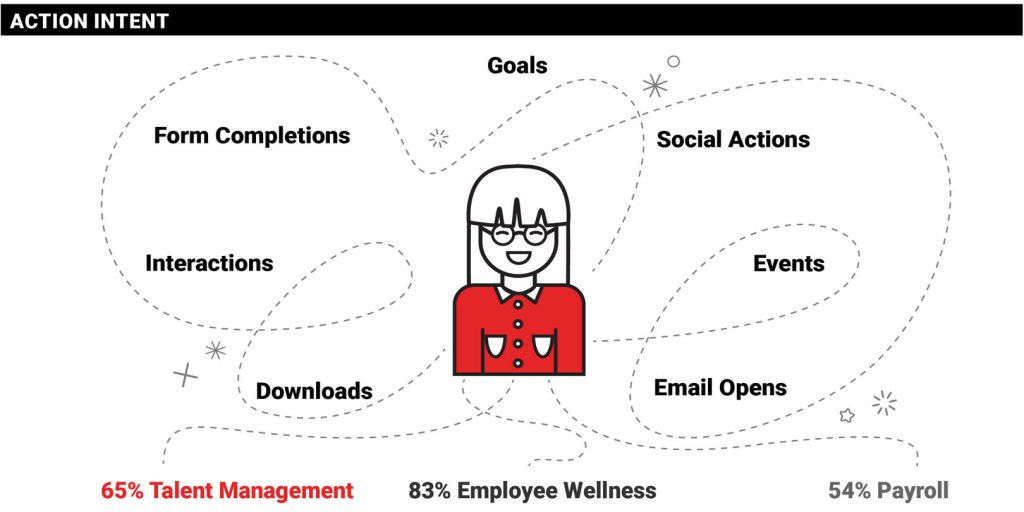 This can be referred to as digital body language or digital footprint. Each digital interaction helps unlock knowledge of the mindsets of your target B2B buyers. In fact, Gartner predicts technology that recognizes customer intent, is so powerful that it will enable digital businesses to increase profits by up to 15% by 2020 (Optimizely).
As B2B buying decisions are more complex and include more stakeholders than ever before, it's important to observe not all digital footprints follow a linear and repeatable trajectory to purchase. In fact, much like their mindsets, their journeys can be fraught with anomalies, back tracking and buyer stage hopping.
You can put this insight into action by mapping out your digital eco-systems against each user persona segment, recording all user driven actions across these multi-channel touchpoints and feeding it into your intent model.
Understanding which categories of pages and keyword topics your target users engage with, will give you a profile of their intent. This knowledge should be feed directly into your B2B content strategy, helping you understand different segments of intent that show a strong indication of what they want to hear – when they want to hear it.
4. Firmographic Intent (ABM)
Thematic reasoning techniques such as firmographic data is a strong B2B marketing segmentation technique used for building or assessing your target-account list (TAL).
This is achieved through leveraging specific data to form the selection criteria for shaping your market into segments, such as industry, revenue, number of employees, location…etc.
If you're gathering this insight into the individuals engaging with your content, and you can match them to an account (for example when they give you their email address or company name on a form) then you can tie these data points together.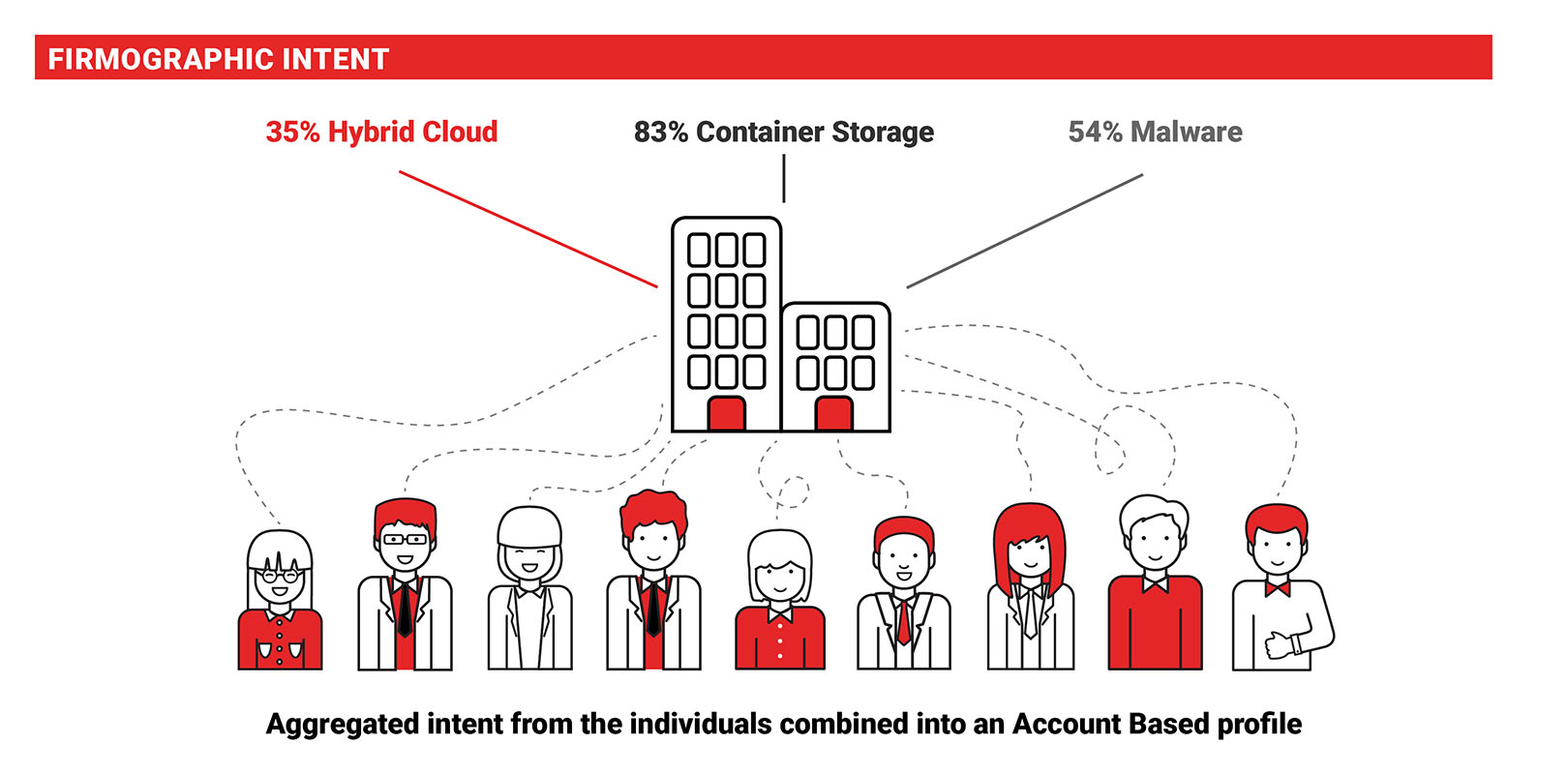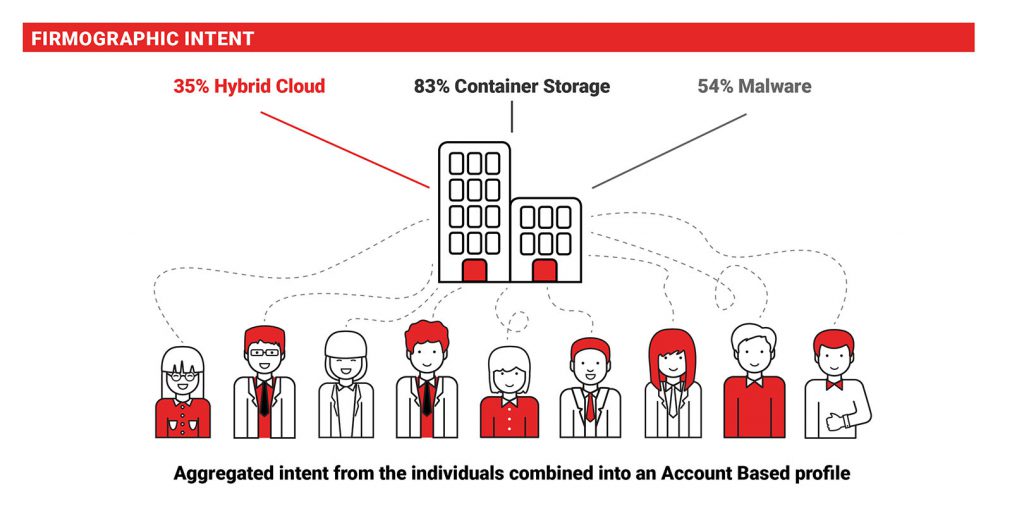 Looking at the company level, aggregating these individual intent signals together, we can get a picture of what each of the accounts in your CRM / MarTech are most interested in. You can then react accordingly with your campaigns.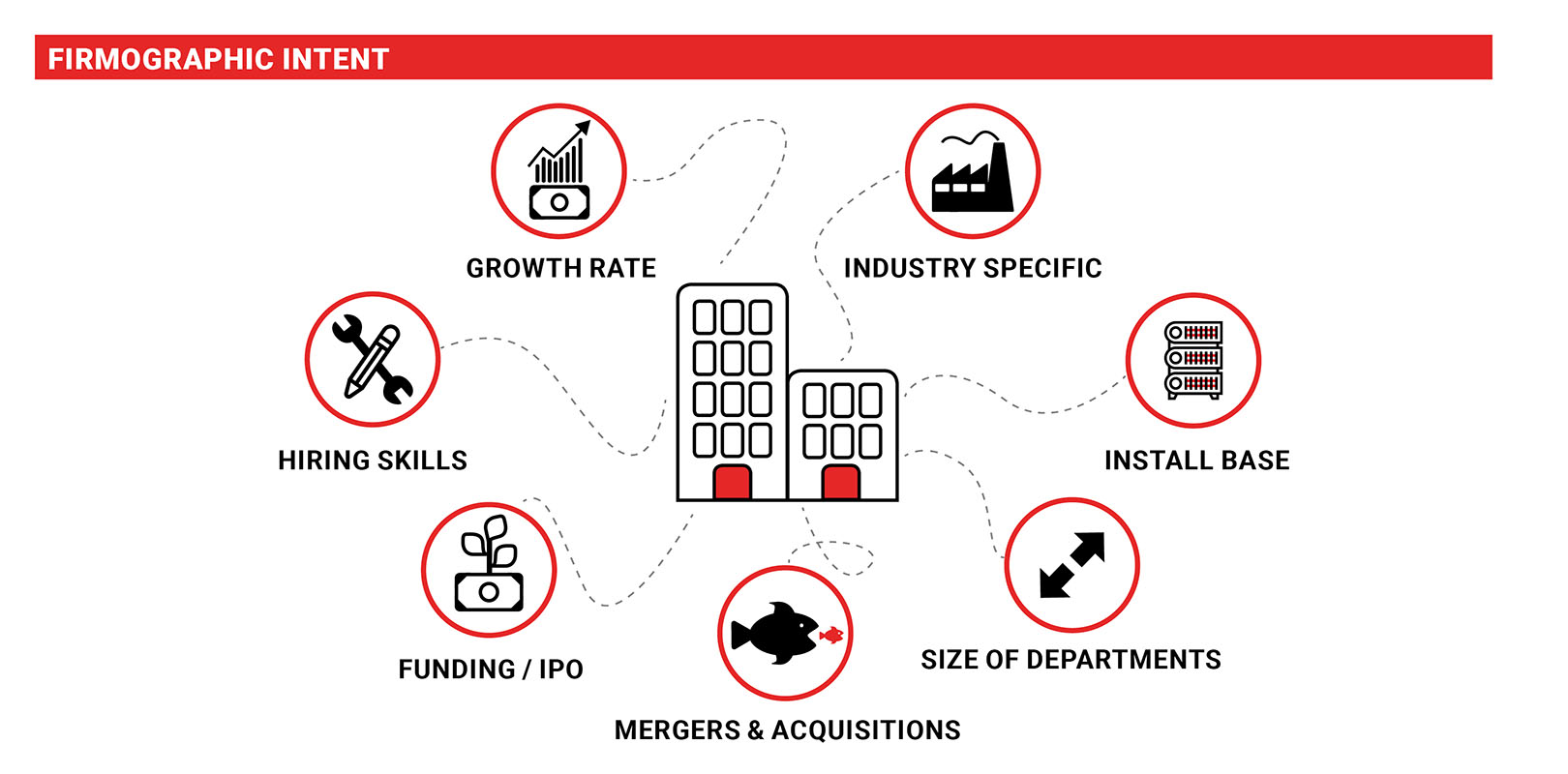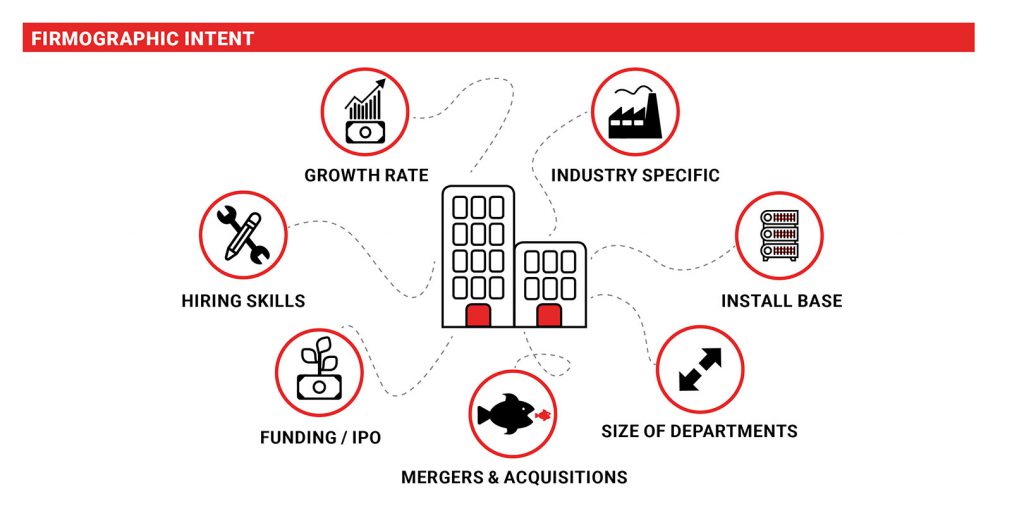 Outside of the individuals within the company you may also want to explore account based data around organizational features. For example, changes to budget indicated from mergers, acquisitions, or funding. Or it might be a recent uptick for hiring certain skills or using a specific technology type.
5. Predictive Intent (lookalike modelling)
The previous 4 types of buyer intent data are based on historic and real-time data. Predictive Intent leverages this knowledge to identify patterns or similarities to inform future trends, actions or behaviors.
For example a spike in engagement with content about DDoS attacks, who are in the retail industry, above 1000 employees, with ecommerce job titles.
Or you might look at which specific pieces of content have been engaged with by a type of persona you use, and target the most popular piece to those of that particular persona that haven't read it yet.
Now you know this, you can look at how to jump on this trend and target others who share nearly all of these features and expand your reach into those highly likely to be interested.
With the global AI market expected to grow approximately 150 percent (Statista) the ability to predict future events with greater accuracy is within reach.
With this in mind, the world of predictive intent is on the dawn of great possibilities. The strongest brands are already prepared – are you?
For more information on how Inbox Insight leverage intent data to build campaigns that deliver the right content, to the right audiences, at the right touchpoints, read on here.