When setting out on a B2B demand generation campaign you'll need one main ingredient to fuel your marketing engine – content. The question is, how much do you need for a full tank?
Short answer? Lots.
Slightly longer answer? It will depend on a lot of factors including your objectives, your internal resources, and of course your budget.
In an ideal world, you would have a limitless supply of fresh, high quality content for your audience to consume, that would drive an ever growing mass of relevant traffic to your landing pages. In reality, it's a little harder than that.
You'll have to rely on creating enough content to achieve your demand generation goals within your means. The best way to do this is to create the right type of marketing asset, rather than as much as possible.
If you are operating on a shoestring it's best to sketch out a framework for a content pipeline, and create these assets first. This gives you the right content in place to take a prospect from awareness to conversion, before you look to scale up and grow content production.
Create content formats for each stage of buyer journey
There are roughly 3 categories that line up with the stages of your funnel: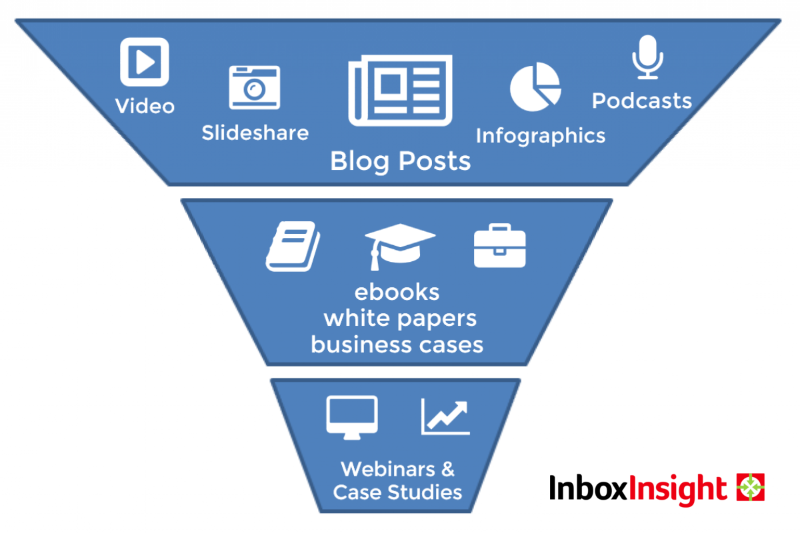 Above are just a few examples of types of content that fit this model, but they're some of the most important formats to have in your arsenal. They fall into the different stages of the funnel based on their purpose.
Top of funnel
This should be interesting, quick to consume content that aligns with your prospects' interests. Its job is to build brand awareness and provide thought leadership at a wider level, and to drive relevant web traffic to your middle of the funnel content. Good metrics to track are:
Page views
Time on page
Number of social shares and comments
Number of internal clicks through to other pieces of your content
Middle of funnel
These should be longer and more valuable guides that offer unique insight into your area of expertise. Popular formats include:
How-to Guides – provide practical advice
Benchmark Reports – provide useful data or statistics
White Papers – provide an overview of prospects' challenges
You can hold these behind a lead capture form on a dedicated landing page, which doubles as a solid lead generation tactic and a way to grow your email subscriber list for lead nurturing.
Bottom of the funnel
These are sales tools in form of content. With the earlier stages of the funnel you will make prospects aware of the problems they face, and position yourself as an expert.
Now the groundwork has been laid and they're ready to look for a solution, this is where you can convince the prospect to choose you over your competitors.
For content creation on a budget, turn the funnel upside down
You can easily spend your entire budget creating awareness content to drive traffic, only to miss out on converting it into leads. Similarly, if all you create is case studies and demos you'll only attract a small number of prospects who are already considering a solution.
For example; if you have a new service or solution and need to support it with content from scratch – I'd create the following content in this order:
Create 1 or 2 case studies that show the value of your solution in a real world context. Support this with an on-demand webinar running though the same statistics and explaining the solution in detail.
Produce 5 or 6 eBooks, white papers, or trends reposts. Create a few high quality, data driven assets that you can use for lead capture. (If you need to generate leads with these right away you can promote them while you build up your organic reach).
Split each of these eBooks down into bite size pieces of content on the relevant subjects. Take each chapter and turn it into a blog post, infographic, slideshare etc. Then place a clear call to action at the end of the piece directing prospects to the landing pages of the white paper in question.
To learn more about how content fits into the demand generation process read our free whitepaper: